A short distance from the ski slopes of Niseko – a popular tourist resort on the Japanese island of Hokkaidō – a large family asked Florian Busch Architects to design a home away from the holiday hustle and bustle,  "an escape into the solitude of the forest" as the architects themselves describe it.
The available site is an almost perfect square with a side of 160 meters, characterized by a dense expanse of tall pines. Thanks to a knoll, the lot remains isolated, with a small rural road providing the only access to the area. The construction was positioned in a small clearing located in the western boundary of the site. The irregular floor plan of the house extends horizontally, where each room recedes from the central body immersing the occupants in nature. "To move through the house is to move through the forest," the study states. "As our view continues to change from far to near, the forest is both distant backdrop and tactile environment."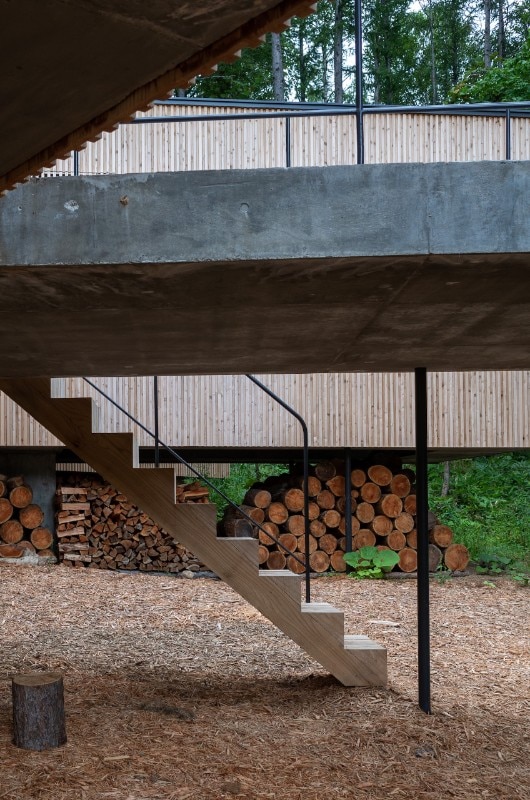 In order to adapt to the irregular gait of the terrain quietly, the architecture is suspended on a structural network of fine steel pillars, echoing the verticality of the surrounding slender pines. Materially, the exterior elevations feature a wooden cladding, contrasting with the white of the interior domestic spaces.

Project:

House in the forest

Architecture studio:

Florian Busch Architects

Design team:

Florian Busch, Sachiko Miyazaki, Mayo Shigemura, Luca Marulli, Tenesha Caton, Max Duval

Structural engineering:

OAK (Masato Araya, Takayuki Fujimoto)

Contractor:

Wakisaka Corporation

Client:

private

Location:

Rankoshi, Hokkaido, Japan

Construction date:

2017-2020

Total area:

230 smq