This article was originally published on the supplement Ecoworld, Domus 1058, june  2021.
House for Marebito is a guest house in the village of Toga, part of Nanto City, in the mountains of Toyama Prefecture, Japan. Here, the deep roots of Japanese wood working cross paths with the area's climatic conditions and abundant forests for timber. As happens in many other corners of the world that are defined marginal, traditional skills are barely being passed down to the new generations because of the continuous exodus of the youth to the city. No more than 600 residents remain in Toga, most of them elderly. In light of this circumstance, the Vuild initiative to build this guest house was conceived to host people coming back to the village to spend time with their relatives. House for Marebito, which lies at 1,000 metres altitude, uses the ancient local building techniques of gassho-zukuri and wakunouchi, updating them in a contemporary way. 
The guest house looks to rural structures to optimise warmth in all seasons, and the tall, steep pitched roof counters the weight of heavy snowfall. The long sides of the house run north-south like the mountains parallel to the house, following the path of the wind. "Wind-catcher" shutter openings on the east facade give ventilation and daylight. All wood comes from within a ten-kilometre radius (forest land occupies 63 per cent of Toyama prefecture). The local population was involved in assembling the components. The Vuild office aims to connect resources and people by means of technology, and takes wood as its preferred material. The firm started out on the scale of product-design, and recently began working on small and medium buildings.
Its transdisciplinary team (architects, engineers, designers, technicians and carpenters) made House for Marebito with help from a ShopBot, a low-cost but high-performance computer numerical control milling machine that made it possible to produce small parts. This was needed for easy transport and assemblywhere the raw trunks were sliced into standard wooden boards before being processed by the ShopBot. The local timber that was used would not normally be suitable for distribution. Precisely by making all the parts small, Vuild successfully involved residents in building the house – including children, women and the elderly who had never participated in an architectural project before. They were able to cut and process the timber themselves.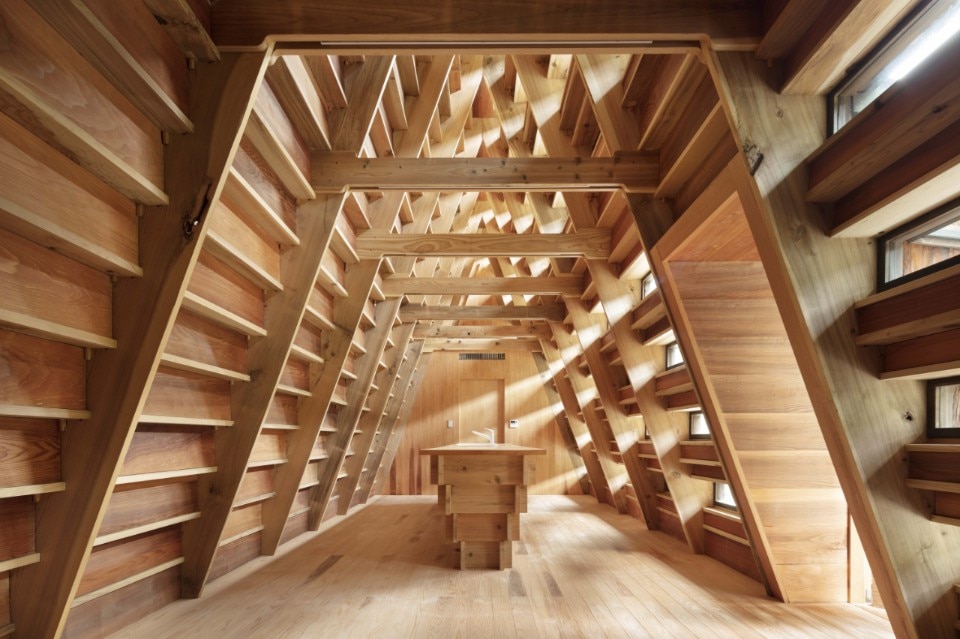 Although as many as 1,000 pieces and 1,000 joints were required to complete the guest house, digital fabrication made them so precise that there were no misalignments. Having taken part in its construction, the inhabitants of Toga familiarised meaningfully with the guest house, and contributed to the realisation of the place where their loved ones from the city will be hosted when they come to visit. Partly financed by crowdfunding, the building shows how an association between past and present, represented respectively by vernacular techniques and digital fabrication, can be a road toward a more sustainable and shared future.
Project:

House for Marebito

Location:

Nanto City, Toyama, Giappone

Architects:

Vuild

Project architect:

Koki Akiyoshi

Structural engineering:

Yasuhirokaneda Structure

Contractors:

Hiramiya, Kawabe Metal Plate Kougyou, Nagata Corporation, Ueda Corporation

Site area:

330.08sqm

Built area :

52.44sqm

Completion:

2019