This article was originally published on Domus 1059, July and August 2021.
Ideas to repurpose abandoned industrial spaces, taken over by increasingly gentrified suburbs, have been experimented across the globe. Among the most recent and original is the design by the Chinese studio we architech anonymous (waa) that transformed a compound of old warehouses in the north section of Beijing, used in the 1970s to store grain, into an immense playground with a retro-futurist flair, with elements that call to mind the colourful feats of Archigram.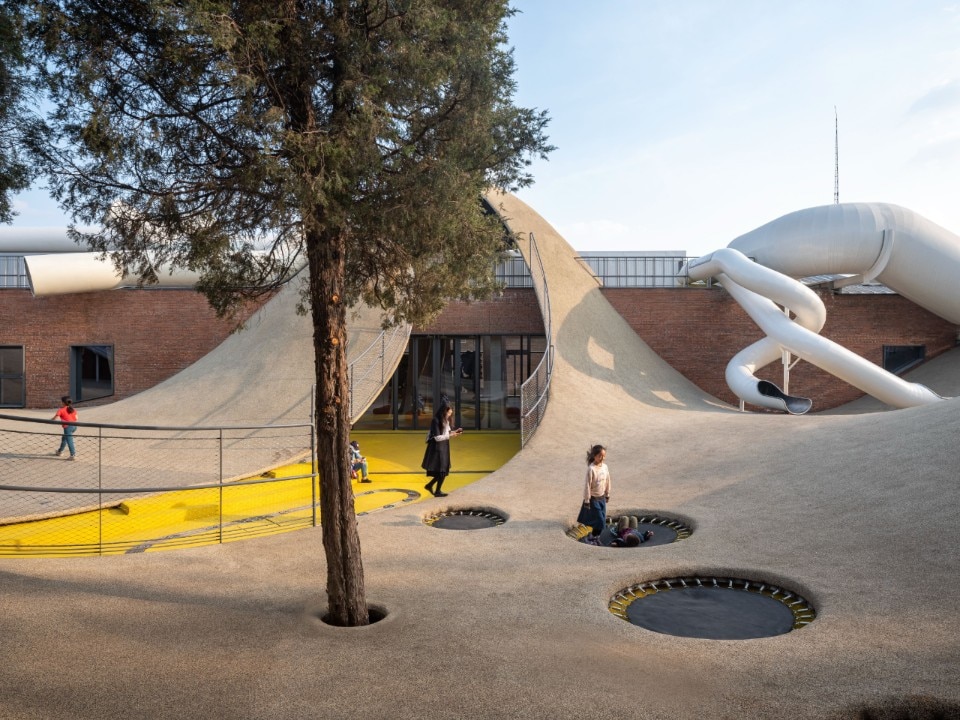 "We believe the missing link in the development of kids in a modern city is mainly experiencing the streets and spaces of a true neighbourhood," the architects explain. "We wanted to create the experience of street games and limit the use of electronic devices". Their Playscape, intended for kids between 2 and 4 years old, emphasises the character of industrial elements, like the large tubes connected by bridges and stairs as well as tunnels and slides, to propose street games.
Corners and fissures are the ideal terrain to play hideand- seek, maze-like paths stimulate the sense of adventure while the abstract, lunar landscape on the roof awakens the imagination. The sloping floors are designed to improve balance, the ability to detect the risk level. From the highest point kids can enjoy a bird's-eye view and decide: have fun on less orthodox ways or choose the easier path?
Opening image: The Playscape, we architech anonymous. Courtesy we architech anonymous. Photo Tian Fang Fang
Project:

The Playscape

Location:

Bejing, China

Architects:

Di Zhang, Jack Young, waa

Completion:

2021

Area:

2657 m²

Structural Consultant:

LAVA Structure

Contractor:

YJYZ Construction

Design Team:

Minghui Huo, Yuqing Feng, Min Wang, Jing Zhu, Mengbo Cao, Hualin Yang, Weiya Li, Qiwen Cao, Heff Jin

Client:

Beijing NuanQin