Grilled crayfish is Ayutthaya's most famous dish. And its deep orange tinges this architecture that houses a 160-seat restaurant and an eight-room hotel.

A local family that already owned a restaurant asked Onion, the Bangkok-based firm, to design new rooms for family and hotel guests with the flavor of "baan baan", the Thai vernacular house.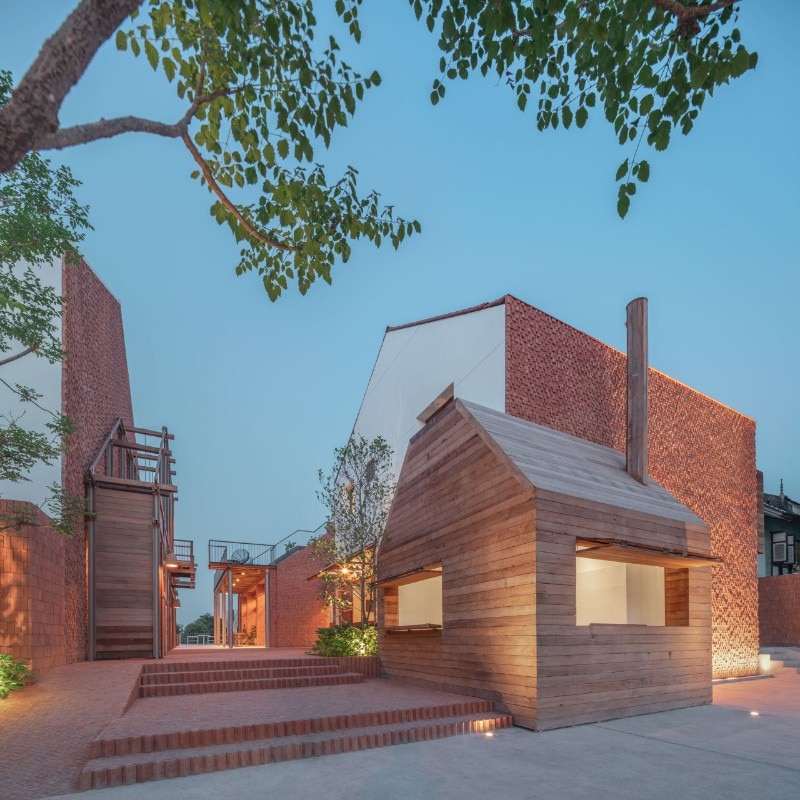 The complex is nestled near the Pom Phet fortress where the Pa Sak and Chao Phraya rivers meet. The intervention involves two separate buildings connected by a scaffold of reclaimed wood. Privileged views of the landscape open up from the rooms and open spaces (elevated pool, terrace on the riverfront, garden with the Bodhi tree).
From the building materials, to the color palette, to the design elements, every detail has a strong link with the genius loci.
The bricks are made locally by hand: the firing in manually controlled wood-fired ovens allows the bricks to acquire varied textures.
The colors of the rooms refer to the pleasures of taste: the orange of the restaurant recalls the color of prawns (grilled in the wooden fireplace); in the rooms, the dark green suggests the color of the "cha-plu" leaf - a typical ingredient in Thai cuisine – the yellow, the jackfruit.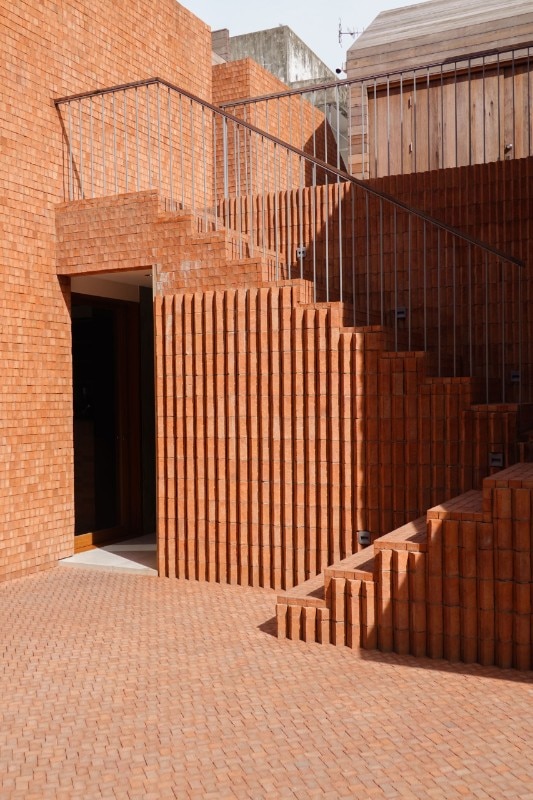 And because in Thailand "God is in the details", meticulous attention is paid to design. Thus the handles, designed by designer Chunsiri Chai-ear and hand carved in wood, feature the monkey face of Hanuman son of Vayu, Hindu god of wind, and are all slightly different in craftsmanship; the restaurant's chandeliers reproduce the "chanang", the traditional bamboo fishing traps.
Baan Pomphet is a place where to relive the pleasure of contemplation of nature and the rediscovery of slowness, according to the inexorable and eternal rhythm of the river and of man's work.
Project:

Baan Pomphet

Location:

Ayutthaya

Completion:

2020

Project team:

Arisara Chaktranon, Siriyot Chaiamnuay, M.L. Chittawadi Chitrabongs

Interior design:

Onion Co. Ltd.

Engineering:

Sawekchai Tangaramvong

Construction:

Double Click Construction Co. Ltd

Area:

2,020 sqm