In early 1964, as the urbanization of the Italian coasts was unfolding rapidly and messily under the pressure of a by then fully massified tourism, Ernesto Nathan Rogers authored one his Casabella Continuità's best editorials. Introducing the first of two special issues on the subject, Homo Additus Nature claimed that the building craze could be offset by the architectural, urban and most importantly cultural project for "a new landscape for 50 million inhabitants". A few decades later, it is evident that the utopia of a quality coastal landscape for holidays, where man and nature coexist peacefully, has failed in most cases.
The Hourglass Corral, recently completed in Milos, Cyclades, by Athens-based firm DECA Architecture, offers itself as a possible exception to the rule. The holiday home is the most recent of the corrals that Carlos Loperena and Alexandros Vaitsos have realized over the last ten years on the island's southern coast, over a panoramic area of approximately 90 thousand square meters. The project in several stages by DECA Architecture certainly doesn't lack originality, in the first place for its highly distinctive geometries: the plan layout doesn't follow a Cartesian grid, but rather it complies with a Voronoi diagram's rules for an organic composition.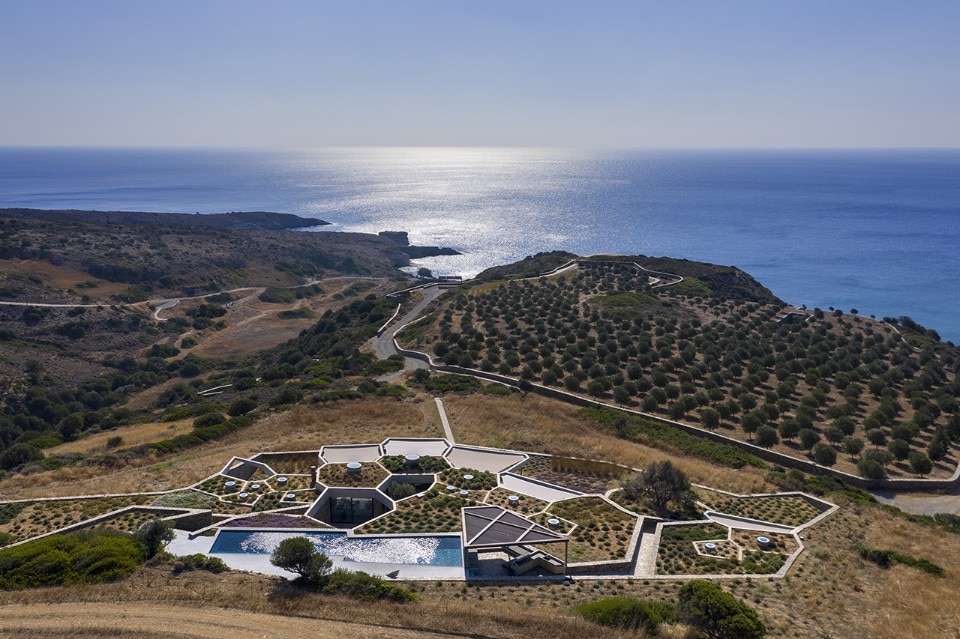 In broader terms, though, the interest of all of DECA Architecture's corrals is a multifaceted interpretation of the topic of integration with the context. Which is intended here not just in terms of an architecture blending with the landscape, visually and materially, but also and above all as the respect of traditional programs, as well as of local crops and wilderness. Therefore, the Immersion Corral is a little tourist home but the Orchard Corral contains the largest olive grove on the island, while the Preservation Corral and the Isolation Corral preserve fragments of endangered native cultivations and nature.
To conclude, the Hourglass Corral is the largest built volume, but it is fully integrated in the slope where it stands, except for its circular skylights, one for each room. The latter surface as periscopes searching for sunlight and channeling it into the house's interiors.

DECA Architecture's project in Milos is a commendable attempt to unsettle the most established rules of the tourist industry, and the modes of territorial transformation that they imply. It would be useful to reflect from now on the potential outcomes of the large-scale reproduction of what remains for now a punctual experiment.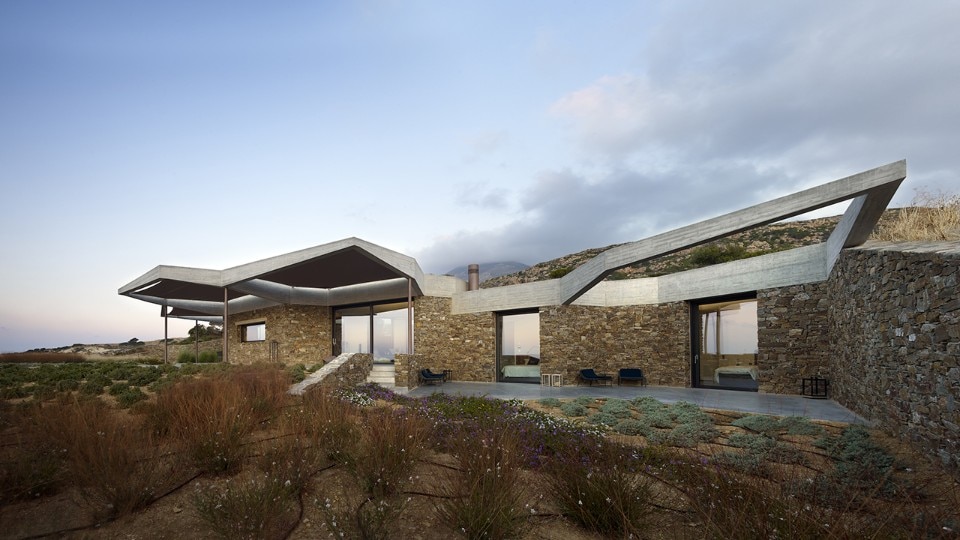 Project:

Hourglass Corral

Program:

holiday home

Location:

Milos, Greece

Architects:

Deca Architecture

Design team:

Dionysis Dikefalos, Alison Katri, Carlos Loperena, Maria Pappa, Aliki Samara-Chrisostomidou, Alexandros Vaitsos

Area:

11,000 sqm (parcel size)

Completion:

2020