Camino Capo Est is the coastal road that runs along the southern tip of the Mexican peninsula of Baja California, touching the Parque Nacional Cabo Pulmo, a marine park in the transition area from tropical to temperate environments where the Sea of Cortez meets the cold Pacific Ocean. It is here that the architecture firm RIMA Design Group has built a private villa on a remote project site, only recently made accessible by a paved road.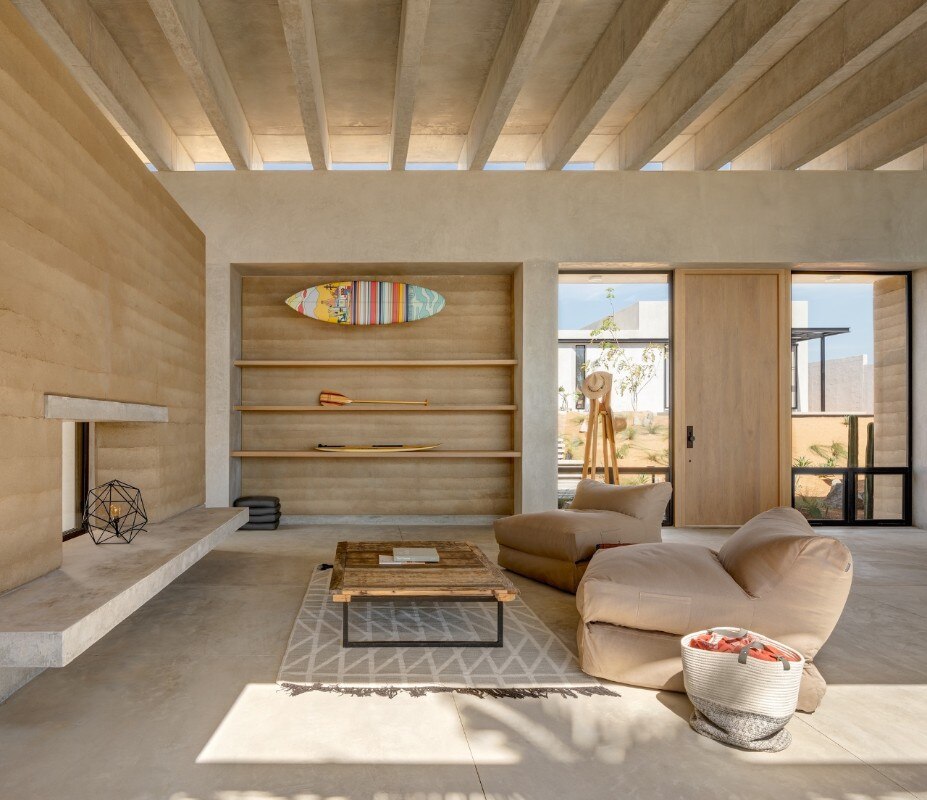 The lack of essential infrastructure made this site a challenge for the Mexican firm, both in design and technology. The architecture is materially characterized by rammed earth walls, thermally insulating elements that bring moisture into the otherwise-dry desert climate in which the house is built. The natural texture of the main walls contrasts with the polished floors, concrete walls, and tall beams placed above the great room – the latter inspired by the palapa ("pulpy leaf"), a wall-less dwelling with a thatched roof. Skylight windows and patios aid the flow of light and ventilation, contributing to passive climate design.

Facilitated by the beauty of the surrounding landscape, the project successfully creates a seamless transition from comfortable interior space to exterior design through the conscious use of materials.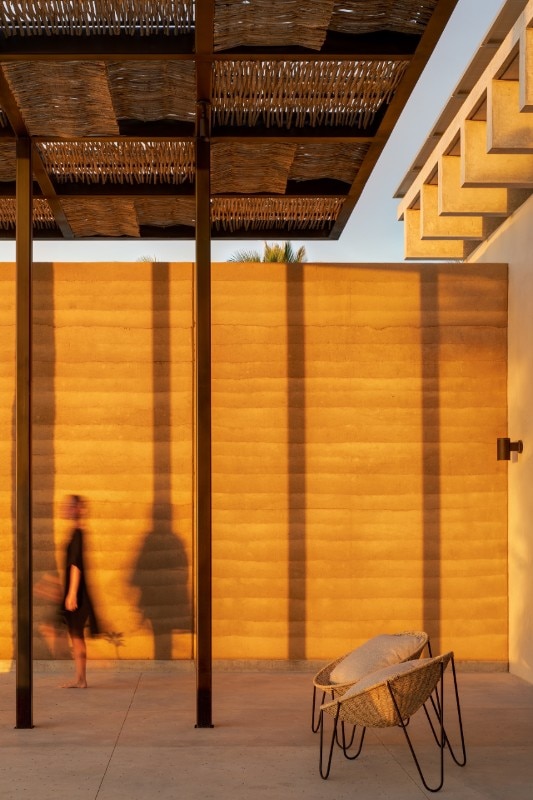 Meanwhile, the home's energy supply relies on 48 solar panels on the central flat roof, inverters, lithium batteries, and a propane generator to assist the system during higher consumption. A second, hidden technical level features a waste treatment plant and a large cistern for drinking water.
Project:

Casa Sal

Architecture studio:

RIMA Design Group

Design team:

Gerry Rivero, Maritere Rivero, Carlos Flores, Guillermo Valles, Napoleón Guerrero

Construction team:

Sergio Granillo, Pedro Ricardez, Jorge Montaño

Engineering:

MGA Calculo Estructural

Landscape:

Rodrigo Araiza

Consultants:

Zone Energy

Client:

privato

Location:

Cabo del Este, Baja California Sur, Messico

Total area:

450 sqm

Completion:

2020