This project appeared originally on Domus 1057, April 2021

The relationship between fire and architecture is certainly not the most idyllic. On the contrary, we can say that fire is one of its main enemies, claiming many victims over time, including illustrious ones: we can go from the recent case of Notre Dame de Paris Cathedral, which occurred in the late afternoon of 15 April 2019, to the Great Fire of Rome, which devastated the ancient city of Rome in 64 AD, at the time of Emperor Nero.
However, fires can be considered as propaedeutic moments of rebirth: just think of the fire in Chicago in 1871, which completely destroyed the city but became a great opportunity for architects to build modern structures. The first skyscraper in history, the Home Insurance Building, was born here.
In Nikola-Lenivets, a small village in Russia, fire and architecture meet every year during the Maslenitsa festival, an event of international relevance which attracts tourists from all over the world. The highlight of the festival, which has ancient origins, is a big bonfire, which is historically held to say goodbye to winter and open the way to summer. To select the work to be burned, an international competition was held in 2020, won by Katarsis, an architectural firm based in St Petersburg.
"The underlying concept of our proposal was implicit in the title: the bridge embodies change, both global and personal, which is, most importantly, irreversible", say the architects. The huge wooden structure, 20 metres high and 70 metres long, was built together with a group of villagers. The project reinterprets an ancient tradition in a contemporary way, combining mythology and architecture.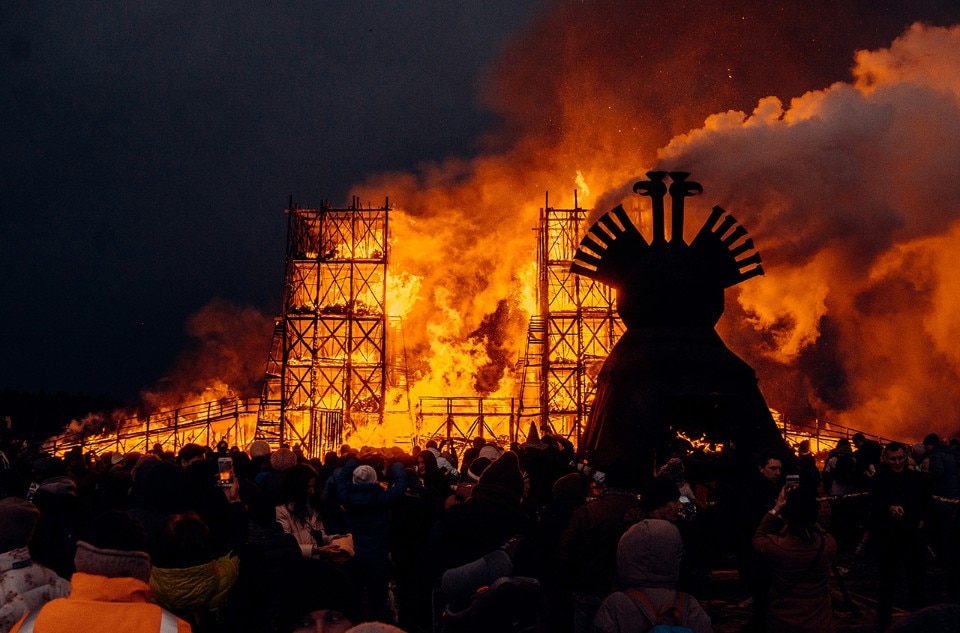 A relevant (and not obvious) factor of the project is its eco-friendliness. The main structure is made of wood already infested with bark beetles. Therefore the local forests have been cleared for its construction. The construction is filled with broken pallets, wood waste and hay.
The main intention of the project is to use this ritual to talk about urgent issues of global relevance. As the authors of the project explain: "when standing just a few dozen metres away from an 80-metre-high bonfire and feeling the almost unbearable heat on your skin, one realises just how deadly wildfires are and how much of a problem they represent. It was important for us that this train of thought was not imposed on the viewers, but rather emerged as a natural outcome of personal experience. Hopefully, this type of event can help to focus public attention on the real problems of the present-day. The fire became a symbol of increasingly rapid change, making everyone reflect on how much the future of the planet depends on each and every one of us."
Project:

Burning Bridges

Architect:

Katarsis ab

Project leaders:

Peter Sovetnikov, Vera Stepanskaya

Client:

Nikola-Lenivets

Location:

Kaluga Oblast, Russia

Area:

1,120 sqm

Completion:

2020