This article was originally published on Domus 1055, March 2021

A home in a living ruin
It is said that the Argentine writer Jorge Luis Borges was once asked: "Master, how do you know when a book is finished?" He replied: "Never. But at some point, the editor calls and tells me it has to go to press." Knowing when to declare a work complete is a dilemma. It's one of the most unsettling challenges facing artists. Sometimes, their work remains forever incomplete
but comes alive regardless. Ricardo Bofill's house and studio building falls into this category. Started in 1973, it continues to change and adapt to the life inside it, protecting and nurturing it, almost half a century later. In Bofill's words, "Classicism is incompleteness, an absence of satisfaction. Nothing is ever completely finished, even if people appear to believe otherwise." The idea behind this iconoclastic project was born one day when Bofill spotted an old cement factory as he was leaving Barcelona.
He decided to make the obsolete structure his home. For him, that involved creating an ambiguous space for living and working, as well as for celebrations, contemplation, exhibitions and recreation. A bizarre micro-universe that resists classification under traditional architectural typologies to this day. It's not a house. But at the same time, it is. The project began with demolition using dynamite and bulldozers. The process continued with pickaxes and shovels, before installations and a few isolated gadgets were added. Rather than being designed, the space was almost sculpted. Like a sculpture, the excess was removed and the openings and voids were carved out. It took three years to complete, or rather, to allow it to be occupied, because, as we have said, it has never been completely finished. It continues to pulse.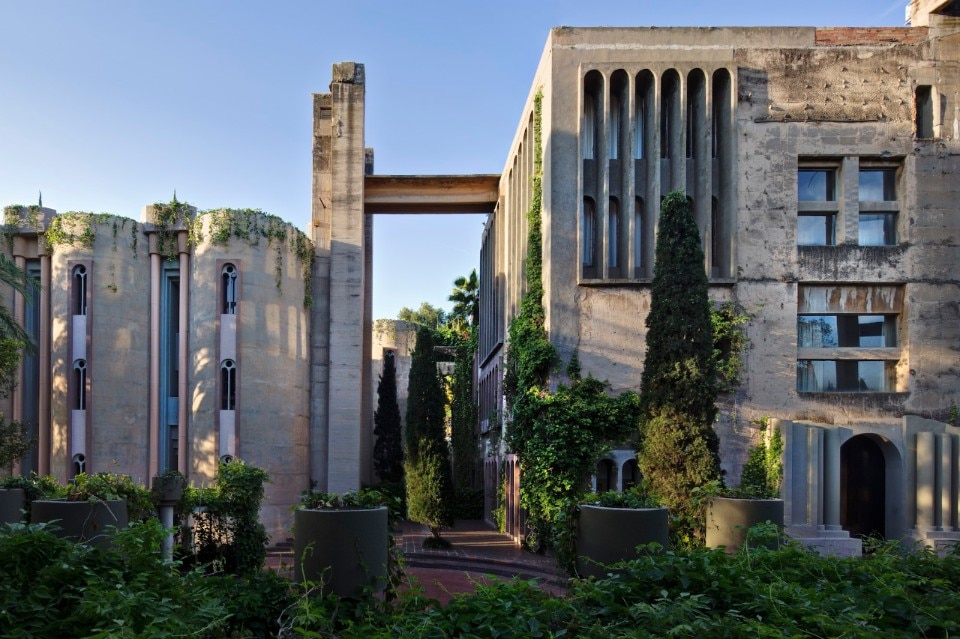 A nomad's refuge
Bofill moved his revolutionary architecture studio to the former factory, along with his team of writers, philosophers, sociologists and artists, pre-empting contemporary interdisciplinary approaches to urbanism and architecture by decades. Around the same time, just next to his studio in the same block, Bofill built his famous Walden 7 building: a bold, bohemian, utopian, communal residential block. It was an unprecedented experiment in a bleak, shuttered Spain living under Franco's dictatorship. Feeling out of place in rigid Catalan society, Bofill felt the need to breathe: "I was very young and I was eager to change the world. I began to travel and work, and I became a nomad."  
Since then, he has lived in many different cities and left his creative footprint on another 40 across several continents. But this space, akin to a rite of passage, remains his refuge: "This is my place, my anchor. I know how to live here, how to work here. I'm able to think and create here." The complex in Sant Just Desvern, near Barcelona, occupies an area of around 3,500 square metres and is distributed between the former silos of the cement works, which have been linked together. It encompasses La Fábrica, the architecture studio where Bofill now works alongside his sons, Ricardo and Pablo, and his partner, designer Marta de Vilallonga, who covers the studio's interior design projects.
There is also a multipurpose area, a large warehouse with high ceilings known as La Catedral. Finally, there is a private residential area occupying 500 square metres with three bedrooms, three living rooms, a jacuzzi and a rooftop garden.
Tadao Ando argues that design is a constant struggle between abstraction and concretion; in this project, this struggle is expressed as a paradox.
This part of the building is kept strictly private and only a few photos of it are available. The furniture is designed by the architecture studio itself, interspersed with a meticulous selection of classics: chairs by Gaudí and Thonet, the Eames lounge chair, the Frisbi lamp by Castiglioni and the Tizio lamp by Sapper. The building is surrounded by gardens on all sides, which have grown impressively. What was once a grey, polluting behemoth dominated by cement has been transformed into a leafy Mediterranean orchard with palm, olive and eucalyptus trees. The walls have gradually been covered by trailing ivy, concealing them almost entirely. "The approach taken was very minimalistic, very simple, using cheap materials. I don't like my designs to look luxurious. Luxury comes from your lifestyle, from the space itself. It's not about using expensive materials. I've never liked the houses traditionally preferred by the petty bourgeoisie."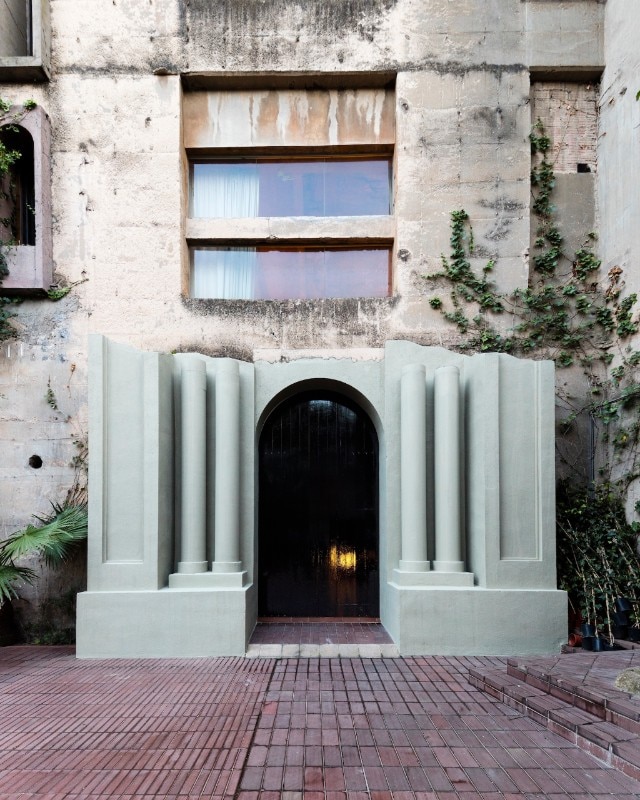 Anticipation and risk
The project draws inspiration from a plethora of sources. One of these is brutalism, which is echoed in the building's concrete structure and colossal dimensions. Another is abstract purism, revealed in cylindrical or conical forms. Glimpses of surrealism emerge in flights of stairs leading nowhere. Time has left a patina on the building, lending it an air of romanticism. There are Gothic-inspired windows, classical facades, minimalist interiors. Yet the design as a whole remains emphatically original. It is not a sum of its parts; rather, it is a decantation or sublimation. The complex has been described on occasion as a secular convent, more stripped back and countercultural in its early days and more monastic in later years, albeit still buzzing with activity.
The project was a precursor to a number of trends, including the "loft home" with ample communal space, "green design" and "Vegetecture", and the "landscape office". According to Bofill, the house is "a restructured, rebuilt ruin, where the spaces can be used for any purpose".
He even relishes the building's shortcomings: "The advantage of this labyrinth is that people don't come into contact with one another. Everyone can live their lives as they see fit." He dismisses a rational programme: "It's organised into spaces based on mental activities, rather than different functions like typical houses. It's created for different moods... My life unfolds here continuously, with very little separation between work and leisure."
Bofill's house is at once open and brightly lit with generous gardens and a fortress, an industrial castle, a bunker where he shelters from the outside world. "Here, the interiors are designed for concentration and contemplation. In this sense, they are deliberately harmonious and neutral, provoking minimal tensions in human behaviour. There are few materials and no decoration." Some of the walls have been stripped bare, revealing humble bricks with joints oozing cement that was manufactured on this very spot when the Sansón factory was still operating in the early 20th century.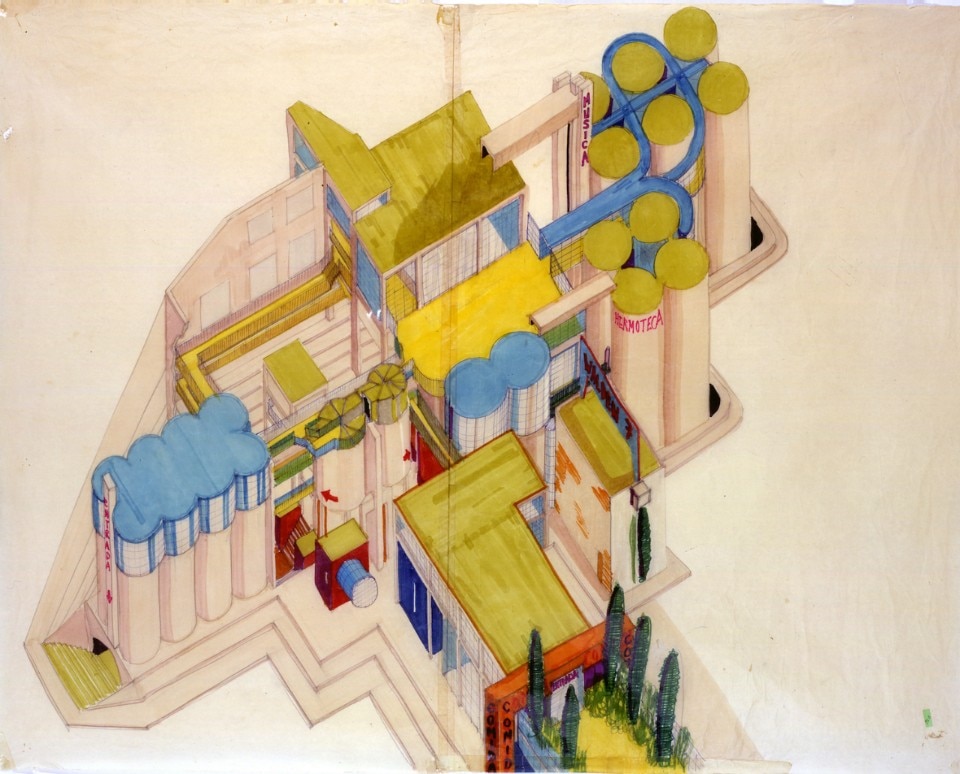 Emotion over reason
Tadao Ando argues that design is a constant struggle between abstraction and concretion; in this project, this struggle is expressed as a paradox. A wild dream that is simultaneously real and ethereal. One that is radical and far-reaching, defying convention.
"The two things that thrill me," says Bofill, "are beauty and then intelligence." He deliberately emphasises the order. There can be no doubt that emotion carries more weight in this space of his than practicality. The former demands a genius's talent, while the second requires only analysis. The 81-year-old continues: "My life is always full of projects because the architectural profession prompts you to plan for the future. It shapes your mindset. My life is an ongoing project, rather than a story of the past." Not long ago, the site was used as a set for several scenes from HBO's futuristic series Westworld. The ruin is reborn day after day.
Juli Capella (Barcelona, 1960) is an architect, designer, exhibition curator and author. Former director of De Diseño and ARDI magazines, and former president of FAD (Fomento de las Artes y el Diseño), he is a partner at Capella Garcia Arquitectura.