More than a million books, modern art, music and films. All this is contained in a monumental piece of architecture, a large iconic urban object located in a green lot in the middle of the busy highways of the city of Tainan.
Tainan is the oldest city in Taiwan and is rich in history and culture. There are traces of shipping trade with Europe in the 17th century, of the Chinese Ming dynasty and of Japanese settlements in the early 20th century. The city has a big number of temples, including the famous 17th-century Confucius Temple with its cantilevered roofs and beautifully carved ceilings.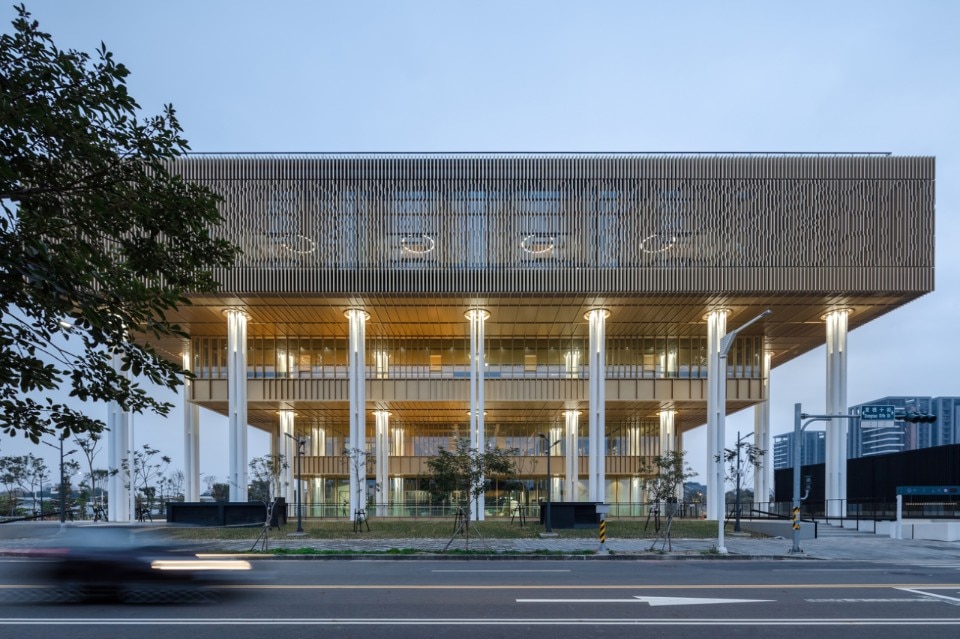 Dutch studio Mecanoo - which has been designing libraries and cultural centres all over the world for years - and local studio MAYU architects have drawn on this sedimentation of history and reinterpreted it, in order to give shape to Tainan new public library.
The peculiarity of the project lies in its terraced shape. As it reaches for the sky, the volume of the floors increases at each level, like an inverted ziggurat. This increasing stratification of the projecting levels is supported by four powerful pillars, concrete "feet" enclosing the services and stairwells, and by an orthogonal mesh of quartets of slender columns reminiscent of a bamboo forest.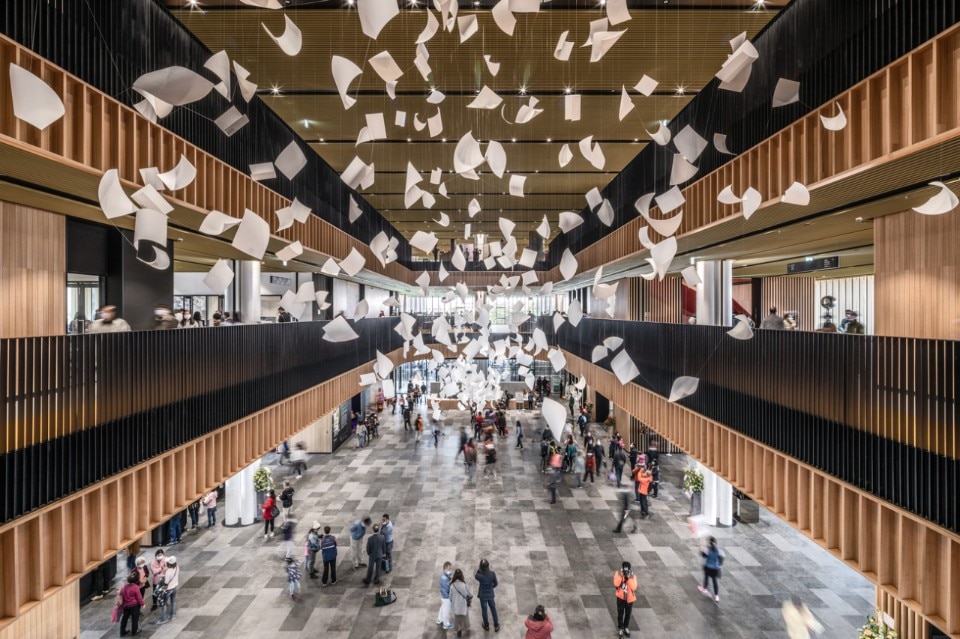 The crown of the building, wrapped in a delicate skin of vertical aluminium slats that filter the light and draw a pattern of carved flowers, like the decorative lattice windows of the old city, provides shade to the transparent stepped façade below and creates a large covered area on the ground. A fluid transition between outside and inside, a filter between the city and the library, this covered space not only offers shelter to visitors but can also host conferences, concerts and outdoor exhibitions.
Inside, the building houses a rich variety of spaces, 37,000 square metres of library with collections for children, young people, a media library where films can be watched, exhibition spaces for modern art and the heritage collection, a 24-hour study room, as well as a café, a theatre and a conference room, together with offices for staff members.
The different rooms are accessed through a triple-height atrium that cuts through the building on three levels, showing the stratification of the floors. Light white sheets of paper, a work of art by Paul Cocksedge, descend lightly into the void of the atrium, symbolising freedom of thought and the pleasure of reading.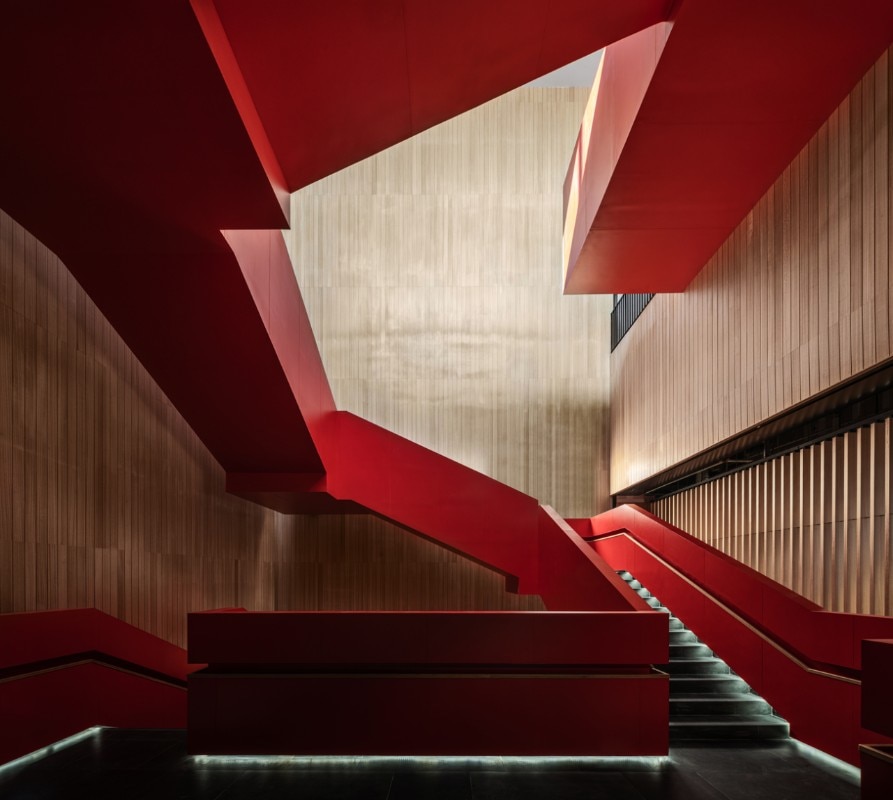 Project:

Tainan City Public Library

Program:

Library, exhibition space, study room, café, theatre, conference room, offices, multipurpose rooms, maker space, library, archive

Client:

Cultural Affairs Bureau, Tainan City Government, Taiwan

Location:

Tainan, Taiwan

Architects:

Mecanoo and MAYU Architects

Mecanoo project team:

Design Principal: Francine Houben Design Team: Rodrigo Louro, Friso van der Steen, Rodrigo Bandini, Johan Hanegraaf, Rachel Lin, Yuli Huang, Yuanyuan Chen, Natalia Leszcynska, George Orfanopoulos, Antonio Sanna, Wanjen Lin, Yunying Chiu, Tsailing Shih, Eliano Felicio, Nienke Andersson.

MAYU architects project team:

Design Principal: Malone Chang, Yu-lin Chen Design Team: (SD)Ting-yi Lo, Yun-shan Huang, Che-sheng Wang; (DD/CD)Ting-yi Lo, Che-sheng Wang, Chia-ru Lin, Beatrice Cordella, Meng-yue Ruan, Qi-ping Yang, Li-chi Yeh, Ya-zhi Guo, Che-kang liu; (CA)Yun-shan Huang, Chia-ru Lin, Ting-yi Lo, Ya-yun Wang, Wei-chieh Pan, Yun Chen, Ting-yi Li, Cheng-wei Li, Chih-hung Wang, Yung-hsien Fang, Jui-pao Chan, Tien-hsi Hsu, Ya-tieh Yu, Guan-wun Chen, Yu-lun Liang.

Construction:

Envision Engineering Consultants

Completion:

2021