In his recent project, the photographer Lorenzo Zandri, trained as an architect, searches the dense urban fabric of London for religious traces now hidden in the first district of the English capital. Without focusing on the architectural and typological aspect, the sequence of shots aims to question the missing importance of these spaces, essential in the urban organization of European cities, in contemporary complexity.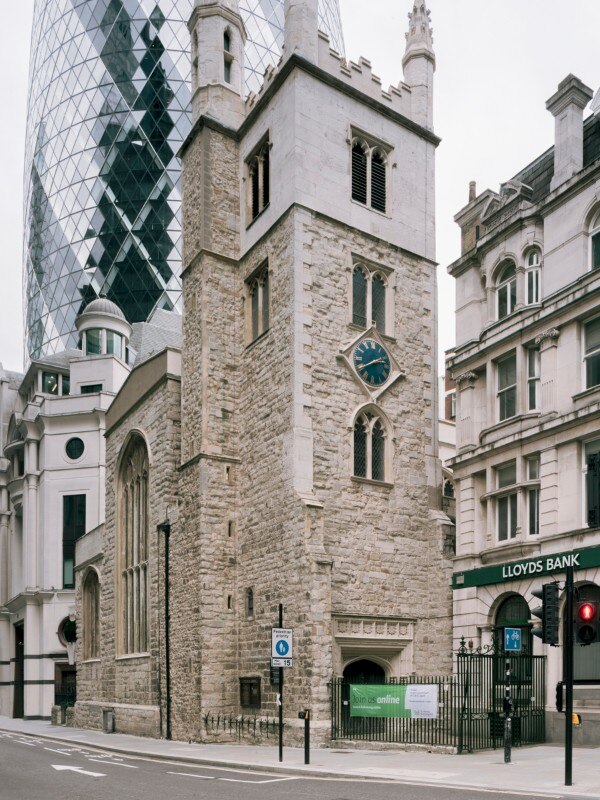 Some of these architectures have been modified with respect to their original religious use and purpose, others were demolished because of the Great Fire in London in 1966 and the multiple bombs of World War II. These have been somehow rebuilt; other ruins have been transformed into gardens and public spaces, like silent ruins surrounded by trees and greenery. Most of them have traditionally been considered the work of British architect Christopher Wren (1632-1723), known as the author of St Paul's Cathedral.

"In general, these architectures stand as splendid bastions in the continuous process of regeneration of the architectural and urban context of the city center," describes Zandri. "Extraordinarily numerous and diverse, these historical urban elements seem to be suffocated by the saturation and stratification of the surrounding architecture, but they represent safe places and clear orientation points in a crowded and noisy area of London."

Lorenzo Zandri is a photographer and artist currently residing between London and Paris. He co-founded ROBOCOOP, an artistic duo project that creates ephemeral architectural scenarios and urban collages linked to the past and historical sources. Lost and Found was showcased in preview for Scenario.