Le Corbusier's Maison Domino, a true symbol of modern architecture, is the reference for the new headquarters of the social enterprise 't Atelier, which the dmvA studio has completed in Mechelen, Belgium. In this case, the reinforced concrete frame is filled with wood and glass panels to make the three floors habitable, while installations are integrated into the structure itself.
But the facility built by dmvA is just the final step in a long journey of civil action on the neighborhood, which is one of the poorest in Flanders. For twenty years the architects have been collaborating with the social enterprise that has slowly become a point of reference for the local population. Together they have developed various projects related to woodworking, which have led to the creation of a bond of trust between architects and clients.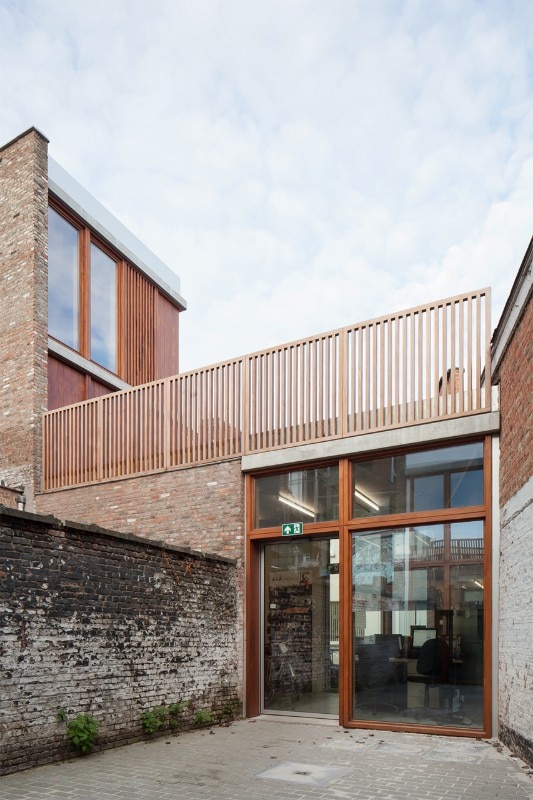 The simple and rough structure shows off the skills developed by the locals in carpentry. All the joinery, both inside and outside, has been designed to be worked in the atelier itself. This self-construction process creates an even stronger link between building, social enterprise and local community. The architectural quality is directly proportional to the pride of those who participated in the construction of the new structure.
The new spaces of 't Atelier house a workshop and a bicycle store on the ground floor, an office space on the second floor and a meeting room on the top level.
Project:

't Atelier headquarters

Location:

Mechelen, Belgium

Architect:

dmvA

Team:

David Driesen, Tom Verschueren, Nandi Degrave

Structural engineering:

UTIL struktuurstudies

Area:

408 sqm

Completion:

2019