The house designed by Chenchow Little is located on a sandstone rock face overlooking the Sydney skyline in the suburb of Glebe city, known for its Victorian terraced houses and narrow streets. The new compact dwelling has replaced a cottage originally on the site.

The height of the new dwelling is limited by the distance and ridge line of the surrounding buildings, and despite the considerable constraints of the site, the housing project seeks to maximise the space available on the small plot. The shape of the building, starting from the geometric shape of the triangular block, results in a flat polygonal roof.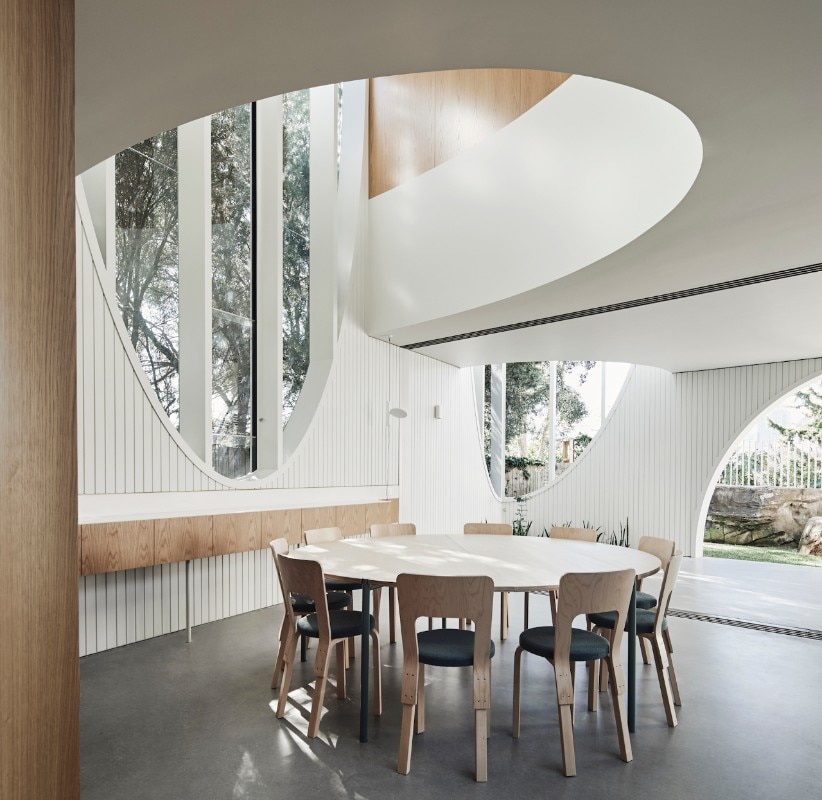 As a reference to the curved openings and entrance porches of the surrounding houses, the simple shell of the Glebe House is articulated with arched openings, which, however, unlike the main reference, are presented both in elevation and plan. The windows, in fact, are aligned with the floor cuts of the first floor, to create three-dimensional internal voids, increasing, thus also increasing the entrance of light at the center of the habit, and increase the sense of space.



The elevations are also characterized by vertical panels in white painted wood that reproduce the materiality of the traditional cottages in the area. The large windows are rhythmed by vertical wooden uprights, which further reinforce the sense of verticality.

Project:

Glebe House

Architecture studio:

Chenchow Little

Principals in charge:

Stephanie Little, Tony Chenchow

Project team:

Mark Hill, Joshua Mulford

Interior designer:

Chenchow Little

Landscape design:

Spirit Level Designs

Structural engineer:

Benvenuti Structural

Hydraulic engineer:

Taylor Consulting

Surveyor:

GK Wilson & Associates

Planner:

Mersonn Pty Ltd

Heritage consultant:

City Plan Services

Environmental consultant:

Damien O'Toole Town Planning

Arborist:

Earthscape Horticultural Services

Traffic consultant:

Traffix

Quantity surveyor:

Bayley Donald & Associates

General contractor:

Lochbuild

Joiner:

North Shore Custom Cabinetry

Window manufacturer:

Windoor

Locality:

Sydney, Australia

Client:

privat

Program:

private residence

Construction dates:

2016-2018

Site area:

374 smq

Building are:

154 smq

Total floor area:

202 smq