This article was originally published on Domus 1046, May issue.
Innovative adaptive reuse of old buildings might seem commonplace or even unremarkable to European readers, but in the North American context such projects remain all too rare. Perhaps it is the legacy of our Frontier mentality – pull up stakes and move on – but the default position for many local governments, organisations, and commercial developers is to look at disused old buildings as barriers to new development or expensive liabilities to be demolished or abandoned. Entire districts and towns are left in ruin, victims of deindustrialisation, demographic shifts, and limited imagination. I am reminded of these places on my weekly train rides from Manhattan to New Haven, Connecticut, a short distance that still offers a glimpse of the extent of this squandering of space and resources.
Old buildings are not merely commodities. They have social and cultural value. They are repositories of local knowledge and embodied energy. They are sites of design opportunity, and a foundation for building sustainable communities for the resource-scarce future that is upon us.

I am not advocating for restoration or some return to an idyllic past by reviving old buildings. Rather, I believe in making buildings and places that are layered, nuanced, and enriched with the values described above. About half of my practice involves transforming old buildings for new futures. In our work, we juxtapose old and new and transform existing structures, so they are legibly of this time. These include transforming buildings by celebrated architects of the past – such as H.H. Richardson, Louis Kahn, and I.M. Pei – as well as more humble buildings without notable pedigrees.
The founding partners of Peterson Rich Office (P.R.O.) both worked in renowned New York offices, Tod Williams Billie Tsien and Steven Holl Architects, but they have in just a few years built a body of work that is clearly their own: thoughtful and elegant with sophisticated compositions of space, light, and materials. Their largest building to date, the museum-scale and museum-quality New York outpost of Galerie Perrotin, transforms a large garment factory building on the Lower East Side of Manhattan into a highly refined gallery and street level bookshop with a large, double-height skylit "found space" on the upper floors. It's a fabulous place to view (and buy) contemporary art.

Old buildings are repositories of local knowledge. They are sites of design opportunity, and a foundation for building sustainable communities for the resource-scarce future that is upon us
The New York flagship space for the private art gallery Perrotin involves the complete adaptive reuse and redesign of The Beckenstein Building. Constructed in 1890 and located at 130 Orchard Street on the Lower East Side, the building has evolved from residential lofts to commercial use, and now functions as an open, flexible contemporary art gallery and workspace. Because of its scale and varied uses, the building functions more like an institution than a commercial art gallery. It is open to the public and free for all.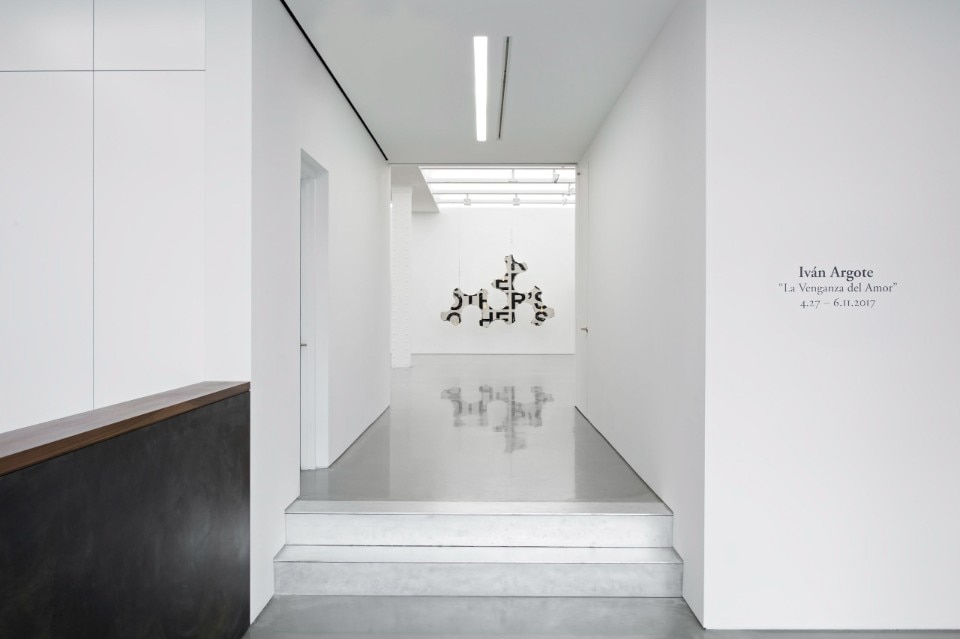 Over the past decade, art galleries have played a central role in the changing character of the Lower East Side. There are fifteen times as many galleries in the neighbourhood today as there were ten years ago. Whereas the vast majority of these spaces occupy small 28 smq - 45 smq tenement storefronts, Perrotin has the largest exhibition space, representing a dramatic shift in the neighbourhood from small storefront exhibitions to museum scale, multi-programmed, mega-galleries.
A radical transformation of the existing flat terracotta arch structural system was required to maximise open floor space, to connect all three floors of exhibition space, and to take advantage of the unusually high ceilings. There are five exhibition spaces, and more than 1,858 smq of public space. A dedicated stair built from 1,3 cm blackened steel plate provides continuity and circulation and features a three-story atrium for sculpture display. A bookstore on the ground floor addresses the street and engages different markets than a typical art gallery, while a rooftop garden is used for events. (from the architects' project description)
For this column, I have chosen to highlight the work of three emerging practices, two in the US and one in Mexico/Spain, that work in a similar vein. These practices see old buildings as intriguing sites, as places for exploration and discovery that can be redesigned for 21st century uses. (I also intentionally selected firms with equal female and male leadership.)
Deborah Berke, FAIA, LEED AP, is an American architect, educator,
and founder of New York-based architecture firm Deborah Berke Partners. For the Affinity column of Domus 1046 she chose three American projects for innovative reuse. Although different in scale and function, each of them involves a series of responses to pre-existing structures and uses them to force the boundaries of traditional typologies. Together with the Perrotin gallery, the Big Space Little Space projects by Davidson Rafailidis, and the CH-Reurbano signed Cadaval & Solà-Morales were presented.

Project:

PRO – Peterson Rich Office

Design team:

Miriam Peterson, Nathan Rich, Peter Depasquale, Sarah Kasper, Ben Hochberg, Jahaan Scipio, Noel Turgeon, Piktone Fung, Dillon Wilson

Structural engineering:

Silman

Electrical and mechanical engineering:

ABS Engineering

Other consultants:

Pierce Lighting Studio (lighting), Riverside Builders (general contractor)

Client:

Perrotin

Site area:

548 smq

Total floor area:

1,858 smq

Design date:

2016

Construction dates:

2017-2019