Material production, contracting, storytelling, knowledge exchange, community organisation, affective engagement: the Building Beyond Borders post-graduate programme, organised by the University of Hasselt, Belgium, has a broad vision of architecture and promotes practice research in marginal areas for the construction of low cost buildings. The programme includes a series of workshops, lectures, design and construction sessions in the field, integrating theoretical issues with activities and hands-on problems.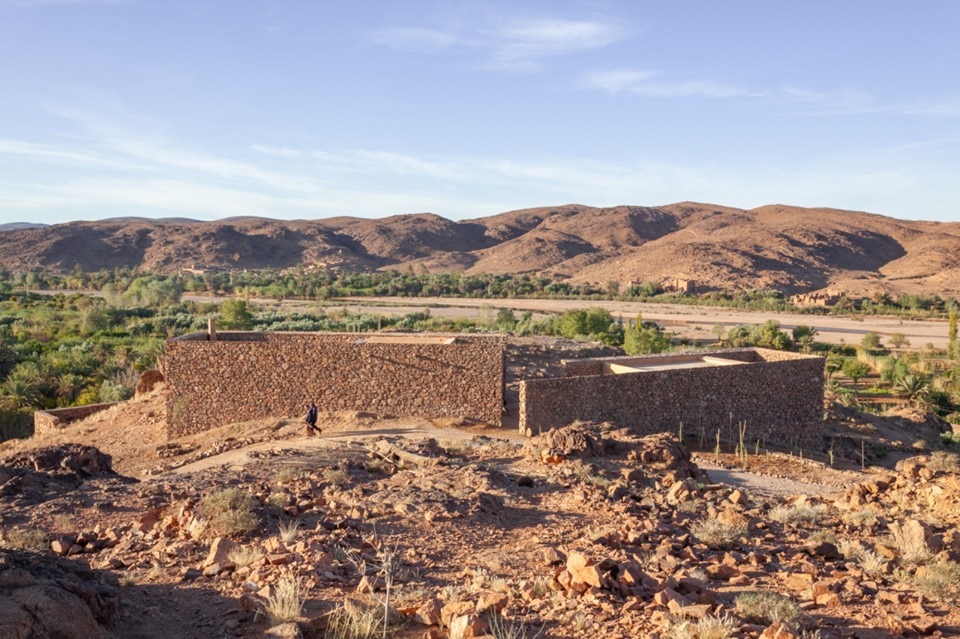 Focus of the first investigation-action of the university is the small village of Ouled Merzoug, located in the rural hinterland of Morocco. The aim of Building Beyond Borders is to help the local community to build a new Women's House: a place for meeting, working and learning, where the villagers can share their crafts with their fellow countrymen and visitors.
The new structure, located on top of a hill, is composed of two disjointed volumes to follow the conformation of the land, keep the informal paths of the villagers and establish visual relationships with the rest of the village.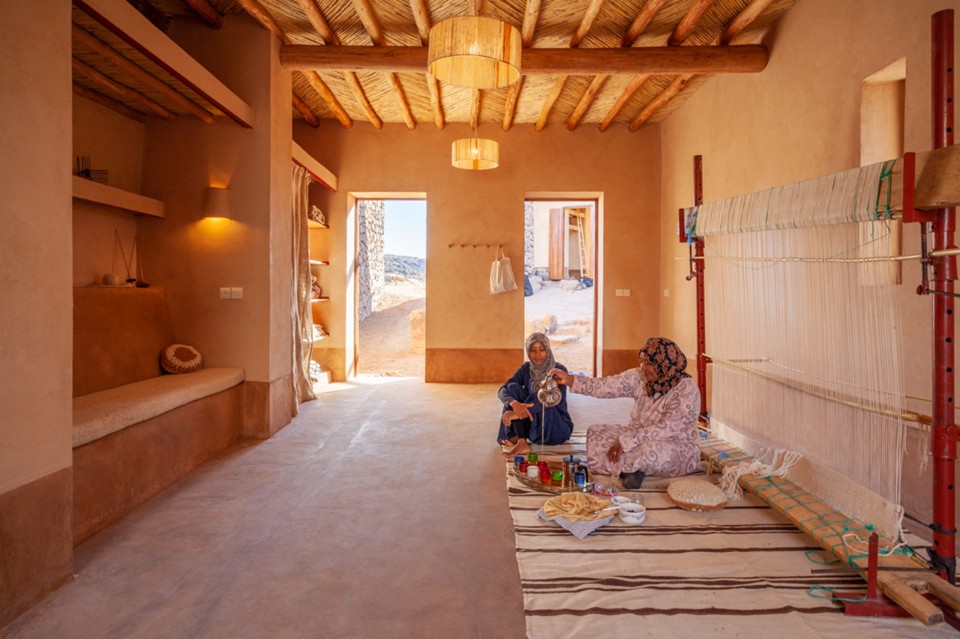 The two sections feature a stone envelope, of the same granite rock that emerges over the whole hill. The roof is made of wood and reeds, while the interior is made of raw earth, of a characteristic reddish colour. The Women's House therefore seems to have always been part of a landscape that is still harsh and apparently uninhabitable.
Every material used is extracted locally and worked in collaboration with local craftsmen, to trigger an exchange of knowledge useful to both students and villagers.
Project:

Women's House

Location:

Ouled Merzoug, Morocco

Program:

civic centre

Architect:

Building Beyond Borders, University of Hasselt

Team:

John Silvertand, Hannah Van Breen, Arnaud Goossens, Auranne Leray, Margot Lambrechts, Eline Hoftiezer, Tinne Beirinckx, Kjell Keymolen, Aurora Fanti, Sofie Van den Velde, Jolien Bosmans, Martina Petrosino, Giulia Ventre, Emily Haest, Miki Z, Biniam Hailu, Alice Chang, Dany Depuydt

Local workers:

Abdelaziz Agoram, Mohamed Oualla, Abdelhadi Arifi, Abdelkbir Sayah, Bouchaib Darai, Hassiz Kassimi, Abde Sadak Agoram, Mehdi El Finti, Allal El Finti, Abdelkarim Kassimi, Abdelwahid El Finti, Rachid Esmali and women of AFOM (Association des Femmes d'Ouled Merzoug)

Area:

130 sqm

Completion:

2019