"Sustainability? It has always been our focus. What we aim to do is to make our projects as sustainable as possible." Christian Dahl, Head of Design and Operations of the Lendager Group studio based in Copenhagen, Denmark, can be blamed for this: just have a look at the Danish team's 'carnet' of projects to find an immediate and concrete confirmation of his words.
The most recent project, the Danish Pavilion created for the Tokyo 2020 Olympics (but now postponed to 2021, due to a pandemic) is the occasion of our meeting (in unsuspicious times) with architect Dahl. "We won the competition in September 2019," explains the designer. "The starting idea is to show the public at the Olympic Games the innovative solutions of Danish design, exploring a wide range of sectors (health, education, culture, industry, food, etc.) through precise research on materials and construction methods, always with an eye to sustainability." The result is a surprising building conceived as a Lego maxi construction that, instead of classic bricks, uses 2,500 modular chairs (each measuring 60x60x70 cm), made with wood from the Fukushima earthquake region, and recycled plastic.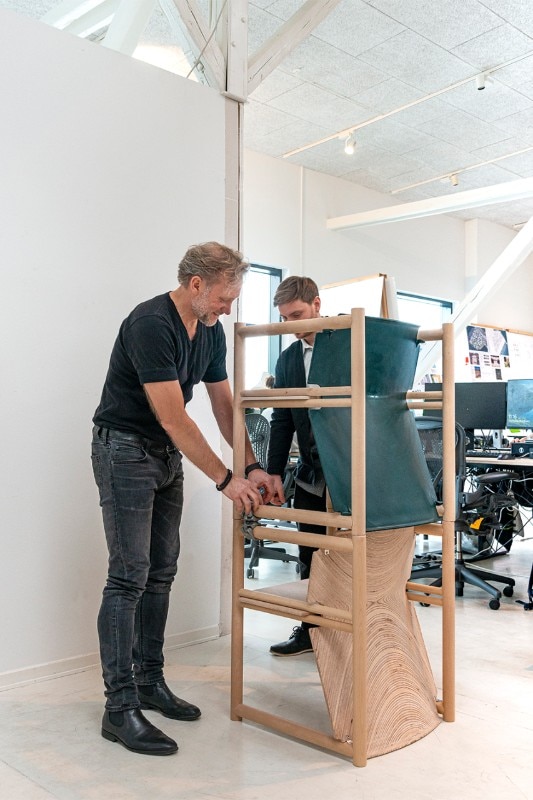 The pavilion will be built around the iconic fountain in Hibiya Park, Tokyo's green lung, to create a space that is always open to the public. "But only when visitors enter inside, through the huge arched openings that design the pavilion, will they realize that all the walls are made with chairs stacked one on top of the other. Chairs that they will be able to buy once the structure is dismantled," concludes the designer.
The project is developed by the Danish Ministry of Industry and Finance and VisitDenmark in collaboration with The Danish Industry Foundation and Realdania.