Friends Lab is a cottage located in the fields of Hampshire, United Kingdom, homeland of writers Jane Austen and Charles Dickens. Designed for guests and family as a summer house, it is right next to the farm where the main residence is set. The building by Alberto Marcos_AMPS architecture studio is inspired by barns and their black timber cladding as well as by the exisiting farm's stable, in a more contemporary reinterpretation that includes a high level of energy efficiency.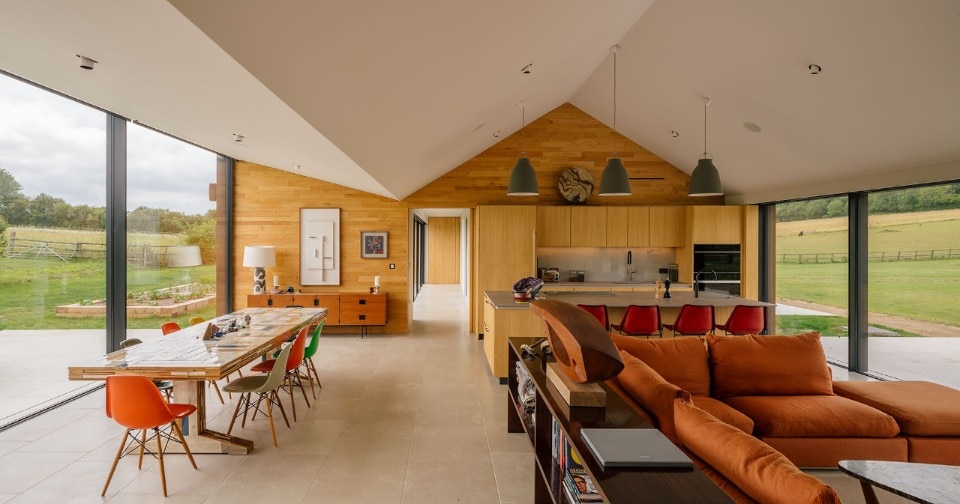 The house has a CLT cladding, a prefab construction method consisting in cross-laminated timber panels: the black-stained accoya wood covers the whole volume of the building, from the double pitched roof to the walls. The length of the cottage is broken by the addition of a second space hosting the living room, a block that seems to escape from the main construction to explore the landscape. With two oppposite entrances leading to the living area, opened both on northern and southern sides, the interior space appears bright thanks to limestone floors, chestnut timber walls and large glazed openings.
Rooms are organized along a corridor, with master bedrooms located at the ends of the house and children bedrooms using the entire height: these spaces in fact include a wooden structure providing separated desks, stairs used as shelves and partitions, a ballet bar with mirror. Bathrooms meet the colorful play of tiles and the light positioned above baths and showers. Two conceptual levels have been imagined for the house, one 2.20 meters high, conceived to be experienced by people, the other one, above them, comprehending the ceilings. 
Project:

Friends Lab

Location:

Hampshire, United Kingdom

Program:

Private cottage

Architects:

Alberto Marcos_ AMPS Arquitectura y Diseño

Collaborators:

Mariana Areia, Rocio Gomez Zamalloa, Marta López de Asiaín, Pablo Martín Marraco, Paula Peña

General contractor:

Olive Tree Renovation

Structural engineer:

Chapero & Marsh

CLT engineering:

Eurban

M&E Engineers:

CBG

Civil engineers:

Infrastructs

Light consultant:

Nur Lighting

GSHP & PV:

Isoenergy

Boreholes:

Synergy Boreholes

Joinery:

Gabilondo SL

Completion:

2019