With its red volumes, as if illuminated by the light of sunset, the Rajasthan School is a primary and secondary school located in the Indian city of Nagaur. Sanjay Puri Architects' project provides open, semi-closed and closed spaces in a play of volumes, embracing the character of Indian villages and old cities. Different trapezoidal surfaces enclose the school and give it a feeling of movement, amplified by the continuous shifting of shadows during the day.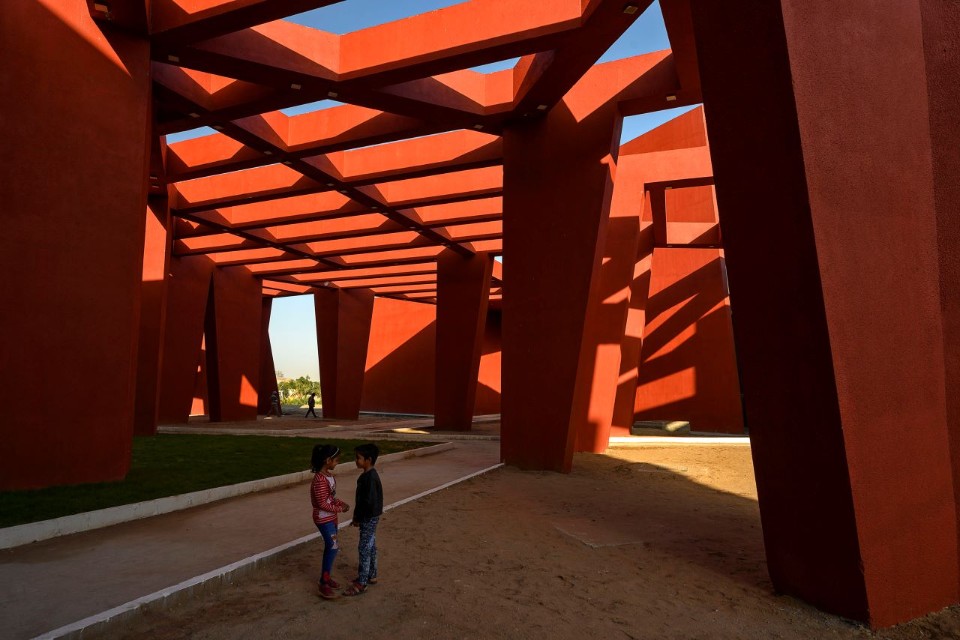 In the three-storey structure, particular attention has been paid to orientation: the classrooms are north oriented and therefore protected from direct sunlight, which can lead to temperatures of 35°C due to the desert climate of the area. The space is organized around a central courtyard protected by a patio-structure consisting of frames and sun-breakers, where you can watch the shadows often change their pattern. In the southern part of the site are distributed auditorium, primary school and offices, while on the northern side are the secondary school, library and cafeteria, with a total built up area of 8,639 square meters.
The structure, which overlooks an athletics track on the north side, is deliberately fragmented to let the landscape intersecate with the educational parts. Vertical panels protect the interior spaces from heat, in a building that also pays attention to energy efficiency: electricity comes from the residual energy of a nearby cement factory and water is recycled.
Project:

The Rajasthan School

Location:

Nagaur, Rajasthan, India

Program:

Primary and secondary school

Architects:

Sanjay Puri Architects

Design team:

Ishveen Bhasin, Ankush Malde, Pooja Prajapati

Client:

Shree Cement Ltd.

Site area:

17,651 sqm

Built area:

8,639 sqm

Completion:

2020