Tainan Spring is the public space completed by MVRDV studio in the centre of the city of Tainan, in Taiwan: an urban lagoon surrounded by plants that, once grown, will transform the area into a city jungle. The project is the result of the transformation of a former shopping mall built in 1983 on top of the old harbour, next to the Tainan Canal, in a town once full of water networks serving the fishing industry. 
As Winy Maas, founding partner of the Dutch studio, explains, the creation of Tainan Spring was inspired by the history of the city, the jungle and the water with the aim of reintegrating the urban environment into the natural landscape of the surroundings.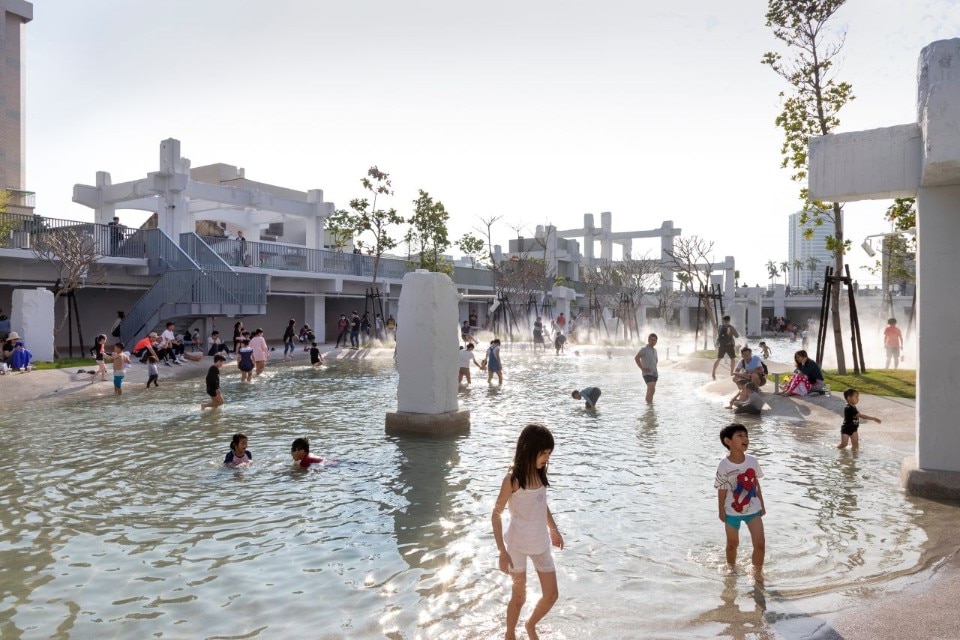 The pre-existing building has been removed and partially reused following the concept of circular economy: the underground parking is now a public plaza with a swimming pool running among green islands and the remains of the original structure, left intentionally in the space to make it look like a ruin of ancient Rome. Still, the old structure surrounds the lagoon, creating shadowed arcades: a preserved structure that recalls the past.
In addition to the swimming pool — equipped with mist sprayers during summer and whose water level rises and falls according to the weather conditions — Tainan Spring provides meeting and play areas, with the possibility to add shops and kiosks in the future. The studio's project aims to increase the city's green spaces and improve nearby public pathways, as well as merging, thanks to an urban planning strategy, the former commercial site with a recently renovated stretch of Haian Road.
Project:

Tainan Spring

Location:

Tainan, Taiwan

Program:

Urban lagoon and public space

Architects:

MVRDV

Principal in charge:

Winy Maas

Partners:

Wenchian Shi, Jeroen Zuidgeest

Project coordinator:

Hui-Hsin Liao

Design team:

Hui-Hsin Liao, Angel Sanchez Navarro, Stephan Boon, Xiaoting Chen, Andrea Anselmo, Yi Chien Liao, Zuliandi Azli, Olivier Sobels, Dong Min Lee, Chi Yi Liao

Visualization:

Antonio Luca Coco, Costanza Cuccato, Davide Calabro, Paolo Mossa Idra

Partners:

LLJ Architects

Sustainability/landscape and urban designers :

The Urbanists Collaborative

Structural engineers consultant :

Evergreat Associates, SE.

Transport planners :

THI Consultants Inc

Lighting design:

LHLD Lighting Design

MEP engineers:

Frontier Tech Institute

General Contractor :

Yong-ji Construction Co. Ltd

Commissioned by:

Urban Development Bureau of the Tainan City Government

Completion:

2020