This article was originally published on Domus 1043, February 2020.
Snaking through the centre of São Paulo is an infrastructural monstruosity, an elevated roadway that winds past third-story windows. The Minhocão ("Big worm") or the Via Elevada Presidente João Goulart as it is officially known, is a 2.8 km overpass that runs from the start of the West Zone through to the Centre going around and into the city centre, strangling it and deadening its streetscape. Though it exemplifies the anti-social thrust of the city's development over the past half century, it has, at the same time, come to represent recent attempts to reclaim urban space. In early 2018, a bill mandating the conversion of the Minhocão into a park was signed into law. Whilst many cities around the world are touting projects that are their answer to New York City's High Line, São Paulo's is one of the least probable, as well as the most necessary.
Minhocão is the most democratic space in São Paulo. That's what's important, not whether there are trees and benches on it yet.
São Paulo was never a monumental city like Rio de Janeiro, which was built for governors and priests. It can be a disorienting place, lacking both geographical and human landmarks. Perhaps other than the modern art museum, MASP, by Lina Bo Bardi there is no classic postcard image of São Paulo. It is car-dominated and sprawling; a sea of skyscrapers is probably its best visual representation. For those who love the city, this may be part of the charm – it is a city to be lived, not admired. What it indubitably lacks, though, is sufficient public space.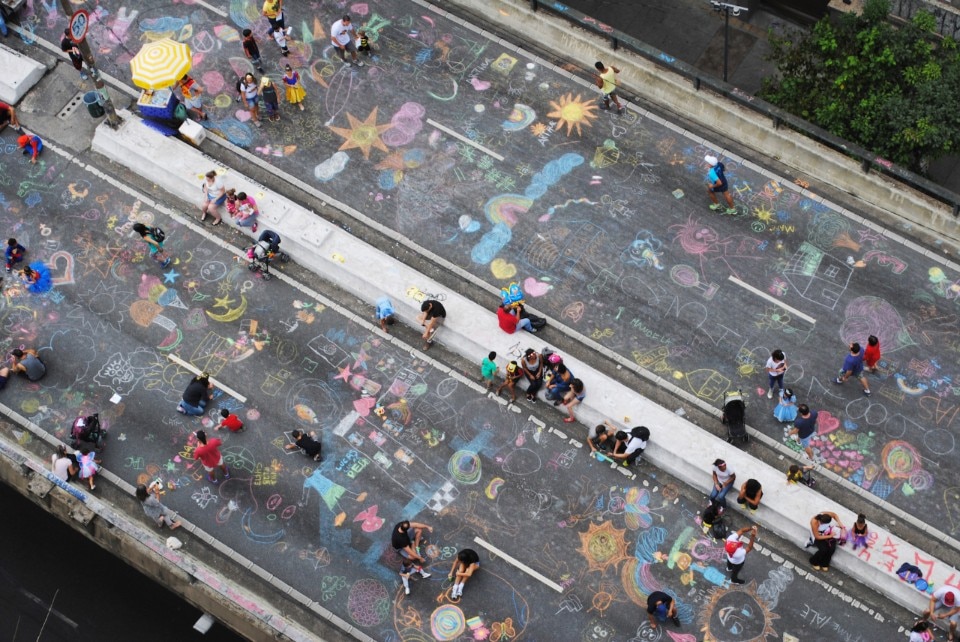 Though 78,000 vehicles pass on the Minhocão daily, it turns into a de facto park in the evenings and all weekend long. While closed to traffic, it is an appropriated space, welcoming joggers, dog-walkers, spliff-smoking skaters, sun-bathers and cyclists, who temporarily occupy its entire length. This suspended park hovers some six to eight metres above street level, in a peculiar coexistence with the dense buildings adjacent. There is a magical interplay between the elevated park and the surrounding architecture. One window becomes a stage for children's theatre, and has done every Sunday since 2013; the pedestrianised roadway hosts the audience. The facades of buildings above are canvases for street artists. One long-standing work, is of an urban mummy, the bandages made of roadways. If this is Brazil's biggest city's response to Rio's famed beach, it could not be more quintessentially São Paulo: intensely urban, pulsating and for the want of a better word, weird. "It feels like São Paulo has begun using public space better in the past five-to-ten years," says Fernando, an events professional in his early 40s who cycles along the traffic-free Minhocão on a sunny Saturday afternoon, tells me. "It started with popular parties, like carnival. That created a demand, which the city government started responding to."
The city's lack of parks and public spaces motivated a group of residents to form the "Associação Parque Minhocão" in 2013, to advocate in favour of transforming the viaduct – back then, already closed on Sundays and at night – into a permanent park. Felipe Rodrigues, an architect and one of the group's spokespeople, emphasises a message that resonates with fans of the Minhocão Park. "It's the most democratic space in São Paulo, much more so than Ibirapuera [the city's largest urban park]. That's what's important, not whether there are trees and benches on it yet." Currently, the plan is for an upgraded, tree-lined landscape to cover the first 900 m of the viaduct, from Praça Roosevelt to Largo do Arouche. Eventually, a planned R$ 38 m (8.2 m euros) investment would create a long park, linking a regenerated Parque Augusta in the centre to Parque da Água Branca, in the West Zone. One proposal by urbanist (and ex-mayor of Curitiba) Jaime Lerner features new access ramps, benches and trees, as well as other vegetation. Ventilation holes would be created along the centre of the viaduct to allow for air and light to penetrate down to the damp and dark stretches along the avenues the Minhocão has covered for nearly 50 years.
Another proposal is to rid the city of the Minhocão entirely. Gabriel Rostey, a member of the municipal council on urban policy, argues that its removal would reveal the beautiful modernist avenues and squares hidden beneath. Moreover, the desire to turn the Minhocão into a High Line or a version of Paris' Viaduc des Arts would ignore structural differences: those projects made use of railway tracks, not a viaduct above a public road. For Rostey, the Minhocão Park is a hipsterish affection, driven by "the eternal identification that Paulistanos feel with New York." Rodrigues disagrees."It has nothing to do with the High Line!" he says "The 2013 Biennal had an exposition suggesting that idea, and the media ran with it. People then accused us in the Association of being luvvies. But look at the variety of people who actually use the Minhocão. Most have never even been to New York." Conservative critics may be put off by the fact the Minhocão is perhaps an unruly space. Robberies are not uncommon on the Minhocão – mainly teens on bikes snatching cell phones. Although policing has improved in the past year, it has been suggested that CONSEG, a notoriously conservative "community council on security" attached to the state government, has allowed robberies to happen in order to dissuade popular appropriation of the Minhocão. The ambivalence over the reclaiming of public space in São Paulo, so often identified with crime, dirtiness, precariousness and homelessness is best expressed by Anita and Zé, a retired couple who, as local residents take air on the viaduct. "São Paulo is trash," they say. "There are so many things that need fixing. But I wouldn't demolish the Minhocão, no. Sure it would rid us of the homeless underneath, but they'd only end up somewhere else."
The Minhocão could even become an identifiable postcard-picture city landmark.
Marcos, an ambulant coconut vendor plies his wares on the Minhocão at weekends, but also makes use of it as a space for leisure. He says that crime is a concern, "even though they don't target hawkers like me." For him, a permanent park would not just be good for business, but would improve security, too. In spite of the Associação Parque Minhocão's emphasis on experience, not planning, it still stands accused of aiding gentrification. The district lost nearly 25% of its inhabitants over '90s, as the "centre" shifted southwest, but real estate speculation has shot up in the last decade. Felipe Rodrigues, for his part, rebuts any such implication: "Gentrification is public action that doesn't take into account social mix. But the legal institutionalisation of the park, and the eventual construction of services like toilets and water do not do that."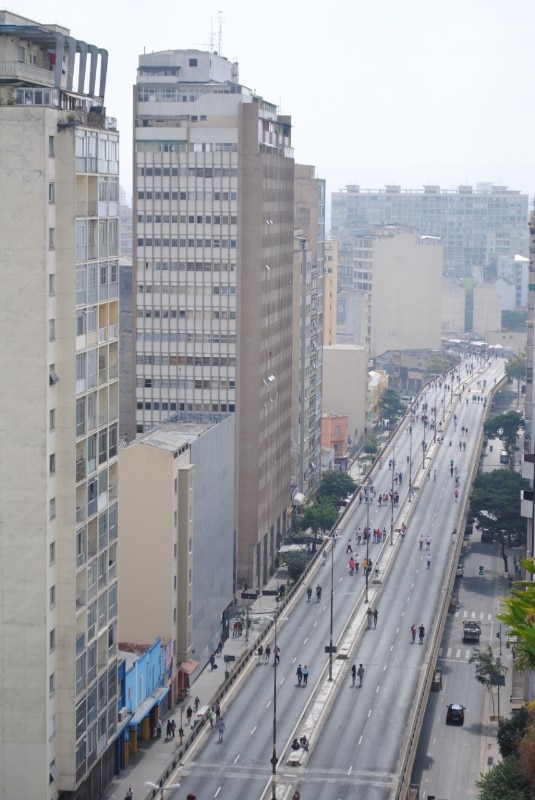 Since re-democratisation in the late '80s, social movements have installed a redistributive planning tradition. But this has stood in tension with the institutional power of the middle class, which privileged the car and increasingly fortified residential condominia. And then there is the longer-standing tendency of what author Benjamin Moser calls "self-imperialism". That is, Brazil is not so much a colonised society as a coloniser; even if the place to be conquered is itself.
This has resulted, throughout its history, in a chaotic process of development, of speculation and construction, followed by abandonment once that which has been built no longer serves its purpose. It's easy to see the Minhocão fitting into this haphazard and anti-social model.
But perhaps the Minhocão ark could be a rare success. Irretrievably modern and urban in its appearance, but also used in a spontaneous, bottom-up fashion. And despite its advocates' discomfort with the High Line analogy, it could even become an identifiable postcard-picture city landmark. Should it do so, it would be in the best modernist spirit of mass social inclusion, and thus also serve as a rebuke to the São Paulo of gated condominiums and shopping malls.
Alex Hochuli is a freelance writer, researcher and consultant based in São Paulo. He is the producer and co-host of the global politics podcast, Aufhebunga Bunga, and contributes regularly to a range of publications on Brazilian and global politics, films and cities.
Opening image: the Minhocão on a Sunday, when the overpass running through the centre of São Paulo is closed to traffic and turns into a football pitch for youngsters and a jogging track/cycle path for the city's inhabitants. Photo: Christopher Pillitz.