By drawing on a rich portfolio of large-scale cultural projects that address the theme of restoration through a critical design approach, the international architectural firms Hassell and OMA completed the New Museum for Western Australia in Perth.

The museum has been conceived as a "collection of stories" of Western Australia, from Aboriginal culture to endemic species, a building designed as a place of encounter and exchange between the local community and visitors that opens up to the city, helping to renew the cultural district of Perth where it is located.
 "The New Museum is a place where anyone is welcome to explore the natural and social heritage of Western Australia," says OMA managing partner David Gianotten. "More importantly, it has been deliberately designed as a place for conversation, so that to inspire new ideas and knowledge of global relevance. It is a museum that both showcases and stimulates discoveries."
Architecturally speaking, this sedimentation of history and culture translates into stratification of parts: between restored 19th century buildings – which once housed a variety of museums, galleries and libraries – new juxtaposed stereometric volumes are inserted. The glazed ones reflect the city around while those covered with folded and perforated metal sheets are placed as light bodies to crown the stratified building.
Each front of the building establishes different relationships with the historical architecture and the city. A large opening invites visitors to cross the museum and walk through the City Room, the heart of the project, a covered public square where a wide range of activities will take shape, from large community events to small meetings.
"The 'City Room' is the Museum threshold, inviting everyone to engage with the Museum, the Perth Cultural Centre and each other," says Hassell Principal Mark Loughnan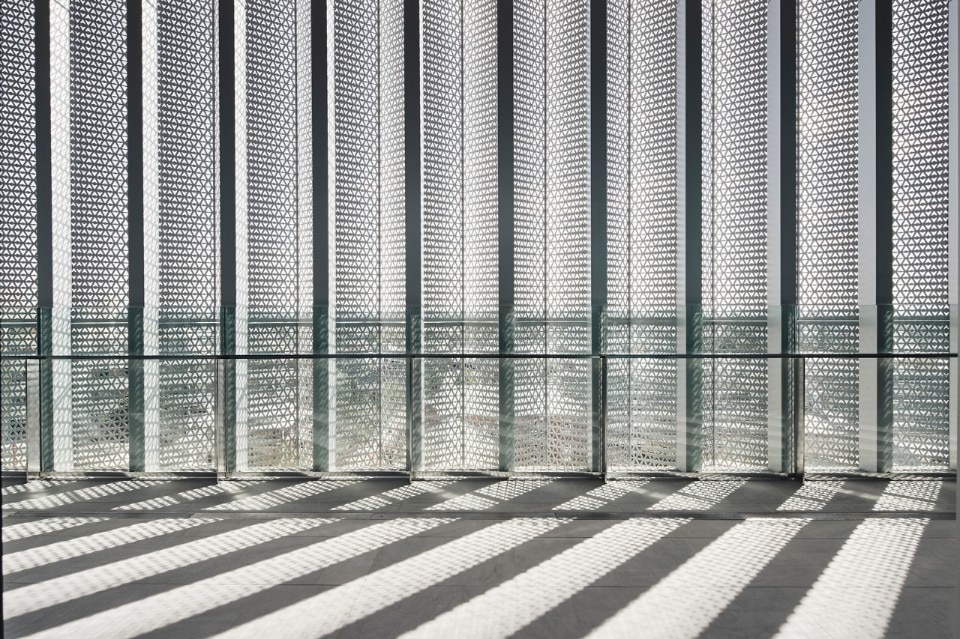 Inside the museum, two circulation loops – one vertical and one horizontal – seamlessly unfold between the restored and newly constructed buildings, moving from world-famous meteorites to the iconic skeleton of the blue whale.
"Western Australia's natural resources, culture and history are extremely different. Rather than prescribing a singular interpretation of Western Australia, the loops enable visitors to engage with the Museum's collection in distinctive ways, and tell the manifold stories of the place," Gianotten explains.
By hosting a palimpsest of cultural initiatives, meetings and events, the new Museum invites the public to regular visits throughout the year.
Shops, bars and restaurants are designed to encourage visitors to pass through the museum even after opening hours, contributing to the continuous cultural activation and growth of the district.
Project:

New Museum for Western Australia

Program:

Museum. Restoration of historic buildings and addition of new volumes

Architects:

Hassell + OMA

Project manager:

Mark Loughnan, Peter Dean, David Gianotten, Paul Jones,

Location:

Perth, Australia

Area:

19,000 sqm

Contractor:

Multiplex

Completion:

2019