In order to renovate the flats of a building dating back to 1872, located in the historic centre of Barcelona, Agora carried out a careful restoration of the existing architectural elements. These were buried under the incrustations of time because of the lack of sensitivity of those who lived in the building year after year.
The architects' work is reminiscent of that of an archaeologist, or that of restorers of ancient frescoes: they proceeded by careful removal of materials to revive the original splendor of the place. In the case of the Carrer Montcada building, the floors that laid on the original ones, some partitions and plasterboard panels, false ceilings and coverings have been removed to reveal mosaics and various constructive elements that were used to enrich and colour the interiors.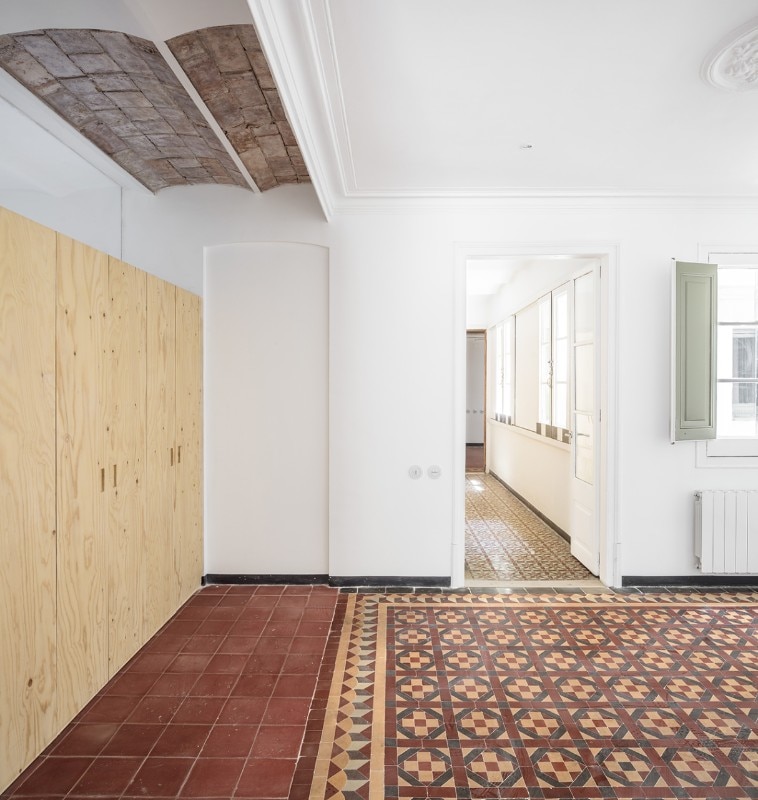 It is from this heritage that the architects began the new apartments project, with minimal and neutral interventions that enhance the chromatic richness of the decorations and the textures on the floor. The interiors of the residences are defined by the material patchwork of the ground, walls and ceilings, the latter characterised by traditional Catalan vaults and splendid cornices.
Doors and windows have also been recovered or, if this was impossible, replaced with modern pine frames. Agora Arquitectura finally intervened on the common spaces of the building on the ground floor: accessibility problems were solved with the introduction of a new lift, and new connections with public spaces were created and irregularities in the ground were eliminated, letting the city into the project.
Project:

MC22

Location:

Barcelona

Architect:

Agora Arquitectura

Restore:

Joan Campreciós

Civil engineering:

RYCMAR

Completion:

2019