Empathizing with childhood freedom, the School of Dancing Arches by Samira Rathod Design Associates is a collection of small spaces with irregular shapes that encourage play and imagination. Located in the village of Bhadran, in the state of Gujarat, the building sits on a plot surrounded by tobacco fields, one of the main industries of the area. "The school evolved as a quilt of many small events, of small spaces to hide, collide, climb, roll, run into and out of, to satiate curiosities of a forming mind, allowing its idyllic imagination and wonder," says Rathod, "a school where the play of hide and seek is perpetual."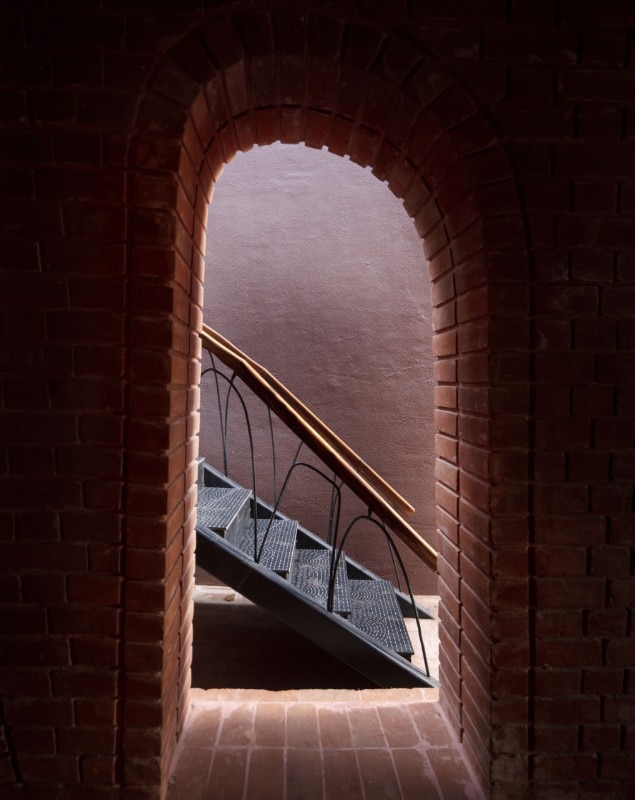 The asymmetrical building moves away from conventional rigid grids as a quest for kids' curiosity and critical thinking. Distributed on two floors, the building features five blocks set along a central, curvilinear corridor with a total of 11 classrooms – six on the ground floor and five on the first floor – a two-floors office, bathrooms, a main staircase and a temple.
Roof are composed by a sandwich structure with concrete in between layers of brick on the top and bottom. Classrooms are sky-lit and the walls, floors and roofs are entirely clad in terracotta bricks sourced from a klin factory close to the site. Light is designed as to define moments in the experiencing of architecture, with dark shadows in the corridor, soft glow through the vaults and bright light in the classrooms.
Project:

School of Dancing Arches

Program:

school

Architects:

Samira Rathod Design Associates

Team:

Samira Rathod (principal), Akshara Verma. Varun Goyal, Jay Shah

Client:

Mr. Tanuj Patel, New English Medium School, Bhadran

Structural consultant:

Rajiv Shah and Associates

Site supervisor and consultant:

Jitendra Ray and Radhesh Ray

Area:

1,672 sqm

Location:

Bhadran, Anand District, Gujarat, India

Completion:

2019