Horizontality is certainly the most distinctive feature of the design by the Centro de Colaboración Arquitectónica for Casa Moulat. Located in the precincts of a golf club not too distant from Mexico City, the large-scale holiday house takes advantage of its protected context to stretch out confidently in the landscape, and to experiment on different degrees of permeability between the inside and the outside. The entire residence unfolds on a single level, whose slight differences in altitude respond to the soil's gentle slope.
Several bedrooms, and their servant spaces, are enclosed within two fair-faced concrete blocks, featuring simplified shapes and architectural language. An imposing double pitched roof, supported by an openwork wooden structure and covered with tiles, connects the two buildings.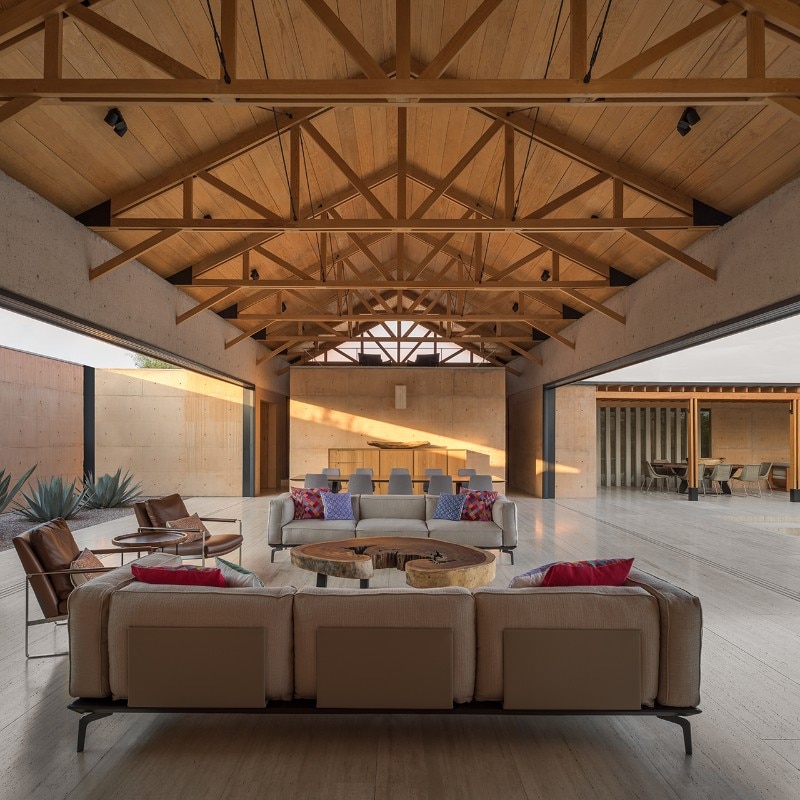 The large living areas lie beneath this element, which draws from the traditional domestic iconography. When needed, its glazed walls can slide to transform it into a veritable covered terrace, forming an uninterrupted open space with the green patio, the poolside and the garden. The equipment of filter spaces between architecture and man-made nature is integrated by a porch, itself made of wood.
Under the powerful tropical sun, the sharp shadows of the smooth concrete prisms contrast with the dense, regular chiaroscuro of the ceramic canopy, as well as with the rough vibrations of the stone plinth. These are the three materials whose warm shades acclimatise the house within the tones of the gentle hills which surround it.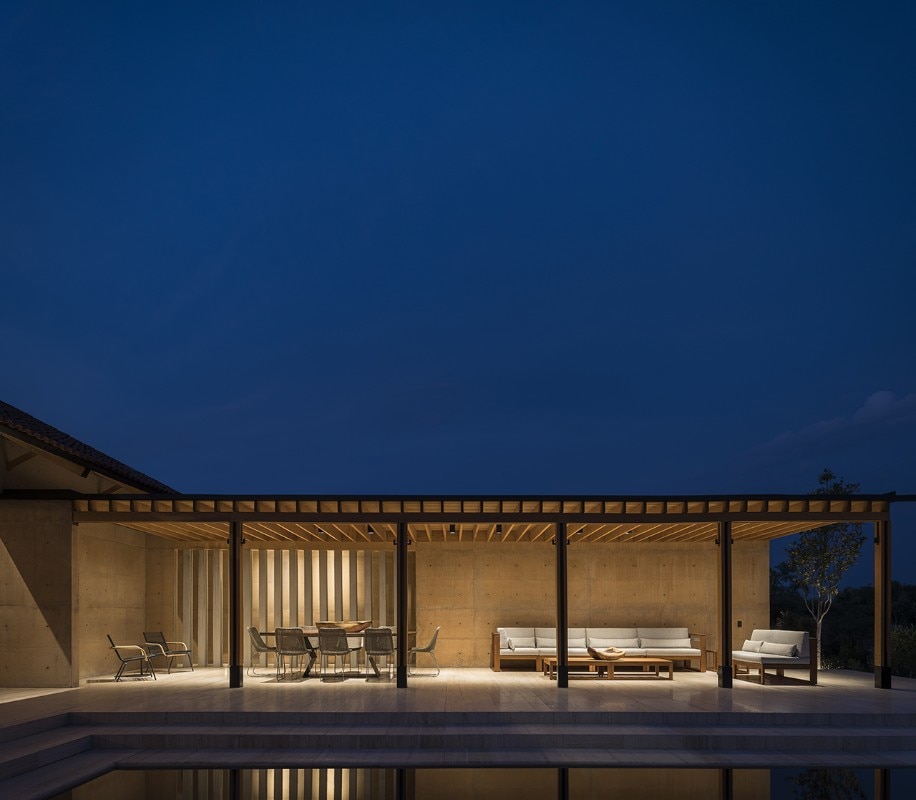 Project:

Casa Moulat

Program:

holiday house

Location:

Tepeji del Rio, Mexico

Architects:

Centro de Colaboración Arquitectónica, Bernardo Quinzaños, Ignacio Urquiza

Project team:

Eduardo de la Cruz, Jennifer Lamadrid, Claudia Gómez Farias, Francisco Gallástegui

Structures:

Ricardo Camacho

Engineering:

M. Angel Baltazar, Carlos Arellano

Area:

608 sqm

Completion:

2017