Under is contained within a 34-metre-block that leans one end on the shoreline and the other 5 metres below the water's surface on the seabed. It claims the title of Europe's first underwater restaurant and Snøhetta′s latest "experimentation with boundaries".
"Under proposes unexpected combinations of pronouns and prepositions, and challenges what determines a person's physical placement in their environment," says Snøhetta founder Kjetil Trædal Thorsen. "In this building, you may find yourself under water, over the seabed, between land and sea. This will offer you new perspectives and ways of seeing the world, both beyond and beneath the waterline."
"The project underscores the delicate ecological balance between land and sea and draws our attention to sustainable models for responsible consumption."
The 35-40 seat restaurant is located in Lindesnes, on the very southernmost tip of Norway, around an hour and a half's drive from the nearest airport. But Snøhetta is at work on an even more remote tourist attraction at the opposite end of the country, a hotel within the Arctic Circle that will be accessible only by boat. 
Diners are protected from the crashing waves by half-metre-thick concrete walls, but a 11 x 3.4 metre window is an aperture into the sea. The rough concrete structure serves a dual purpose, attracting limpets and other marine life to affix themselves to the walls, ensuring a lively view for diners – and eventually produce for their plates. 
"Like a sunken periscope, the restaurant's massive window offers a view of the seabed as it changes throughout the seasons and varying weather conditions," says the practice.
"The structure is designed to fully integrate into its marine environment over time, as the roughness of the concrete shell will function as an artificial reef, welcoming limpets and kelp to inhabit it."
Cameras will let marine biologists study fish behaviour, diversity and population around the restaurant, helping advise head chef Nicolai Ellitsgaard and his 16-person kitchen team to assess the best times for harvesting.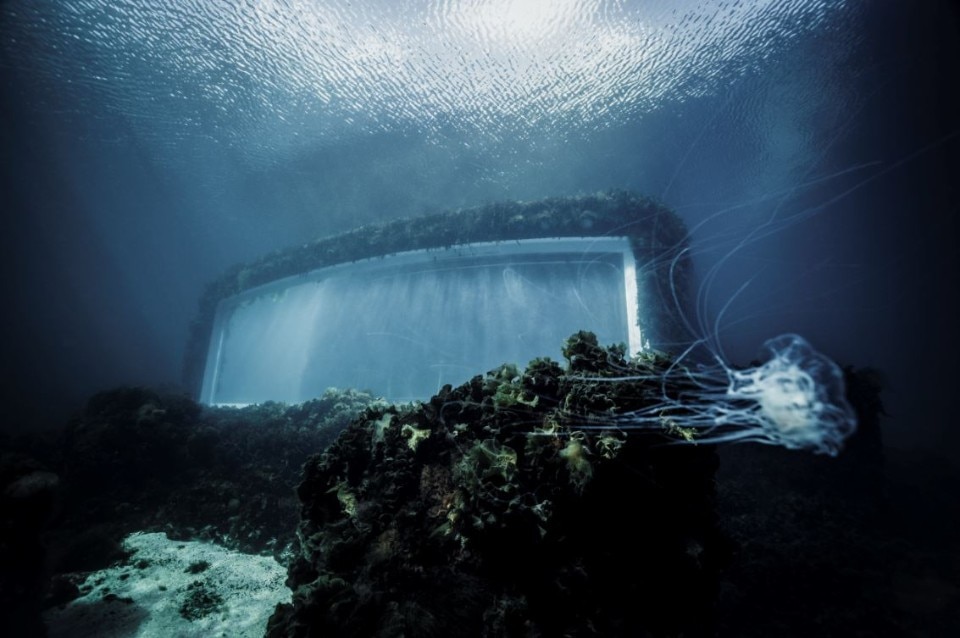 Under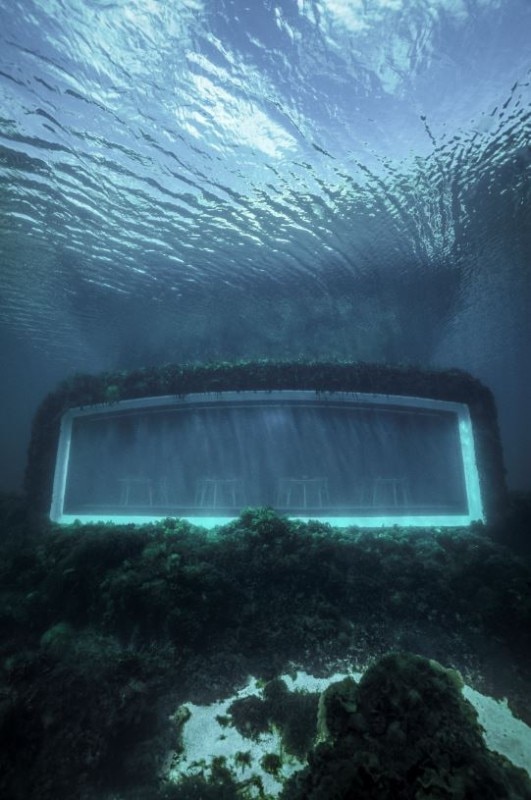 Under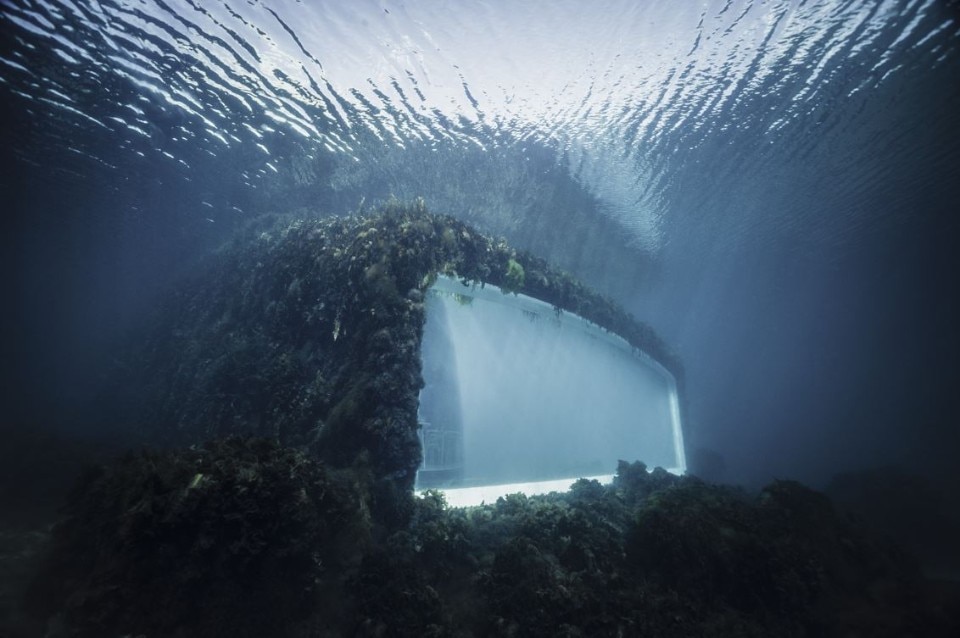 Under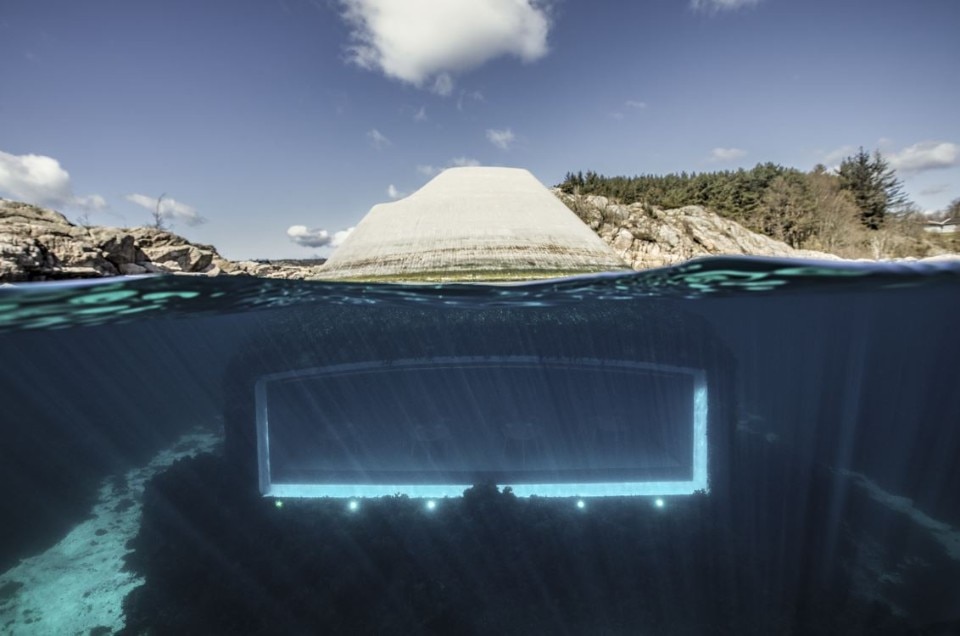 Under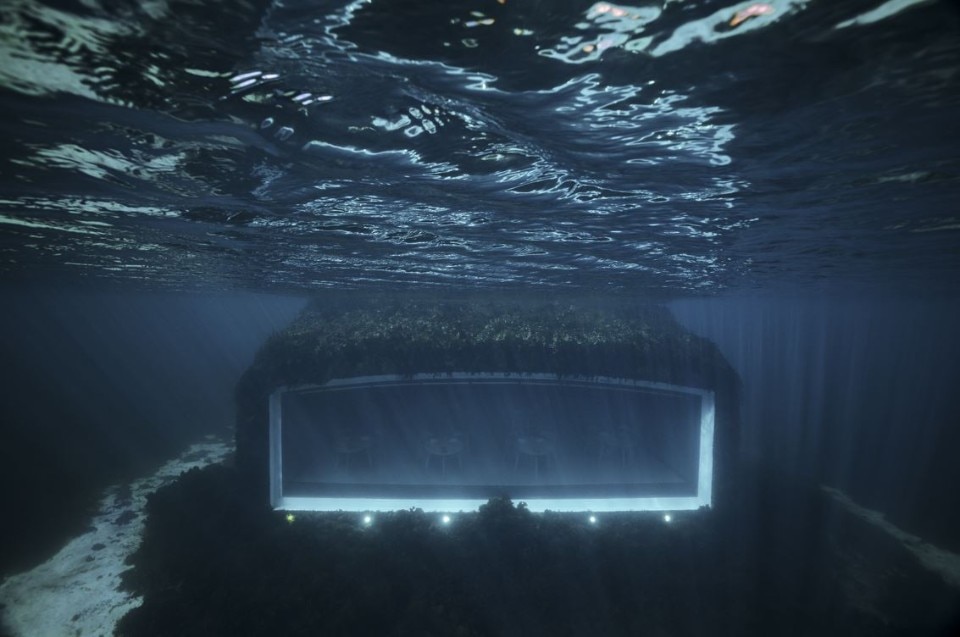 Under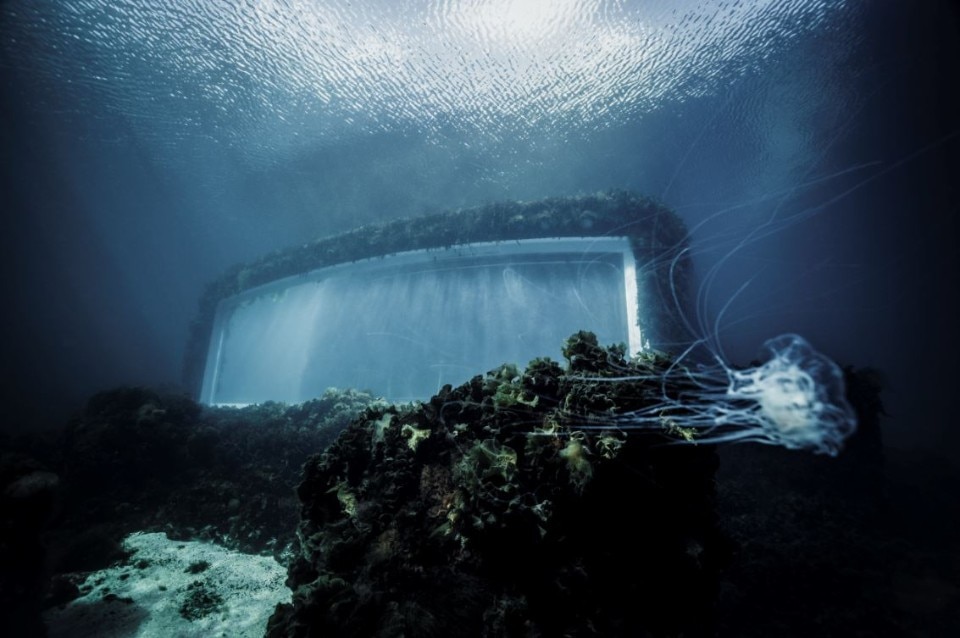 Under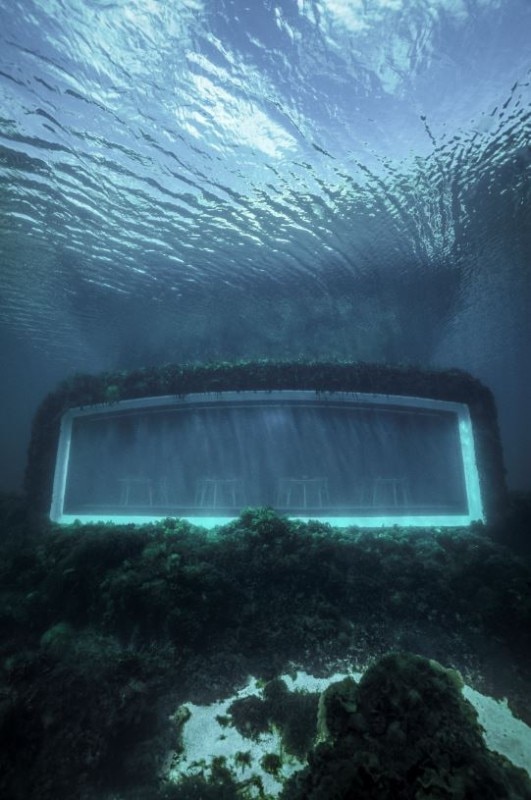 Under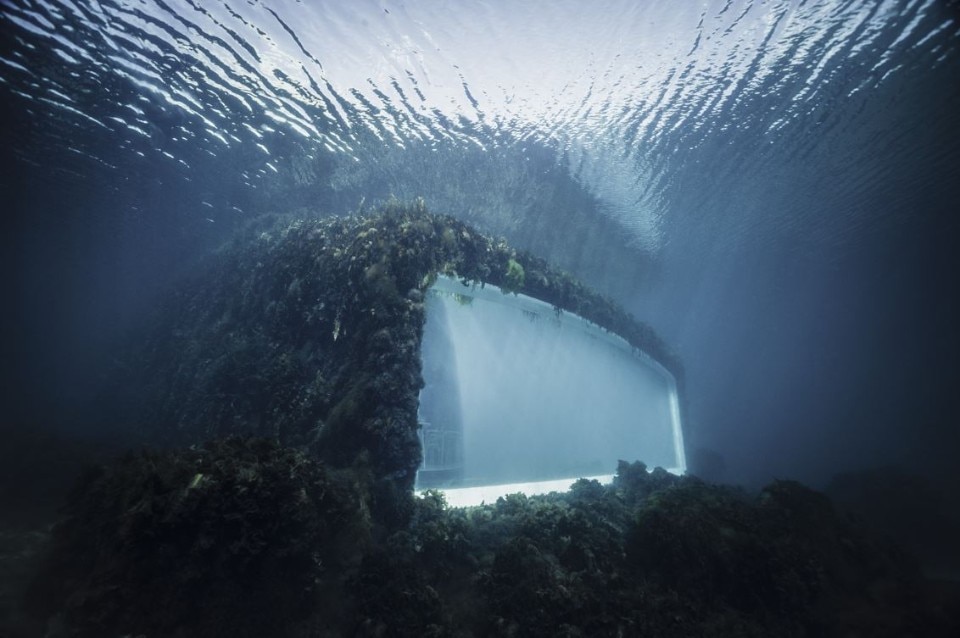 Under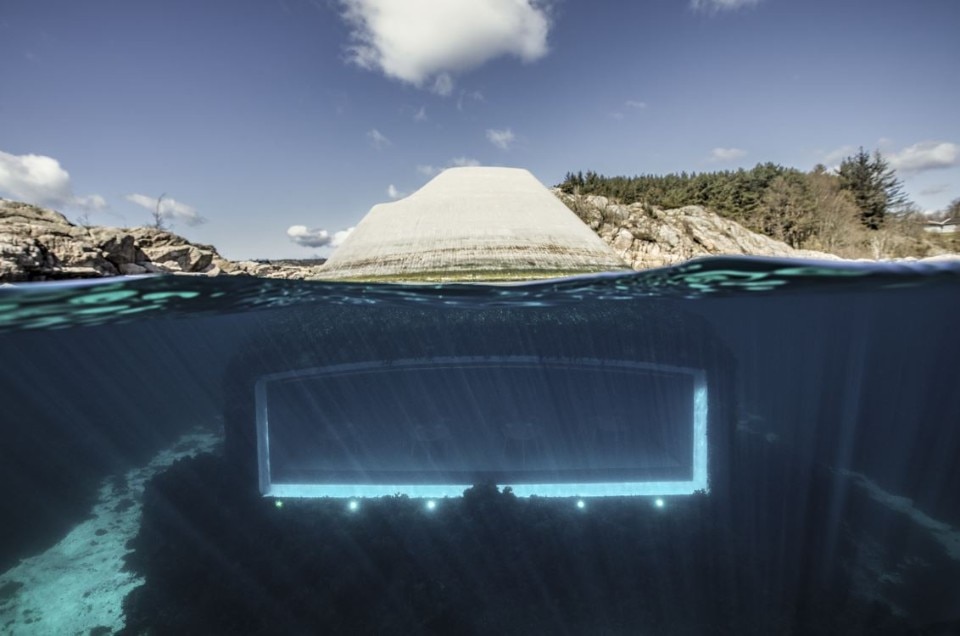 Under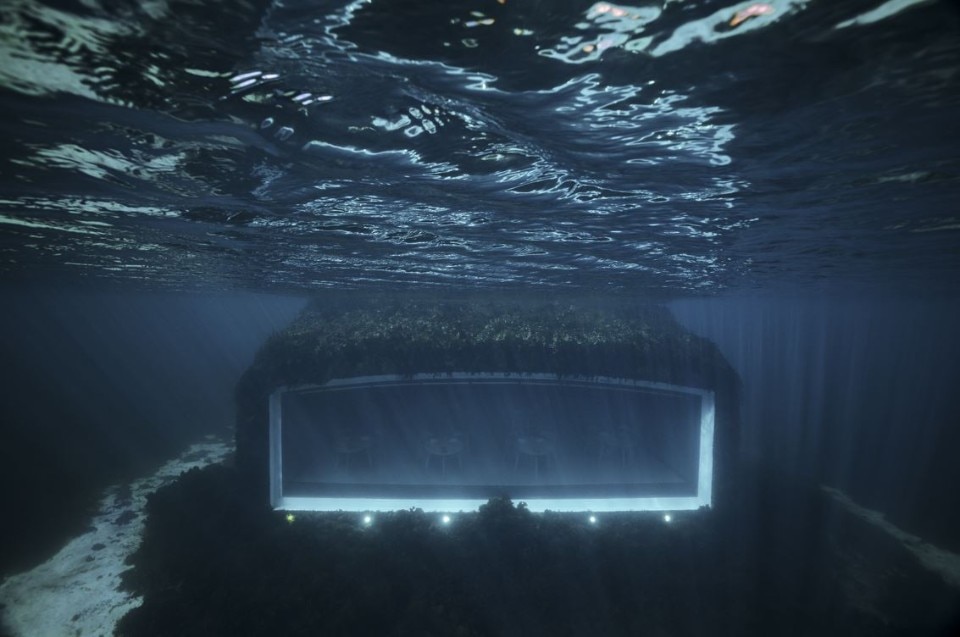 Under
His team occupy a kitchen tucked closest into the shoreline, while the dining hall populated with modestly scaled furniture occupies the area by the panoramic window. 
Sunlight shining through the murky aquamarine waters creates a dramatic setting for diners, who descend down into the restaurant through an oak-lined foyer into the dining hall, where ombre ceiling textiles reference the setting sun.
After sunset artificial lighting illuminates the seabed to attract fish to the window.
The cast concrete shell – constructed on the shore and flooded with water to help its submersion – is anchore to the seabed with a concrete slab.
Architecture:

Snøhetta

Client:

(Ubostad Gaute and Ubostad Stig (Havhotell Lindesnes

Collaborators:

Kvadrat, Grohe, iGuzzini, Hamran