Andreia Garcia Architectural Affairs + Diogo Aguiar Studio designed an abstract space halfway between a residence and an exhibition hall. It is an environment that is designed to be adapted to different needs, but to always provide direct connection with the Minho mountain landscape.
The Pavilion House was built above a stone wine cellar and is immersed in Guimarães vineyards, a centre in northern Portugal with many textile industries, with a craft tradition and renowned for its cutlery and gold smithery.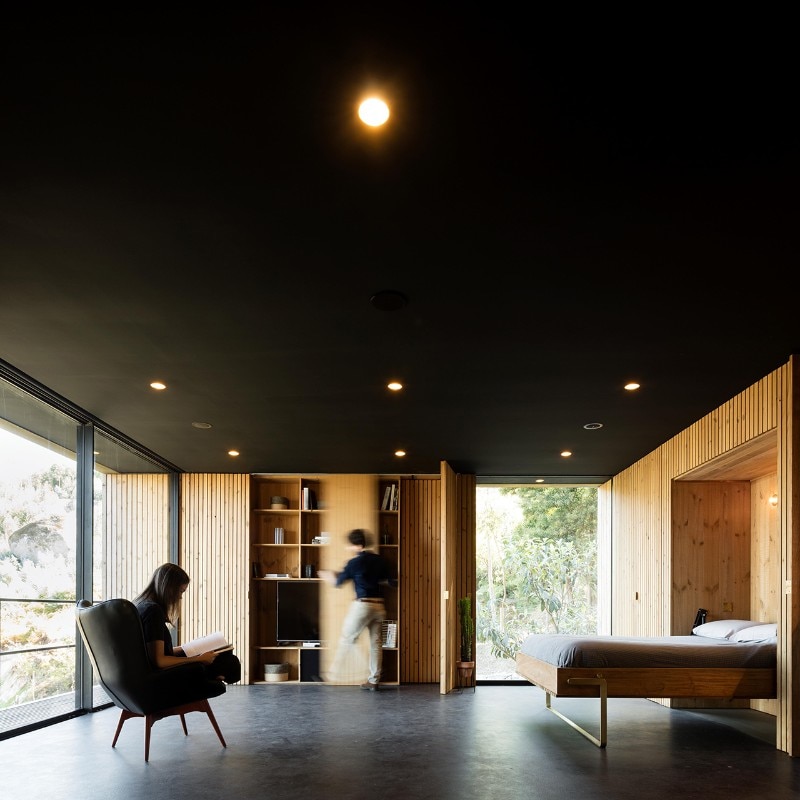 Portuguese architects geometrically composed the facade of the one-storey house with the existing structure. The wooden cladding's vertical pattern plays against the stone's rough appearance and the smooth surfaces of a large inset windows.
Inside, all the furnishings and services – bathroom, kitchen, wardrobe, bookcase and warehouse – are integrated in the four perimeter blocks, while the punctual lights are embedded in the ceiling.
The walls alternate between full-height windows, so that blind angles are not created, and the gaze is directed outwards. This effect is also emphasised by the use of materials: the wood cladding with its marked vertical rhythm continues inside, while the ceilings and floors are black, smooth and opaque. Finally, some of the openings disappear inside the wall, making the house an open-covered space.
Project:

Pavilion House

Location:

Guimarães

Program:

single family house

Architect:

Architectural Affairs + Diogo Aguiar Studio

Team:

Andreia Garcia, Diogo Aguiar, Daniel Mudrák

Area:

85 sqm

Completion:

2019