António Costa Lima's project for a residential unit in the heart of Lisbon is more than the redesign of an existing building. Rather, it operates on a portion of the Portuguese capital's ancient urban fabric, one which is so dense and intertwined to make it impossible to pinpoint its single unities. The block's construction started in the 17th century, on a steeply sloping lot, to progress over the years through alterations, destructions (though the 1755 earthquake spared it in large measure), and additions.
Costa Lima seeks to carry on this evolution path in the name of continuity. What is left of the original finishes is carefully restored: not just the unfailing azulejos, but also most window and door frames and a few wooden ceilings. The spatial and technical updates are limited to the bare minimum, to adapt the complex to its new residential function – a seven bedrooms main house and a three bedrooms annex.
The two courtyard gardens host the few newly-built structures, and most notably the elevated terrace altering the previous layout of the southern court. It functions as a filter space between inside and outside, which directly overlooks the open-air pool, surrounded by elegant wooden and marble decks. A white painted metal frame builds a large trellis. This boldly contemporary insertion is conceived as a reversible structure, ready to be removed when future dwellers will redesign these spaces, according to needs and uses which are to this day unforeseeable.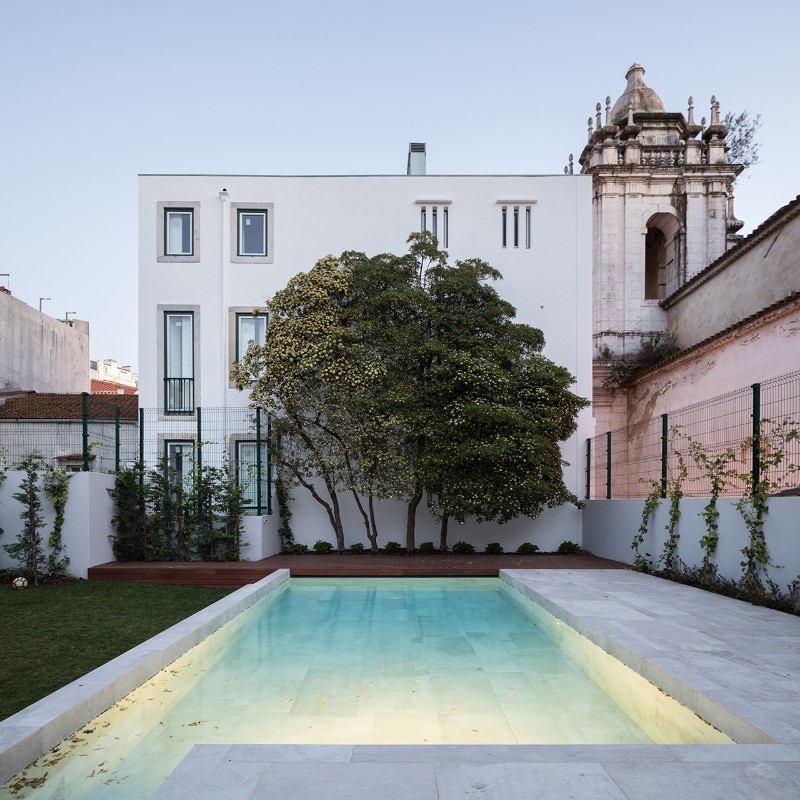 Project:

private house

Location:

Lisbon, Portugal

Architect:

António Costa Lima

Design team:

André Ribeiro, João Almeida, André Cunha

Area:

1,000 sqm

Completion:

2018