Pure, compact and monolithic volumes, independent from the rural context. This is how the residence designed by Tiago do Vale Arquitectos in Ponte de Lima, Portugal, appears from the street.
The white blocks recall the compact and unadorned masses of traditional buildings in the province of Minho. "The building is an independent object among independent objects, and in its economy of shape and detailing, it distances itself from the post-rural decorativism that is now the norm in the Portuguese countryside," says Tiago do Vale.
Casa de Gafarim
Design by Tiago Do Vale, Ponte de Lima, Portugal, 2018

Casa de Gafarim
Design by Tiago Do Vale, Ponte de Lima, Portugal, 2018

The entrance to the house is conceived as a moment of transition, a compressed space that enhances the double height of the living room. Once in the living area, the space opens with large glass walls facing north-east. The openings, hidden from the street, face towards a lake that reflects the light at sunrise.
A small internal patio is instead designed as an autonomous and intimate space, an outdoor extension of the main bedroom.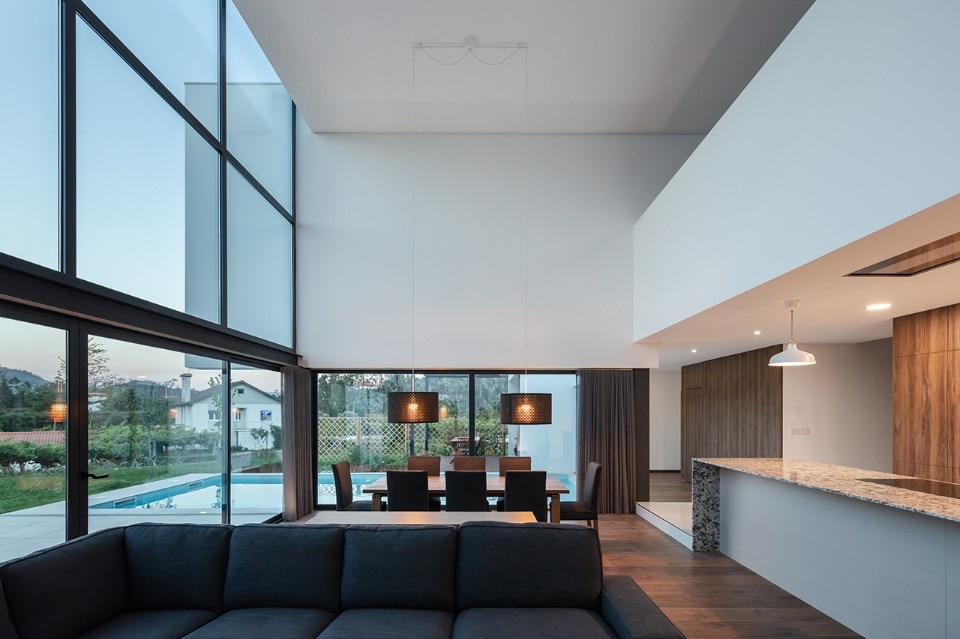 "Between vernacular and contemporary references, between blind volumes and open planes, the Gafarim House is a project about contradiction, opposition and provocation condensed in a simple, pragmatic structure," says the Portuguese architect.
Project:

Casa de Gafarim

Program:

single family house

Location:

Ponte de Lima, Portugal

Architect:

Tiago Do Vale Arquitectos

Design team:

Tiago do Vale, María Cainzos Osinde, con Maria João Araújo, Camile Martin, Eva Amor, Hugo Quintela, Joanna Jakimiuk, Esra Arslam

Contractor:

Casas do Lima, Limiavez L.da

Area:

252 sqm

Completion:

2018