Quite often, the historical events structuring the identity of a place converge with the local gastronomic traditions. Some of the fundamental steps of French modern history are recognizable within the evolution of bakery. For instance, the baguette – the well-known elongated shaped bread – gets its origin from the Viennese bakery, the very first one in pioneering the steam-cooked bread, stressing the strong cultural relation between the French monarchy the Austro-Hungarian empire. Without even mentioning neither the queen Marie Antoinette nor croissants, food and especially bakery, is rooted insomuch in French culture, that it represents a parallel integration to the history of modern France.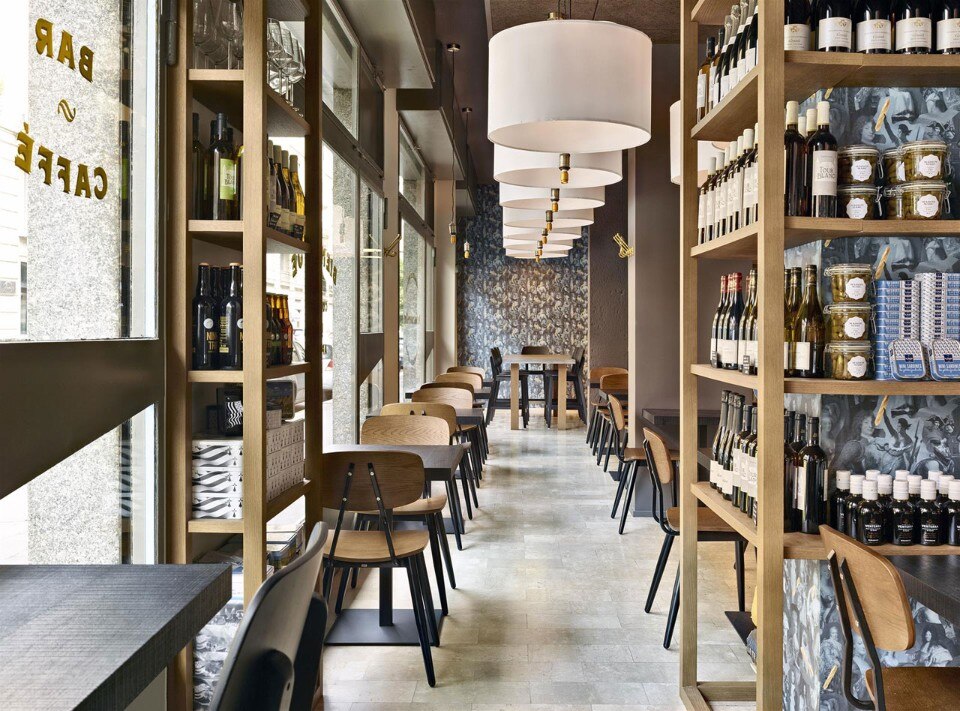 Not by chance, the encounter between gastronomy and architecture is the characterizing theme in Egalitè interiors, designed by Vudafieri-Saverino Partners aiming to tell the boulangère tradition through figures and events of Paris, before and after the revolution. The branding project, thought in collaboration with Studio 150Up, and the choice of a very evocative architectural form, reveals altogether the eclectic tendency structuring Tiziano Vudafieri and Claudio Severino approach towards interior design. The use of many different compositional languages had already been involved in many of the past project, related again to gastronomy, such as Ristorante di Berton, Zaza Ramen or Kanpai.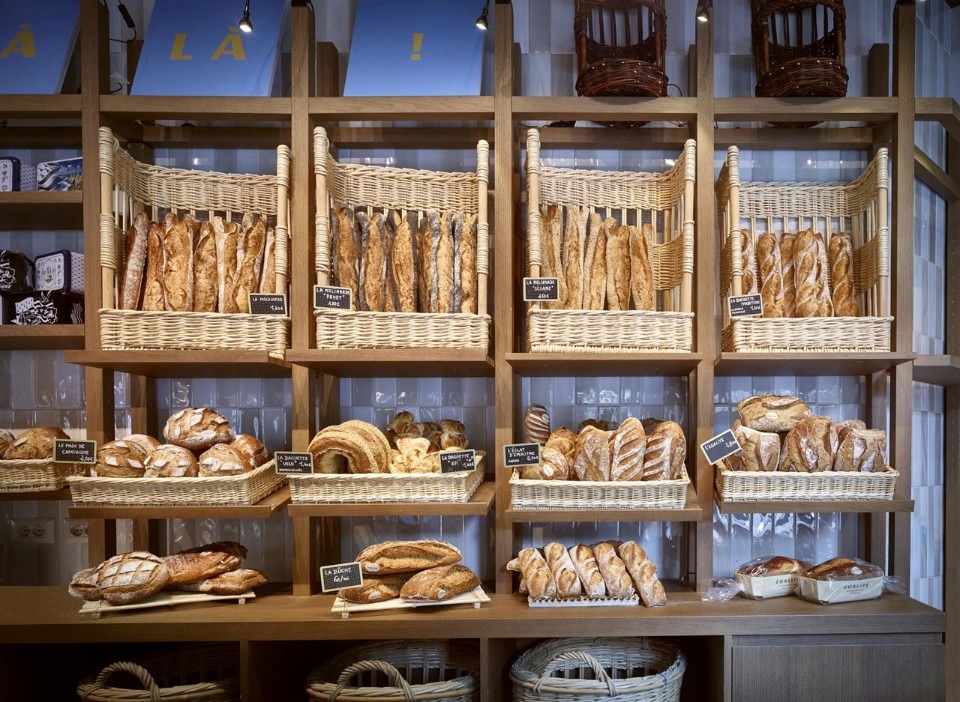 Sited in the vibrant area around Porta Venezia, the 215 sqm venue is organized in selling and tasting areas. It interacts with the street trough seven windows, attracting people to enter a highly iconographic space. The bakery and the laboratory are visible from every spot, underlining the artisanal productive process created by Thierry Loy, one of the foremost among the masters boulanger. The strangely over-dimensioned counter coupled with the beige tiles of the wall in the back, creates an aesthetics recalling the French bakery in the '50. Every surface expresses a certain nostalgia for the Parisian atmosphere. The solid woods of the shelfs, the wrought iron of the outdoor chairs, the pictures of the products organized in taxonomies adorning the walls, enrich altogether the visive perception of a place simultaneously informal and welcoming. Egalitè is a fragment of Paris transposed in Milan.
Vudafieri Saverino Partners è stato tra i protagonisti di "Architecture meets Fashion", il master organizzato da Domus a Milano dal 24 al 30 giugno. La settimana di approfondimento intensivo è realizzata in collaborazione con l'Ordine degli Architetti PPC della Provincia di Milano.
Progetto:

Égalité

Tipologia:

panificio

Luogo:

Milano

Architetti:

Vudafieri Saverino Partners

Completamento:

2018