Studio associates designed a laic chapel in Botticino, near Brescia, for a local association that deals with the socialization issues of teenagers with mental disabilities. The project, named Chapel of Silence, is a contemplative building that lies amid a forest and a vineyard. The construction has been possible with a participatory approach, together with a group of selected students.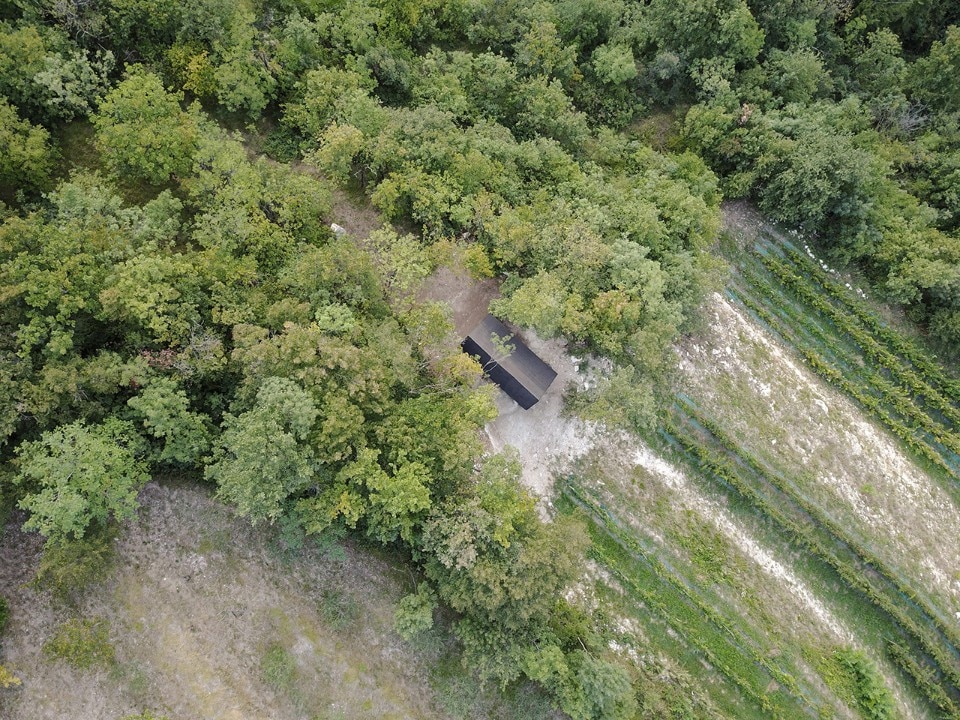 The choice of the material, which is painted-black wood, gives to the building an abstract feel. The whole body of the building – an elemental shape with a pitched roof – seems to be fluctuating given that it is perched on a slightly smaller base than the building itself. A first monolithic piece of Botticino marble is placed next to the entrance and has a triangular cavity on top made to collect rainwater.
The interior space is divided in two main rooms: the first has a lower ceiling and a small squared window-frame with a view on the forest. The second room is considerably wider and its shortest side is only closed by a curtain, hanging on a portal, cantilevering towards the slope. This side faces the second white monolith, which stands against the green backdrop of the forest.
The Chapel of Silence by Studio associates, 2017
Project:

Chapel of Silence

Location:

Botticino, Brescia

Architect:

Studio associates

Construction:

Edil3 Costruzioni
, Torri Silvano

Collaborators:

Alberto Tosoni, 
Alessandro Tarolli, 
Chiara Vulcano, 
Elena Pellizzer, 
Federico Strada, 
Francesca Kiprianidis, 
Gino Baldi, 
Giuseppe Sorrentino, 
Maria Savastano, 
Nicolò Garonzi, 
Serena Comi
, Silvia Diomedi, 
Simone Volpi, 
Susanna Parlato, 
Valentina Almerico, 
Valentina Monteverdi
, Valentina Raggi
, Valentina Solano

Structures:

Angelo Archetti, 
Laura Boldi
, Marco Bottazzi
, Massimo Berlinghieri

Completion:

2017