Ingenhoven Architects designed a new administrative center and day nursery in Freiburg im Breisgau, south-west Germany. The main building accommodates the 840 employees of the City Administration under one roof, after they had previously been spread over 16 different sites throughout the city. The ensemble of the new town hall buildings is integrated in the green space between Eschholz Park and the University Hospital—the linking effect is reinforced by vistas and a public pathway network.
The heart of the new six-story building, which replaces a town hall pavilion from the 1960s, is the citizens' service center with conference rooms, and staff restaurant on the first floor. The floors above include single and double offices and the routes through the town hall are designed in a transparent and open way, allowing easy orientation. The two buildings' facades feature locally sourced larch wood elements. The facade of the town hall has been constructed using staggered, vertically projecting modules with photovoltaic cells and high-quality thermal insulation. Story-high glazed facade elements are used to optimize the intake of daylight. The facade of the circular day nursery building features narrow strips of vertical timber cladding and large openings with balcony doors, as well as an access balcony at second floor level.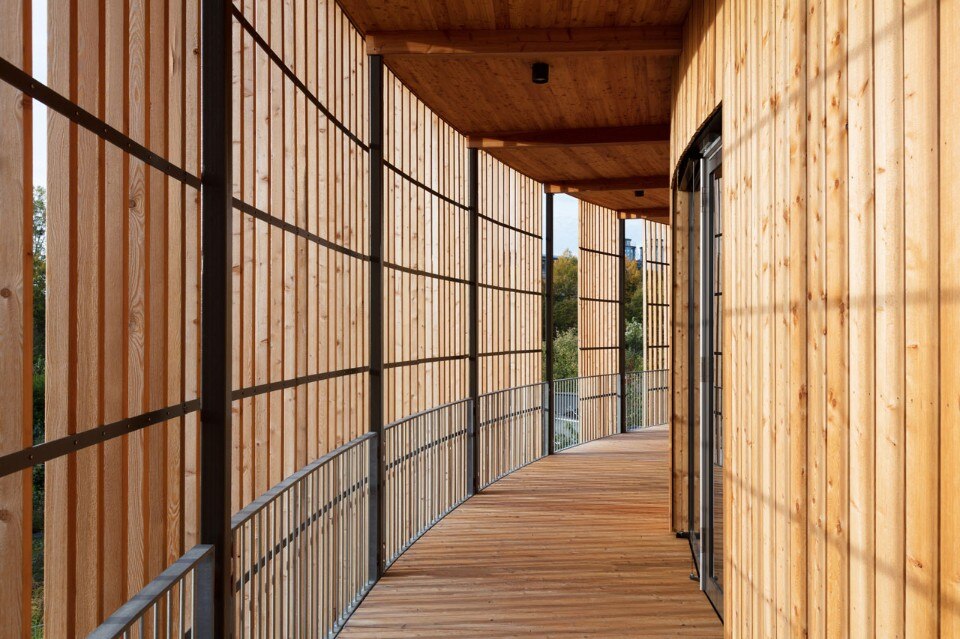 The new Freiburg Town Hall is the first net-surplusenergy building of this category worldwide. The building generates more energy than it uses throughout the year and excess energy is fed into the city's mains network. In accordance with the strict criteria of the PassivHaus standard, the primary energy demand of the town hall for heating, cooling, ventilation, and hot water supply is as low as 45 kWh per square meter per year. The thermal energy required for the building is generated via suction and injection wells and thermal solar panels in combination with heat pumps, while electric energy is generated by photovoltaic panels on the roof and in the facade. The energy for cooling and heating is obtained from a geothermal installation. In addition, thermal mass activation is used for heating, which can be individually controlled in each office.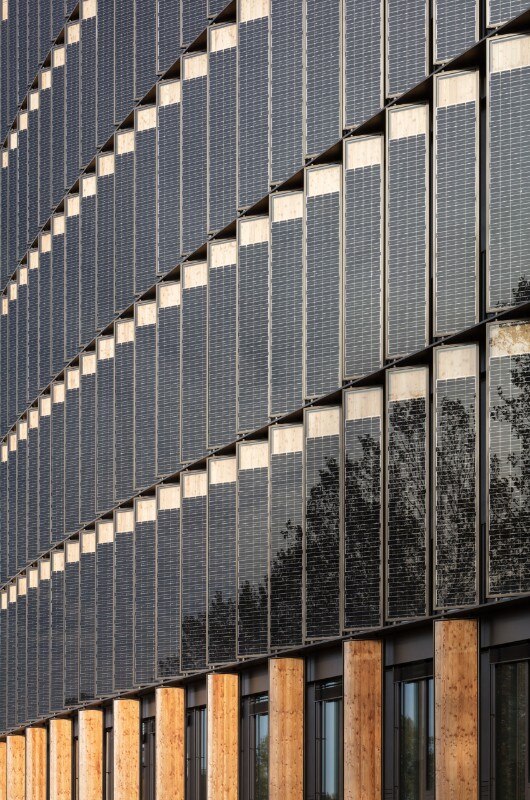 Project:

Town hall

Program:

Administration center and day nursery

Location:

Freiburg im Breisgau

Architects:

Ingenhoven Architects

Team:

Christoph Ingenhoven, Hinrich Schumacher, Barbara Bruder, Rudolf Jonas, Ursula Koeker, Bibiana Zapf

Site supervision:

Ingenhoven Architects, Ernst² Architekten

Structural engineering:

Mohnke Höss structural engineers

Fire protection:

BPK Brandschutz Planung Klingsch, Düsseldorf

Energy engineering, facade and physics:

DS-Plan

Lighting:

Tropp Lighting Design

Landscape:

Ingenhoven Architects, BBS Landscape Engineering

Project management:

Thost Projektmanagement

Area town hall:

24,215 sqm

Area nursery:

1,900 sqm

Completion:

2017