OMA's project for Fondazione Prada embraces a coexistence of new architecture with the regeneration of an early 20th-century gin distillery that includes warehouses, laboratories and brewing silos, as well as new buildings surrounding a large courtyard.
Rem Koolhaas explains: "The Fondazione is not a preservation project and not a new architecture. Two conditions that are usually kept separate here confront each other in a state of permanent interaction – offering an ensemble of fragments that will not congeal into a single image, or allow any part to dominate the others."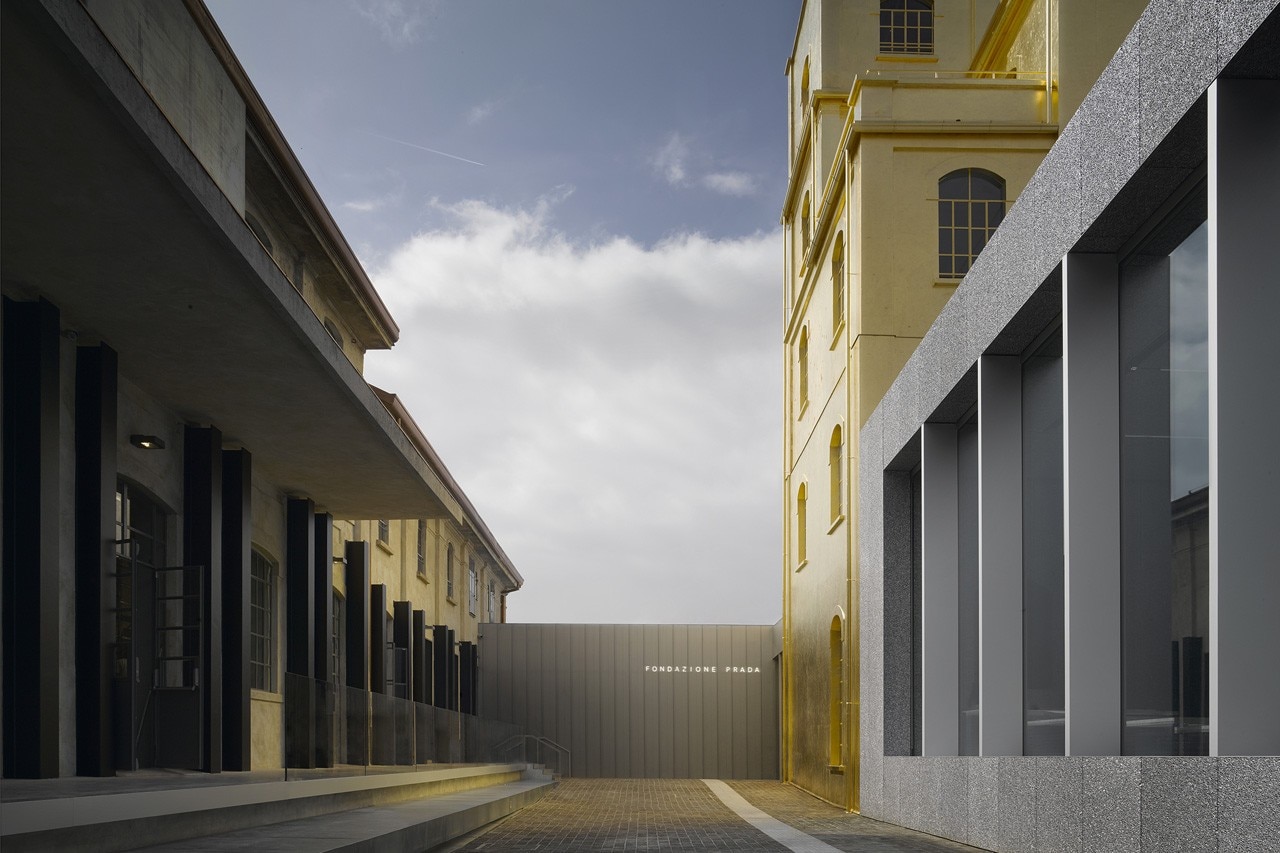 Located in Largo Isarco, south of the city center, the complex aims to expand the repertoire of spatial typologies in which art can be exhibited and shared with the public. The project consists of seven existing buildings, and three new structures: Museum, a space for temporary exhibitions; Cinema, a multimedia auditorium; and Torre, a ten-story permanent exhibition space for displaying the foundation's collection and activities. Torre, currently undergoing construction work, will be open to the public at a later date.

The entrance building will welcome visitors to two new facilities, developed through special collaborations: a kids' area developed by the neuropediatrician Giannetta Ottilia Latis – who laid the theoretical and operational groundwork – and designed by a group of students from the École nationale supérieure d'architecture de Versailles, and a bar where director Wes Anderson has recreated the typical mood of old Milan cafés.
Although his movies often favor symmetrical tableaux, Anderson feels that "there is no ideal angle for this space. It is for real life, and ought to have numerous good spots for eating, drinking, talking, reading, etc. While I do think it would make a pretty good movie set, I think it would be an even better place to write a movie. I tried to make it a bar I would want to spend my own non-fictional afternoons in."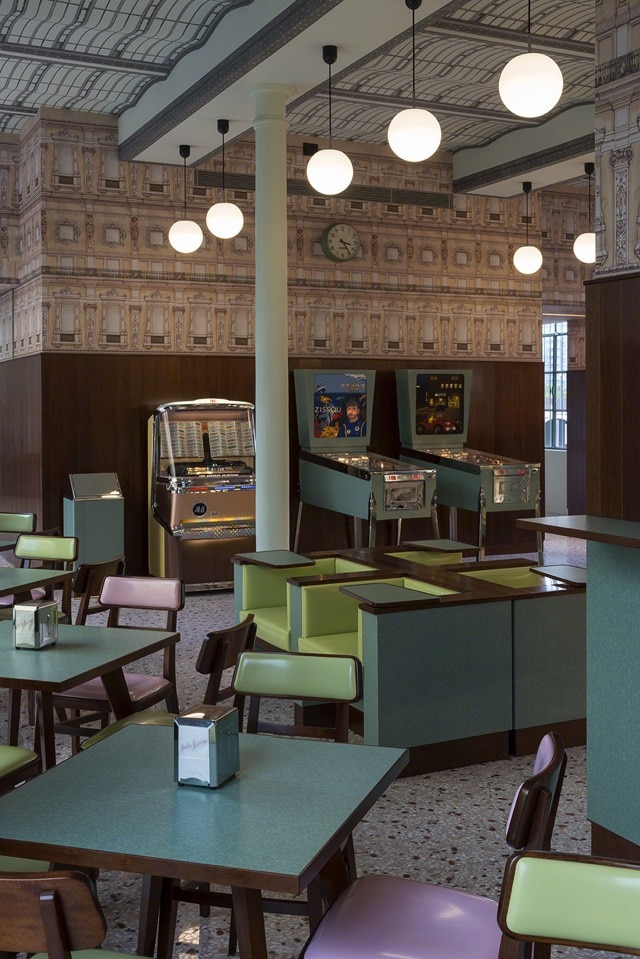 Some architectural and decorative details from the original structure have been preserved, such as the arched ceiling, which recreates a  "miniature" version of the vaulted glass roof of the Galleria Vittorio Emanuele, one of Milan's symbolic buildings. Other key elements of the Galleria are replicated inside, creating a sort of patterned decoration for the top half of the bar.
In keeping with the interior design, the seats, formica furniture, floor, veneered wood wall panels and the range of colors employed are reminiscent of Italian popular culture and aesthetics from the 1950s and 1960s, echoing artistic decisions Anderson made years earlier for his short film Castello Cavalcanti. Other iconographic sources have been equally inspirational, notably two masterpieces of Italian Neorealism, both set in Milan: Miracolo a Milano ("Miracle in Milan", 1951, Vittorio De Sica) and Rocco e i suoi fratelli ("Rocco and His Brothers", 1960, Luchino Visconti).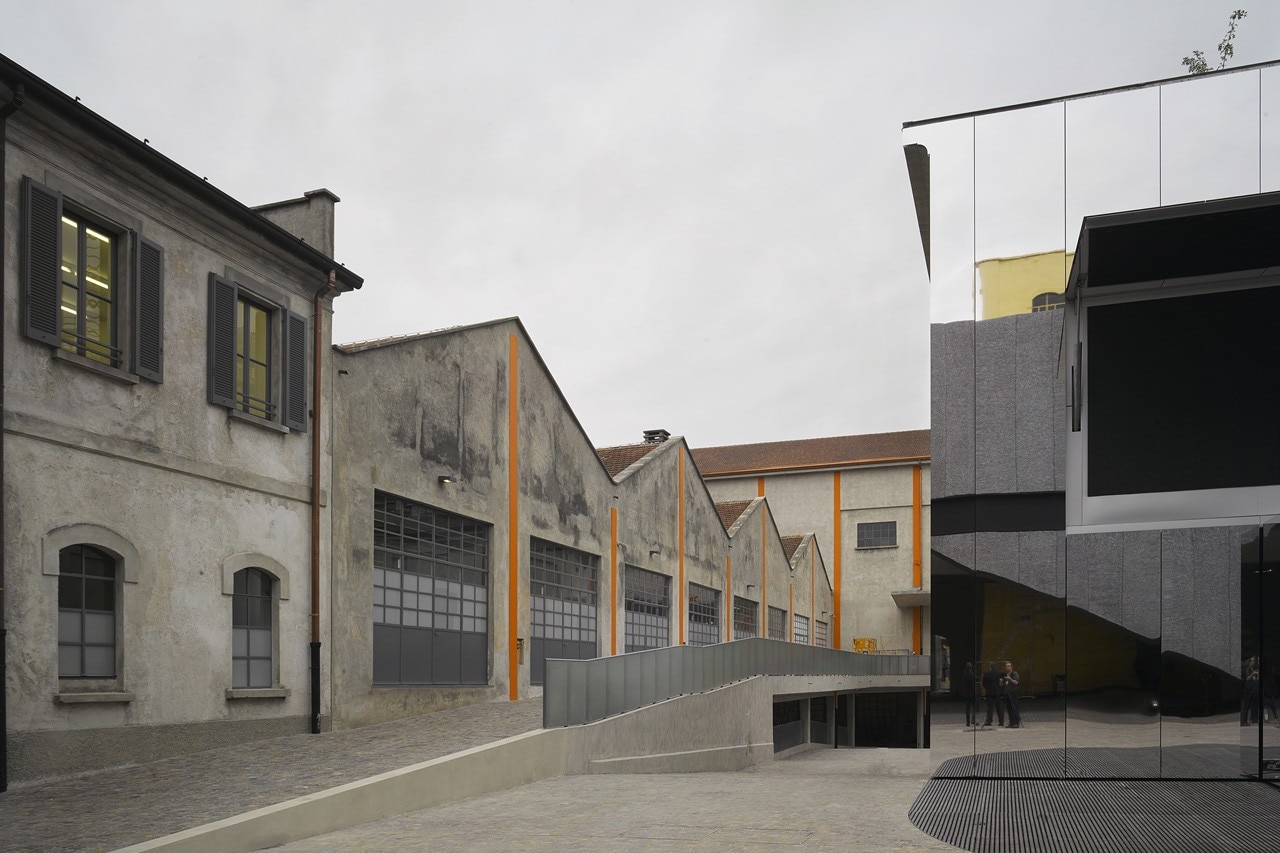 On the occasion of the opening of its new Milan venue Robert Gober and Thomas Demand realized site-specific installations in dialogue with the industrial architecture and the new spaces in the compound. Roman Polanski explored the cinematographic inspirations behind his artistic vision, which translate into a new documentary and a series of film screenings.
Selections of artworks from the Prada Collection are presented in a series of thematic exhibitions. "Serial Classic" – an exhibition curated by Salvatore Settis in collaboration with Anna Anguissola – completes the program. The project, whose display system has been conceived by OMA, focuses on classical sculpture and explores the ambivalent relationship between originality and imitation in Roman culture and its insistence on the circulation of multiples as an homage to Greek art.
OMA, Fondazione Prada, Milano. Photo Bas Princen, 2015. Courtesy Fondazione Prada
OMA, Fondazione Prada, Milano. Photo Bas Princen, 2015. Courtesy Fondazione Prada. View from the Deposito
OMA, Fondazione Prada, Milano, 2015. View of the exhibition "Serial Classic", co-curated by Salvatore Settis and Anna Anguissola, with an exhibition design by OMA. Photo Attilio Maranzano. Courtesy Fondazione Prada
OMA, Fondazione Prada, Milano, 2015. View of the exhibition "Serial Classic", co-curated by Salvatore Settis and Anna Anguissola, with an exhibition design by OMA. Photo Attilio Maranzano. Courtesy Fondazione Prada
OMA, Fondazione Prada, Milano, 2015. View of the exhibition "Serial Classic", co-curated by Salvatore Settis and Anna Anguissola, with an exhibition design by OMA. Photo Attilio Maranzano. Courtesy Fondazione Prada
OMA, Fondazione Prada, Milano, 2015. View of the exhibition "An Introduction". Photo Attilio Maranzano. Courtesy Fondazione Prada

Fondazione Prada, Largo Isarco 2, Milano
Program: exhibition space
Architects: OMA (Rem Koolhaas, Chris van Duijn)
Project leader: Federico Pompignoli
Local Architects: Alvisi Kirimoto & Partners, Atelier Verticale
Structural Engineer: Favero&Milan
MEP Engineer: Favero & Milan, Prisma Engineering
Cost Consultant: GAD
Acoustic Engineer: Level Acoustics
Scenography: Ducks Sceno
Fire Engineer: GAE Engineering
Prada Engineering Director: Maurizio Ciabatti
Project Leader: Maurizio Ciabatti
Set-up and staging: Giuseppe Zotti
Authorizations: Michela Goretti
Construction: Pietro Cereghini
Finishing: Giuseppe Zotti, Guido Bastiani,
Security: Giuseppe Sinatra
Safety: Alessio Bardus
Production Bar Luce: Leonardo Simonti, Gianluca Geraci
Goods and services suppliers: Luca Donati, Davide Fantozzi, Giovanni Giuliani, Antonio Calderaro
Project Supervisor: Pietro Cereghini
Concept Bar Luce: Wes Anderson
Design Bar Luce: Studio Baciocchi
Consultants: CeAS, GAE Engineering, EGSS Advising
Impiantistica e acustica Cinema: ARTECH Digital Cinema, Studio Idrogeotecnico Applicato, Tecnitalia, M.S.C. Associati, Intertecnica Group
Structures and building works: Colombo Costruzioni
Mechanical systems: Tono Impianti
Electrical and special electronic systems: ALPIQ
Finishing: AZA Aghito Zambonini, Della Camera, Docks & Docker, Fantini, La Vetraria, Maspero, M.C.M., G.B. Mauri, Metal Decò, MOVE, OMMG, Promo, Respedil, Teknelitos, Zanetti
Furnitures: Fav Wood Working, Marconi Arredamenti, Maiser, Knoll
Lighting: Erco, Zumtobel
Technological equipment: Samsung, Sirecom
Cinema equipment: Audionetwork, Cineproject, Eredi Caloi
Area: 18,900 sqm
Completion: 2015