Take a stroll in an enchanted wood a stone's throw away from Milan's Duomo. The Forest is the name of a new installation designed by the Japanese architect Kengo Kuma inside the Valextra flagship store. It takes up one of his favourite themes: bringing nature into the heart of the city. Here, 136 rough-hewn planks of Lebanon cedar (sliced tree trunks with bark but without branches) stand tall and randomly throughout the luxury leather goods boutique at Via Manzoni 3, offering visitors an immersive shopping experience.

The Forest by Kengo Kuma is latest instalment of an ongoing collaboration between the Italian brand Valextra and designers of great talent. In 2017, the American firm Snarkitecture created a rarefied, enveloping white setting. Over the years, many other have participated in the initiative, including Martino Gamper, Peter Seville, David Adjaye, Philippe Malouin, Neri and Hu, Aranda Lasch, Bethan Wood and Michael Anastassiades.
We asked Kengo Kuma to tell us about the new project and explain his special connection to nature.
Tell us about the idea for The Forest. What did Valextra ask of you?
We were interested in the way Valextra displays their products individually and not with the usual long shelves we find in retail. From there, we developed different concepts around this attitude of respect for each of the displayed items. One of these concepts evolved into The Forest.

With The Forest, you seem to be looking for a strong connection to visitors, provoking an interaction somehow. Are you ever surprised by how people respond to your work?
With the concept and design of The Forest, interaction between space and visitors is inevitable. The display develops throughout the entire shop, and you can get lost like in a forest, roaming among the towering wooden planks. We hope to have created an oneiric experience that leaves an impression on each visitor. It is always a great pleasure to see how people inhabit spaces we design, and how every person finds his own way to interact and experience them, sometimes in surprising ways.
Your project is a mix of natural materials: Lebanon cedar and Arzo marble (also called Macchiavecchia) treated with new technologies. You also chose a Kvadrat textile by Raf Simons. Could you please explain those choices?
The choice of wood was evident, since our aim was to create an abstract forest-like kind of experience. We chose for rustic wooden planks, keeping their bark and original shape. This establishes a very intense and interesting contrast with the sophisticated simplicity of the Valextra designs. The counters in natural stone appear as mineral objects, like treasures discovered among the trees. The textile used for the furniture brings a feminine touch that recalls the intimacy of a secret boudoir. All these materials aim to create a sense of romantic escapism, a fantasy far from the reality of Milan's hectic urban life.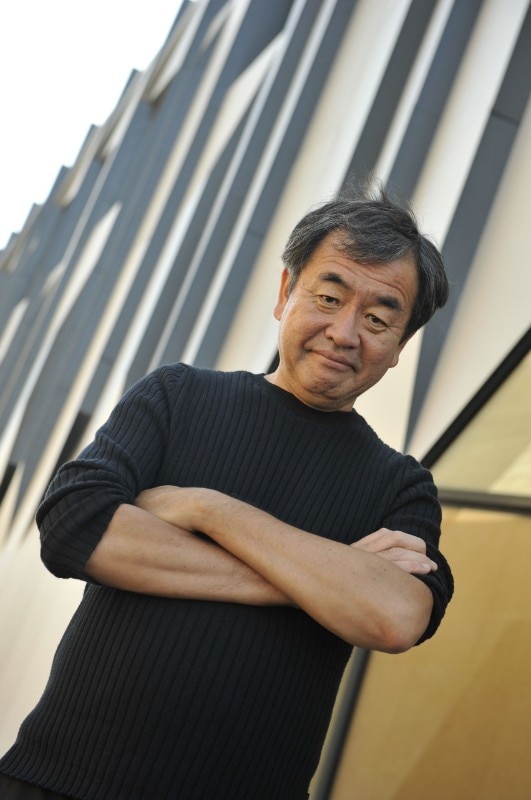 What experiences led to your understanding of the importance of nature?
Everything we create, build and produce starts in nature. At the same time, the great earthquake in 2011 in the Northern Japan showed us how destructive nature can be. Understanding nature is more essential than ever to ensure that everything we create goes along with nature and not against it.
You once said that living in a city centre where you can go everywhere by foot is a great advantage. But it is hard to find nature there. What about your favourite stroll?
I find special pleasure in visiting cities that can be experienced by foot. Usually such cities are built and organised on a human scale. You can discover them without having a specific itinerary. At each step, you can decide where to go, following your intuition or curiosity. Hereby, you not only discover the city, but get to understand yourself as well. Tokyo is an incredibly pleasant city. It extends endlessly and has a huge population, but practically everywhere is accessible to pedestrians. I travel a lot, and am always pleased and comforted when I find new cities that unexpectedly offer such qualities as Tokyo does.