Zaha Hadid Architects has completed a research campus for the KAPSARC non-profit institution in Riyadh, Saudi Arabia. The 70,000 sqm complex incorporates five buildings: the Energy Knowledge Centre; the Energy Computer Centre; a Conference Centre with exhibition hall and 300-seat auditorium; a Research Library with archives for 100,000 volumes; and the Musalla, an inspirational place for prayer within the campus. KAPSARC's design has solid technical and environmental considerations at its heart, drawing the five elements of the campus into a unified whole. ZHA's first project to be awarded LEED Platinum certification by the US Green Building Council, the centre is designed in response to the environmental conditions of the Riyadh Plateau to minimise energy and resource consumption.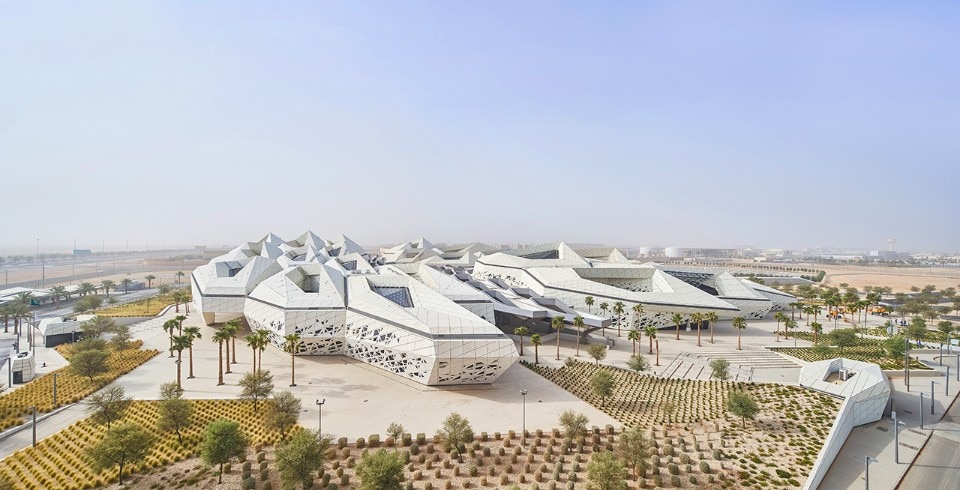 The primary organising strategy of the design is a cellular, partially modular system that integrates different departmental buildings as a single ensemble with interconnecting public spaces. Hexagonal prismatic honeycomb structures use the least material to create a lattice of cells within a given volume. This structural and organisational principle determined KAPSARC's composition as an amalgamation of crystalline forms that emerges from the desert landscape, evolving to best respond to the environmental conditions and internal programme requirements.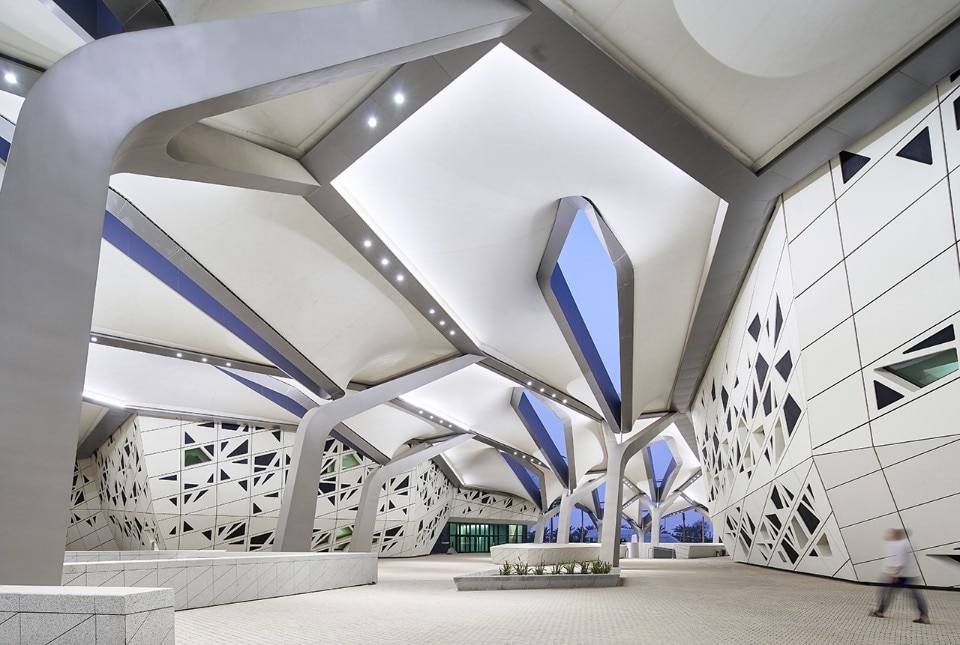 The buildings of the campus surround a large public courtyard shaded by canopies supported from a forest of crafted steel columns. Presenting a solid, protecting shell to the harsh sunlight from the south, the KAPSARC campus opens to north and west. Privileging the pedestrian, each of the buildings within the campus is entered through this central public courtyard that also serves as a meeting space and link between buildings during temperate seasons.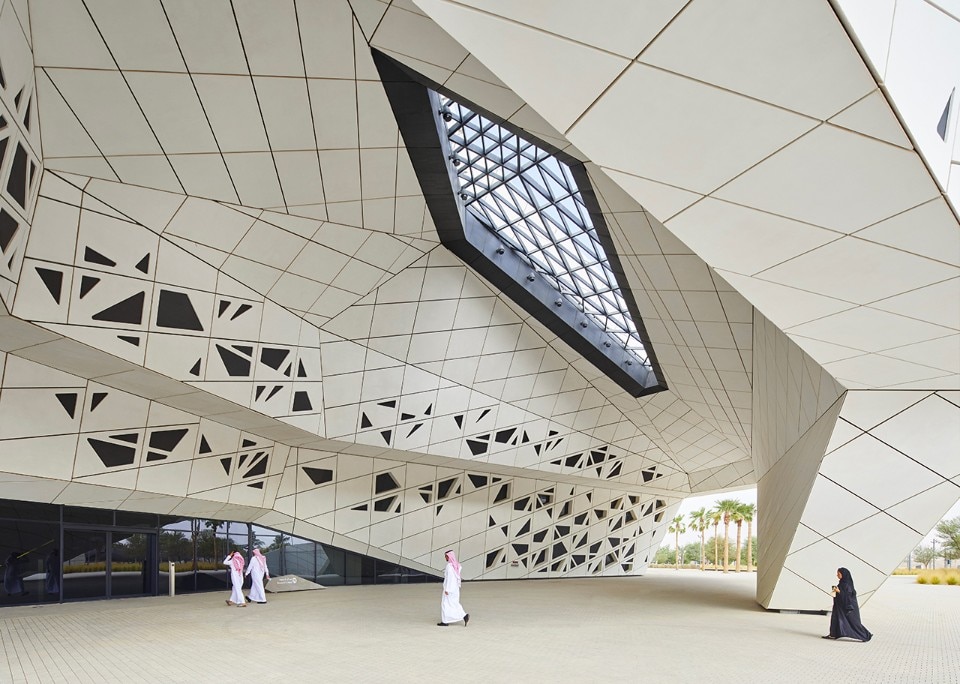 Architectural design:

Zaha Hadid, Patrik Schumacher

ZHA project director:

Lars Teichmann, Charles Walker

ZHA design director:

DaeWha Kang

ZHA project site team:

John Simpson (Site Associate), Alejandro Diaz, Anas Younes, Annarita Papeschi, Aritz Moriones, Ayca Vural Cutts, Carlos Parraga-Botero, Javier Rueda, Malgorzata Kowalczyk, Michal Wojtkiewicz, Monika Bilska, Sara Criscenti, Stella Dourtme

ZHA project leaders:

Fabian Hecker (Research Center), Michael Powers (Conference Center), Brian Dale / Henning Hansen (Library), Fulvio Wirz (Musalla / IT Center), Elizabeth Bishop (Facades/2d Documentation), Saleem A. Jalil / Maria Rodero (Master Plan), Lisamarie Ambia/Judith Wahle (Interiors), Bozana Komljenovic (2d Documentation), John Randle (Specifications), John Szlachta (3d Documentation Coordinator)

ZHA design team:

Adrian Krezlik, Alexander Palacio, Amdad Chowdhury, Amit Gupta, Andres Arias Madrid, Britta Knobel, Camiel Weijenberg, Carine Posner, Claire Cahill, Claudia Glas-Dorner, DaChun Lin, Daniel Fiser, Daniel Toumine, David Doody, David Seeland, Deniz Manisali, Elizabeth Keenan, Evan Erlebacher, Fernanda Mugnaini, Garin O'Aivazian, Giorgio Radojkovic, Inês Fontoura, Jaimie-Lee Haggerty, Jeremy Tymms, Julian Jones, Jwalant Mahadevwala, Lauren Barclay, Lauren Mishkind, Mariagrazia Lanza, Melike Altinisik, Michael Grau, Michael McNamara, Mimi Halova, MohammadAli Mirzaei, Mohammed Reshdan, Muriel Boselli, MyungHo Lee, Nahed Jawad, Natacha Viveiros, Navvab Taylor, Neil Vyas, Nicola McConnell, Pedro Sanchez, Prashanth Sridharan, Roxana Rakhshani, Saahil Parikh, Sara Saleh, Seda Zirek, Shaju Nanukuttan, Shaun Farrell, Sophie Davison, Sophie Le Bienvenu, Stefan Brabetz, Steve Rea, Suryansh Chandra, Talenia Phua Gajardo, Theodor Wender, Yu Du

ZHA competition design team:

Lisamarie Ambia, Monika Bilska, Martin Krcha, Maren Klasing, Kelly Lee, Johannes Schafelner, Judith Schafelner, Ebru Simsek, Judith Wahle, Hee Seung Lee, Clara Martins, Anat Stern Daniel Fiser; Thomas Sonder, Kristina Simkeviciute, Talenia Phua Gajardo, Erhan Patat, Dawna Houchin, Jwalant Mahadevwala

Engineering:

Arup

Interior Design:

Woods Bagot

Landscape:

GROSS.MAX

Lighting Design:

OVI