Studio Akkerhuis was called to build up a mobile stage for a theatrical production organized by the Kunstklank cultural association in Noordwijk, a seaside resort near Leiden in the Netherlands. The open air structure can be mounted and dismounted in various locations and provides protection from rain during the perfomances. The materials used are primarily natural and can be assembled in different configurations by volunteers.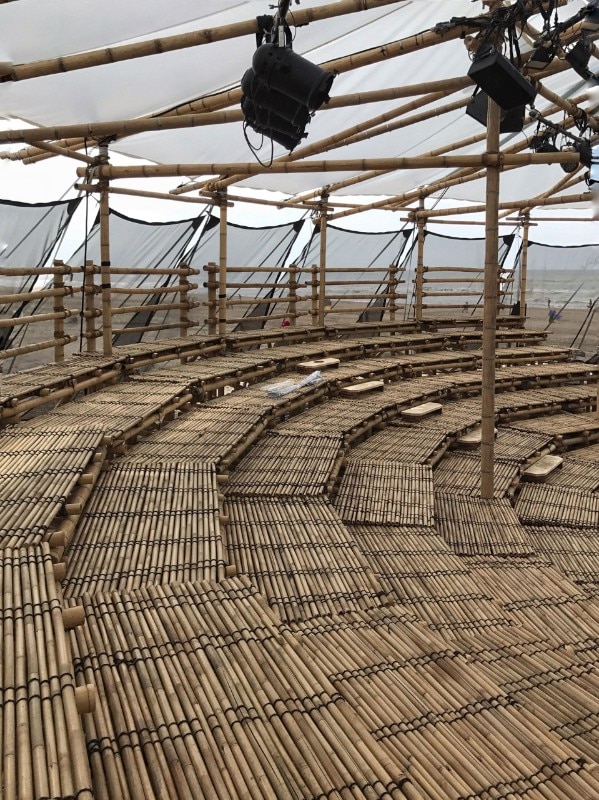 The concept was to create a compact space, somewhere between a small amphitheater, a bedouin tent, a yurt and reminiscent of a nineteenth century travelling circus. This has resulted in an intimate space for 250-300 people, with a diameter of only 20 meters. All the members of the public were never further than ten meters from the center of the stage. The public is seated on 21 tribunes, that could accommodate 22/24 people each. Three of these were reserved for an orchestra of 14 musicians.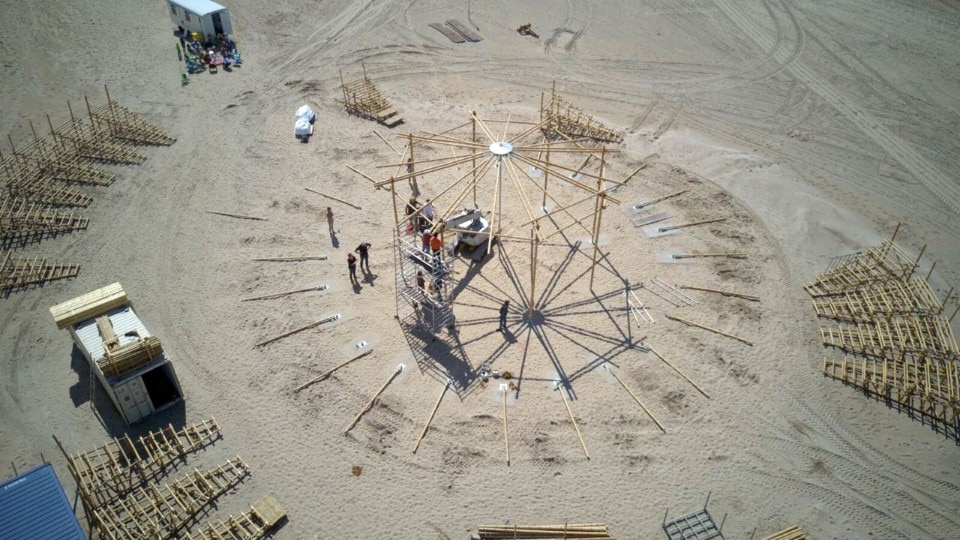 Bamboo was chosen as the main building material since it is a naturally grown material, lightweight and strong, affordable and easy to replace. The entire construction of both tribunes and cover was assembled from singular bamboo elements, connected mainly with ropes for the tent structure, and bolts for the tribunes. The elements never surpass a length of 5.8 m so to fit into a shipping container for storage. Each individual element could be carried by one person for a total of nearly 5,800 individual bamboo poles from four different species and diameters.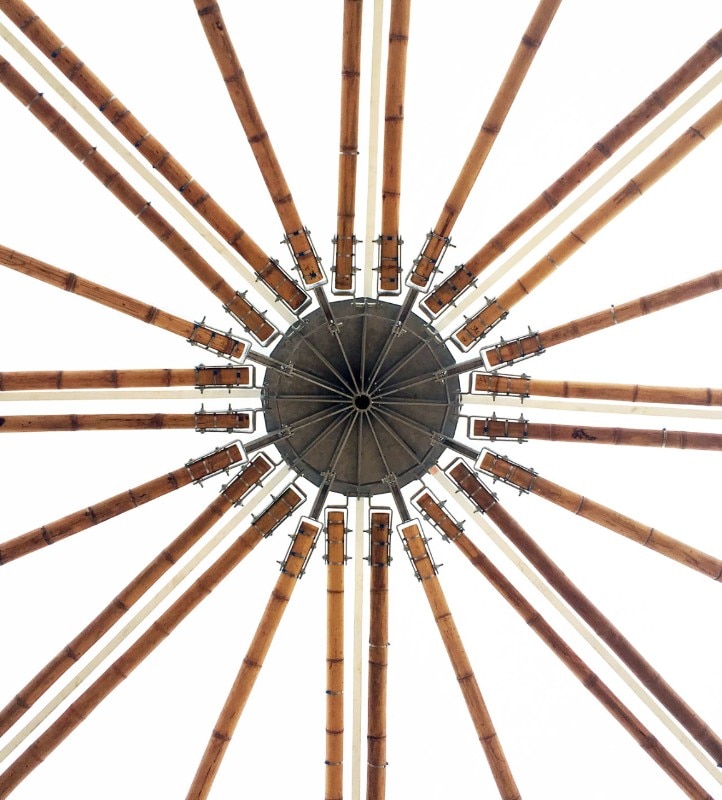 Project:

Mobile bamboo theatre

Concept:

Maurits van der Staay

Project architects:

Maurits van der Staay, Florian Bolle, Luca Salerno

Construction management:

Dennis Schneider, Sylvia van Stijn-Beukers, Florian Bolle, Luca Salerno

Engineering:

Tentech Utrecht: Julia Schönwälder, Rogier Houtman, Harmen Werkman

Stage design:

Tom Verheijen, Eli van Hooff, Wessel Snoek

Metal works:

Hametec Montfoort, Hans Lekkerkerker

Cover sails, windscreens and ties:

Zeildoek Montfoort, Rikkert Hoogenboom

Groundworks on site:

van der Putte, Noordwijk, van der Wiel, Noordwijk

Bamboo:

Bamboo Import – Melger Hulsebos, Stéphane Schröder