Safdie Rabines Architects completed the National City Aquatic Center, located five miles south of Downtown San Diego, California, and fifteen miles north of the US-Mexico border. The single-story, two-structure center marks the realization of National City's long-term goal to replace a makeshift facility housed in trailers for over a decade.
Sited on a scarce section of accessible coastland owned by the Port of San Diego, the 1,670 square-meter complex is positioned on the southern edge of a public park, where it complements the coastline just inside the mouth of the Sweetwater River Channel as it flows into San Diego Bay. Designed to facilitate recreational and educational services for the community, the new center is a key civic amenity and contemporary landmark with unobstructed views towards protected wetlands, San Diego Bay and beyond.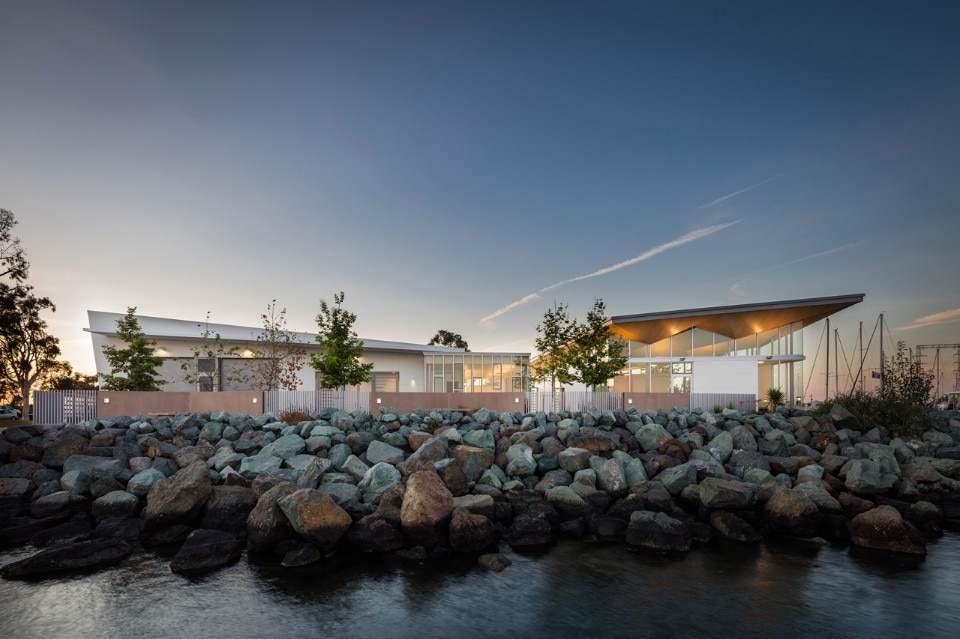 The center's easternmost structure contains a large gathering and educational space beneath a faceted, flying roof. Perched atop its base of glass walls, the roof appears to float as kite gliding into the air, creating a fluid dynamic for its larger counterpart to the west. Inside, the geometries of a saw tooth ceiling are emphasized with maple-shaded laminate layered on micro-perforated aluminum. Carpet in ocean shades of teal, turquoise and aqua blues laid in a sunburst pattern accentuates the dimension of the space. Gull-shaped decals applied as bird strike prevention measures cast playful shadows that 'fly' through the room as the sun travels across the sky.
Directly to the west, the center's offices are housed in a 200 square-meter glass box enclosed with intermittently-operable windows. The box introduces a large white, concrete block structure used for boat and equipment storage, locker rooms, showers and restrooms. With outward protruding angles and porthole-like rectangular window apertures, the ship-like edifice 'flows' up-channel. Separate yet unified, the two buildings are enclosed and coalesced with custom galvanized steel gates clad with luminous acrylic resin panels.
Safdie Rabines Architects, National City Aquatic Center, National City, 2016
Safdie Rabines Architects, National City Aquatic Center, National City, 2016
Safdie Rabines Architects, National City Aquatic Center, National City, 2016
Safdie Rabines Architects, National City Aquatic Center, National City, 2016
Safdie Rabines Architects, National City Aquatic Center, National City, 2016
Safdie Rabines Architects, National City Aquatic Center, National City, 2016
Safdie Rabines Architects, National City Aquatic Center, National City, 2016
Safdie Rabines Architects, National City Aquatic Center, National City, 2016
Safdie Rabines Architects, National City Aquatic Center, National City, 2016
Safdie Rabines Architects, National City Aquatic Center, site plan
Safdie Rabines Architects, National City Aquatic Center, elevations

National City Aquatic Center, National City, California
Program: centro ricreativo
Architects: Safdie Rabines Architects
Client: City of National City
Structural engineering: Orie2 Engineering
Plumbing
Mechanical, electrical engineering: BSE Engineering
Civil engineering: Cvaldo Corporation
Landscape: Marcie Harris Landscape Architecture
Area: 1,670 sqm
Completion: 2016