The Yingliang project by Atelier Alter was built within a storage space converted into a stone archive. Showcasing the variety of stone crafting, this space was made for architects to deepen and challenge their knowledge of stone.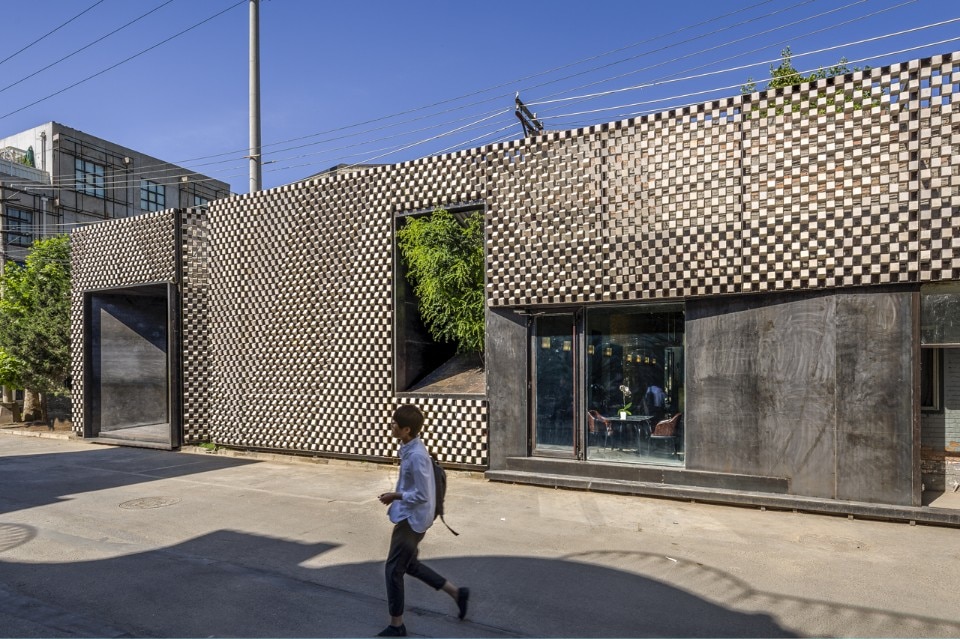 From rough to fine, stone processing begins with the moment when drill bits measure across the landscape and cut enormous cubical volumes of nature stones from the mountains. The project departs from this notion by imagining the seven meter high storage space into a complete piece of stone. By dissecting the volume with angular plates, the architects created solid and void spaces: solids for exhibition, meeting and archive spaces, and voids for circulation. The cutting plates are also displayed as different stone shelves for the separation and mediation between spaces, creating a narration of stone processing in space.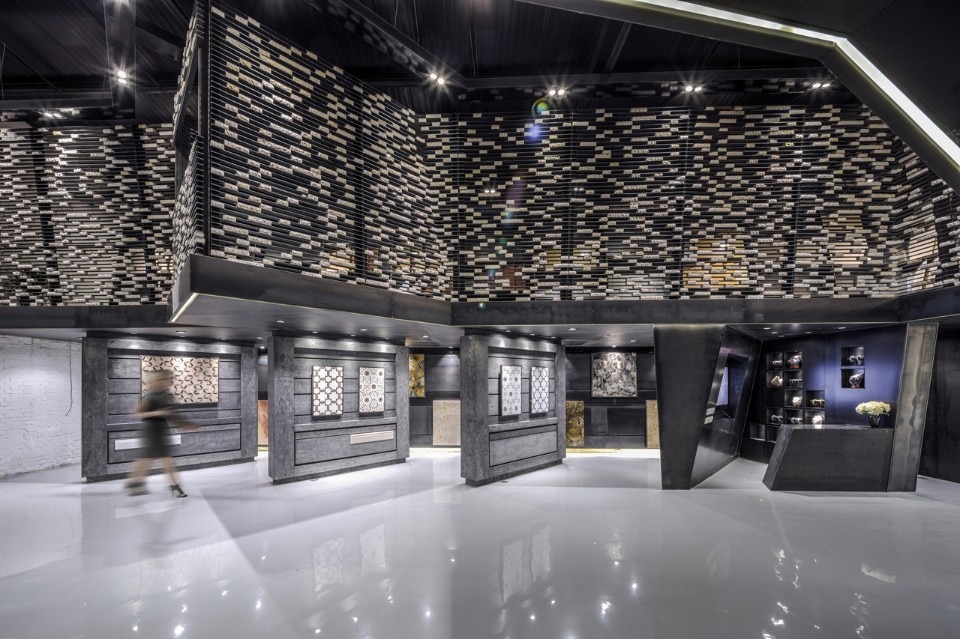 The stones used in the shelves are recycled materials from different stages of stone processing. The first layer that separates architecture from the street is a perforated stone wall made from thousands of 10cm stone cubes cut directly from left over dimension stones in the quarry. The three trapezoidal openings punched through the perforated stone walls matches to the entrance, the clerestory window and the opening to the restaurant.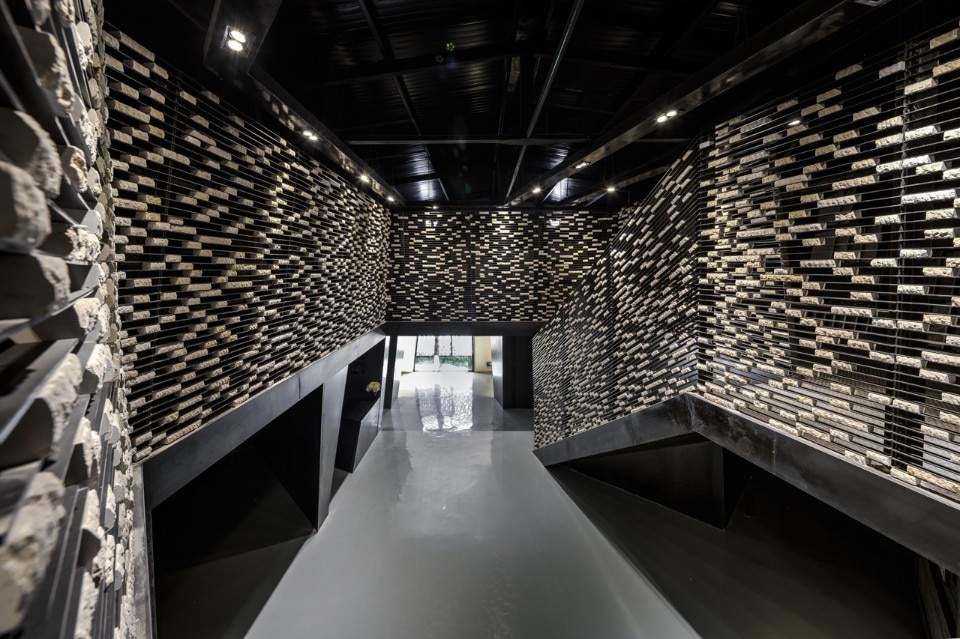 Between the perforated and existing wall, there is a garden that brings light and breeze into the space. The second layer of stone shelves sets apart from the inside of existing wall and creates a residual space that prepares visitors for entering the gallery. The outwards-tilted stone shelve in the second layer is composed by the stacking of mountain skins cut away from dimensional stones. A small restaurant, bar and cafe is placed next to the gallery, while the catering space is enhanced by a library and an internal courtyard.
The stone screen is made of small flag stone slabs sliding between a structure net welded by steel. The furniture and lighting of the space are designed with polished slabs and super thin complex stone veneers, which represents the finest degree of stone processing. A stone carpet made from parametrically arranged slabs brings the three spaces together.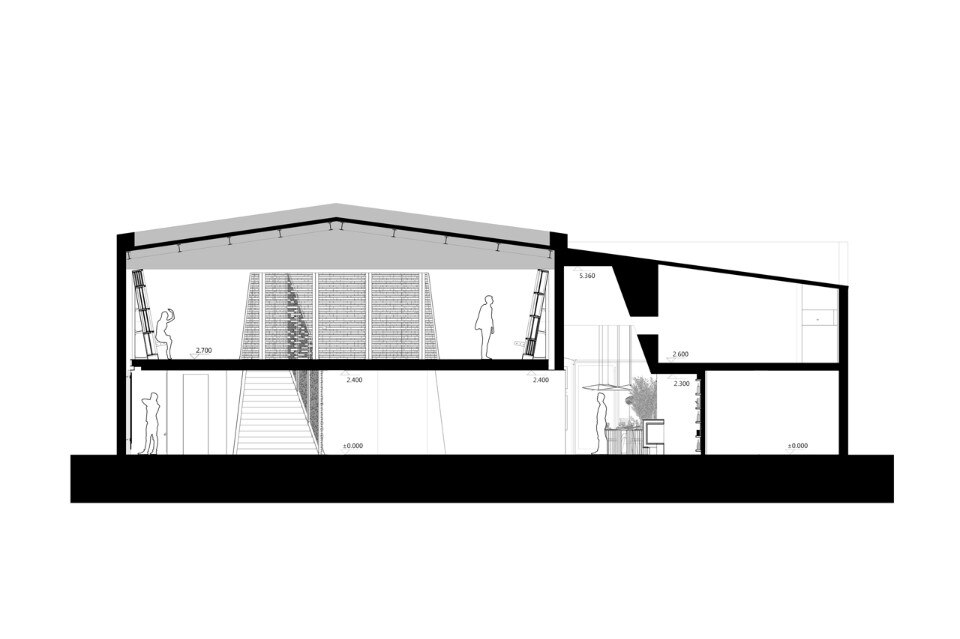 Atelier Alter, Yingliang Stone Archive, 2016
Atelier Alter, Yingliang Stone Archive, 2016
Atelier Alter, Yingliang Stone Archive, 2016
Atelier Alter, Yingliang Stone Archive, 2016
Atelier Alter, Yingliang Stone Archive, 2016
Atelier Alter, Yingliang Stone Archive, 2016
Atelier Alter, Yingliang Stone Archive, 2016
Atelier Alter, Yingliang Stone Archive, 2016
Atelier Alter, Yingliang Stone Archive, 2016
Atelier Alter, Yingliang Stone Archive, 2016
Atelier Alter, Yingliang Stone Archive, 2016
Atelier Alter, Yingliang Stone Archive, scheme ground floor
Atelier Alter, Yingliang Stone Archive, scheme first floor
Atelier Alter, Yingliang Stone Archive, ground floor plan
Atelier Alter, Yingliang Stone Archive, first floor plan
Atelier Alter, Yingliang Stone Archive, elevatoin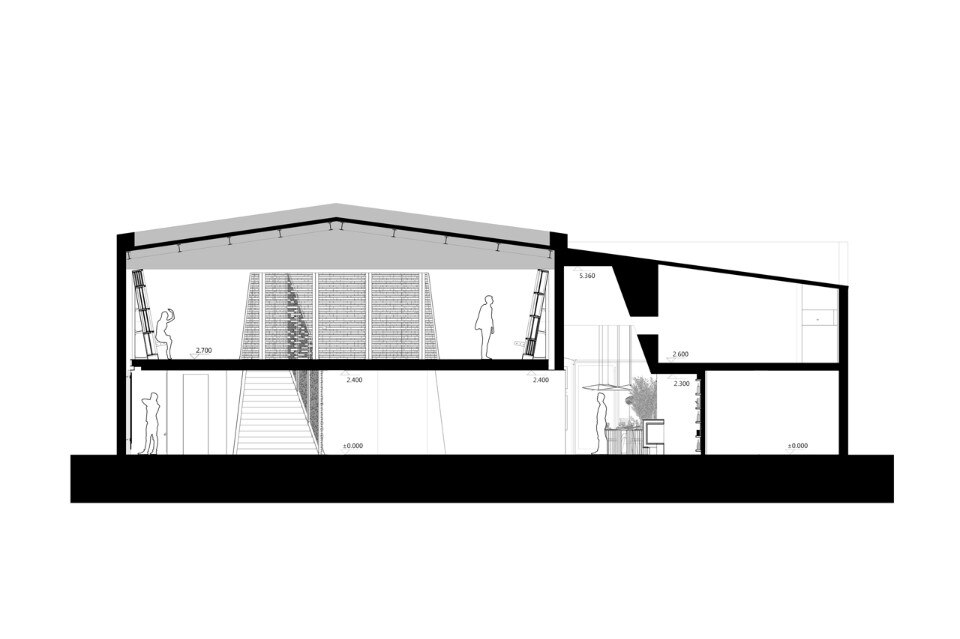 Atelier Alter, Yingliang Stone Archive, section

Yingliang Stone Archive, Beijing, China
Architects: Atelier Alter, Xiaojun Bu, Yingfan Zhang
Design team: Kai Qin, Zhenwei Li, Dehu Du, Tongwei Liu
Engineering: Jie Jin, Zhe Li, Wei Li, Ming Cheng
Landscape: Xiaojun Bu, Dehu Du
Main contractors:  An Hui Wan Cong Construction Services Co.,Ltd., Beijing Jingcheng Yongshun Science and Technology Development Co. Ltd.
Cost: $ 427,560
Area: 472 sqm
Year: 2016