DUST architectural studio designed a private house in the San Rafael Valley, a region that is part of the larger Madrean Archipelago, which stretches from the Sonoran to Chihuahuan deserts, to parts of Southern Arizona, Southern New Mexico, and parts of Far West Texas.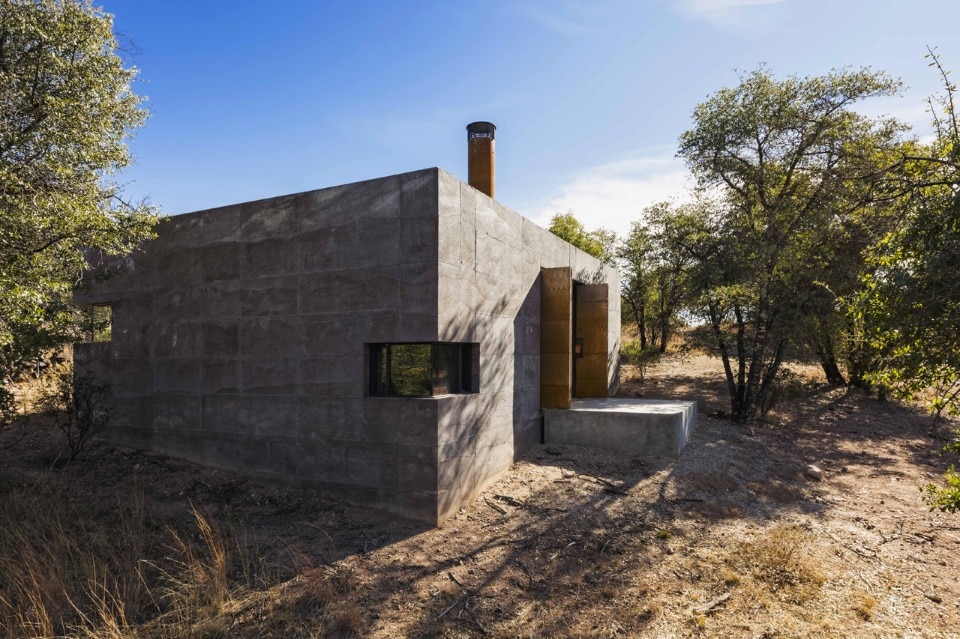 From native agricultural cultures, to nomadic hunter-gatherers, to conquistadors and missionaries, to pioneers, miners, cattle, and cowboys, to militia, migrants, and narcotraficantes, this region is the landscape and folklore of the quintessential Wild West.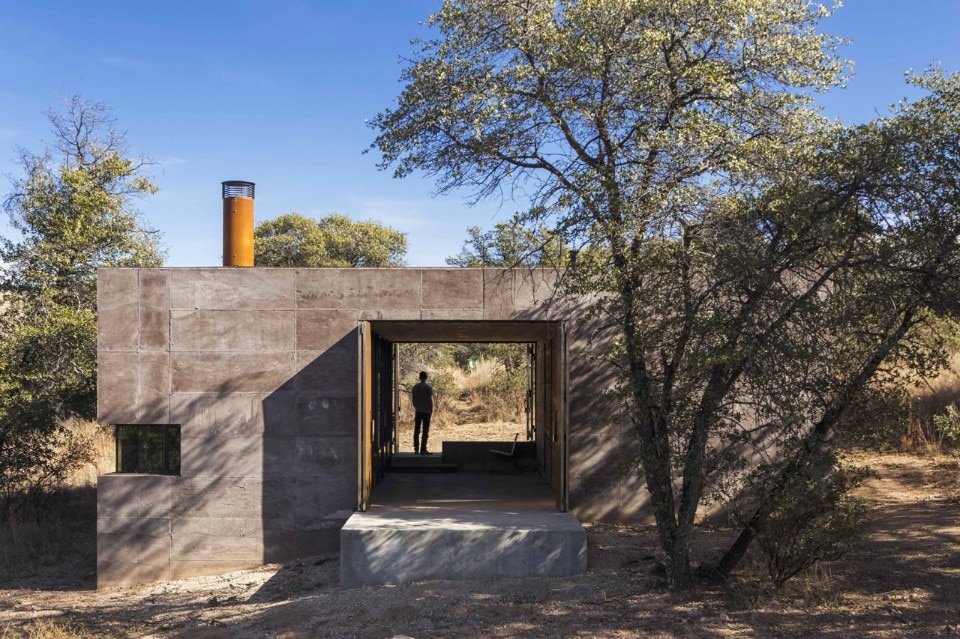 It is this history and context that Casa Caldera grows from. This small shelter is strongly informed by the climatic conditions, adapting to the natural, social, political, and economical environments. The structure is a 288 sqm shelter located on the southwestern bajada of the Canelo Hills in Southern Arizona's San Rafael Valley, a high desert two hours southeast of Tucson and 24 kilometers north of the international border between the U.S. and Mexico. It sits just under 1500 meters above sea level, nestled amongst emory oaks and manzanitas.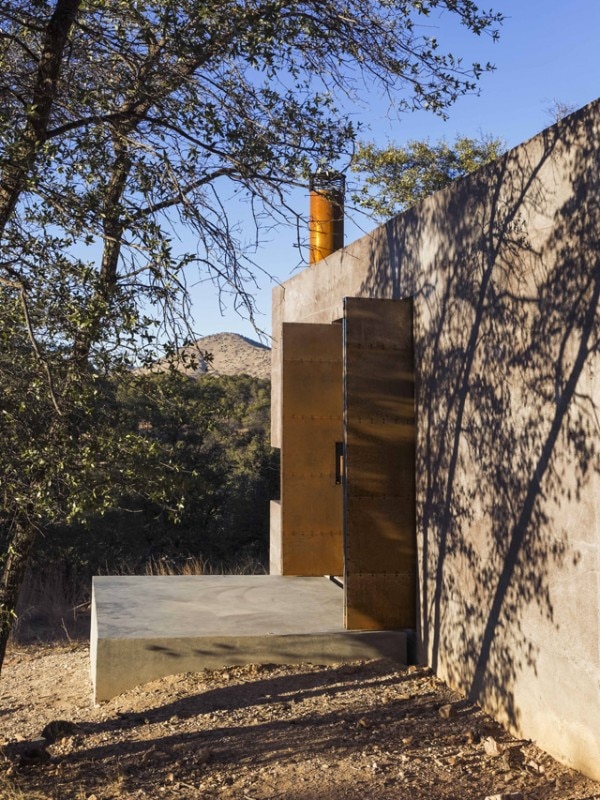 To emphasize this refuge quality, the material of the structure was chosen to blend in with the environment, and the program made to close down. The mass walls are constructed of poured lavacrete, a process and product refined by the material's pioneer, Paul Schwam, and used in the region's architectural community. It is seen by locals as a new vernacular material, comprised of a mixture of red scoria, a pulverized lava rock, cement, and water that forms a self-supporting semi-fluid material which is rammed into formwork similar to rammed earth.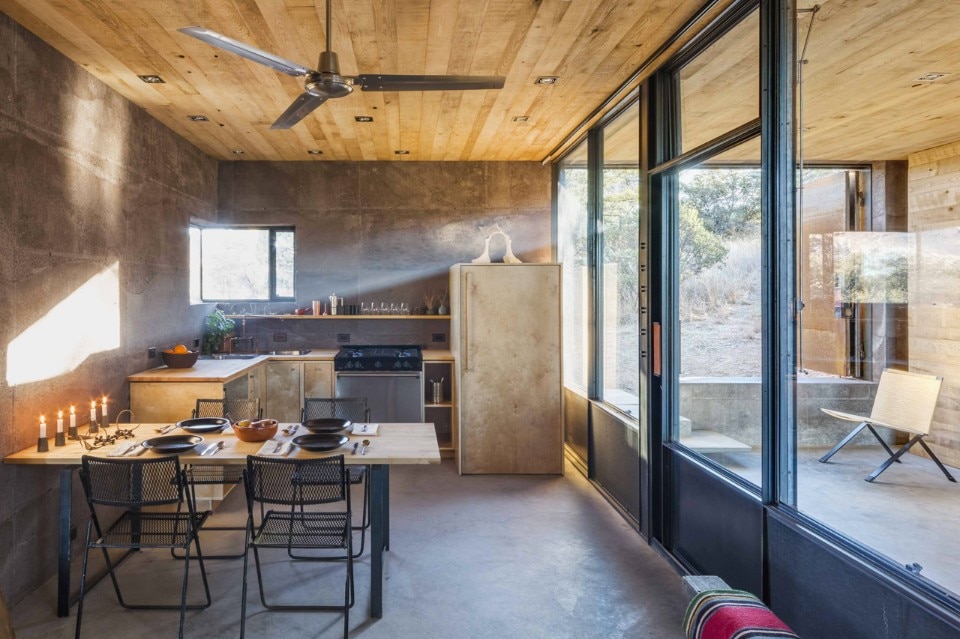 The client's request of having outdoor living and sleeping zones lead to the re-discovery of a local vernacular house planning typology that was used as the main organizing concept of Casa Caldera – a Zaguan. Large bi-folding metal doors on either end of the Zaguan connect the covered living space to the landscape beyond. They deliver natural light and harness passive cooling breezes when open and security when closed. The doors can be configured in a myriad of ways, as seasons, use, and lifestyle requires the owner to interact and respond, using the bi-folding doors to control the solar gain or harness the breezes in different ways.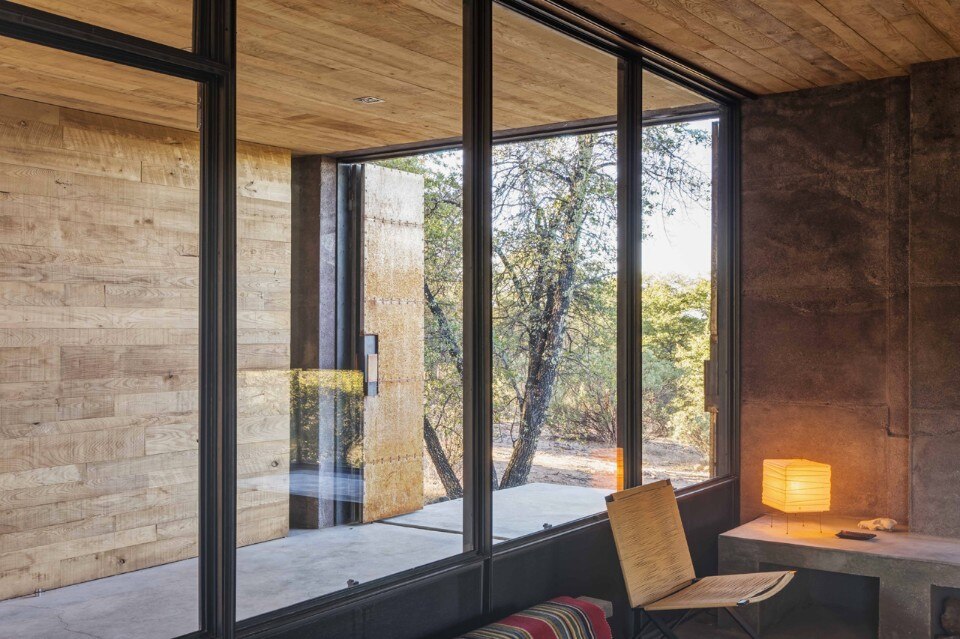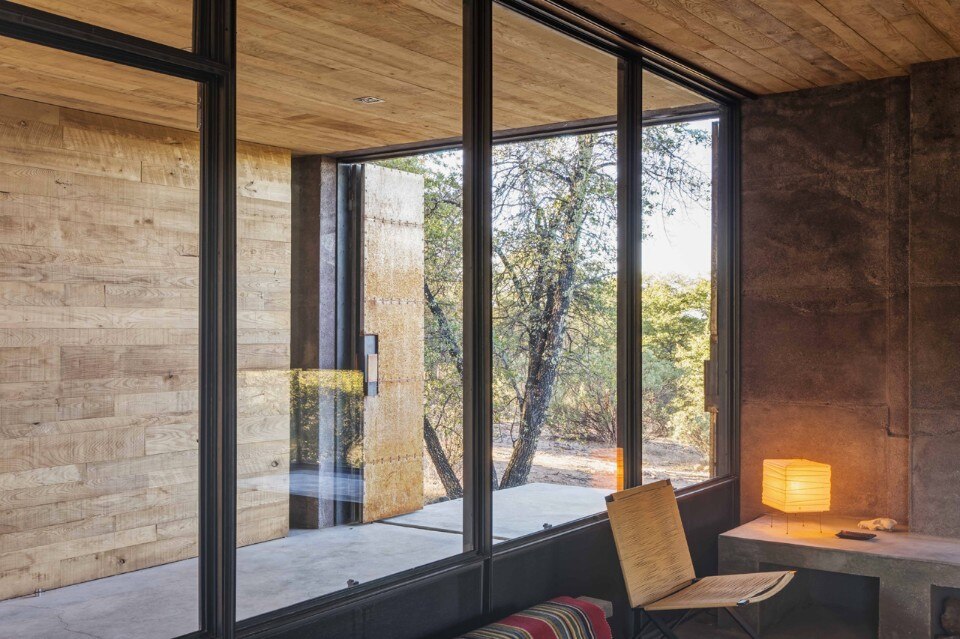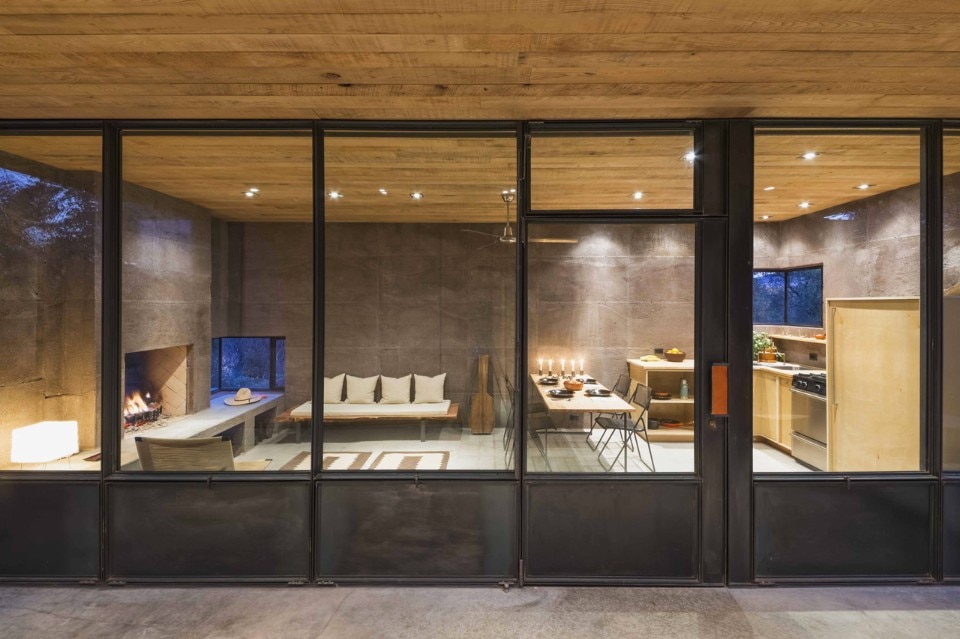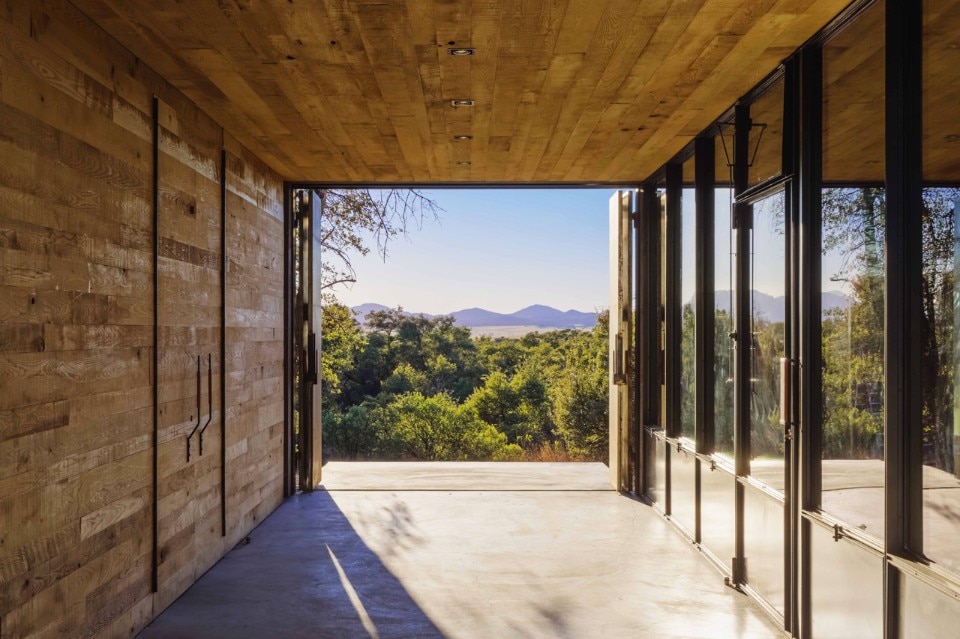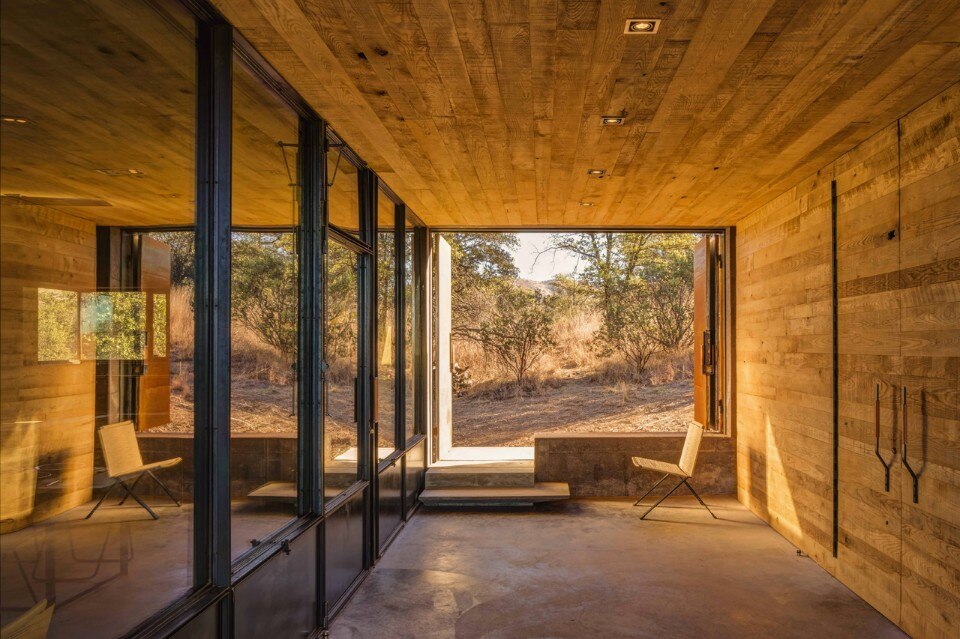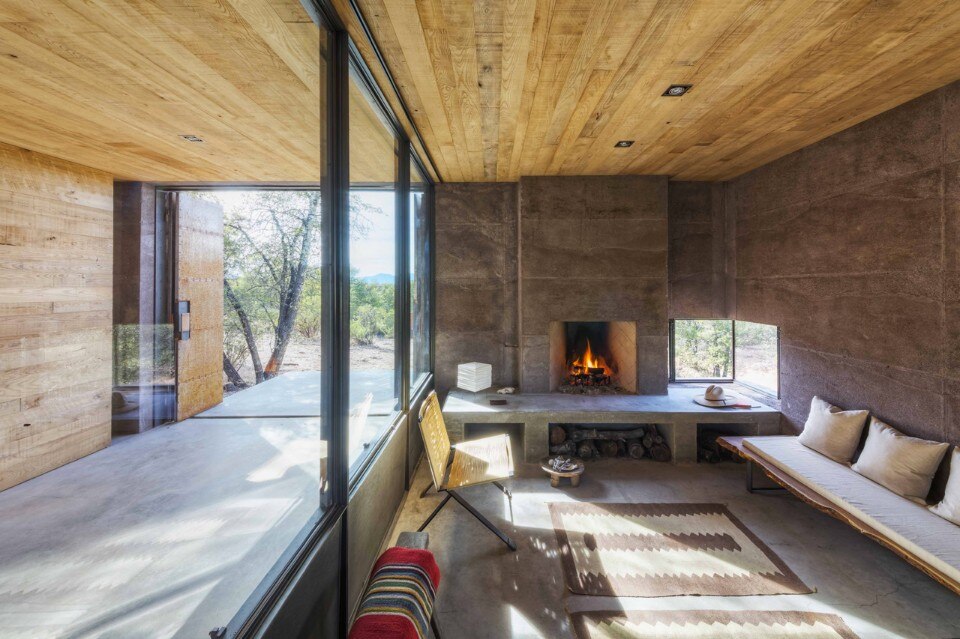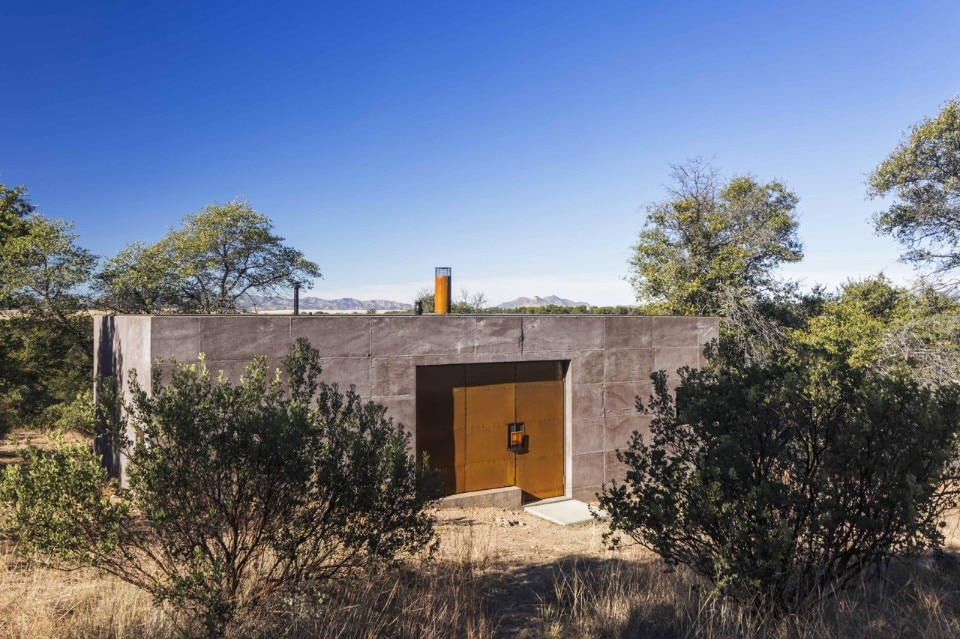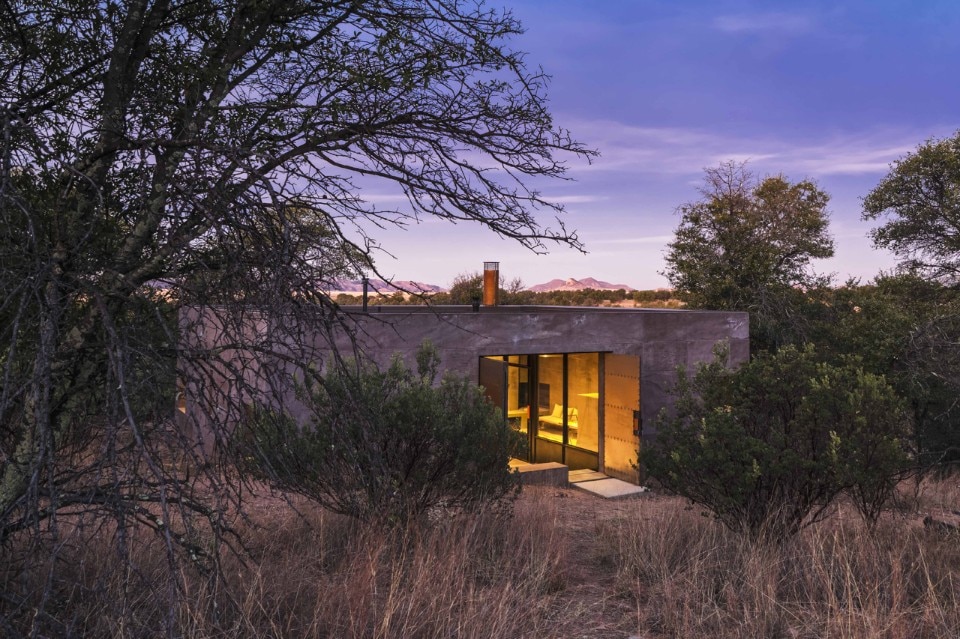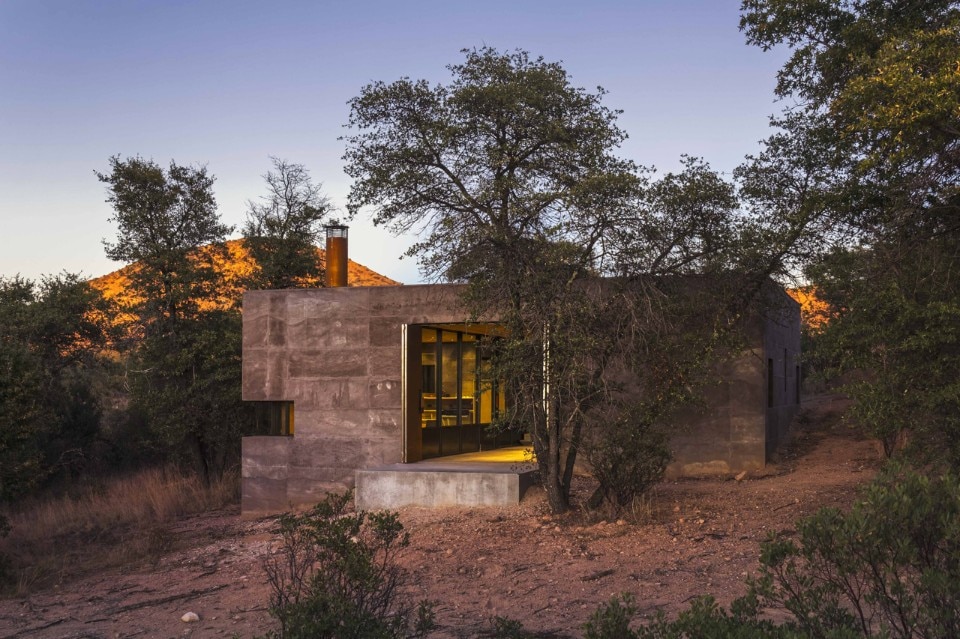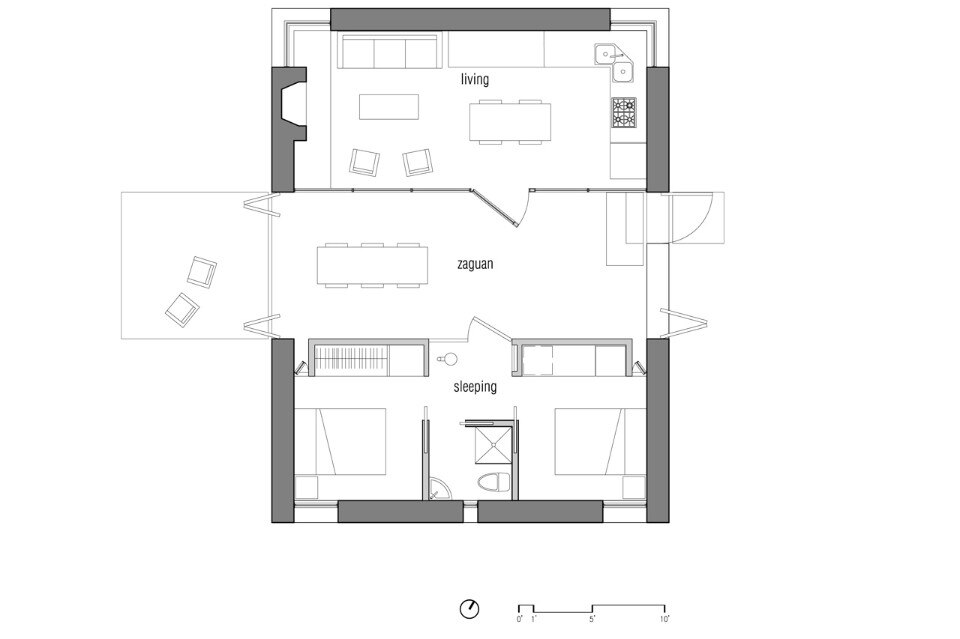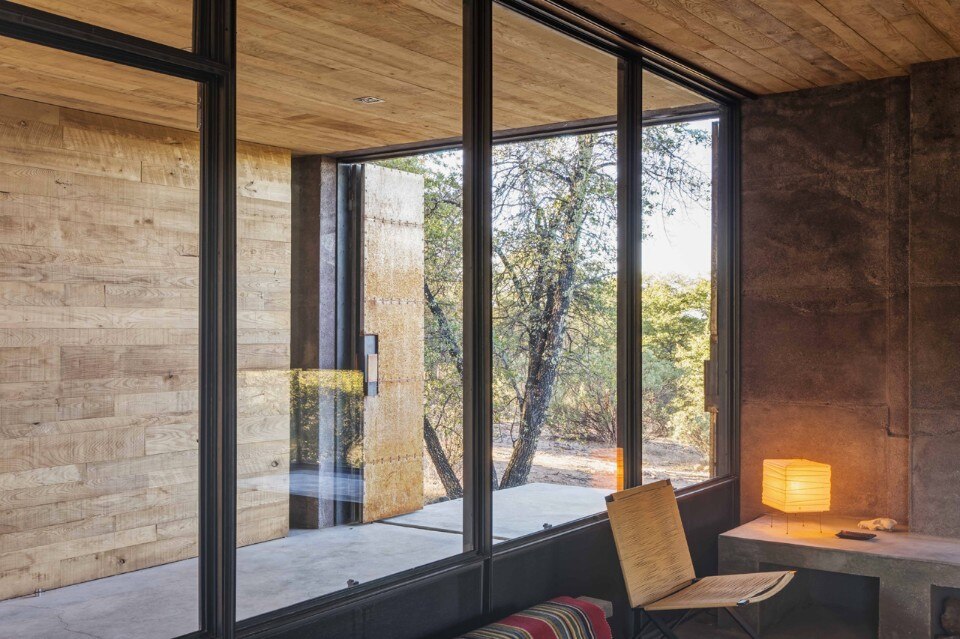 Casa Caldera, Location: Santa Cruz County, Arizona, Architect: DUST Cade Hayes, Jesus Robles
DUST, Casa Caldera, San Rafael Valley, Tucson, 2015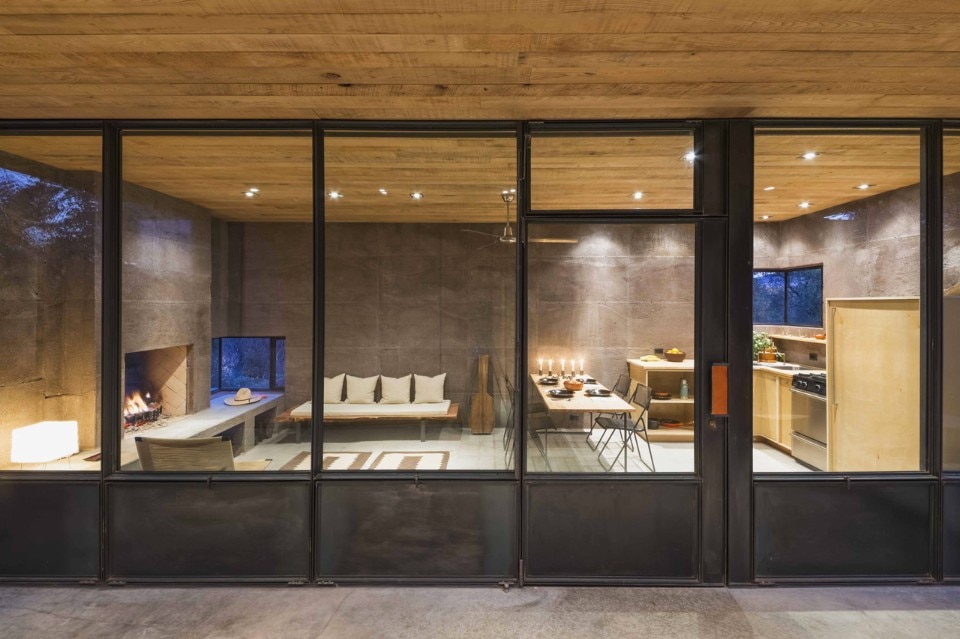 Casa Caldera, Location: Santa Cruz County, Arizona, Architect: DUST Cade Hayes, Jesus Robles
DUST, Casa Caldera, San Rafael Valley, Tucson, 2015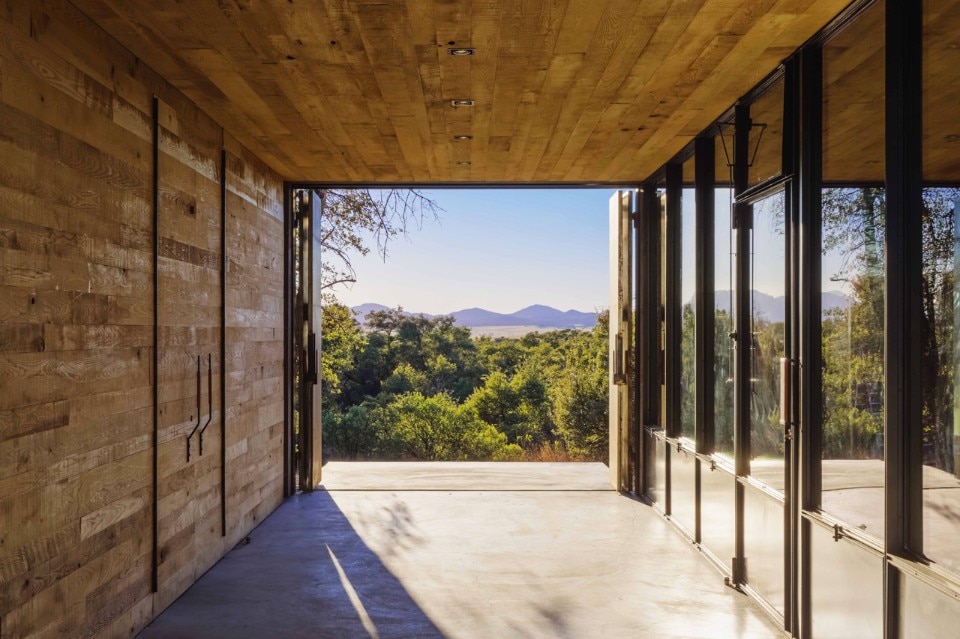 Casa Caldera, Location: Santa Cruz County, Arizona, Architect: DUST Cade Hayes, Jesus Robles
DUST, Casa Caldera, San Rafael Valley, Tucson, 2015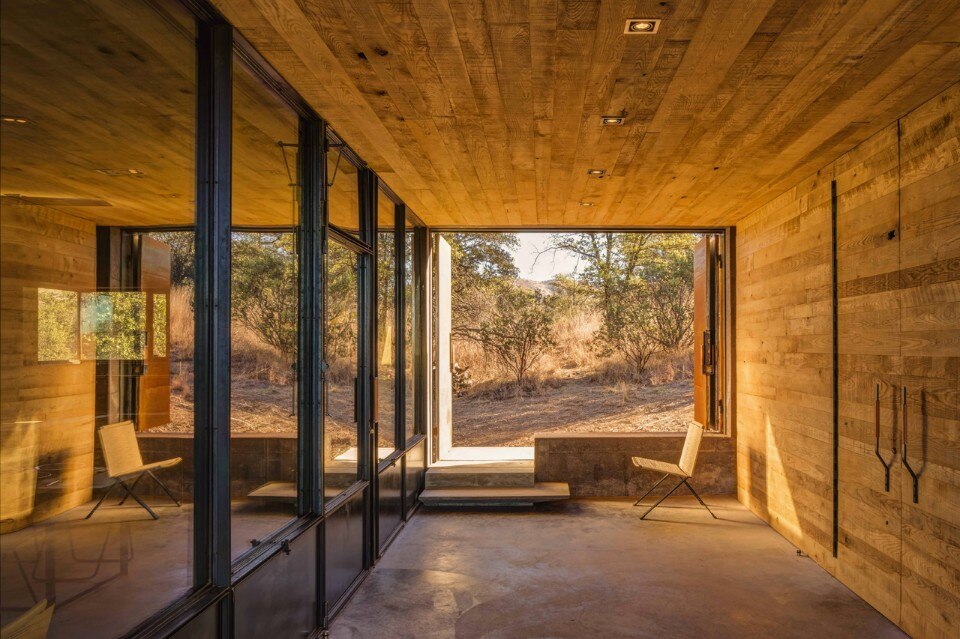 Casa Caldera, Location: Santa Cruz County, Arizona, Architect: DUST Cade Hayes, Jesus Robles
DUST, Casa Caldera, San Rafael Valley, Tucson, 2015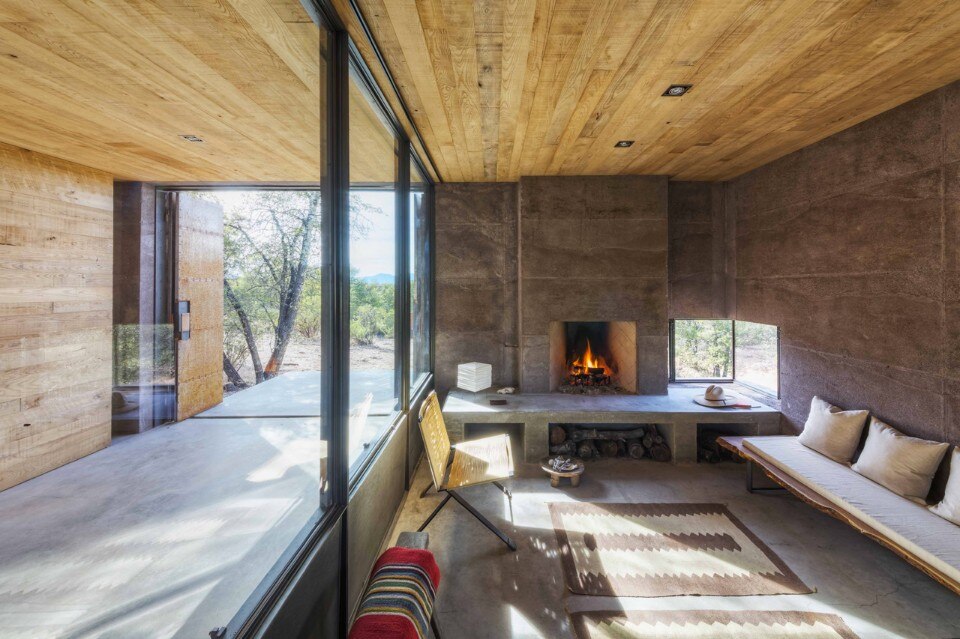 Casa Caldera, Location: Santa Cruz County, Arizona, Architect: DUST Cade Hayes, Jesus Robles
DUST, Casa Caldera, San Rafael Valley, Tucson, 2015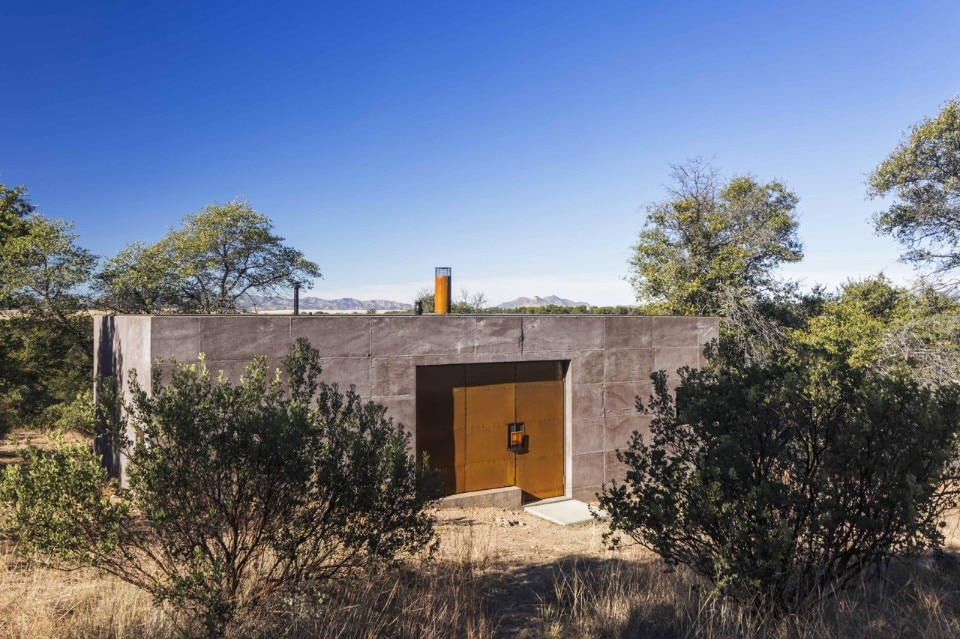 Casa Caldera, Location: Santa Cruz County, Arizona, Architect: DUST Cade Hayes, Jesus Robles
DUST, Casa Caldera, San Rafael Valley, Tucson, 2015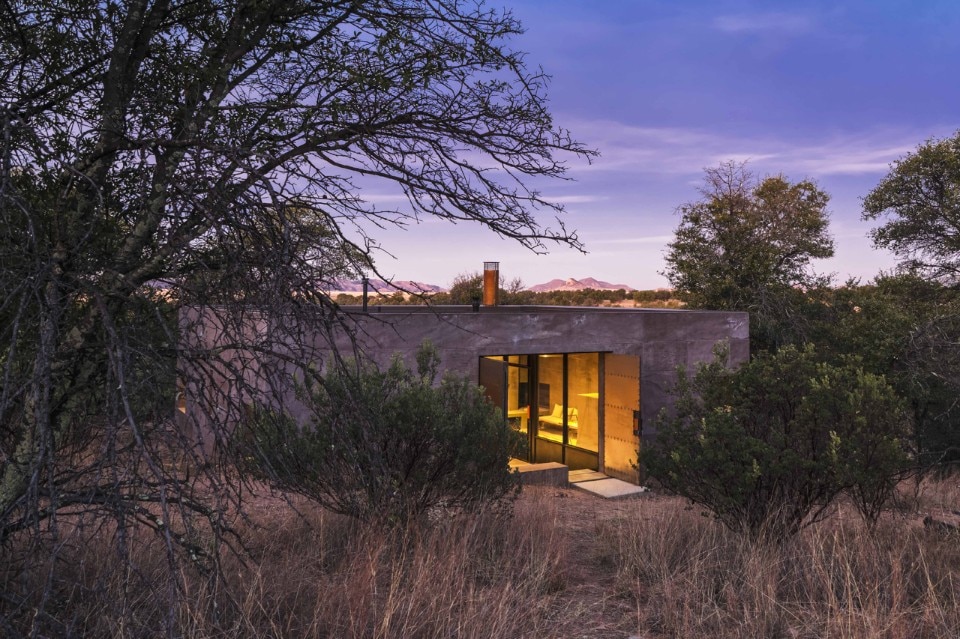 Casa Caldera, Location: Santa Cruz County, Arizona, Architect: DUST Cade Hayes, Jesus Robles
DUST, Casa Caldera, San Rafael Valley, Tucson, 2015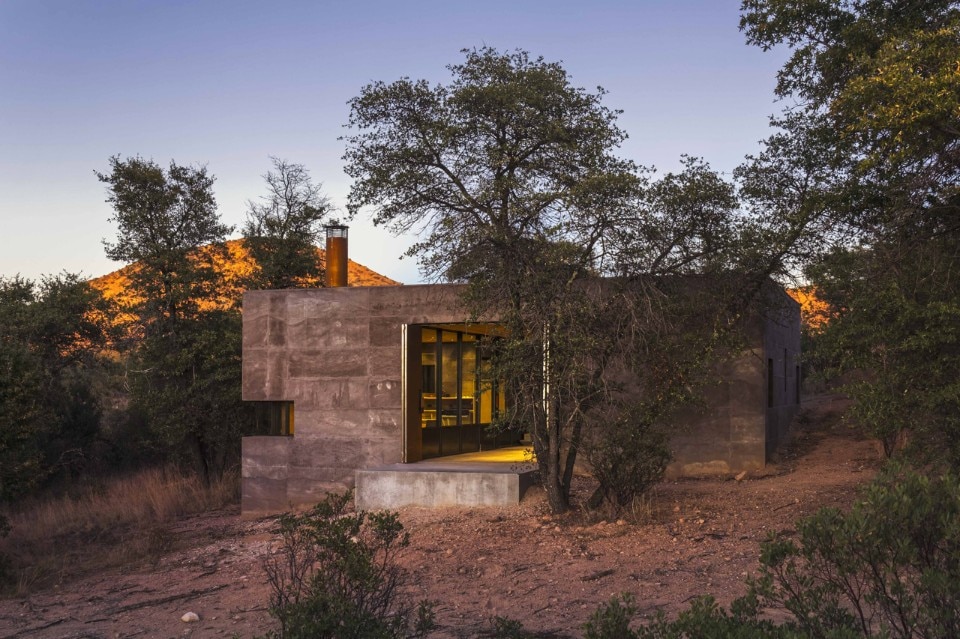 Casa Caldera, Location: Santa Cruz County, Arizona, Architect: DUST Cade Hayes, Jesus Robles
DUST, Casa Caldera, San Rafael Valley, Tucson, 2015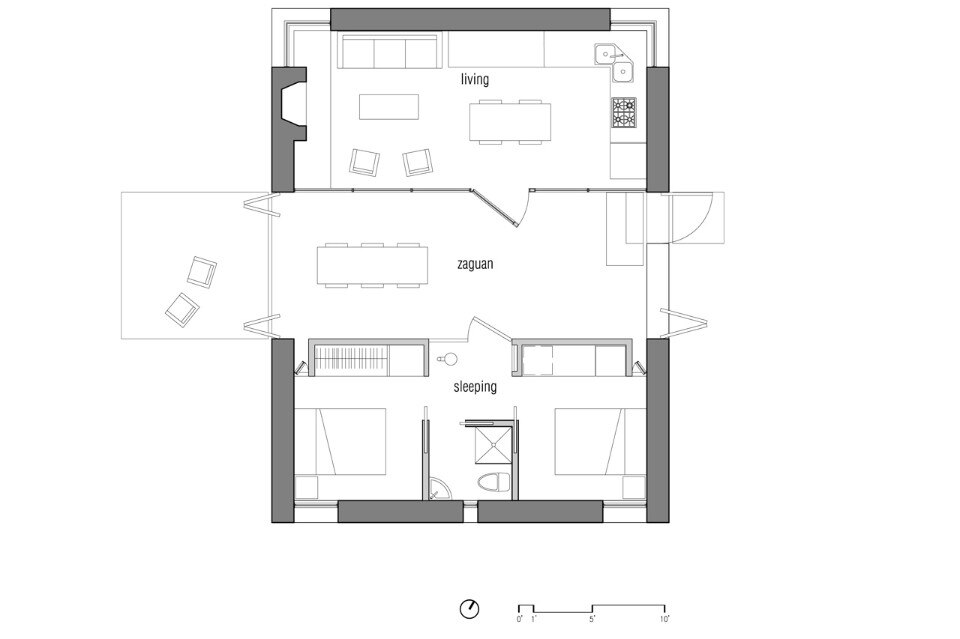 Layout1 (2)
DUST, Casa Caldera, floor plan
Layout1
DUST, Casa Caldera, section

Casa Caldera, San Rafael Valley, Tucson, Arizona
Program: holiday house
Architects: DUST, Cade Hayes, Jesus Robles 
Team: Jay Ritchey, Agustin Valdez, Ben Gallegos
Total area: 323 sqm
Built area: 158 sqm
Completion: 2015