In Mumbai, India, it is hard to ignore the informal settlements in the city: if looked at it closely there are many lessons to be learnt in frugality, adaptability, multi-tasking, resourcefulness and ingenuity. It emerges a visual language of the found object, ad-hoc, eclectic, patched and collaged that the architectural studio S+SP Architects tried to apply in this private house, without romanticizing or fetishizing them.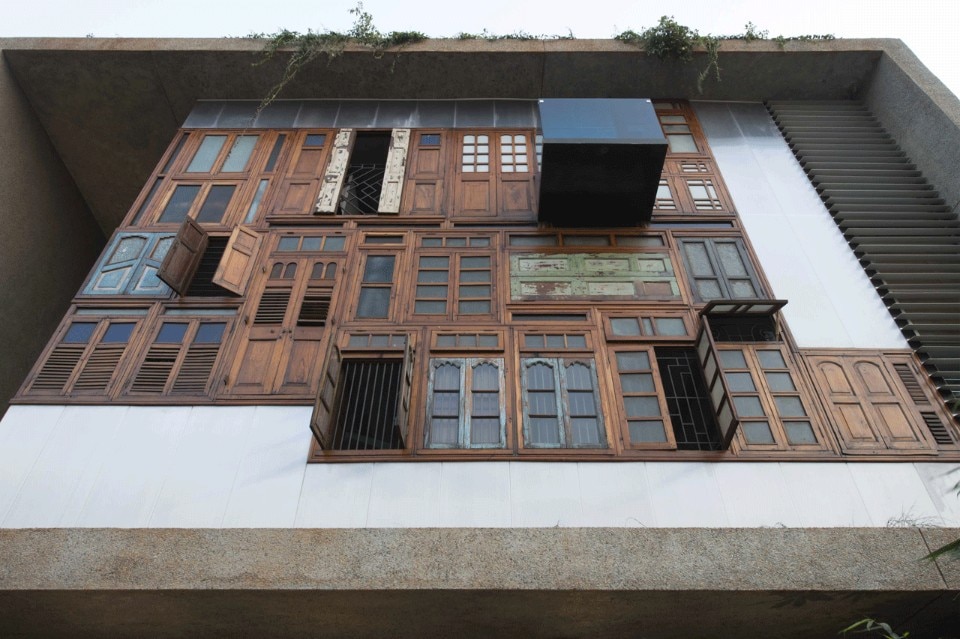 The project looks at the idea of recycling and collage in several ways, from the very physical – like materials and energy, to the intangible – like history, space and memories. The front façade sets the tone for what lies within, with a "corner of windows" that recycles old windows and doors of demolished houses in the city. This becomes a major backdrop for the living room with an exposed concrete faceted ceiling that faces a polished white marble with intricate brass inlay on the floor.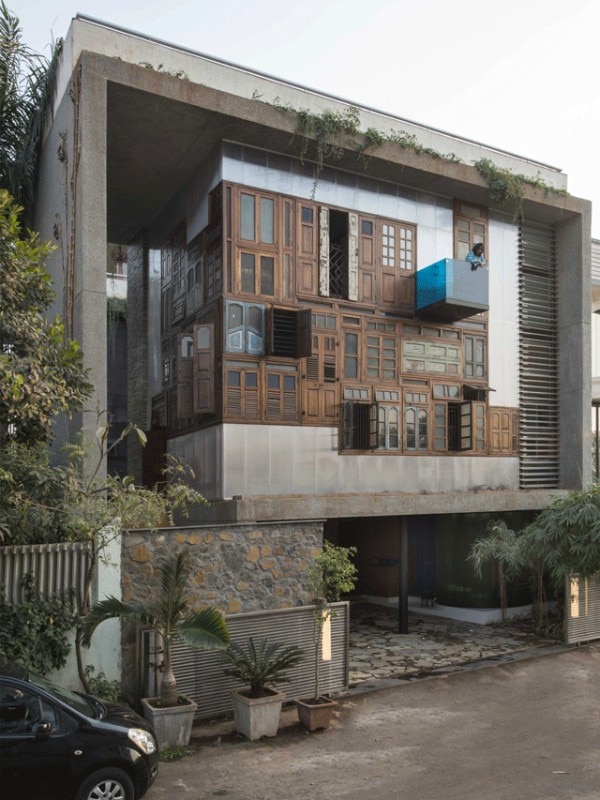 Metal pipe leftovers pieced together resembling bamboo form a "pipe wall" that integrates structural columns, rainwater downtake pipes and a sculpture of spouts that in the monsoon trigger all the senses. In the central courtyard you can find some scrap rusted metal plates that are riveted together, and tile samples in bright colors retain a planter in the middle. On the third side there is a wall clad in cut-waste stone slivers, lifted off the back of stone cutting yards and waste material generated on site during the building process.
Hundred-year-old columns from a dismantled house bring back memories, and nostalgia is nourished with a lightweight, steel and glass pavilion (with solar panels above) on the terrace level overlooking fabulous views down the hillside. This approach is reinforced again in the interior materials and elements. It plays up this contrast between the old and the new, the traditional and the contemporary, the rough and the finished. One finds use of recycled materials like old textile blocks, flooring made out of old Burma teak rafters and purlins, colonial furniture, fabric waste (chindi). Together with this, the architects searched new ways of using traditional elements and materials like carved wooden mouldings, beveled mirrors and heritage cement tiles.
S+PS Architects, Collage House, Belapur, Navi Mumbai
S+PS Architects, Collage House, Belapur, Navi Mumbai
S+PS Architects, Collage House, Belapur, Navi Mumbai
S+PS Architects, Collage House, Belapur, Navi Mumbai
S+PS Architects, Collage House, Belapur, Navi Mumbai
S+PS Architects, Collage House, Belapur, Navi Mumbai
S+PS Architects, Collage House, Belapur, Navi Mumbai
S+PS Architects, Collage House, Belapur, Navi Mumbai
S+PS Architects, Collage House, Belapur, Navi Mumbai
S+PS Architects, Collage House, Belapur, Navi Mumbai
S+PS Architects, Collage House, Belapur, Navi Mumbai
S+PS Architects, Collage House, Belapur, Navi Mumbai
exploded axo developed new2
S+PS Architects, Collage House, technical drawing, collage elements
S+PS Architects, Collage House, technical drawing, water system network
S+PS Architects, Collage House, technical drawing, floor plans and location
S+PS Architects, Collage House, technical drawing, sections

Collage House, Belapur, Navi Mumbai
Program: private housing
Architects: S+PS Architects; Pinkish Shah, Shilpa Gore-Shah, Mayank Patel, Gaurav Agarwal, Shrutika Nirgun, Divya Malu, Manali Patel, Ved Panchwagh, Priyadarshi Srivastava
Client: Mr. Bhargava
Liasion Architects: Sopan Prabhu Architects
Structural engineering: Rajeev Shah & Associates
Service consultants: Arkk Consultants
Main contractors: Homework Constructions, Deepak Mhatre, Shafibhai, Imam Steel, Furkan Sheikh
Site area: 350 sqm
Built area: 520 sqm
Completion: 2015