Asif Khan has designed an elevated playground for Chisenhale Primary School in Bow, East London, which has just completed construction and is the first part of the school's long-term masterplan.
The challenging brief required an increase in the play area of this inner city primary school to match the expanded pupil population, without reducing the space required by the P.E curriculum. The design adds a double-layered play space to the edge of the existing playground, a soft landscape beneath 2.2 metre elevated deck, connected by a hill and two slides.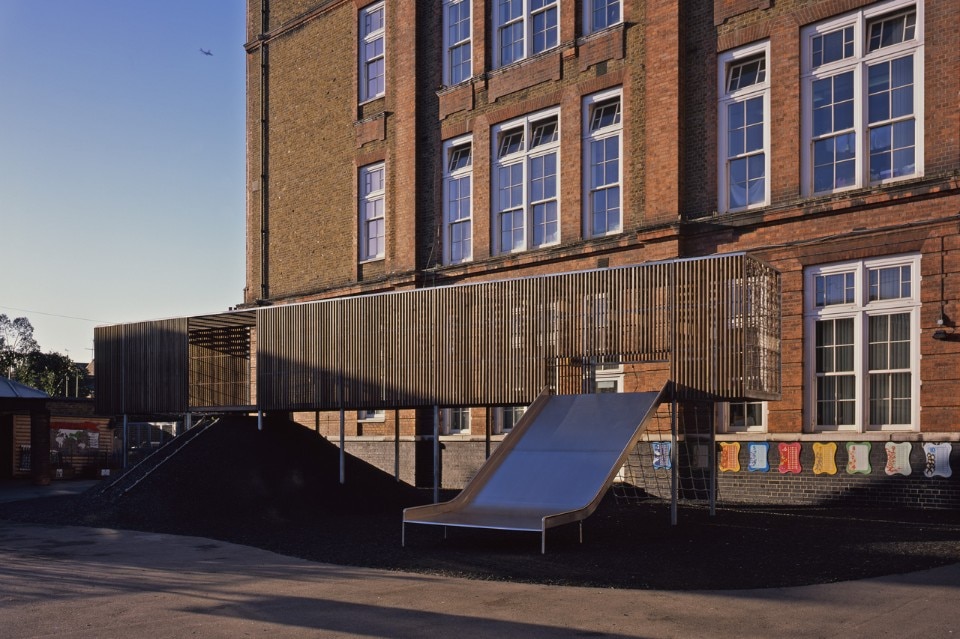 Asif Khan says: "We designed an inside and outside space where the kids can invent their own play. This terrain is composed of two elements – a soft rubber landscape culminating in a steep hill and an elevated semi-enclosed timber space. The slides and rope nets bridge the vertical. The plan stimulates the kids to move, but also create quiet spaces where they can rest. In this simple structure we've seen so much variety of play created by the children."
The children at Chisenhale were consulted on the design of the space over a six-month period and had specific ideas they communicated to the architects. The kids wanted places to run and climb, places to hide and somewhere to rest and chat to friends. The structure is built from thermally modified tulipwood slatted panels with a deck structure of thermally modified ash. It will go through a cradle-to-grave Life Cycle Assessment and this will be used as a learning opportunity as part of the school's curriculum.

Asif Khan, Chisenhale Primary School playground, London, UK
Asif Khan, Chisenhale Primary School playground, London, UK
Asif Khan, Chisenhale Primary School playground, London, UK
Asif Khan, Chisenhale Primary School playground, London, UK
Asif Khan, Chisenhale Primary School playground, London, UK
Asif Khan, Chisenhale Primary School playground, London, UK
Asif_Khan_Chisenhale_Deck Plan
Asif Khan, Chisenhale Primary School playground, London, UK. Deck Plan
Asif_Khan_Chisenhale_Roof Plan
Asif Khan, Chisenhale Primary School playground, London, UK. Roof Plan
Asif_Khan_Chisenhale_East Elevation
Asif Khan, Chisenhale Primary School playground, London, UK. Elevation
Asif_Khan_Chisenhale_North Elevation
Asif Khan, Chisenhale Primary School playground, London, UK. Elevation
Asif_Khan_Chisenhale_School East Elevation
Asif Khan, Chisenhale Primary School playground, London, UK. Elevation
Asif_Khan_Chisenhale_West Elevation
Asif Khan, Chisenhale Primary School playground, London, UK. Elevation
Asif_Khan_Chisenhale_Long Section
Asif Khan, Chisenhale Primary School playground, London, UK. Section

Chisenhale Primary School playground, London, UK
Program: playground
Architect: Asif Khan Ltd
Client: Chisenhale Primary School
Structural engineer: AKT II
Contractor: Aldworth James and Bond, Grassroots / Duncan & Grove, M&M architectural
In collaboration with: American Hardwood Export Council
Area: 35 sqm
Completion: 2016