Recession or no recession, Moscow is a city that is changing fast in all senses, including architecturally. New trends appear, others vanish and more rise from the ashes like a modern Phoenix.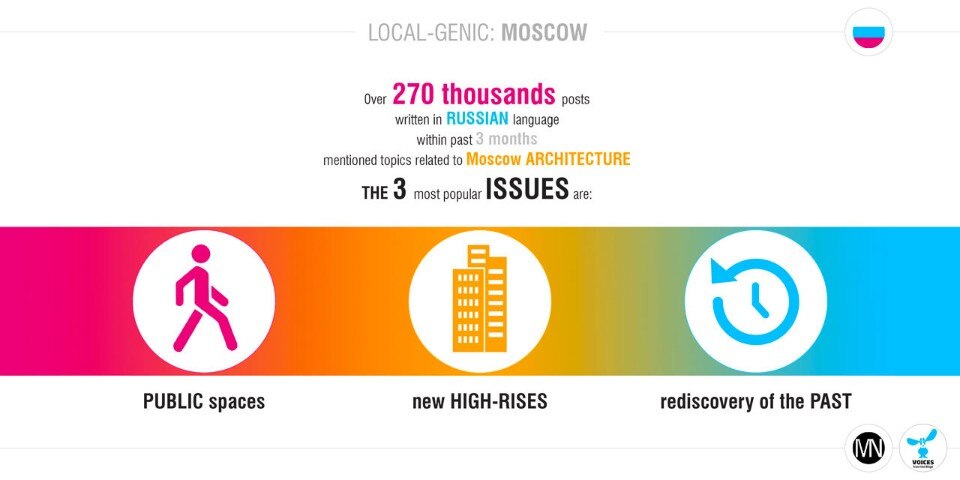 In an attempt to learn more, we conducted an overview (almost) in real-time, which we have called "Local-genic : Moscow".  It is based on the subjects that Russians themselves, and Muscovites in particular, focus on and discuss when talking about architecture on social networks. In collaboration with VOICES from the Blogs , a Milan University spin-off, we analysed more than 270,000 posts discussing architecture in Russian published in the last quarter of 2015. They represent a mountain of hugely significant data and are testimony to the fact that these subjects arouse extensive interest.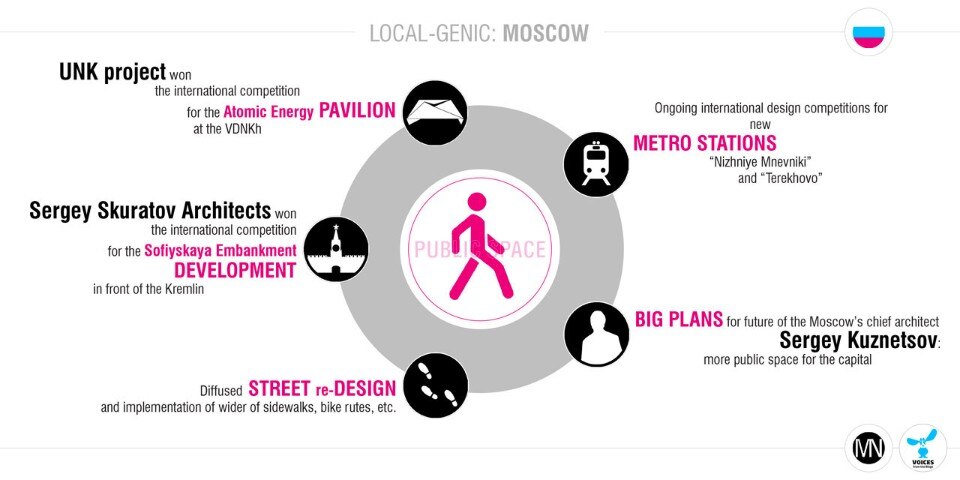 According to our research, the emerging themes on Moscow architecture are linked to three far from expected subjects, especially given the Russian context of recent years.

The first concerns public spaces, a totally new trend and currently in great ferment, as proven by the numerous international competitions addressing the subject from many different viewpoints. From new metro stations to major urban development projects centred on a human-scale pedestrian experience (traditionally neglected by Soviet design) and more detailed and widespread interventions to regenerate urban space.
The latter are, by the way, much welcomed by Muscovites, at least judging by the social network discussions. So, we have the Atomic Energy Pavilion at VDNKh by UNK Project and the plans to develop the area between Bolotnaya Square and the Sofiyskaya embankment by Sergey Skuratov Architects. Interestingly, this project was favoured over proposals by CZA Cino Zucchi Architect, MLA+, Nps Tchoban Voss, Miralles Tagliabue EMBT and Steven Holl Architects.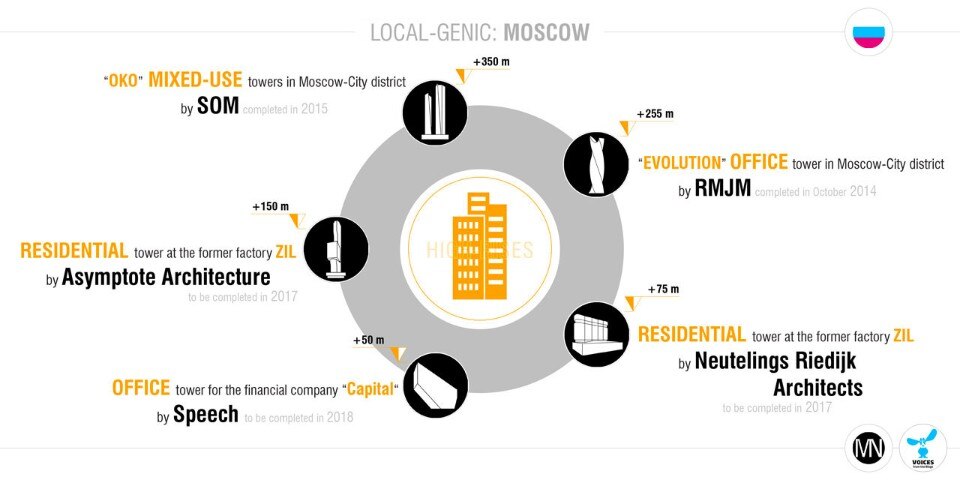 We must also report the results of phase one of the international competition for the Nizhniye Mnevniki and Terekhovo metro stations. Indeed, there are many initiatives in the pipeline. According to Moscow architect Sergey Kuznetsov this is but the start of the city's renewal, which will continue throughout 2016.

On the other hand, Moscow is not just rethinking its "ground floor". It is also looking towards the clouds and is where Europe's tallest skyscrapers are appearing, another prominent theme in on-line discussions. The recently inaugurated OKO towers, designed by American group Skidmore, Owings & Merrill, rise to a height of 355 m and the albeit more "modest" Evolution tower boasts a still respectable height (255 m); the initial concept was developed by Britain's RMJM and subsequently completed by Gorproject in Moscow. All these projects are in the famous Moscow-City business district, often compared to La Défense in Paris and London's Canary Wharf.
Another project attracting the attention of Moscow's social networks is the regeneration of the former ZiL heavy vehicle factory. According to the plans, two apartment blocks will soon be built there: one 150 m tall, designed by New York's Asymptote Architecture, and the other 75 m tall, by Neutelings Riedijk Architects in Rotterdam.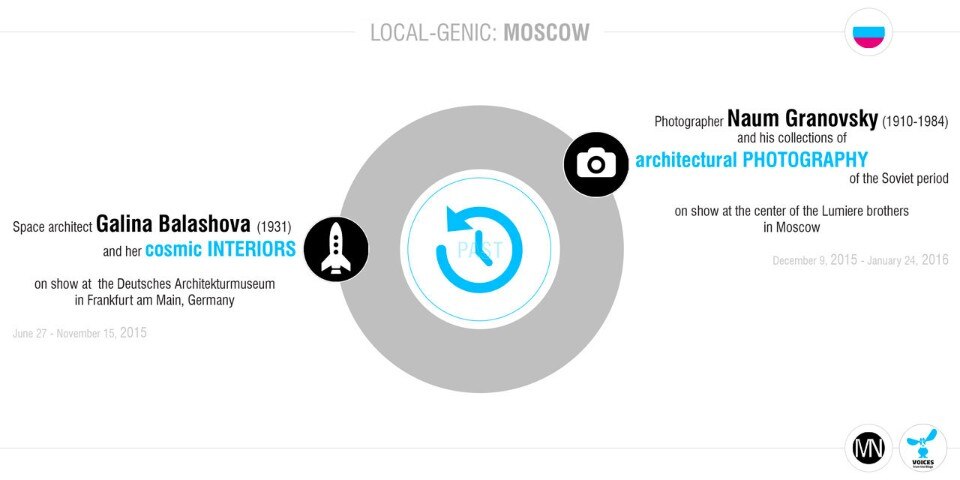 Despite the many international names and large-scale projects rising to astronomic heights, Moscow has no intention of forgetting its past. In recent months, two names, in particular, have been attracting great interest on the Internet: the architect Galina Balashova (1931), now 84, who designed the interiors of the Soyus space capsules, and is, you might say, a pioneering explorer of minimal spaces, and Naum Granovsky (1910–1984), one of the most important architectural photographers of the former Soviet Union and of the so-called Stalinist neoclassical style. People often end up discussing his images of Soviet cities about to be overwritten, although this does not mean they do not feel, at least a little, nostalgia for them.