The placement of the Saint-Ange Residency, on the lower side of the plateau of Tour Saint-Ange's park, beyond the vegetable garden, under the trees and on the slope leading toward the Grenoble's golf course – was definitively a challenge.
The site is beautiful for its unobstructed view on Grenoble's valley, but difficult for its hard and narrow slope.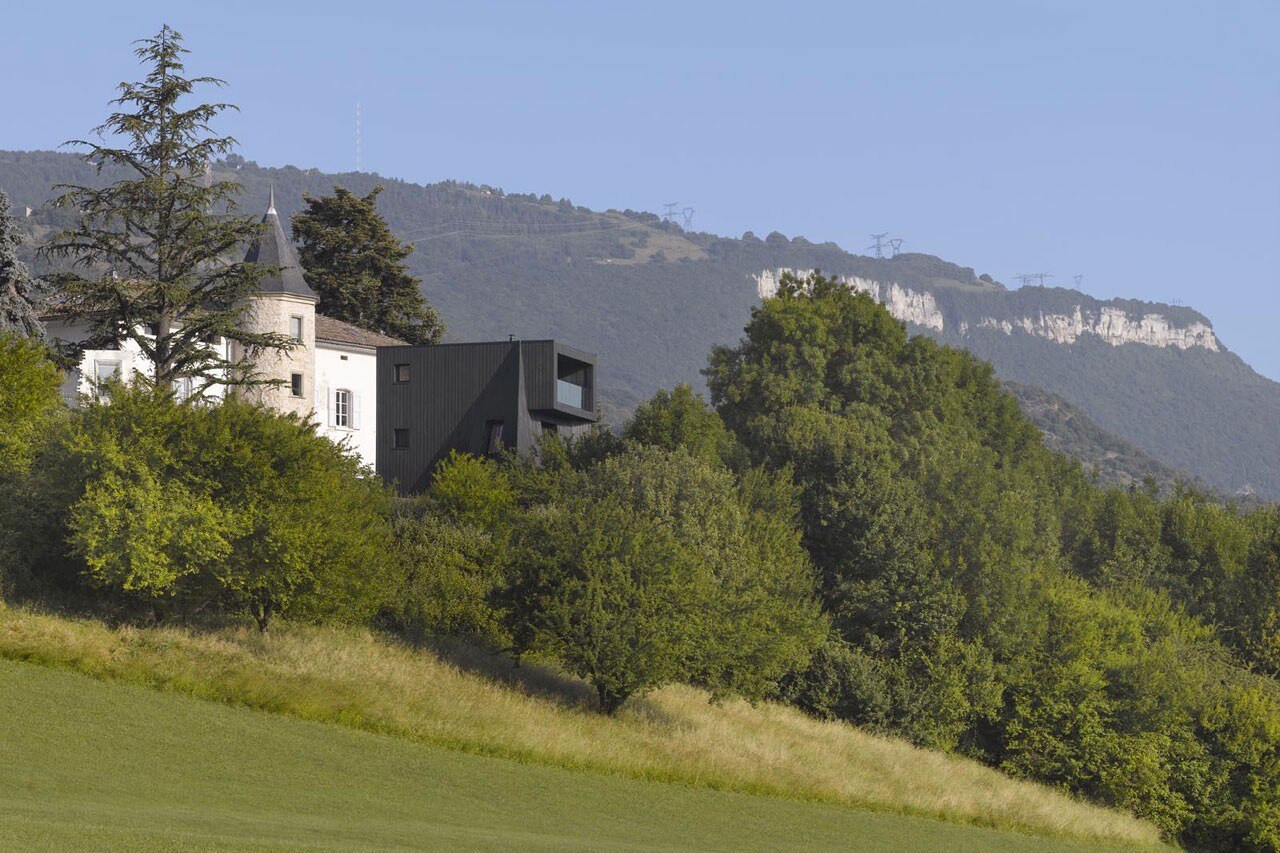 This is why, when discovering the site, and despite all the difficulties, creating a view overlooking the entire valley became the dominant idea. A belvedere became the evident solution: to see as much of the valley as possible by going above the trees, but without ever having a reverse view in order to protect the intimacy of the Tour Saint-Ange and its park.
The studio was therefore thought of as a kind of tower on three different levels that twist to reach the view beyond the valley. This is monolithic architecture, a silent piece of art, made entirely from wood, with a natural finish on the inside and a black asphalt finish on the outside. During the daytime, multiple openings on the facade allow the light to pour into the living rooms, the studio and the two levels above – from three different directions (except from the north side facing the Tour Saint-Ange). At night, the wood blinds treated with the exact same finish as the facade hide the windows and allow the monolith to become all black and quiet once again.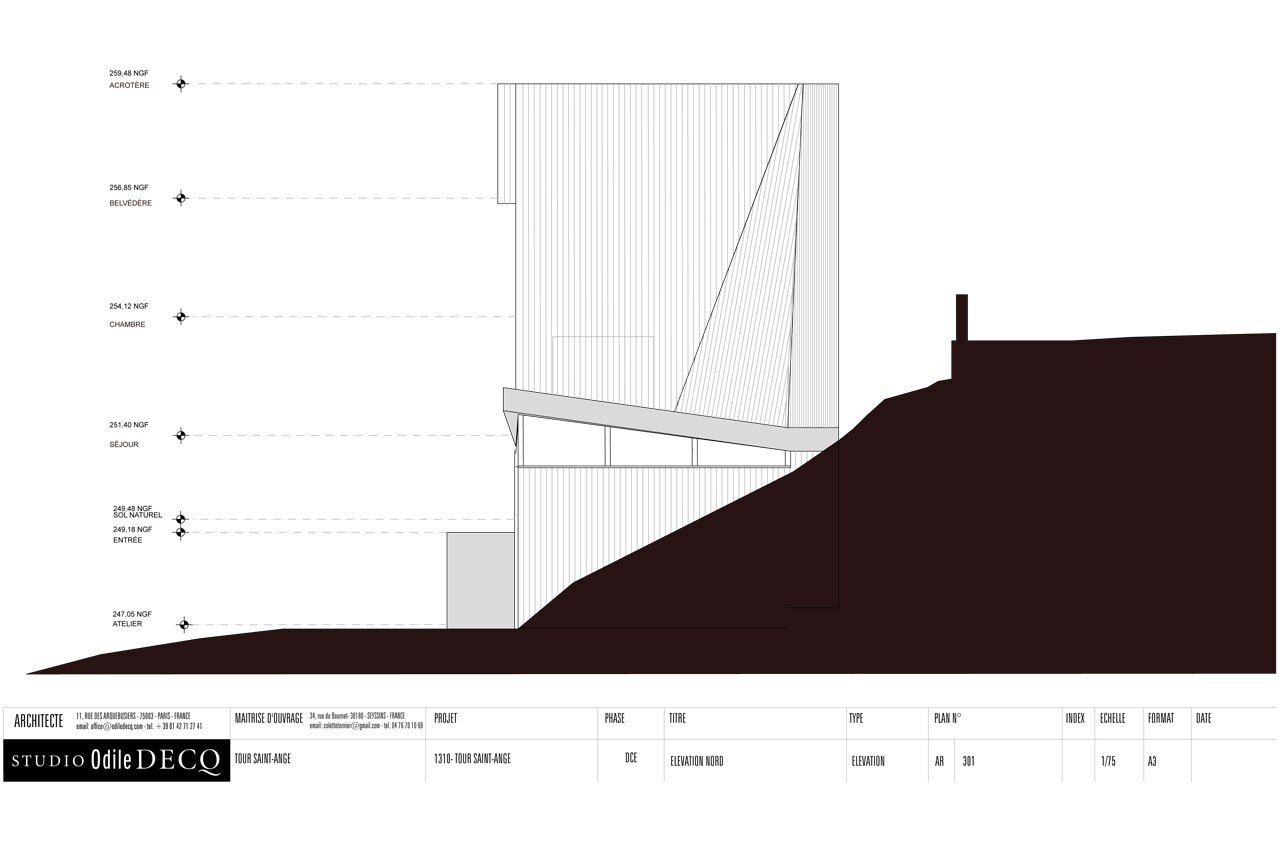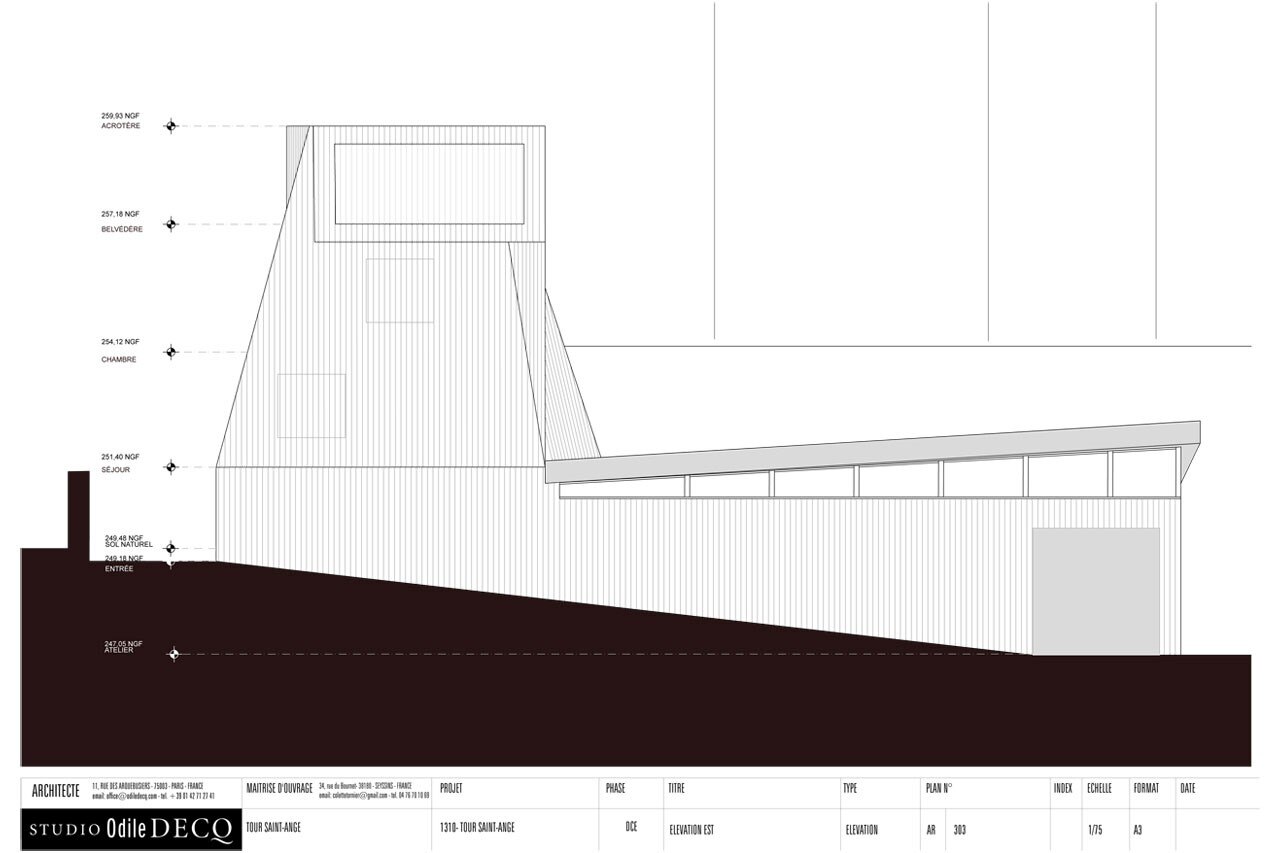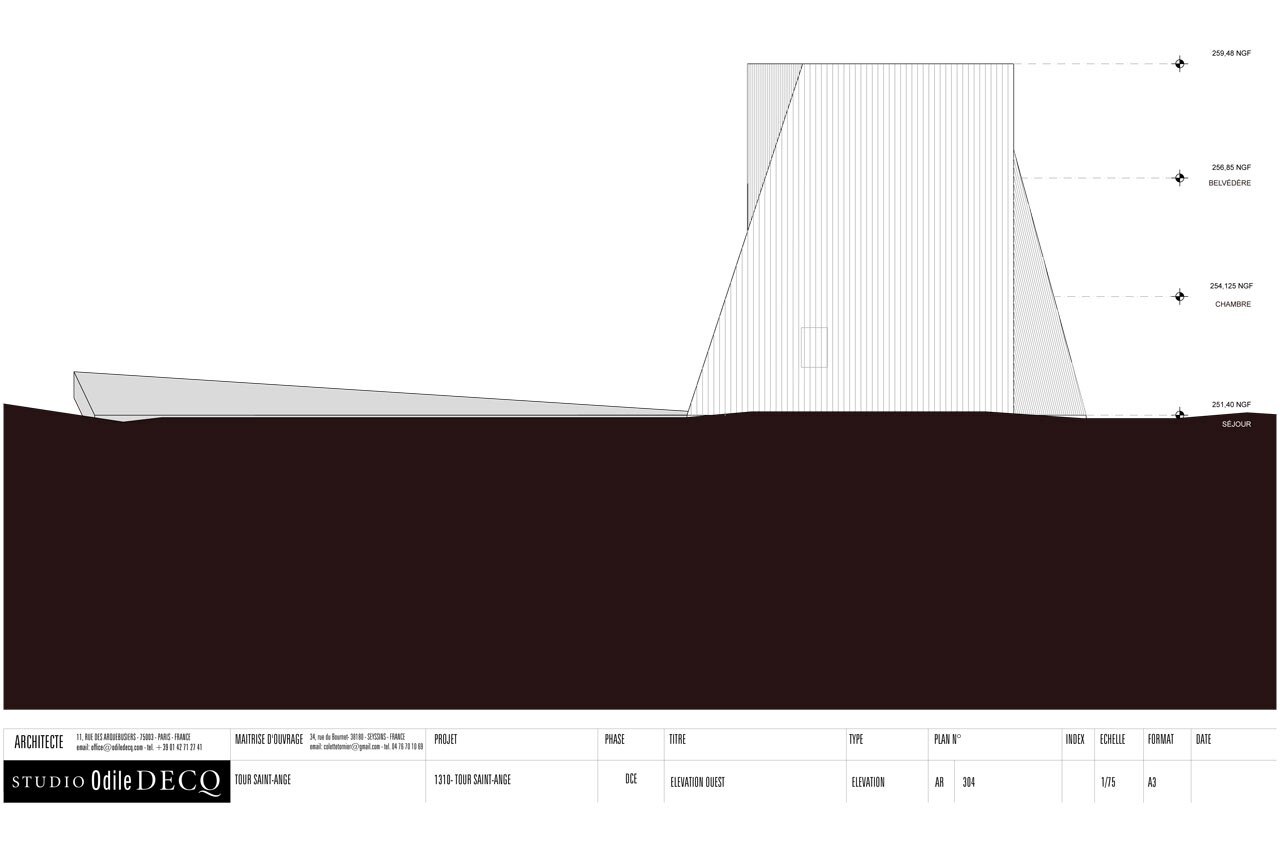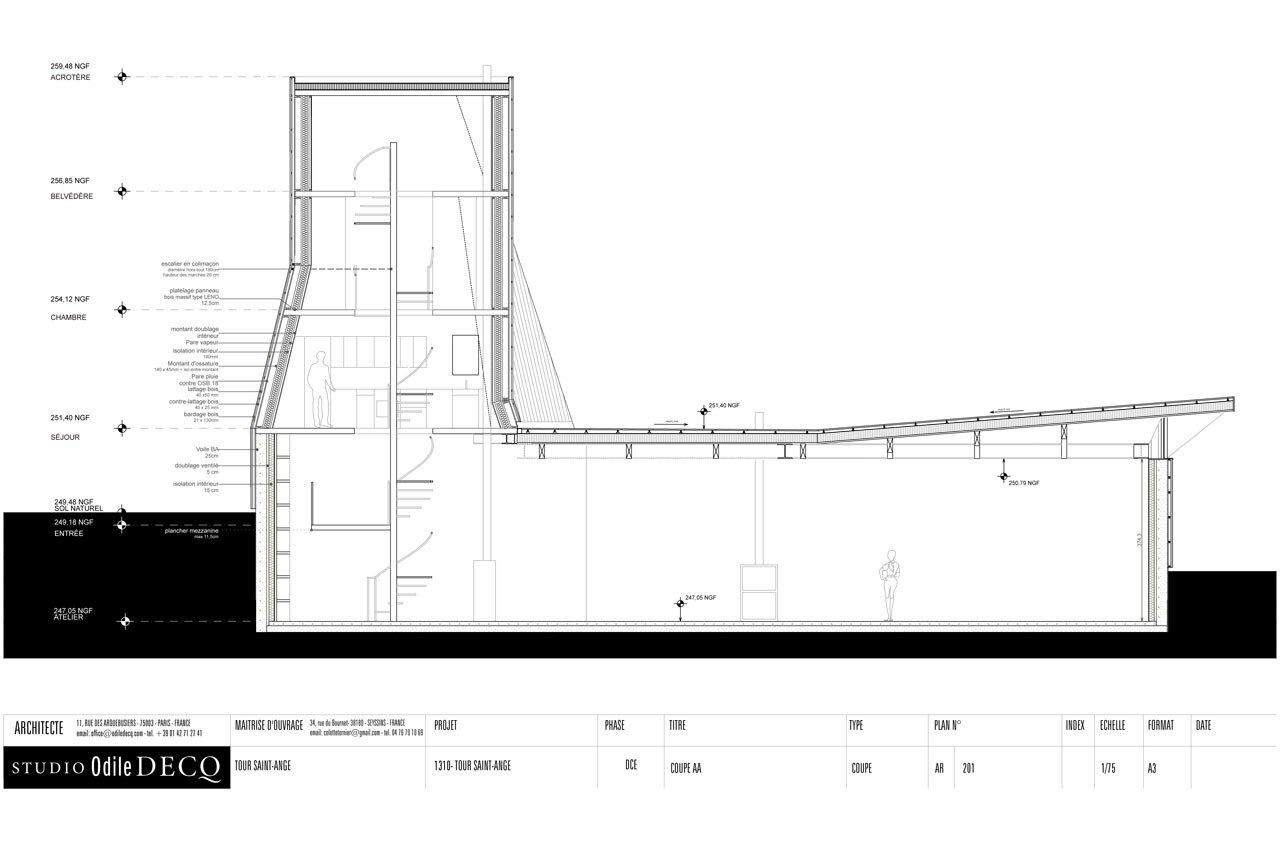 RH2375-0036
Studio Odile Decq, Saint-Ange Residency, Seyssins, France. Photo © Roland Halbe
RH2375-0040
Studio Odile Decq, Saint-Ange Residency, Seyssins, France. Photo © Roland Halbe
RH2375-0043
Studio Odile Decq, Saint-Ange Residency, Seyssins, France. Photo © Roland Halbe
RH2375-0067
Studio Odile Decq, Saint-Ange Residency, Seyssins, France. Photo © Roland Halbe
Studio Odile Decq, Saint-Ange Residency, Seyssins, France. Ground floor plan
Studio Odile Decq, Saint-Ange Residency, Seyssins, France. First floor plan
Studio Odile Decq, Saint-Ange Residency, Seyssins, France- Second floor plan
Studio Odile Decq, Saint-Ange Residency, Seyssins, France. Third floor plan
Studio Odile Decq, Saint-Ange Residency, Seyssins, France. Fourth floor plan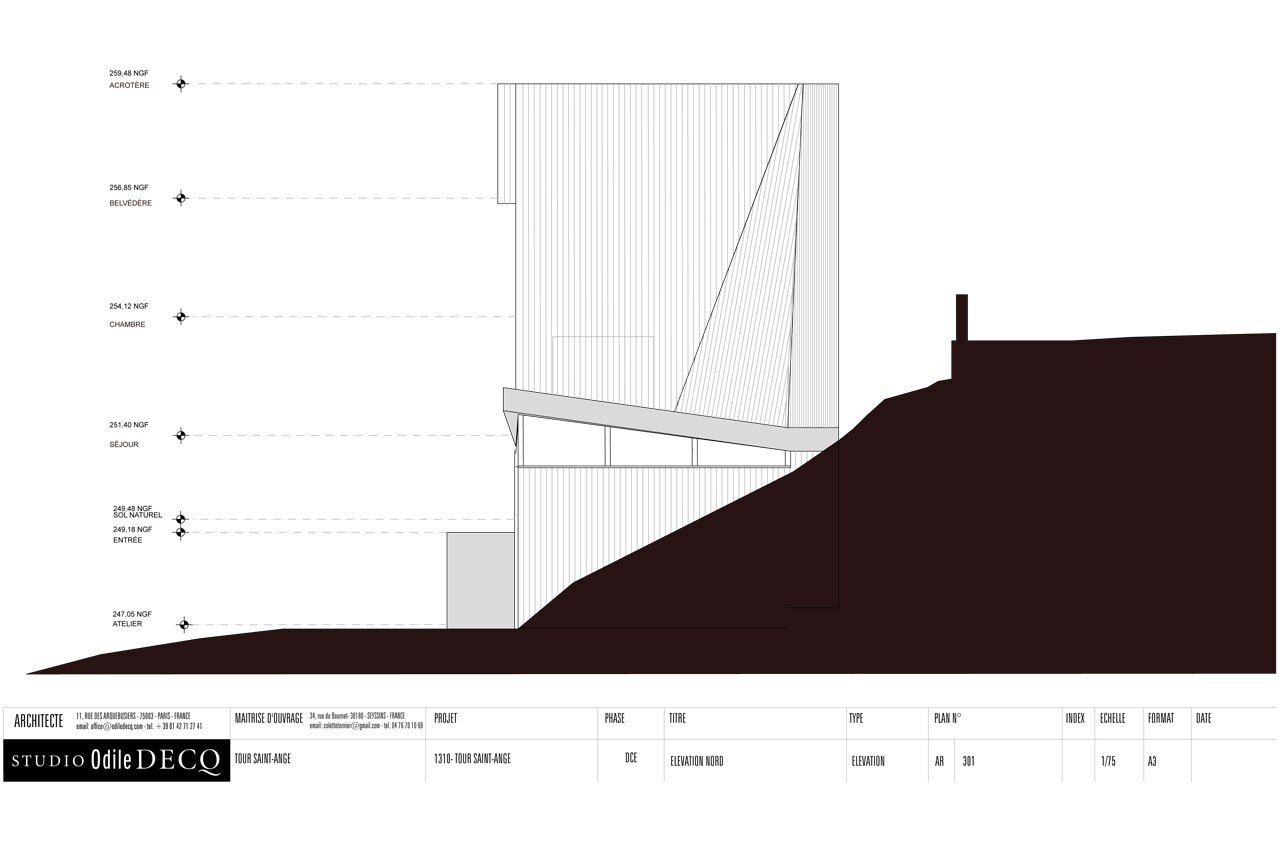 Studio Odile Decq, Saint-Ange Residency, Seyssins, France. Elevation
Studio Odile Decq, Saint-Ange Residency, Seyssins, France. Elevation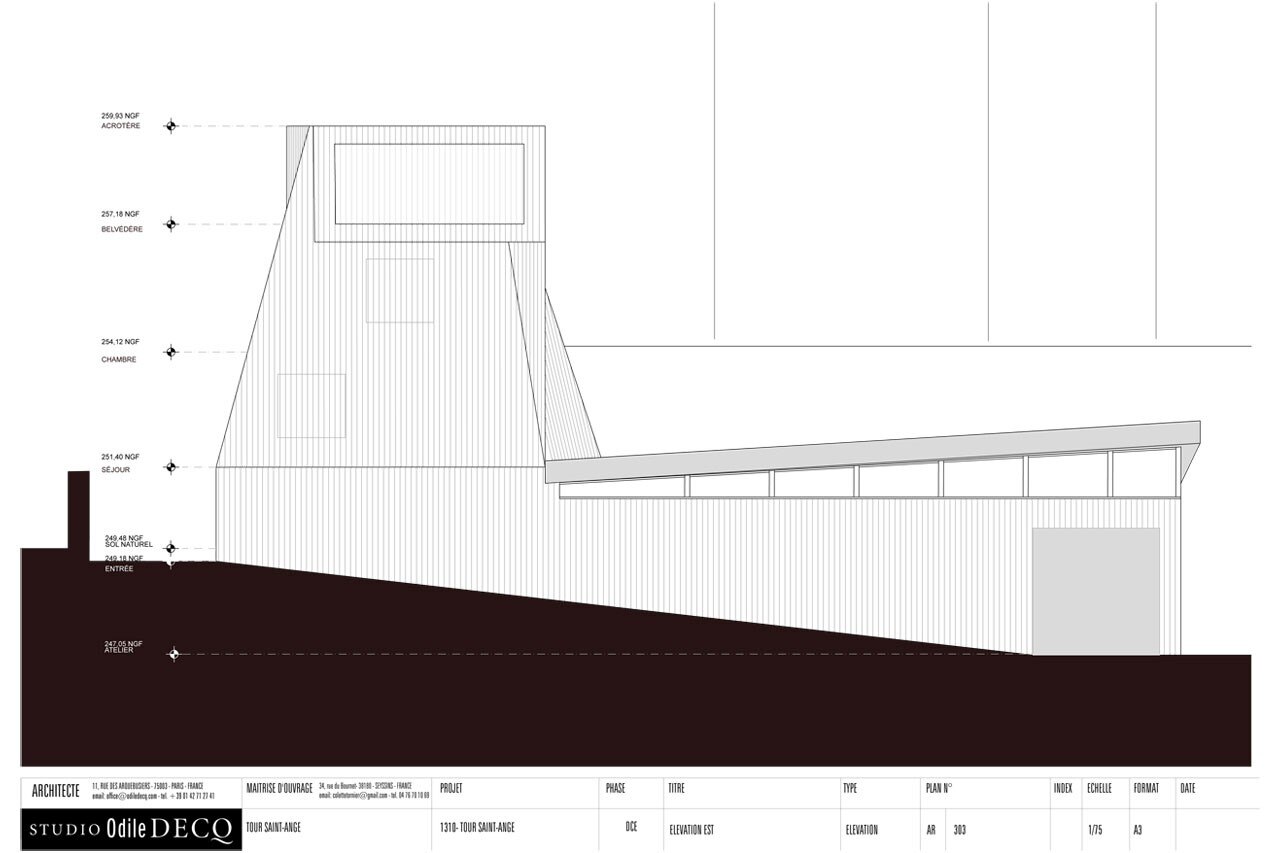 Studio Odile Decq, Saint-Ange Residency, Seyssins, France. Elevation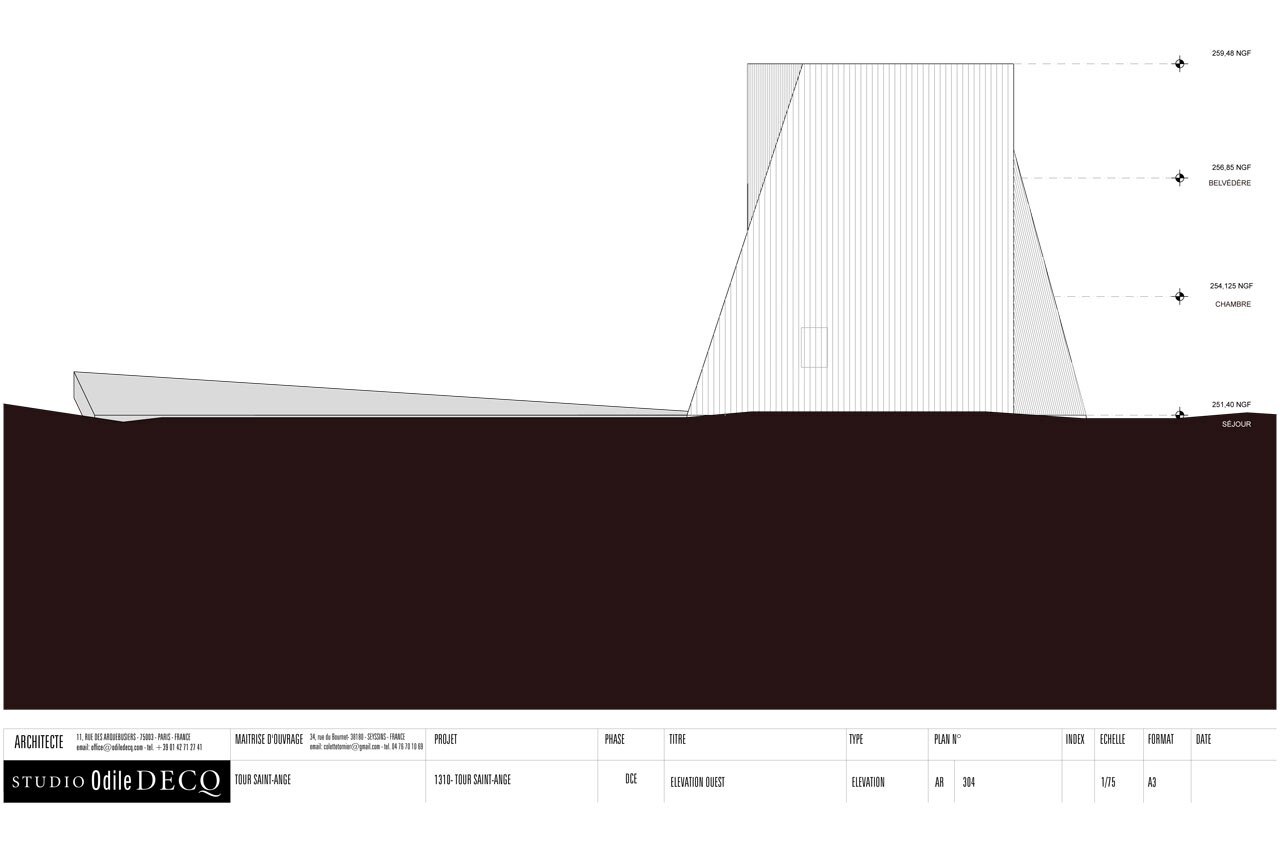 Studio Odile Decq, Saint-Ange Residency, Seyssins, France. Elevation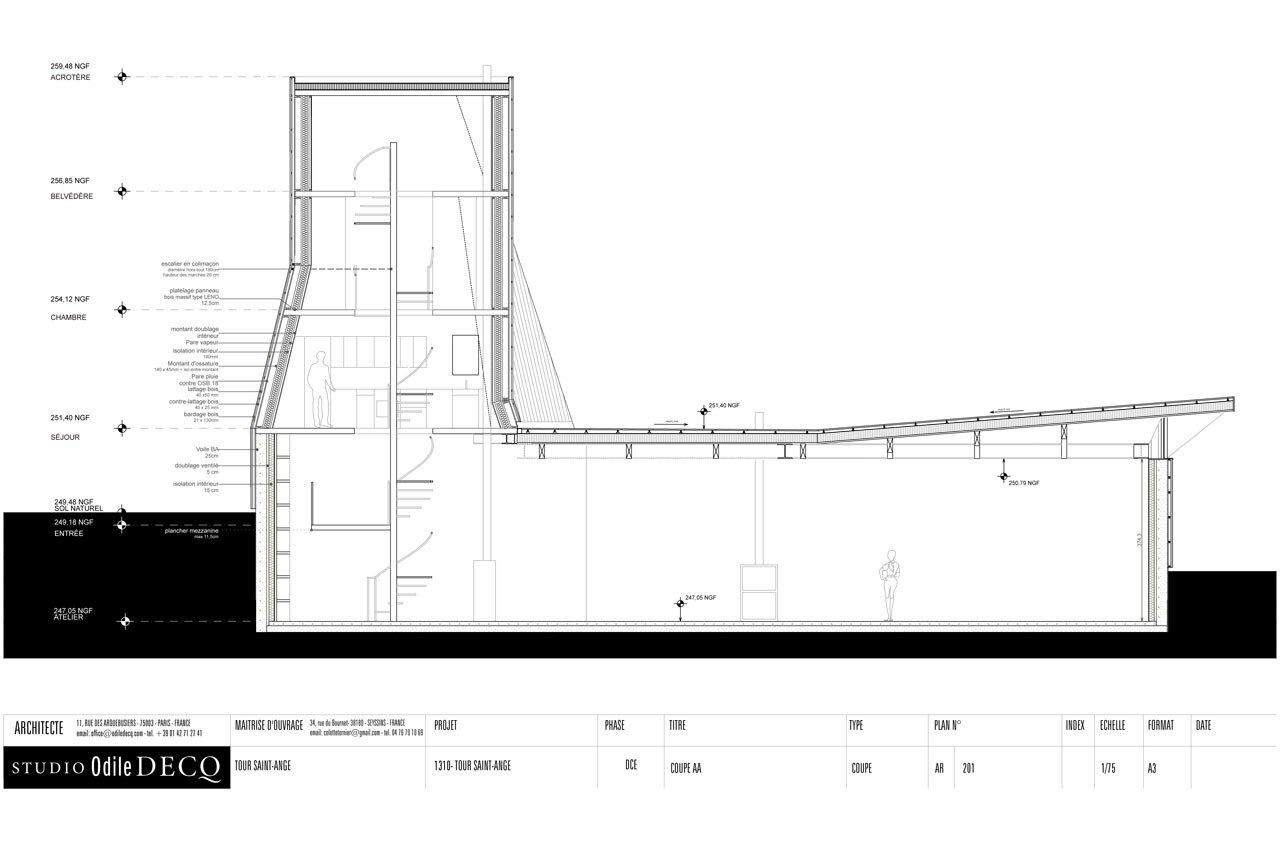 Studio Odile Decq, Saint-Ange Residency, Seyssins, France. Section
Studio Odile Decq, Saint-Ange Residency, Seyssins, France. Section

Saint-Ange Residency, Seyssins, France
Program: artist residency, studio and apartments
Architects: Studio Odile Decq
Structure: Batiserf
Fluids: Axess
General contractor: Sema
Urbanist: Jocelyne Icart
Structural work: Soraetec
Structure: Bois Conseil
Carpentry: Mr Joly Bois
Electricity: Edmi
Plumbing: Edmi
Client: Colette Tornier
Area: 185 sqm
Completion: 2015