At Markthal, visitors are able to shop, eat, enjoy a drink on the terrace, live and park their car, all underneath the tall arch of 40 meters height.
Markthal is located in the city center of Rotterdam, in the historic Laurenskwartier which is currently being redeveloped.
The project is part of the ambition of the city council to turn the Laurenskwartier into a lively and bustling area.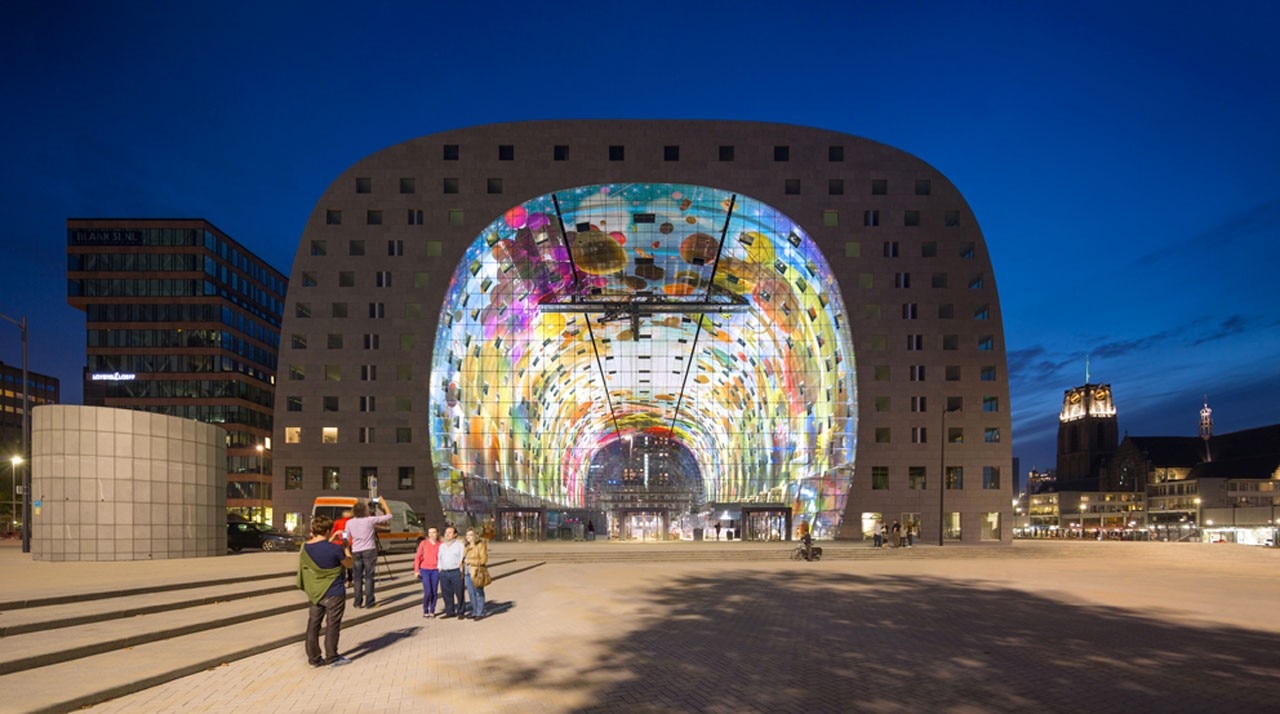 Markthal comprises 96 fresh food stalls and shop units, ranging from Rotterdam based businesses and market vendors to established local heroes. They offer a diverse range of products: from fresh fish to game, from cappuccino to cheese, from Chinese to Dutch, from ice cream to local produce, from bargains to exclusive slow food.
The ground and first floor accommodate 20 retail units, restaurants and cafés. All shops are food-related and include a crockery- and a wine shop. A supermarket is located on the 1st underground level allowing the shoppers to complete their shopping under one roof. 'The World of Taste', a center for education, information and innovation in the field of healthy eating will open on 1st January 2015.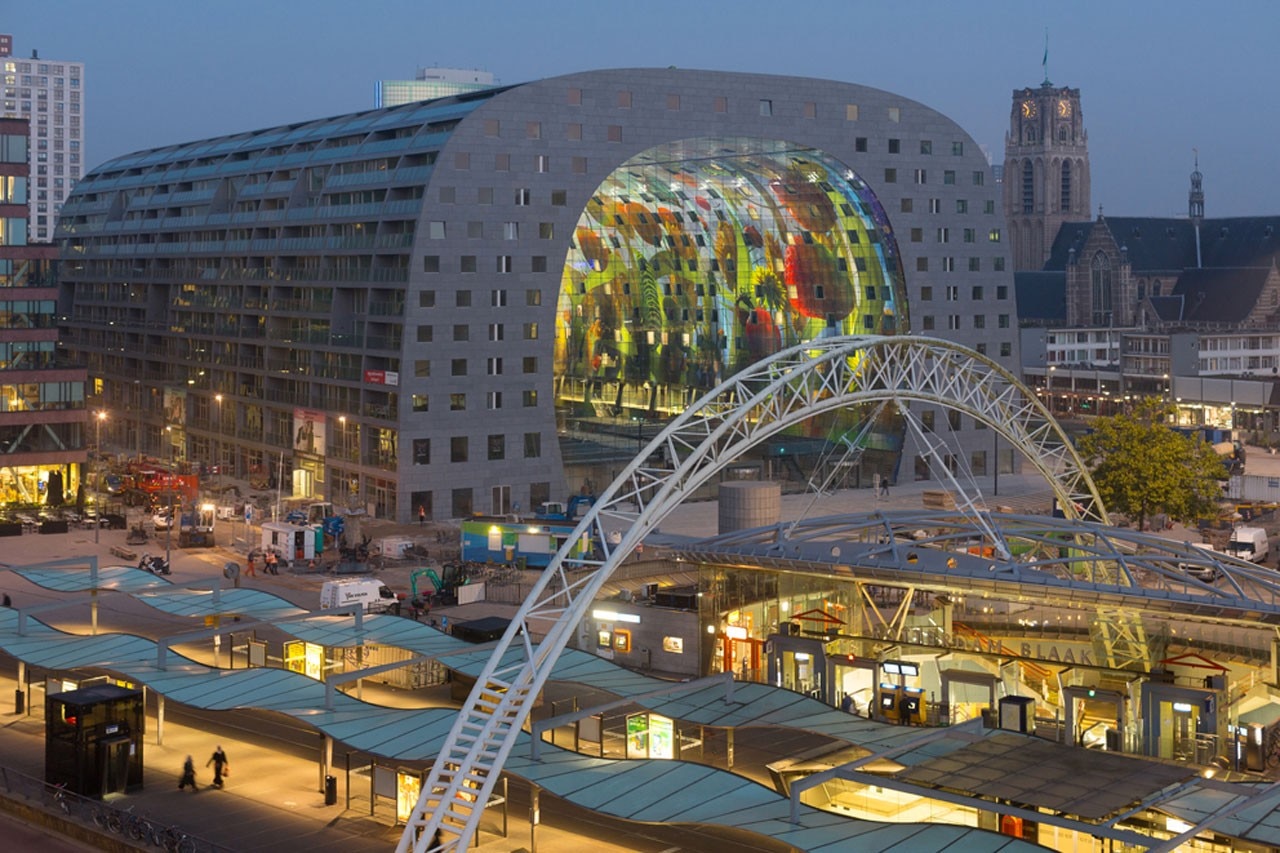 The building with a total surface of 95.000 sqm was designed by Rotterdam based architecture and urban planning firm MVRDV. The arch-shaped hall has a height of 40 meters; inside the arch 228 apartments are situated. The ground floor has a length of about 120 meters and a width of 70 meters, the size of a large football pitch. Markthal is an energy efficient building and has been awarded a BREEAM Very Good rating.    
In order to attract a large number of visitors, the building is designed with an open character. The open sides had to be closed to prevent rain and cold from entering, but kept as transparent as possible by opting for a single glazed cable net facade. Comparable to a tennis racket, pre-stressed steel cables create a suspended net in-between which the glass panes are hung.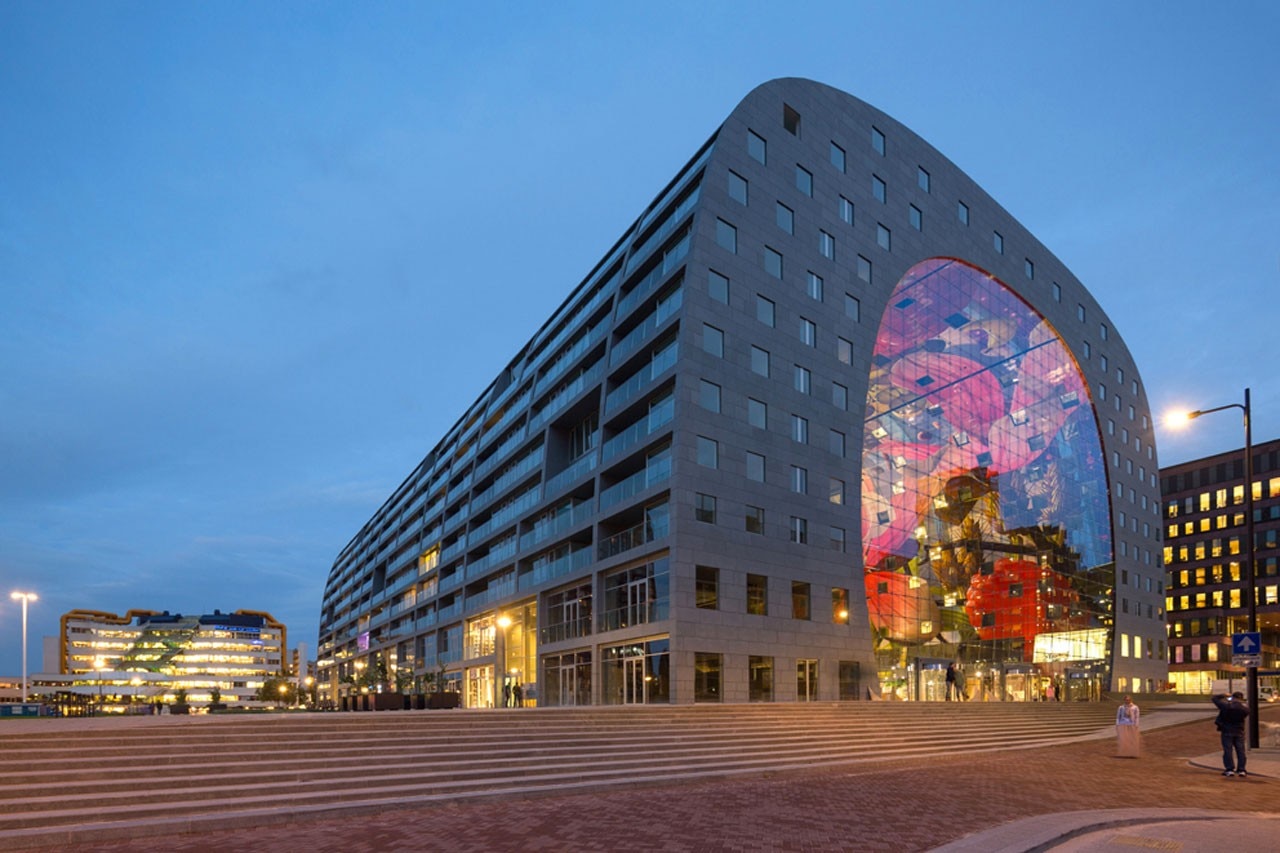 The exterior facade is clad in grey natural stone; the same is used for the market floor and the surrounding public space, in this way the emphasis lays on the colourful interior.
The large mural which covers the vaulted interior, Cornucopia by artists Arno Coenen and Iris Roskam has a total surface of 11.000 sqm. Cornucopia shows oversized images of market produce which can be bought at the market, while the flowers and insects refer to the work of Dutch still life masters from the 17th century. In order to achieve the required sharpness, the image was rendered by Pixar software. It was printed onto perforated aluminium panels, then attached to acoustic panels for noise control. The print resolution of the art work is comparable to a glossy magazine.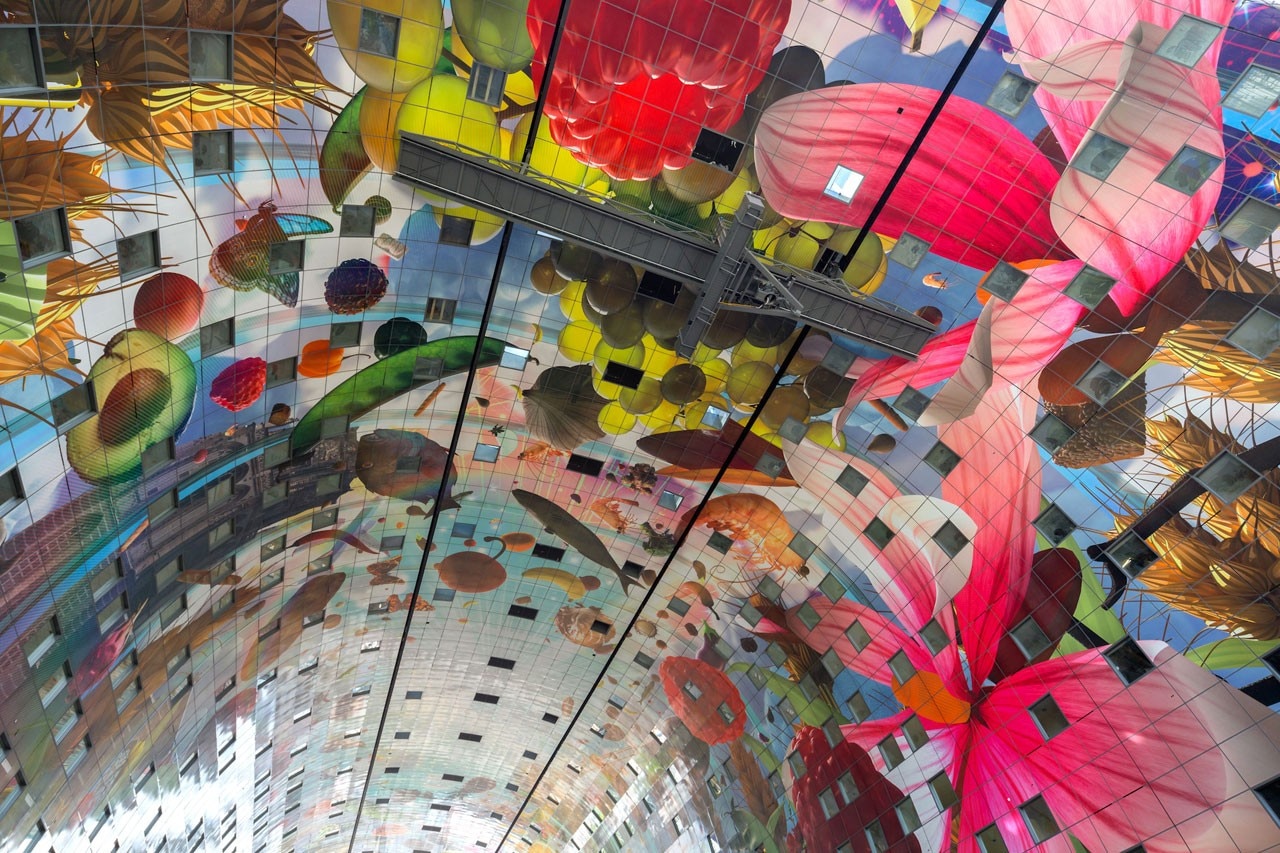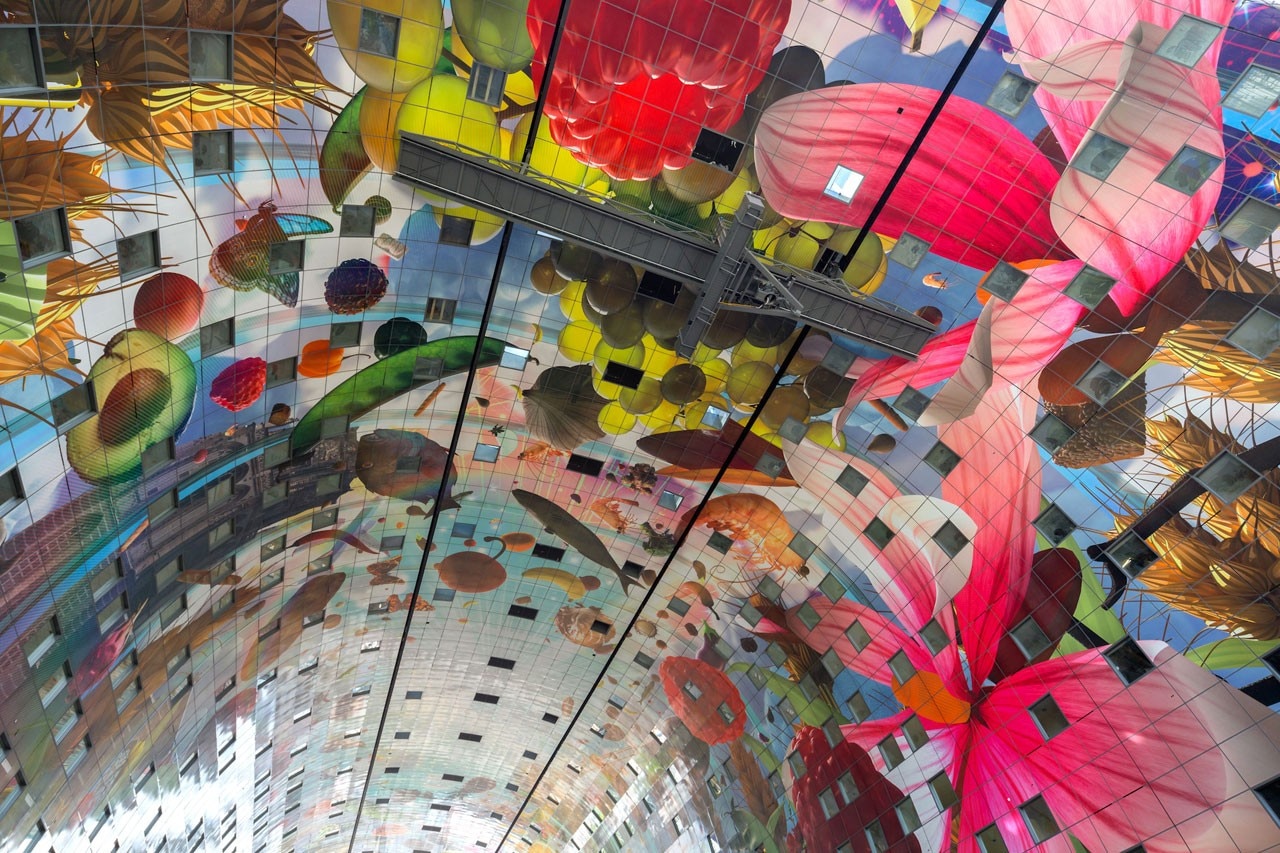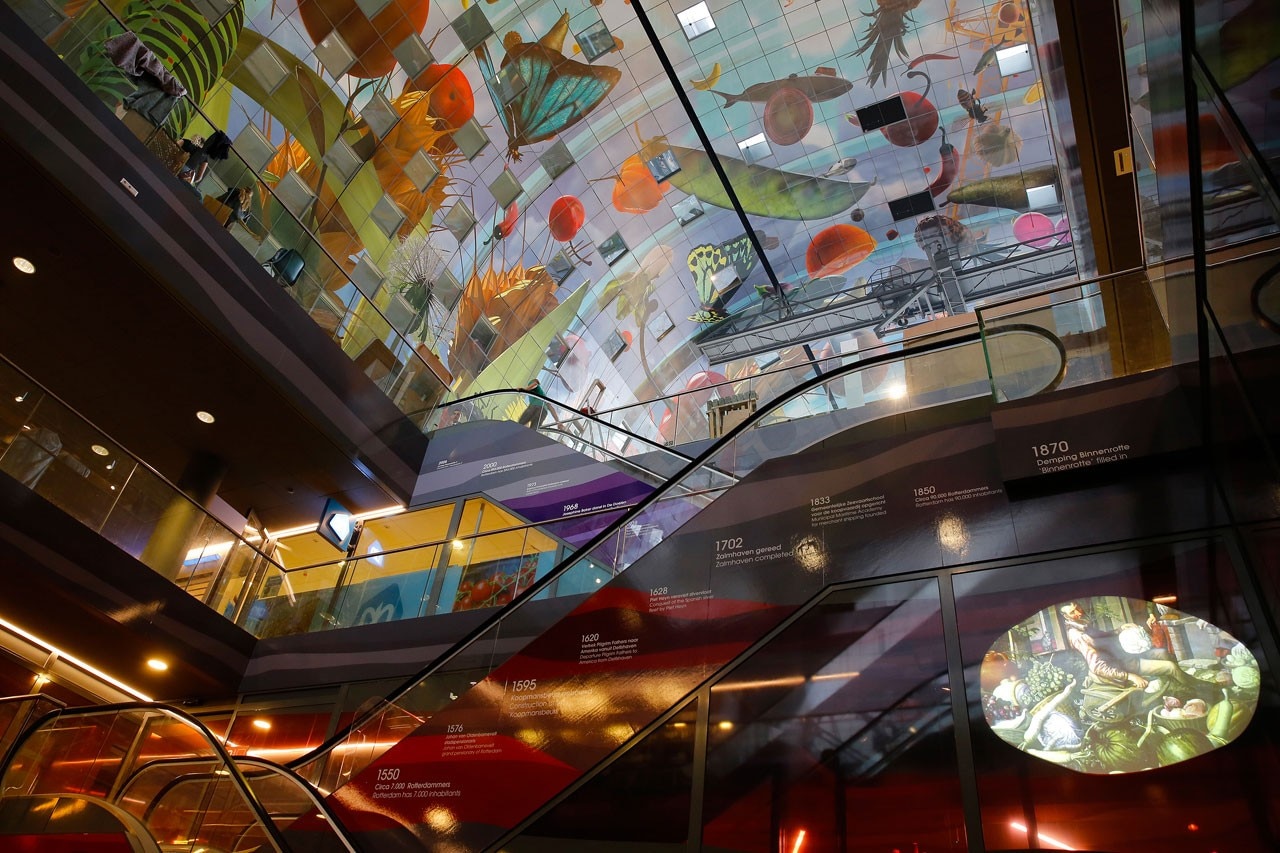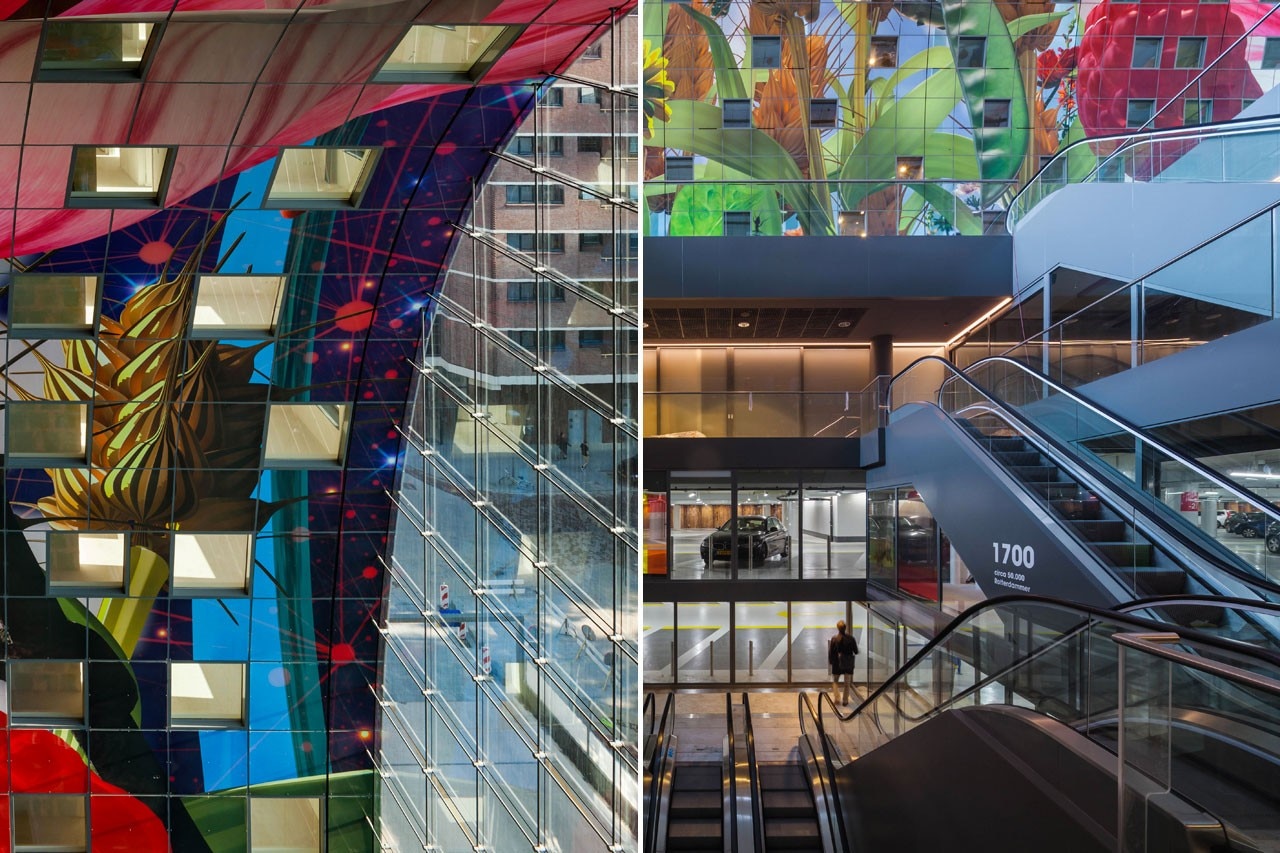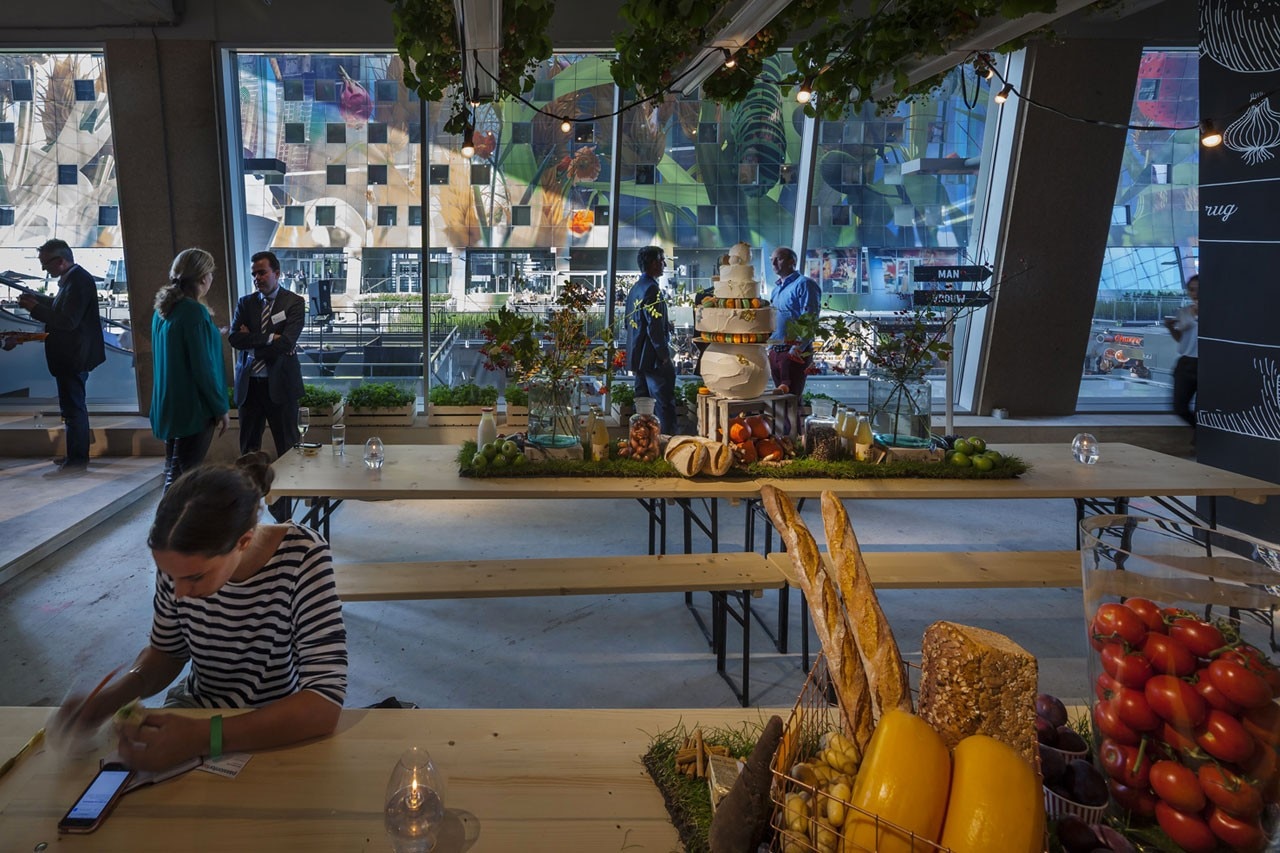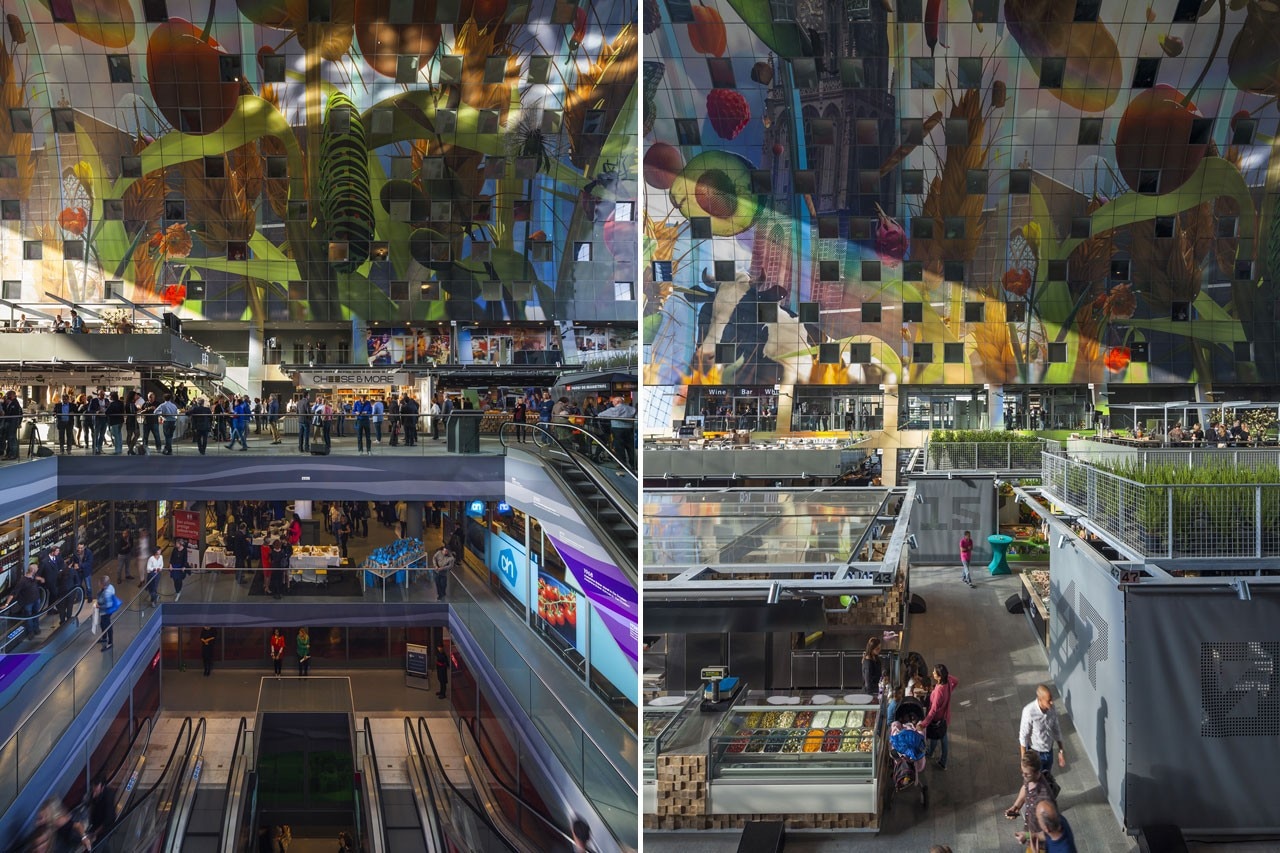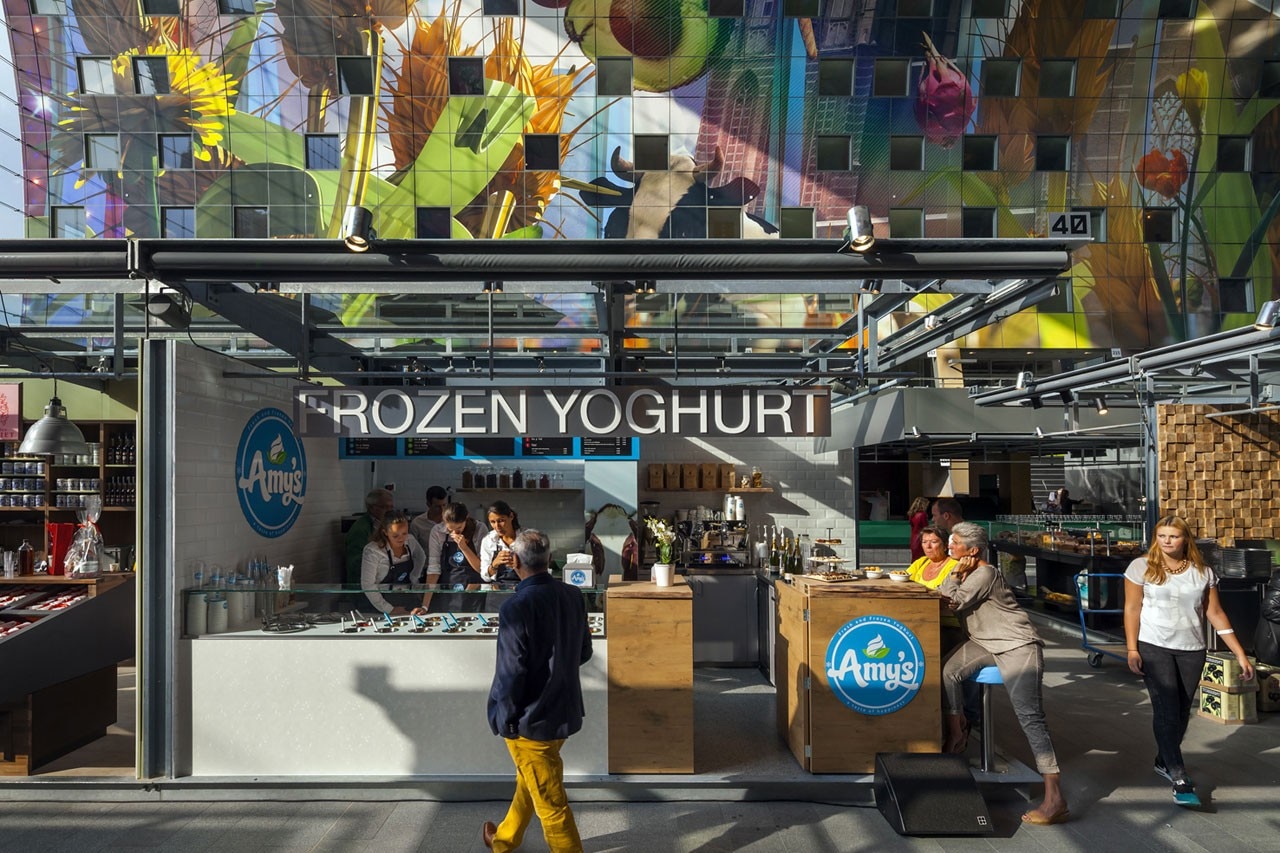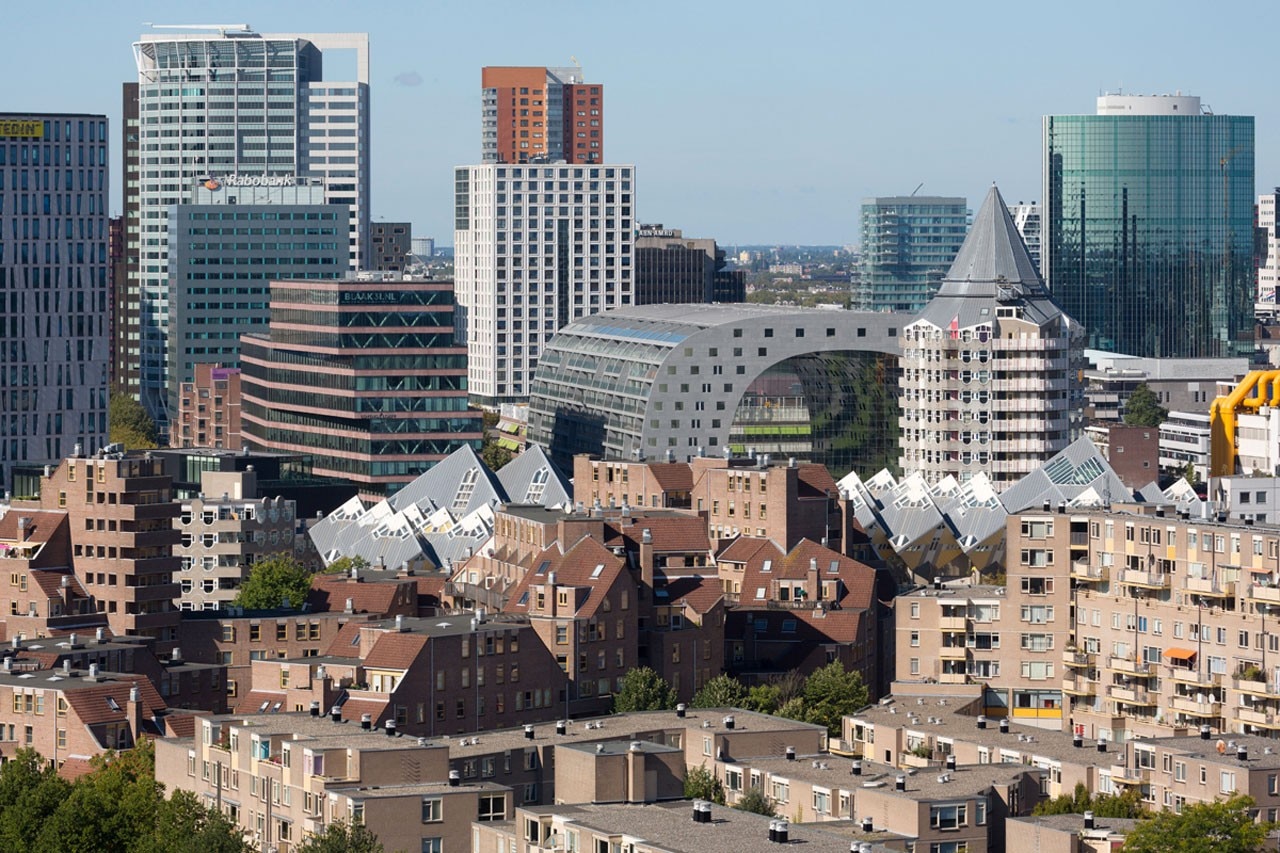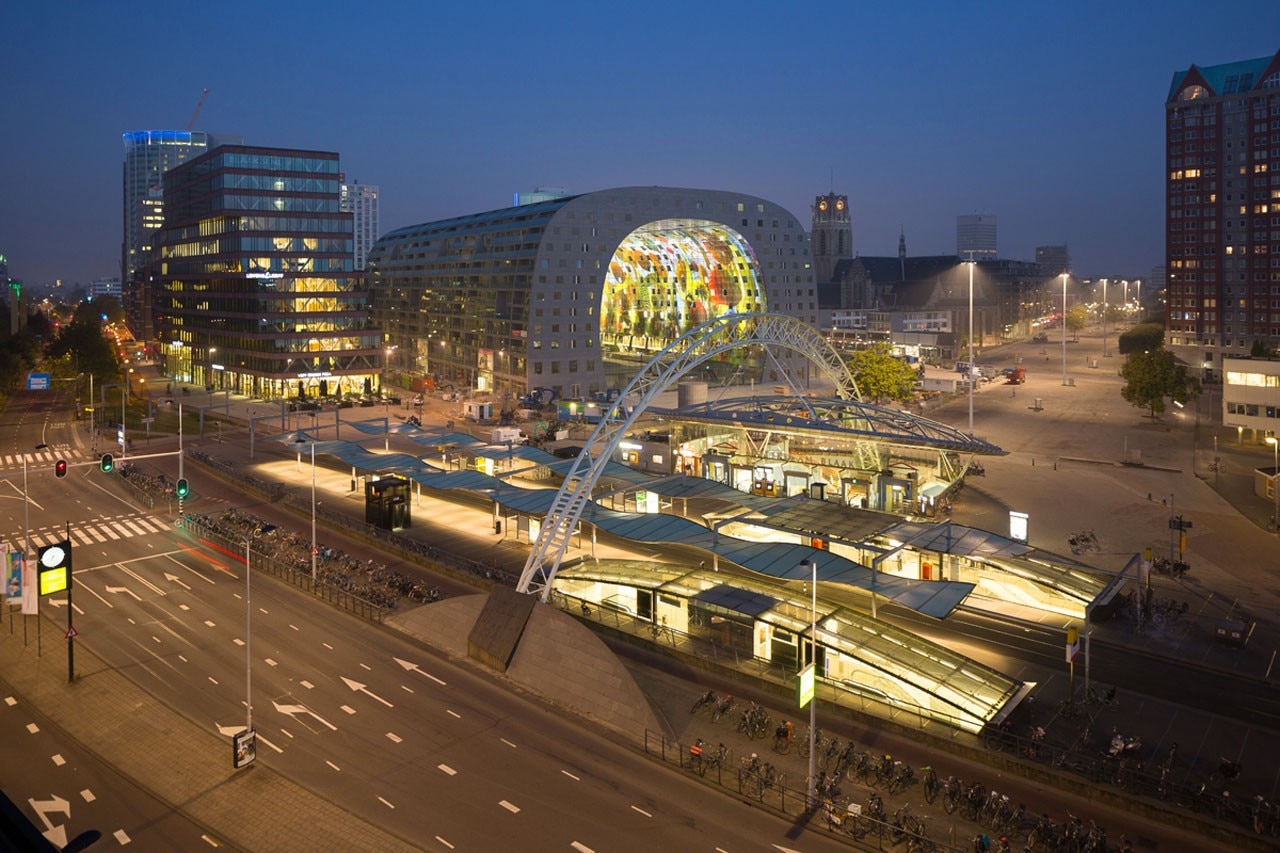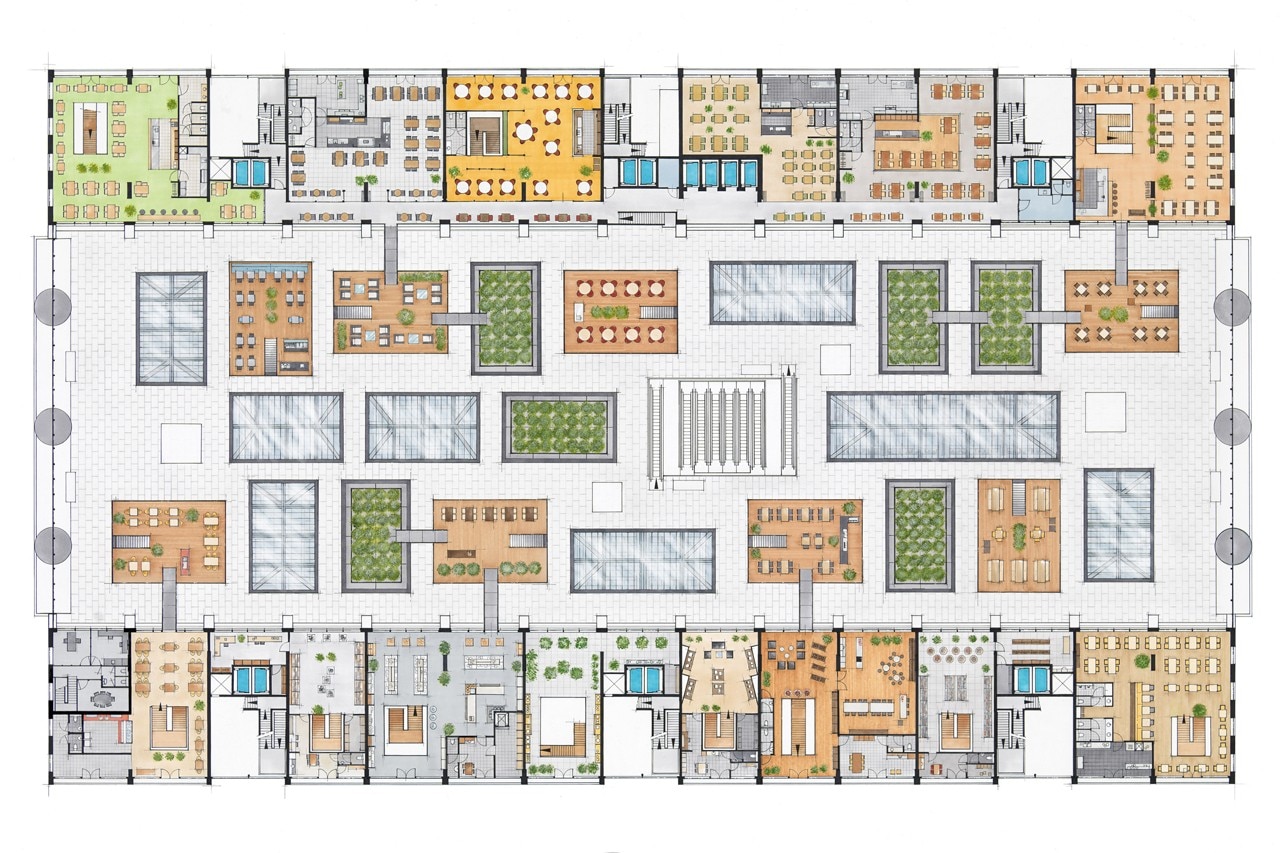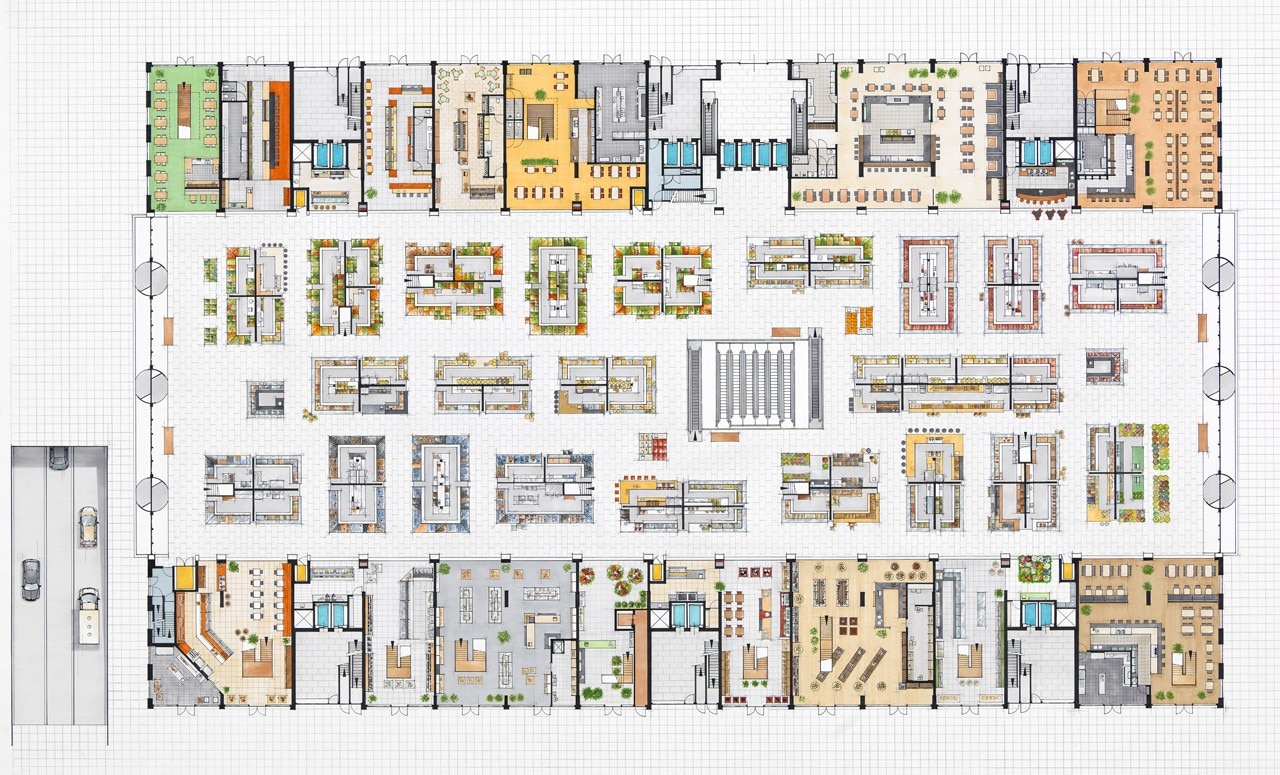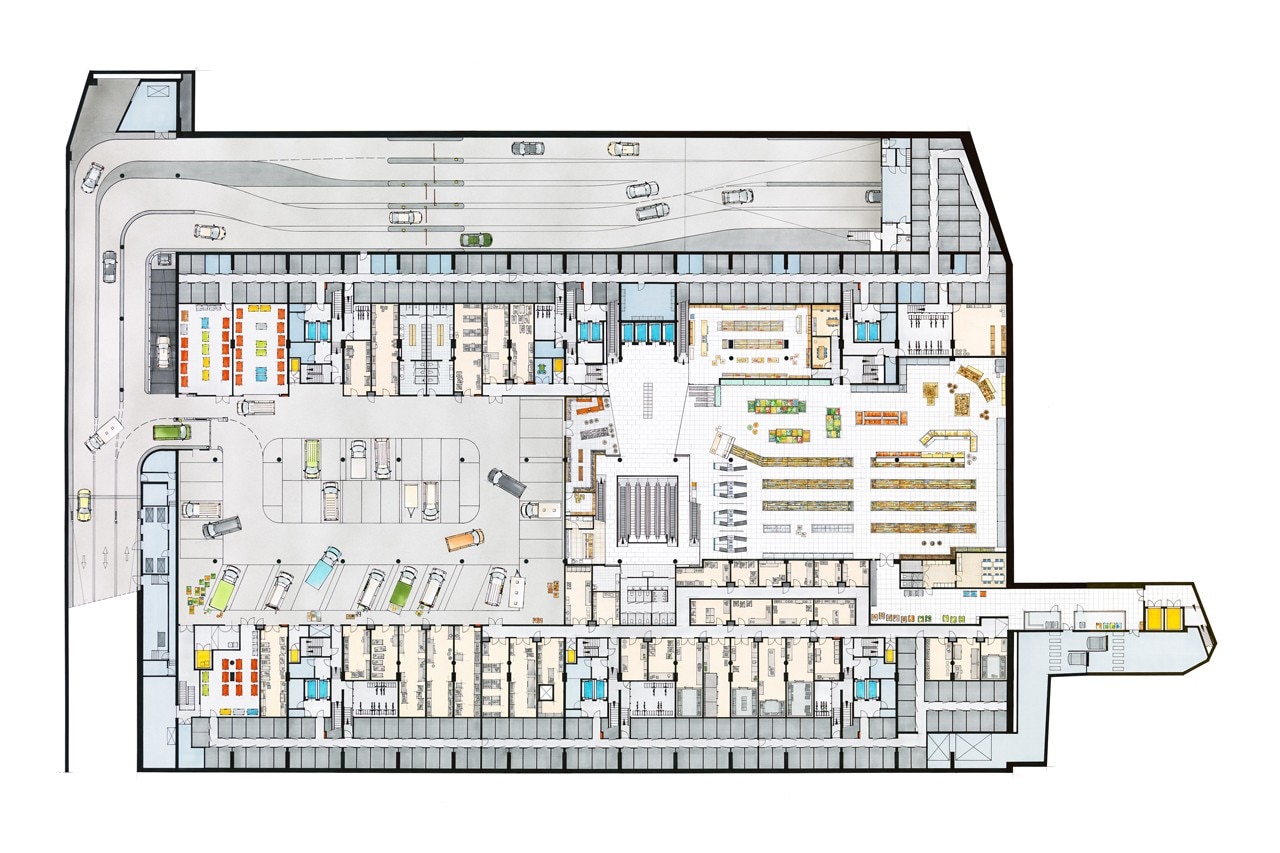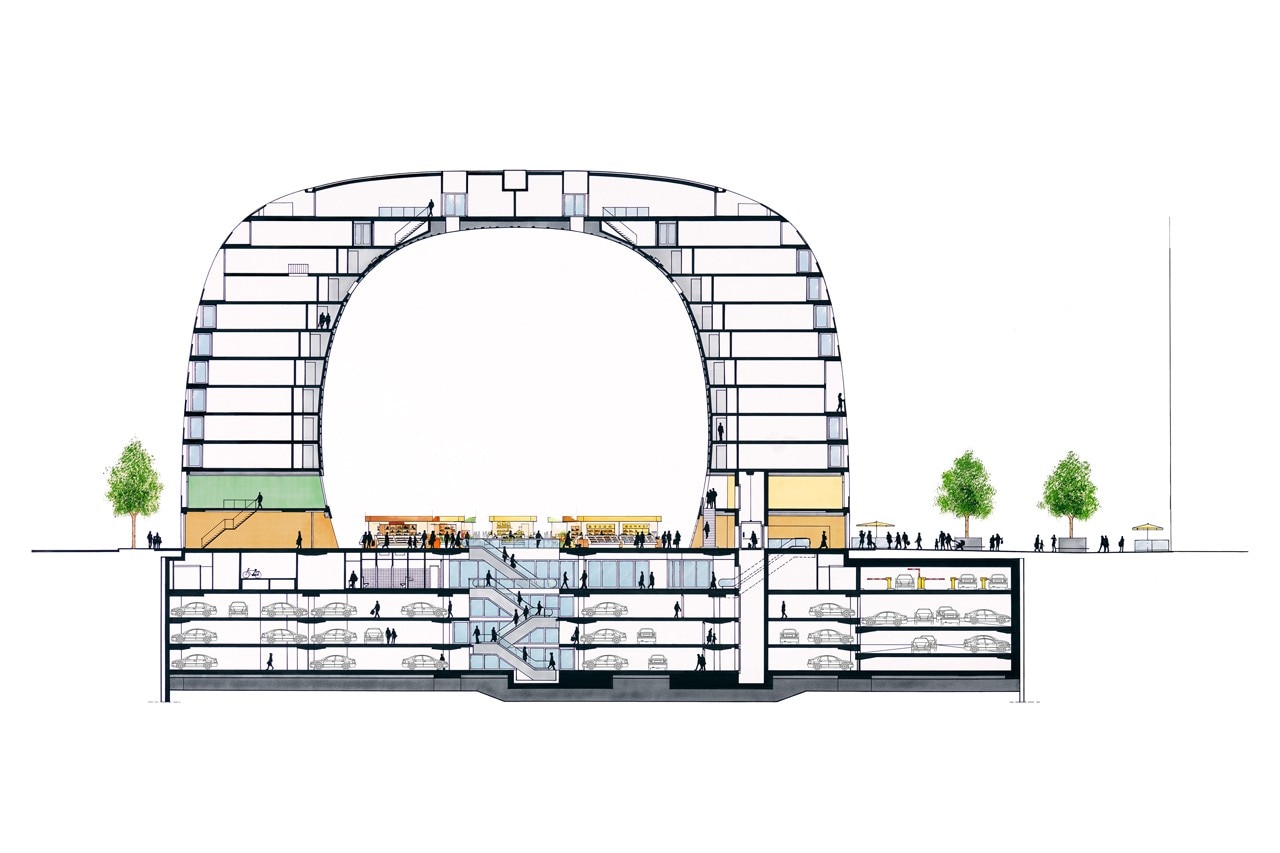 Rotterdam Markthal, Rotterdam, the Netherlands
Program: covered food market
Architects: MVRDV
Design Team (competition phase): Winy Maas, Jacob van Rijs and Nathalie de Vries with Marc Joubert, Anet Schurink, Jeroen Zuidgeest, Michele Olcese, Laura Grillo, Ivo van Capelleveen
Design Team (design and construction phase): Winy Maas, Jacob van Rijs and Nathalie de Vries with Renske van der Stoep, Anton Wubben, Marc Joubert, Sven Thorissen
Co-Architects: INBO
Structures: Royal Haskoning DHV
Services and acoustics: Peutz & Associes Zoetermeer
Installations: Techniplan
Car Park Contractor: Mobilis + Martens en Van Oord
Above Ground Contractor: J.P. van Eesteren
Glass facade engineering: Octatube
Manager Market Stall: Corio
Artist: Arno Coenen & and Iris Roskam
Print: TS Visuals
Client: Provast Nederland bv
Area: 95,000 sqm
Completion: 2014