The Kunstcluster, designed by Frits van Dongen and Patrick Koschuch whilst they were architects at the Architekten Cie, is part of the urban renovation of Nieuwegein's city center.
The Kunstcluster is made up of two blocks; the theatre and arts centre and a multi-storey car park, which includes a retail outlet on the ground floor.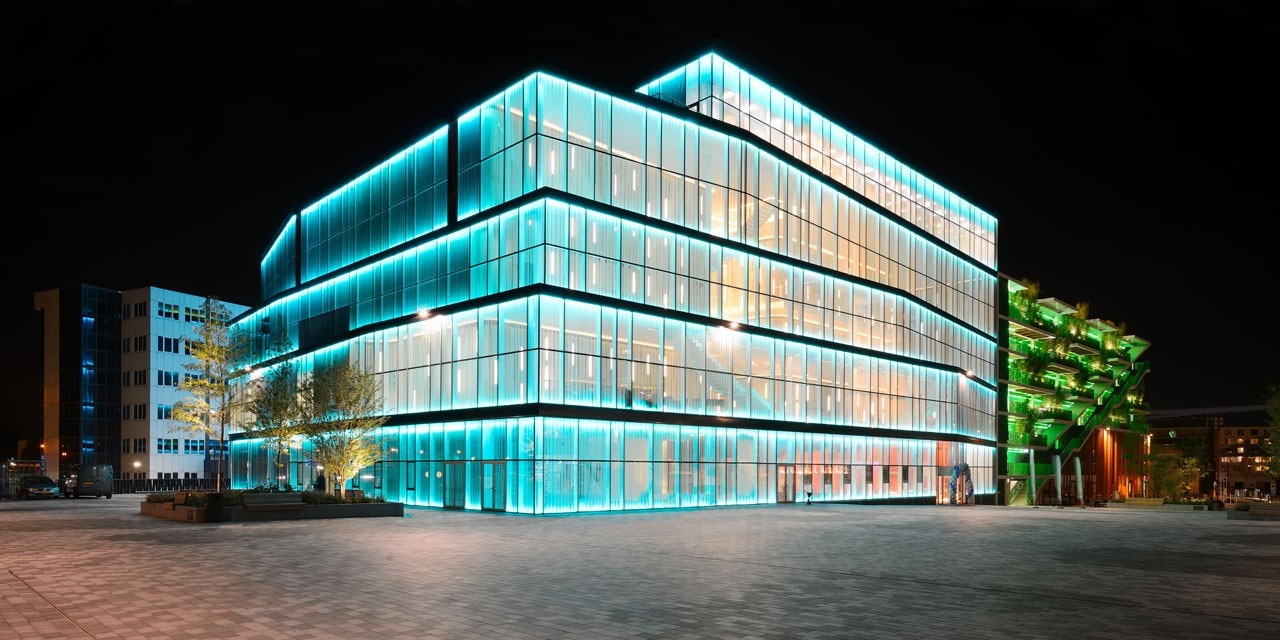 The first volume includes an auditorium and a studio theatre. The main auditorium can seat up to 700 people, with a podium and ample stage space. The studio theatre is considerably smaller with the capacity to seat 200 people but has a foldaway stage so it can be used for various events. The ceiling and balcony in the main auditorium are entirely clad in acoustic MDF panelling with a natural veneer facing in American walnut. The arts centre is located above the theatre, a multifunctional venue for music, dance and acting classes.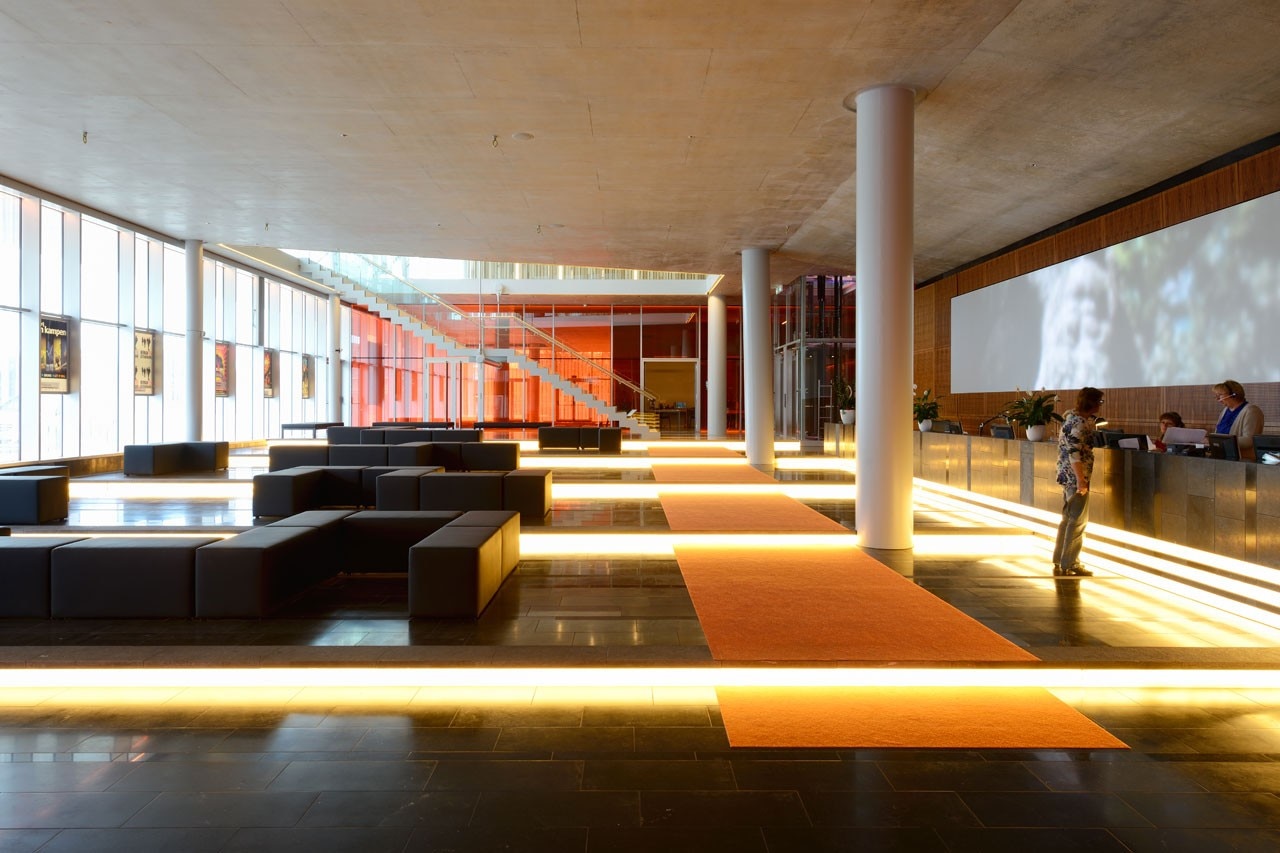 Completing the complex are three spectacular foyers and a theatre café which looks on to the town's central square. The external glazing of the foyer area is coated with a print finish on the inside – creating an illusion of stage curtains – that reduces the level of light penetration from the south and east facing facades. The facade is floodlit after dark with energy-saving LED lighting.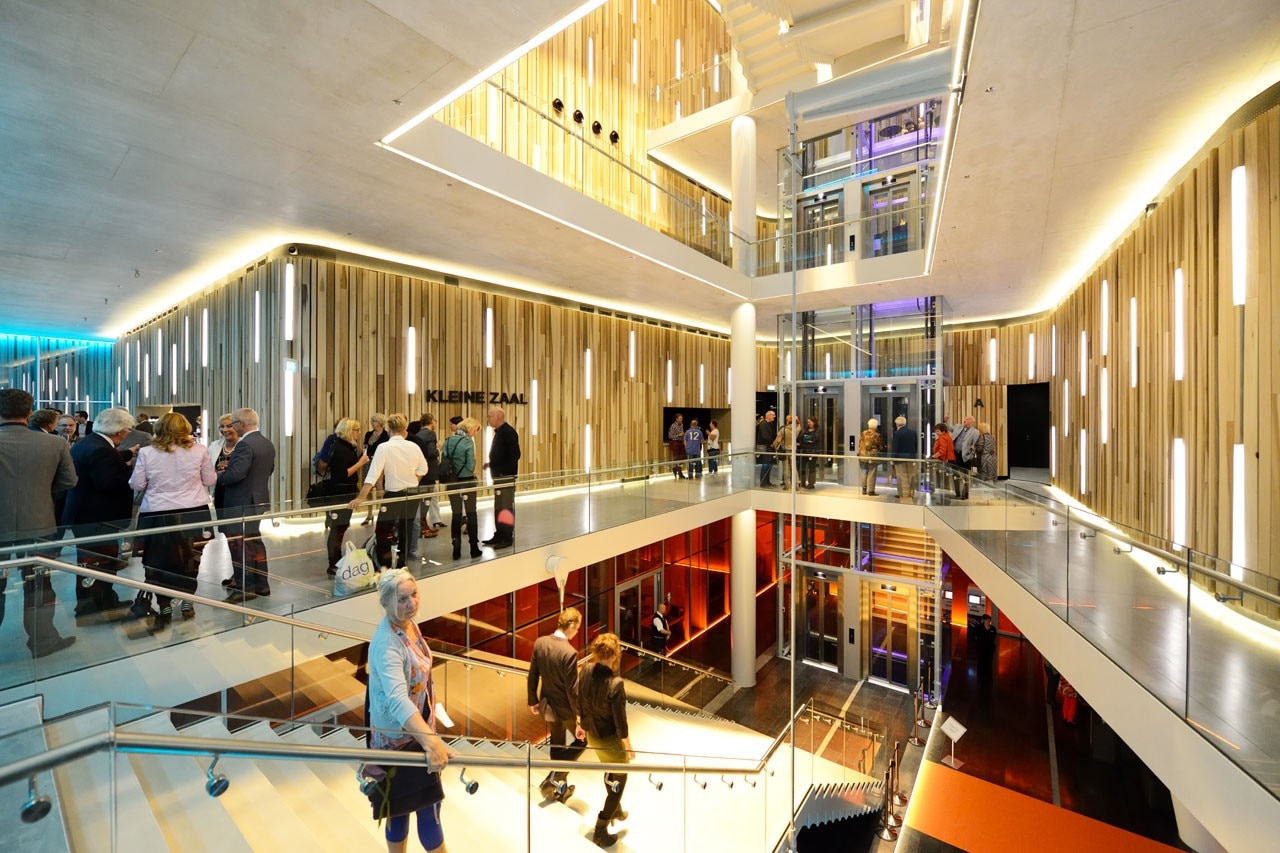 In the redeveloped town centre nearly all the cars will be parked underground with the exception of the multi-storey car park next to the Kunstcluster. The design intent was to make the parking structure carbon-neutral both to build as well to operate. The garage facade on the square side is four metres thick and contains a cascade stairway that wends its way up and down through a bamboo plantation six metres high. Prints on the balustrades and other glazed surfaces graphically reflect the bamboo image.

Kunstcluster, Nieuwegein, The Netherlands
Program: theatre, arts center, parking
Architects: van Dongen-Koschuch
Client: Projectbureau Binnenstad,Nieuwegien
Contractor: Bouwcombinatie Strabag
Area: 27.550 sqm
Completion: 2012