Approximately 500 metres apart, two buildings are the architectural transposition of a vision — the one chosen for its future by the city of Montpellier, capital of the Languedoc-Roussillon region in southern France. With an old city centre that rises up the hillside, the city is growing at a fast pace — approximately 1,000 new inhabitants every month — and gradually expanding towards the coast, with a number of new districts planned during the mandate of a highly ambitious local government.

Although the starting point, back in 1979, was Antigone — a mixed-use plan on a decidedly giant scale, in synch with the nature of its designer, Ricardo Bofill — the present has brought a selection of internationally famous architects. In September, the Zaha Hadid-designed Pierre Vives Building opens, an architectural complex condensing three public structures within a single shell: the archives, a multimedia library and the Hérault Sport Centre. Also in September, the Massimiliano Fuksas-designed Georges-Freche catering school opens its doors, a curvilinear mass that plants its monumental presence in the no man's land between city and sea.

Monumental is the right adjective for Bofill's Antigone district, Hadid's building — with its fluid concrete lines —, and the Fuksas school complex, but also for the new City Hall, completed by Jean Nouvel in 2011. Here, the scale becomes truly gigantic, true to the sense of grandeur that has always described the French approach to the concept of the city and architecture. Here one finds another vision that lends form and life to the city, falling closer to people's everyday lives. As said above, it is curious to see that these two ways of looking at architecture originated from the same hand and are in visual contact with each other — people on the terrace of the City Hall can see a second building in a smaller scale, refined in every detail. It is the new RBC Design Center, also designed by Jean Nouvel, which stands on the road to the sea.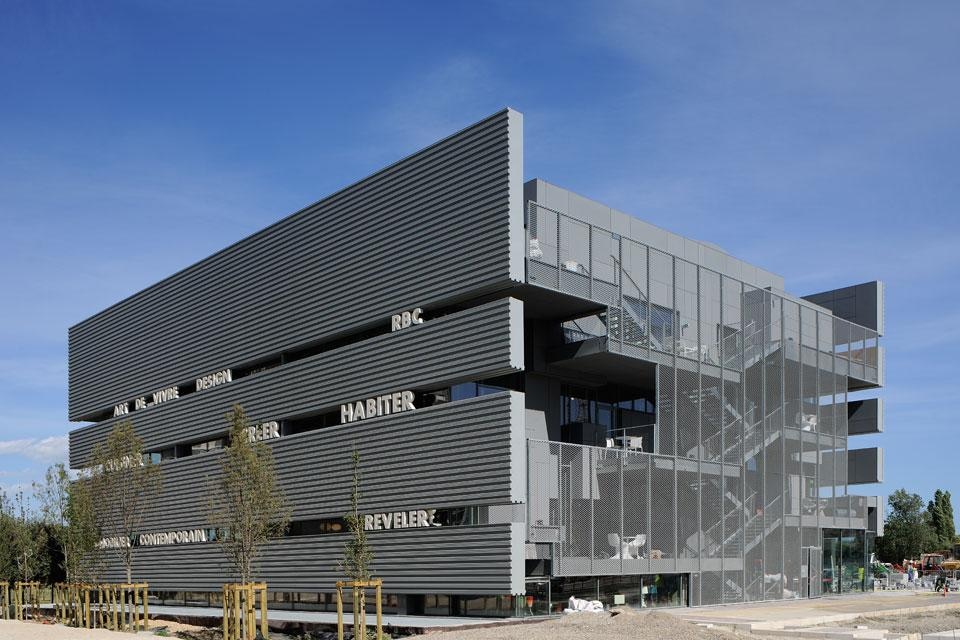 This multilevel showroom, complete with bookshop and restaurant in the ground floor, is a real machine for the exhibition of contemporary design objects and furnishings. Its architectural content is manifested on the façade, which reveals its internal layout on the outside. The volume features a full-height space in the centre, dividing the exhibition space in two. The floor slabs of the two blocks are positioned at staggered heights, linked by stairs passing through the central courtyard. Structurally speaking, the load-bearing was made lighter, with no columns around the perimeter of the inner courtyard, but metal bars suspended from above, supporting the horizontal slabs.

Alongside Nouvel, the RBC project was driven by several different figures: the client Franck Argentin, who has turned in the past to Philippe Starck, Antonio Citterio, Christophe Pillet, Piero Lissoni and Jacob + MacFarlane to design his centres; the architectural partnership of Nicolas Cregut and Laurent Duport; and Yann Kersalé, a light artist who " keeps the RBC Design Center alive when night falls". Laura Bossi