The latest work by Go Hasegawa — born in 1977 — is a small two-storey house for two publishers, people who live and breathe printed matter and who wanted to organically slot their huge book and magazine collection into the design. The house is in Kyodo, in the west of Tokyo prefecture and a few stops from Shibuya, in the residential Setagaya district. It has a rectangular plan measuring almost 70 square metres. Although small, Hasegawa's design is bold enough to extend and open up to a surrounding cityscape of low buildings and gardens.

Spatial Continuity
Hasegawa has designed a spatial layout with a basic narrative, two storeys of different heights covered by a reflecting silver pitched roof, "The ground floor of the house has a height of just 1m 80cm, a cosy space with all the books to hand, establishing an intimate relationship between the human body and the books. I inserted the bathroom, hall, study, bedroom and storage in the spaces between the publications. The upper floor is a large living room and kitchen."

A pupil of Taira Nishizawa — older brother of the better known Ryue — Go Hasegawa employs almost imperceptible devices that bring quality to the design. Here in Kyodo, as in other designs, he has created continuity between interior and exterior in a new take on the doma, a traditional construction feature that brought a beaten-earth floor into the home. The second floor is one undivided space overlooking the neighbours' gardens at the sides. The shiny roof — made of 6cm-thick steel sandwich panels — gently reverberates the light and the greenery from the outside to fill the house with a soft ambience.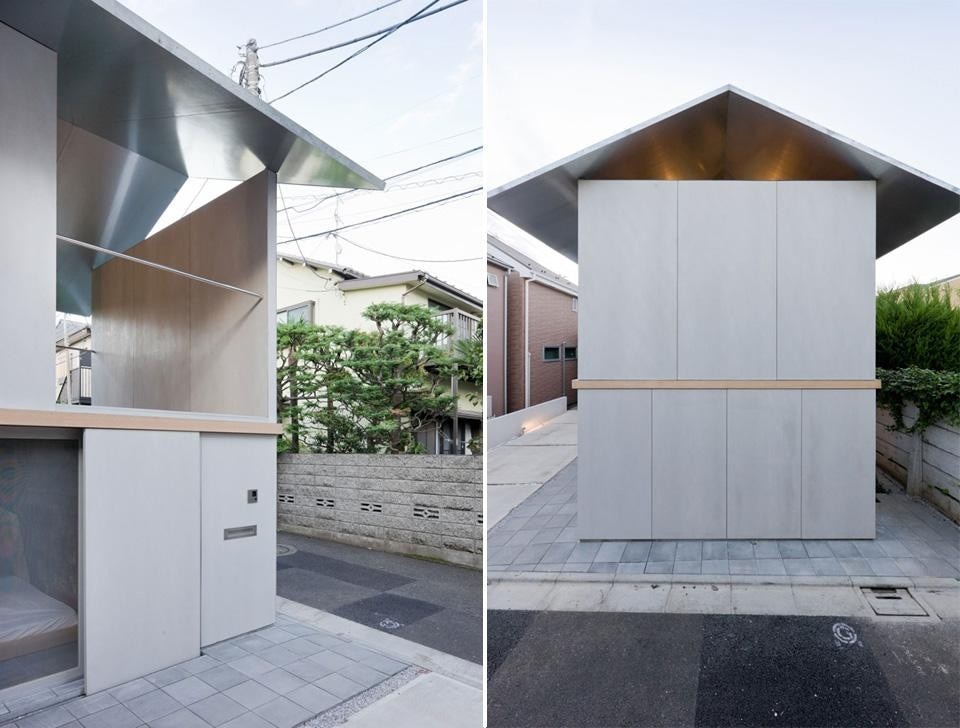 Dynamic Section
Hasegawa has made a clear distinction between the upper and lower sections of the design. The ground floor is low-ceilinged, intimate and introvert whereas the upper one is high-ceilinged, open and extrovert. On the ground floor, reading is a solitary and silent act but the upper floor has been designed for conviviality and socialising.

This split into two parts should not be seen as a slash or separation but rather as a dynamic section that forms a coherent whole. The 20th-century Japanese philosopher Testuro Watsuji[1] defined the dynamic section as the structural moment of human existence, a generator of senses that combines the two halves that form the human being. Augustin Berque argued, "on the one hand, we have what we call the animal body, which is individual; on the other, we have what we call the social body, which is collective and consists in technical and symbolic systems developed from the human body. The result is a medial body comprising more than the sum of the two halves and producing an eco-techno-symbolic milieu. The ontological structure of the human is composed of this definition of mediality." [2]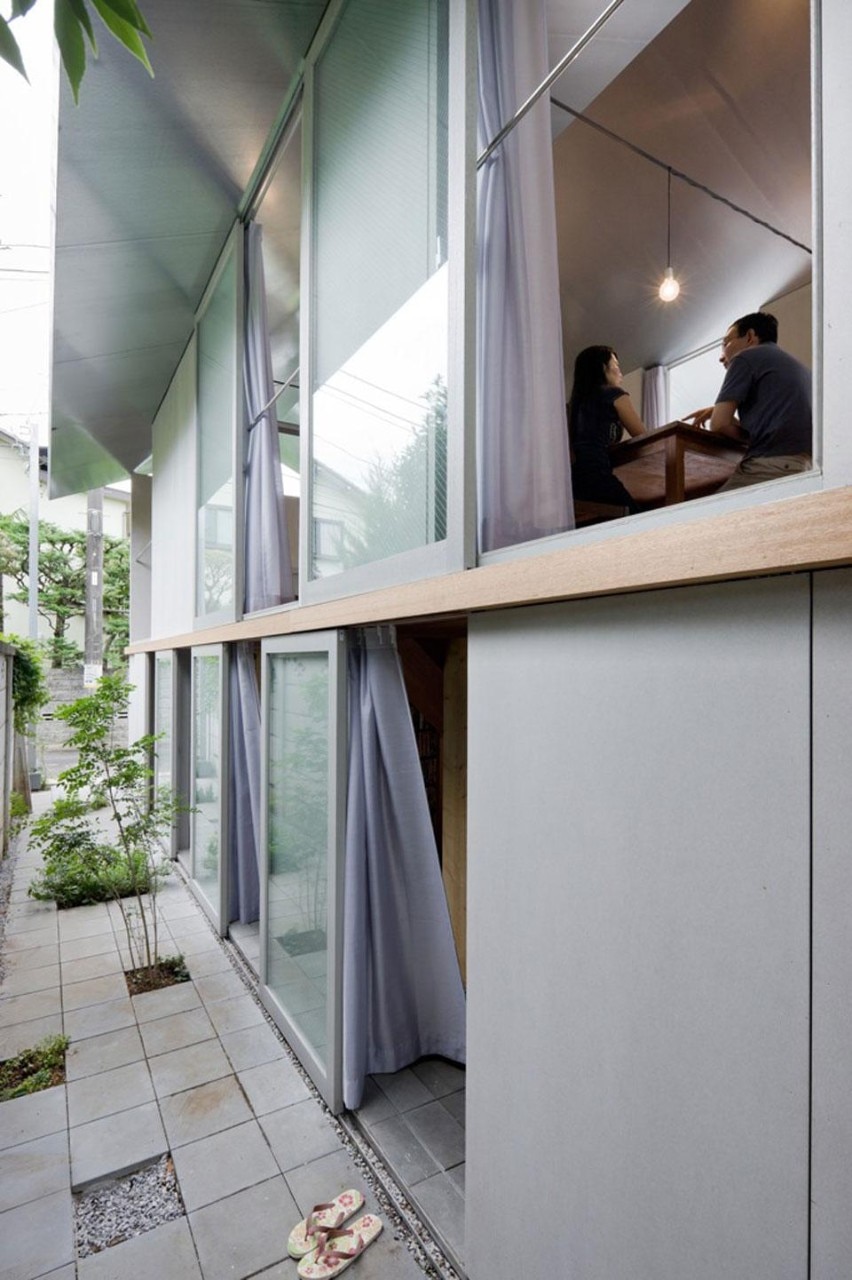 Previously unseen spatial and social relations
Although Hasegawa employs simple and elementary forms, clear proportions, nothing striking outrageous and everyday materials, something makes him an innovative architect. It is the arrangement of the masses that produces new relationships between the top and bottom, inside and outside of the spatial and social entity.

In Kyodo House, the owners — in accord with Hasegawa — decided to tacitly ban printed matter from the second floor of the house to balance the overflow of magazines and books. Essentially, it is a question of harmony and the slender balance between opposites at which the Japanese frequently achieve so successfully. Salvator-John A. Liotta

Notes
1. Tetsurô Watuji, Fûdo, Le milieu humain, Paris, CNRS, 2011 (Fûdo, 1935)
2. Augustin Berque, La Nouvelle Revue Française (nrf), n° 599-600, March 2012, Du Japon, p. 33-55
Here in Kyodo, Hasegawa has created continuity between interior and exterior in a new take on the doma, a traditional construction feature that brought a beaten-earth floor into the home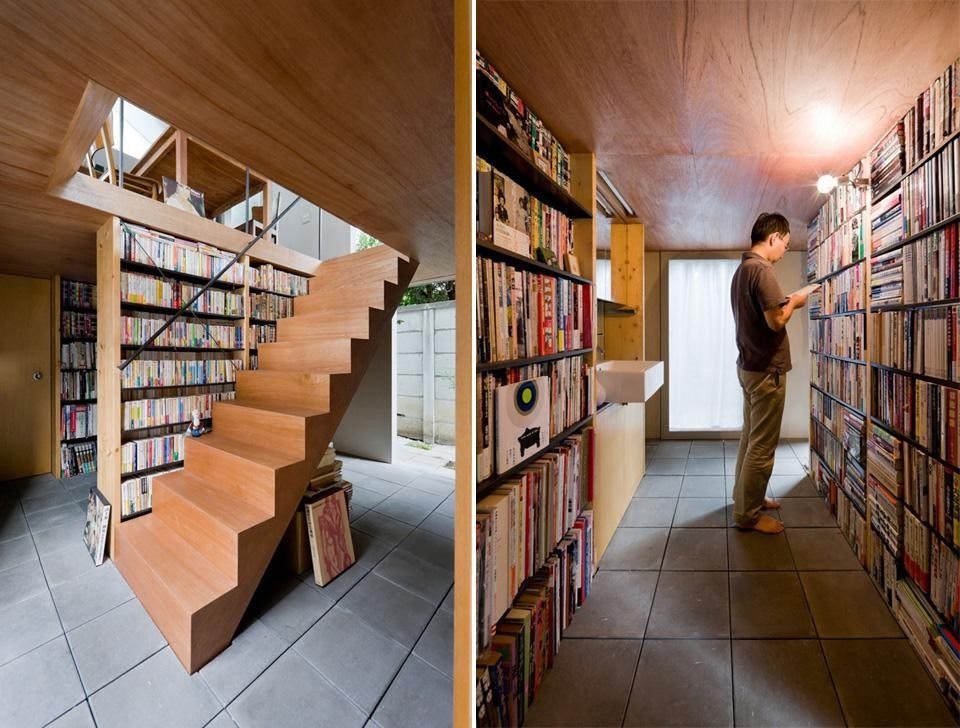 House in Kyodo for Two Publishers
Location: Setegaya, Tokyo
Principal use: Residential
Site area: 72.89m²
Total floor area: 67.90m²
Number of storeys: 2
Structure: Timber frame
Architect: Go Hasegawa
Structural engineer: Ohno Japan
Construction firm: Taishin Construction