This article was originally published in Domus 948/June 2011

An architecture with its own political statement
A surprising playground just opened in Mérida: a place where youths can access computers, where they can meet, learn to dance or simply skateboard. As I meandered through this latest project by Spanish practice Selgascano, I couldn't help thinking we have come a long way since Rafael Moneo's Museum of Roman Art instigated architectural pilgrimages to this ancient outpost of Imperial Rome. The old capital of Lusitania, home to a unique UNESCO World Heritage Site, was then a city that made you ponder the permanence of architecture and its cultural contents. Conversely, when I mention that we—and indeed Spanish architecture—have come a long way since Moneo's building opened 25 years ago, I'm humming to Fat Boy Slim and musing on how the circumstances for architectural production in Europe are radically changing.

Given that the architecture media hadn't yet preyed on the images of this fresh, destabilising ensemble when I visited it, I enjoyed the rare experience of coming across the Factoría Joven with no more than my own reception apparatus and the popular, initial gut reactions to it. Post-occupancy disquiet meshed insidiously with my first appreciation of the built object. And curiously, concerns about this building's nature mostly revolved around issues of durability and how current investment responds to today's socio-cultural and urban demands. While media duly appraised the participation of urban collectives in the design process or the authorities' political commitment to offer the restless, unemployed local youth an engaging architecture, the digital vox populi protested against the building's fleeting materiality or abhorred its final architectural expression. We know that one man's dream of popular participation is another's nightmare.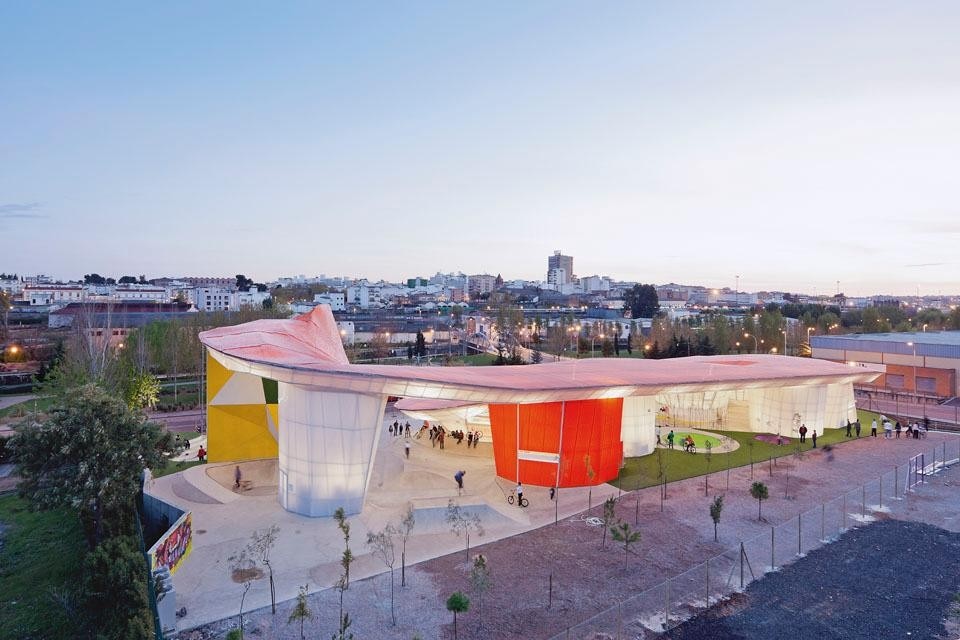 Nevertheless, the very contradictions that the building raised within the realm of popular opinion also insinuated an auspicious critical potential. The architecture suggested a debate on what our conceptions of public space should be today—and for whom it should be built. However, popular feedback mostly overlooked that our current spatial conceptions may have to be much more transitory and nicheoriented than some years ago. Alas, this is why the apparently incomparable must now be put side by side.

The seemingly inane exercise of comparing this recent accomplishment with Moneo's institutional feat suddenly gains a strange raison d'être. Indeed it clarifies some essential alterations in the way European architecture is to be commissioned and put forward in the near future. The Museum of Roman Art was made for tourists and visitors, offering ruins to interpretation in an adequately contextual environment; the Factoría Joven caters for local, disenchanted populations in the semi-industrial periferia, in an effort to prevent the city's desertification. Rafael Moneo aspired to perpetuity, and dialogued with ancient, enduring construction techniques; José Selgas and Lucía Cano are interested in ordinariness, and engage with a built landscape that is determined by low-budget, off-the-shelf materials and practices like graffiti, skating, cycling or wall climbing.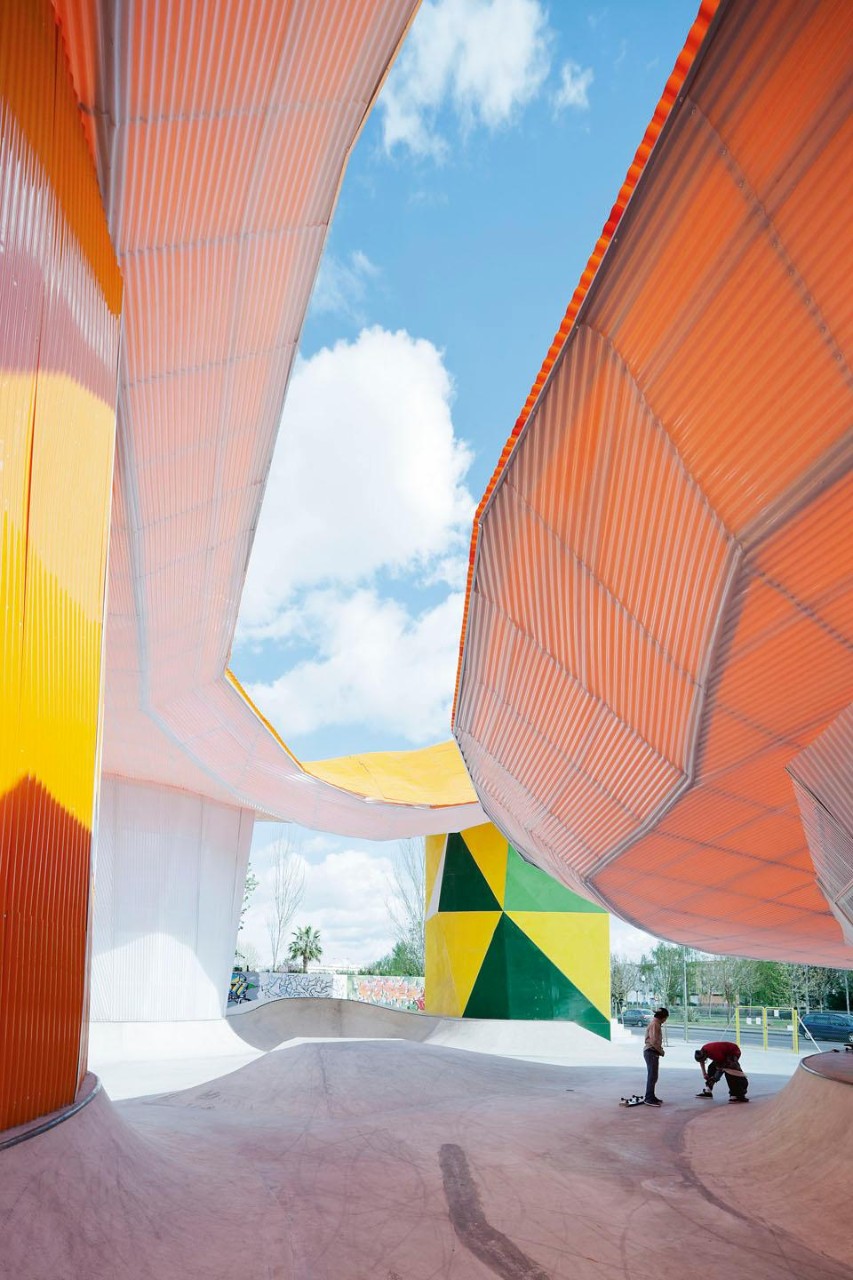 One stood for the economic sustainability of lasting constructions—when funding was abundant; the others defend an economy of means that fits an ephemeral purpose—while affluence is temporarily placed on hold. One proposed an austere spatial experience around a specific cultural identity; the others welcome a handson approach to subtler notions of cultural diversity. One claimed an architectural autonomy that is now hard to sustain; the others embrace architectural expressions that are gleefully immersed in pop(ular) culture. One went for Vitruvian firmitas; the others for Venturian revenge.[1]
Selgas and Cano are interested in ordinariness, and engage with a built landscape that is determined by low-budget, off-the-shelf materials and practices like graffiti, skating, cycling or wall climbing.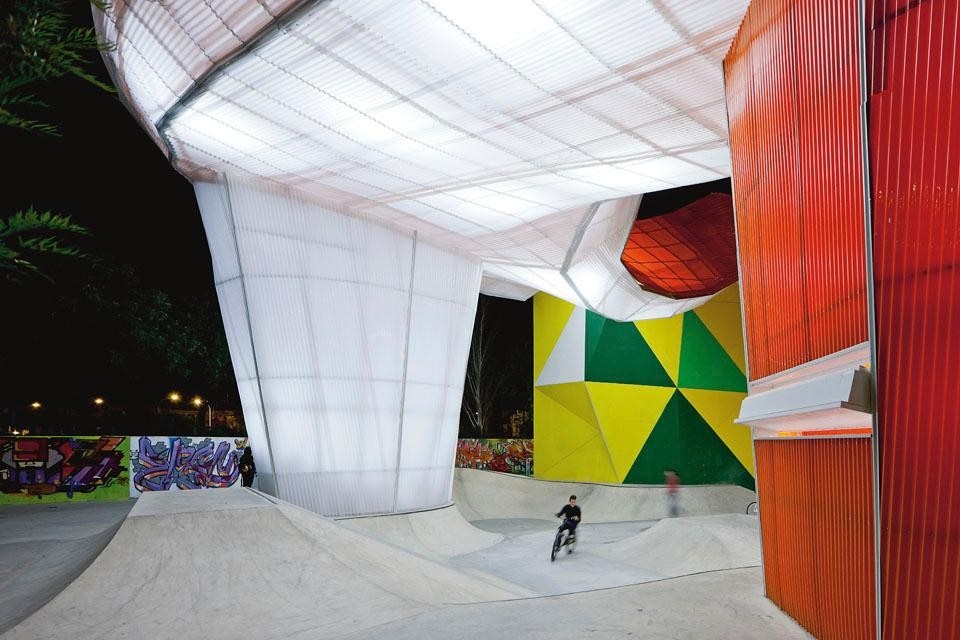 Given the contrasting options and conditions, it is highly significant that architects emerging from the same disciplinary context now assume that they are no longer building for permanence. On the contrary, they just fight to deliver apt receptacles for temporary spatial appropriations, in as stimulating a way as possible within a given budget and for a given social circumstance.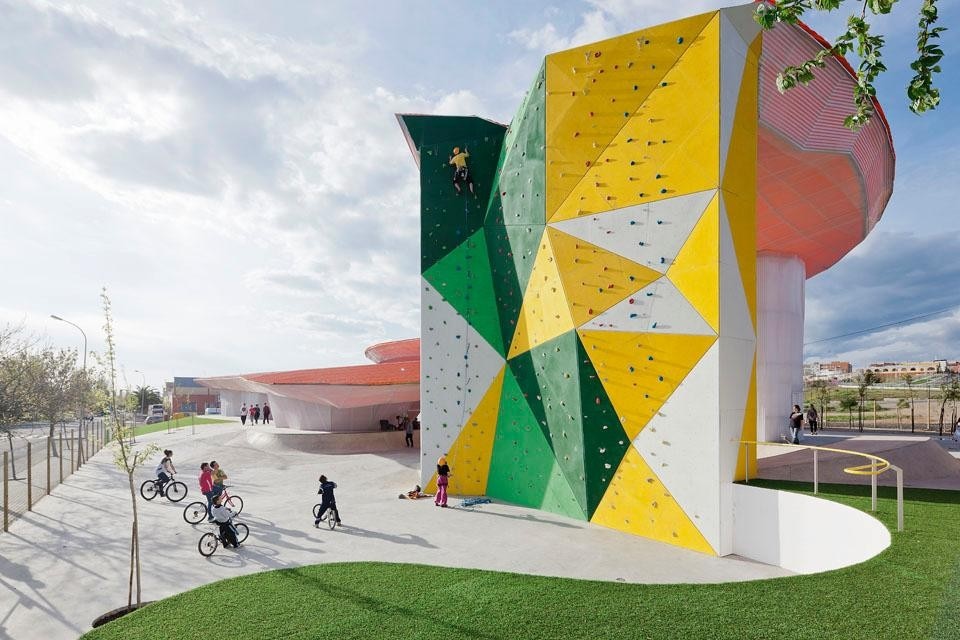 If one touches this building's surface, previous notions of architecture's desirable tectonics may be challenged. The plastic skin recedes and defies the preconception that construction should be solid and sturdy—while it better cushions a high-speed fall. And if polycarbonate is resilient—and soon also luxurious— its apparent physical fragility only heightens the tactile quality of the ensemble. And since Benjamin suggested that architecture's mode of reception is tactile,[2] finally this extravagant Chinese dragon is best appreciated not for its shape or plastic quality, but in that state of distraction that a youngster enjoys while videogaming or skateboarding.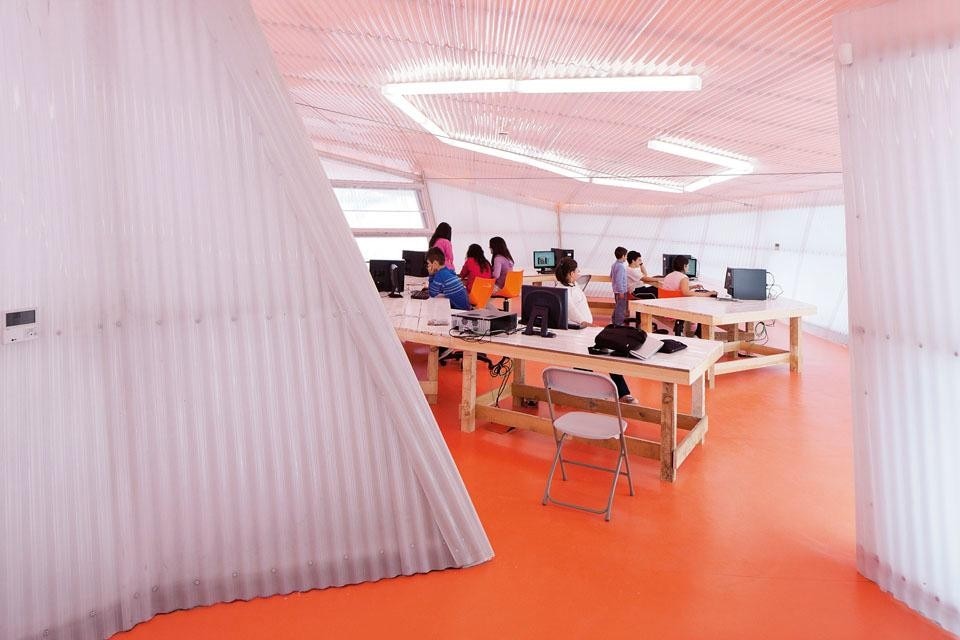 Long after Henri Lefebvre advanced the social nature of spatial production[3]—or Michel de Certeau anticipated that urban space would be taken over by the "dominated others"[4]—this critical playground becomes a peep into the self-redeeming, political future of architecture. And while Bob Dylan's The Times They Are a-Changin' still reverberates around it, one must again acknowledge that, particularly in our mediated world, architecture will be political also if it is read as such.
Pedro Gadanho, architect and writer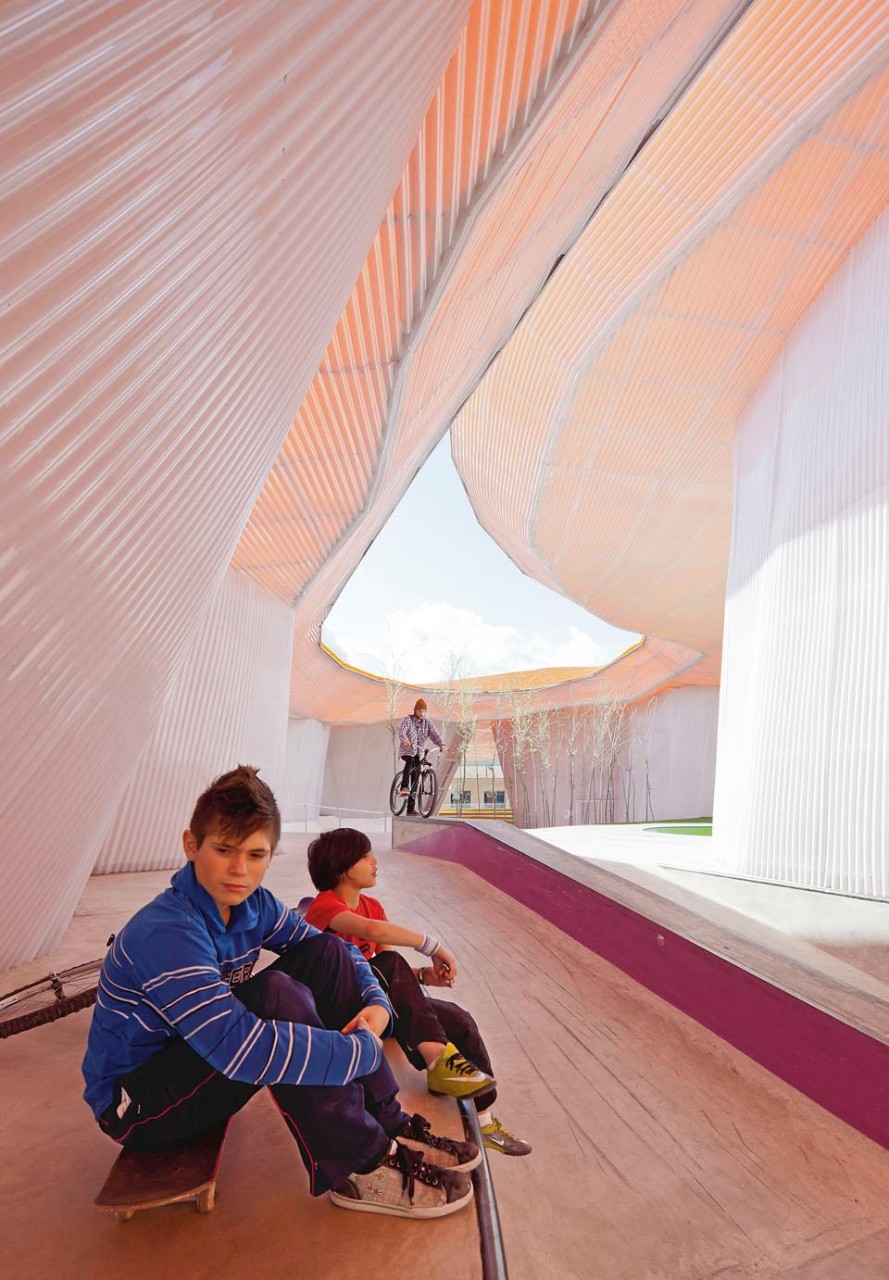 NOTES
[1] Pedro Gadanho, "Venturi's Revenge, or How Architecture Went POP!" in Daniela Konrad, Interrogating Pop in Architecture, Wasmuth Verlag/ADIP-TU, Berlin 2008.
[2] Walter Benjamin (1936), Das Kunstwerk im Zeitalter seiner technischen Reproduzierbarkeit, Suhrkamp Verlag, Frankfurt am Main 1980.
[3] Henri Lefebvre, La production de l'espace, Anthropos, Paris 1974 (The Production of Space, Blackwell Publishers, Oxford 1995).
[4] Michel de Certeau, La Culture au Pluriel, 1974 (Culture in the plural, University of Minnesota Press, Minneapolis 1997).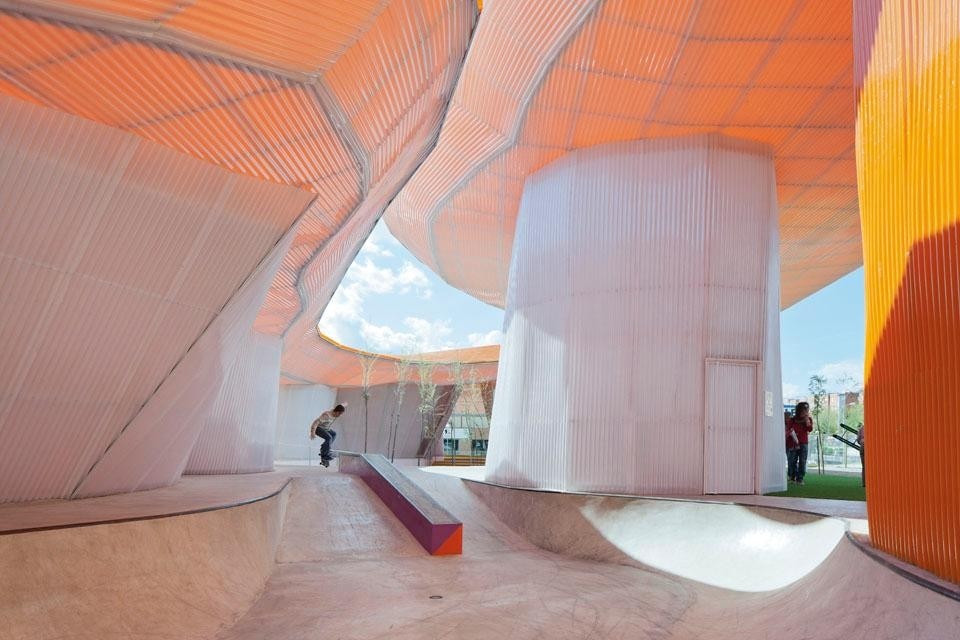 Design Architect: José Selgas e Lucía Cano
Project Team: Diego Cano, Lara Lesmes, Andrea Carbajo, Lorena del Río
Client: Junta de Extremadura
Structural engineer: Boma, Lanik
Mechanical engineering: Carlos Rubio
Floors manufacturer: Forbo
Lighting manufacturer: Talleres Zamora
General contractor: Procondal
Wall manufacturer: ATA