Riuscire a vedere tutti gli eventi organizzati dal Brera Design District durante la Brera Design Week è un'impresa quasi impossibile, vi consigliamo di dividere le tappe per le vie principali (via Palermo, corso Garibaldi, via Solferino, via Statuto, via Pontaccio) e poi trasferirvi nelle vie più piccole dove ad ogni angolo, potreste trovare una sorpresa. Eccone una selezione: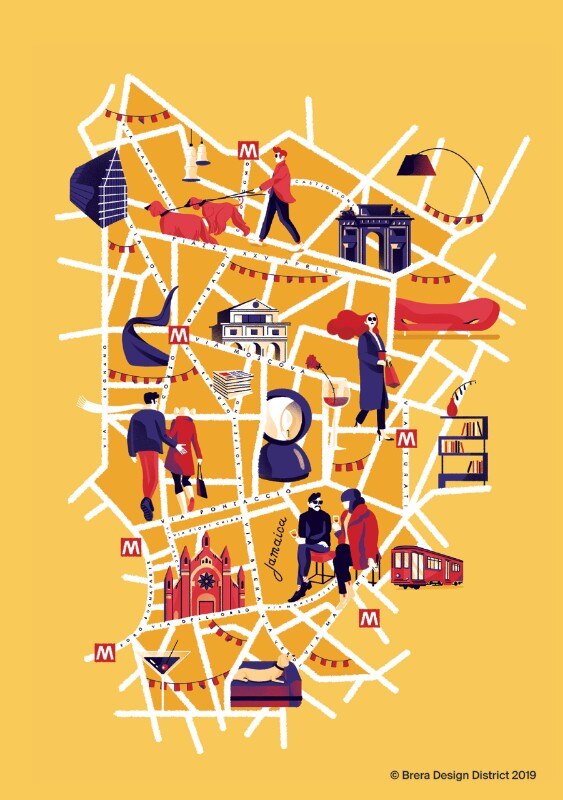 Progetti e Installazioni

"MateriAttiva" di Iris Ceramica Group, un progetto contro l'inquinamento frutto della collaborazione con Mario Cucinella Architects e i giovani architetti della SOS School of Sustainability, all'interno della prestigiosa location situata nel cuore del distretto Brera (via Balzan/via San Marco).
"The Pool Club", installazione ideata dal duo Design by Gmini ispirata alla Miami anni '90 (dentro a un container in corso Como 1).
"RoBOTL" è invece l'imponente installazione di Giò Forma per Timberland, in piazza XXV Aprile. E di fronte a Eataly vedrete il "Pratofiorito", un giardino della biodiversità curato da Davide Fabio Colaci con Slowfood e gli studenti del Politecnico di Milano.
"MateriAttiva"
progetto di Mario Cucinella Architects con SOS School of Sustainability per Iris Ceramica Group

"Pratofiorito"
Davide Fabio Colaci with the Politecnico di Milano students, for Slowfood


Un giro di novità e retrospettive
Corso Garibaldi: al n.117 potrete trovare le nuove collezioni di Hem, mentre Giulio Iacchetti lancia uno zaino per Moleskine dedicato al 50° anniversario dello sbarco sulla luna (Moleskine Café, al n. 65). Troverete infine le novità di Magis al n. 77, di Modulnova al n. 99 e di Fritz Hansen (piazza San Simpliciano). Per gli amanti di B&O: una retrospettiva, con in mostra pezzi storici di Bang&Olufsen, racconterà la genesi del grande brand svedese, celebrando i suoi 93 anni (via S.Carpoforo 9). Occasione questa per rivelare anche la novità del 2019.

Alla Galleria Post Design, in Largo Treves 5, saranno in mostra le opere iconiche di Memphis e la Casa Ojalà: un progetto di abitazione nomade, innovativa e autosufficiente.
In via Palermo al n. 11 troverete l'evento di Land Rover, mentre al n. 5 Marimekko presenterà il suo "Marimekko Apartment".
Brera Design Apartment

In via Palermo 1 (3° piano) troverete "Planetario": il progetto d'interni ideato da Cristina Celestino. Un concept retro futuristico dove sarà protagonista la nuova collezione di moquette ideata dalla Celestino per Besana Carpet Lab. All'interno di Brera Design Apartment, saranno poi in scena diversi format: Canvas Talks con Casa Canvas; Coffee Room con Casamenu; How to be digital con simple flair; Design Date con Laura Traldi; Kitchen tools con Andrea Vigna.
Evento:

Fuorisalone 2019

Distretto:

Brera Design District

Date di apertura:

8-14 aprile 2019

Sito web: