Managing to see everything is practically impossible, so we suggest you divide your visit into sections by main street (Via Palermo, Corso Garibaldi, Via Solferino, Via Statuto and Via Pontaccio) and then wander into the smaller lanes where you may come across surprises on every corner. Here is a selection.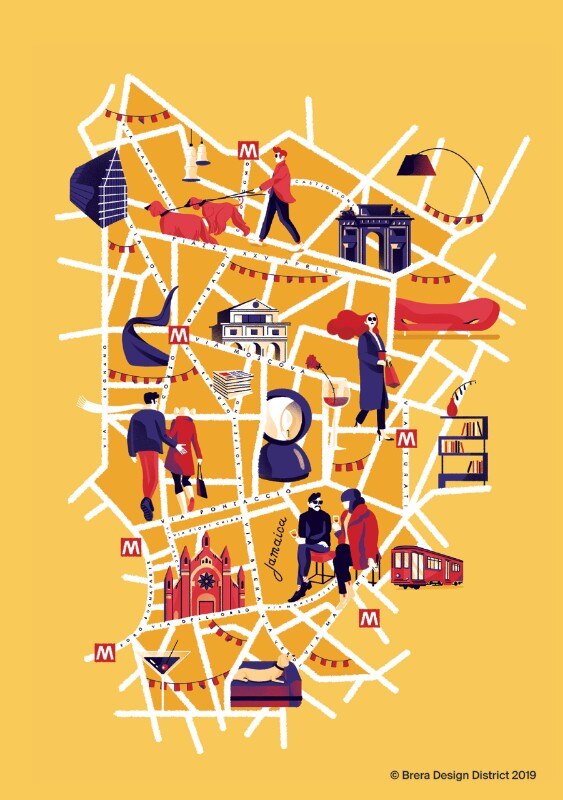 Projects and Installations
"MateriAttiva" by Iris Ceramica Group, a project to combat pollution originating from the collaboration between Mario Cucinella Architects and the young architects from the SOS School of Sustainability, held in a prestigious location in the heart of the Brera district (Via Balzan/Via San Marco).
"The Pool Club", an installation by the duo Design by Gmini inspired by 1990s Miami (set up in a container in Corso Como 1).
"RoBOTL" is an installation by Giò Forma for Timberland, in Piazza XXV Aprile. Opposite, in Eataly you can see "Pratofiorito", a garden of biodiversity by Davide Fabio Colaci, together with Slowfood and the students from the Politecnico di Milano..

"MateriAttiva"
designed by Mario Cucinella Architects with SOS School of Sustainability for Iris Ceramica Group

"Pratofiorito"
Davide Fabio Colaci con gli studenti del Politecnico di Milano, per Slowfood


A blend of innovation and retrospectives

Corso Garibaldi: at number 117, you can find the new collections by Hem, while Giulio Iacchetti is launching a backpack for Moleskine dedicated to the 50th anniversary of the moon landing (Moleskine Café at number 65). Lastly, the latest from Magis at number 77, by Modulnova at number 99 and by Fritz Hansen (Piazza San Simpliciano). For lovers of B&O, a retrospective exhibiting classic items by Bang&Olufsen will present the genesis of the legendary Swedish brand, celebrating its 93 years of activity (Via S. Carpoforo 9). This is also an opportunity to see what is new for 2019.
At the Post Design Gallery in Largo Treves 5 there will be an exhibition of the iconic works of Memphis, and Casa Ojalà, a nomadic, innovative and self-sufficient habitation project.
Via Palermo 11 will be the location of the Land Rover event, while at number 5, Marimekko will be presenting its "Marimekko Apartment".
Brera Design Apartment
In Via Palermo 1 (on the third floor) you will find "Planetario", the interiors project created by Cristina Celestino. A retro-futuristic concept centred on the new carpet collection created by Celestino for Besana Carpet Lab. Inside the Brera Design Apartment, various formats will be on display: Canvas Talks with Casa Canvas; Coffee Room with Casamenu; How to be digital with simple flair; Design Date with Laura Traldi; Kitchen tools with Andrea Vigna.

Event:

Fuorisalone 2019

District:

Brera Design District

Opening dates:

8-14 April 2019

Website: