Nel safari vernacolare, alcune scelte sono d'obbligo: i toni della terra, motivi tribali, una certa sensibilità spaziale. Un esempio raro, però, che riesce a rimanere contemporaneamente all'interno del linguaggio universale del rifugio, inventando il proprio dialetto. La recente reinvenzione di Singita Faru Faru fa proprio questo: creare un'identità specifica nel paesaggio del safari senza sentirsi fuori luogo.

Divisi in diverse aree in virtù di un'attenta suddivisione in zone, i rifugi a pianta aperta e le suite indipendenti sono luoghi intimi e ospitali nonostante la loro spaziosità e la profusione di luce e aria.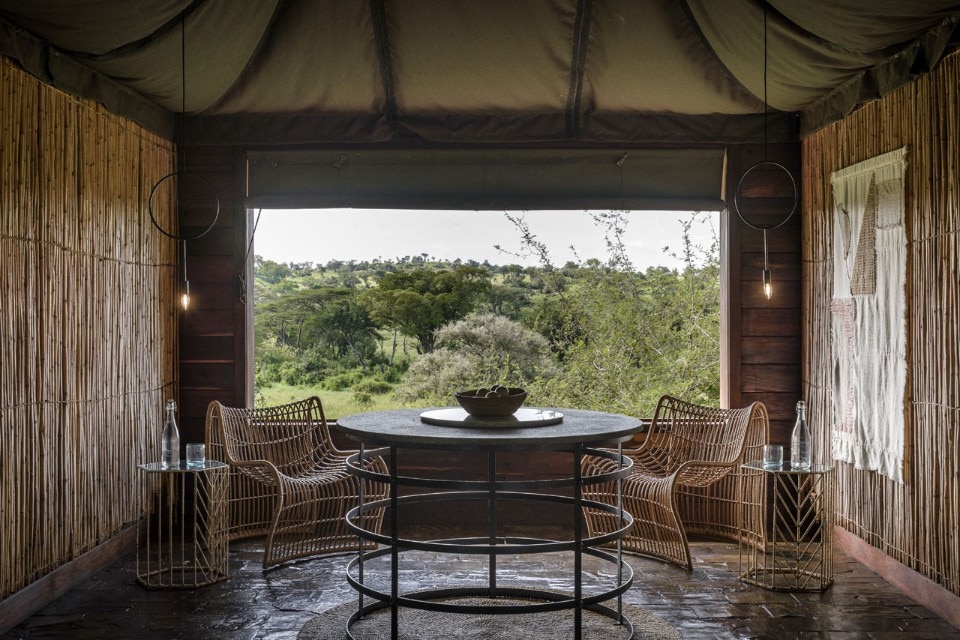 All'interno di questo involucro architettonico, lo studio di design Cécile & Boyd, incaricato della direzione creativa di tutte i rifugi di Singita, ha combinato linee minimali con texture e colori naturali per creare una serie di spazi confortevoli e rilassanti. Filo conduttore sono le forme triangolari e circolari si intreccia nelle aree comuni e nelle suite, conferendo al progetto un aspetto coerente. Ispirati dalla semplicità e dalla sobrietà del design Midcentury, questi motivi sono stati ripensati in un contesto africano contemporaneo. "Le forme evocano un'atmosfera semplice e informale, ma anche un omaggio a un nuovo motivo tribale africano definito in modo semplice", spiega il designer Geordi de Sousa Costa di Cécile & Boyd. "Il legame tra queste forme e la natura è nella loro geometria asimmetrica", aggiunge.
The colour scheme too, pays homage to the setting. A palette of neutrals – the pink clay of the watering hole below, the blonde grass of the iconic Serengeti savannah and cool grey of the scattered rocks – creates a comfortable symbiosis between the lodge and its surroundings and complements the open structures. "A strong neutral palette always works in nature – so we decided to be a bit playful with it. All in all it is fresh but calming," says De Sousa Costa.
Anche lo schema cromatico rende omaggio all'ambiente. Una tavolozza di colori neutri – l'argilla rosa del canale di scarico sottostante, l'erba bionda dell'iconica savana del Serengeti e il grigio delle rocce attorno – crea una comoda simbiosi tra il rifugio e il paesaggio circostante ed è complementare alle strutture aperte. "Una tavolozza neutra e forte funziona sempre in un ambiente naturale – così abbiamo deciso di giocarci un po'. Tutto sommato è fresco ma rilassante", dice De Sousa Costa.
Progetto:

Singita Faru Faru

Tipologia:

glamping

Design:

Cécile & Boyd

Luogo:

Grumeti, Tanzania

Completamento:

2019