Swedish firm White Arkitekter recently completed a stormwater pond in Uppsala, Sweden, that provides water purification and flood protection while creating a biodiverse landscape for local residents. The pond is located in Exercisfältet, a former military training area that has recently undergone major development that has reduced water infiltration.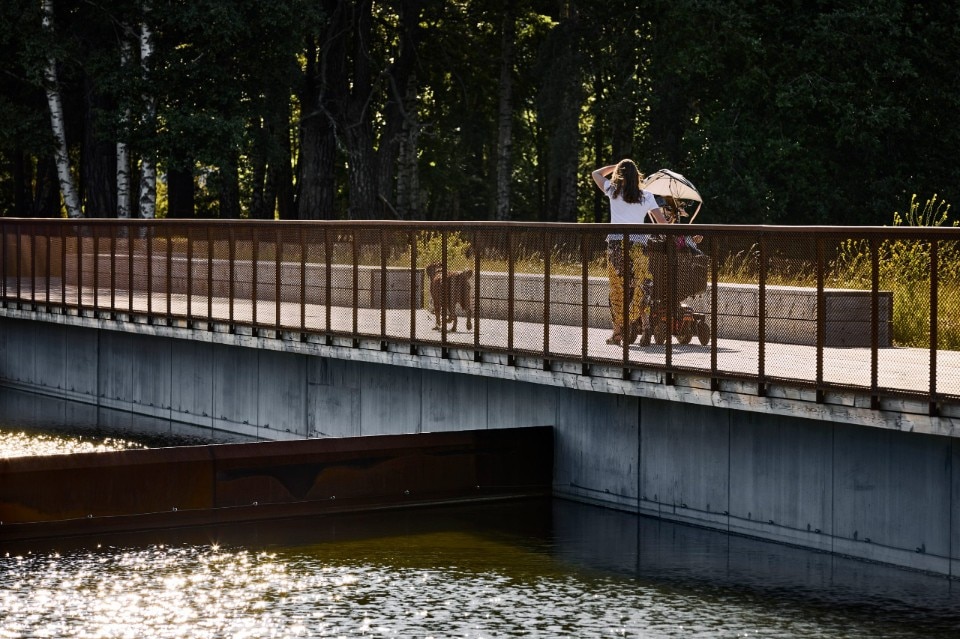 Instead of treating the area as a purely infrastructural project, the architecture firm took the opportunity to create a biodiverse environment around the pond to "celebrate the joy of being part of nature." To the north, the more urban side of the pond follows the line of the new housing blocks, with a concrete wall providing flood protection, while opposite, the more natural south-facing side follows the undulating forms of the landscape.
Untreated wood and steel were used for the footpath walkways, both to minimize the release of chemicals into the water and to blend in as much as possible with the surrounding landscape from a distance. The pond itself was made as small as possible to maximize the green space for recreation around it. In this way, during heavy rainfall, the water floods the pond, occupies the surrounding areas, and creates mirrors the water of different sizes and shapes, while during extreme rainfall, the promenade will also be flooded and the water will extend far away.
The pond has been designed to adapt to the continuous development of the surrounding area, becoming part of a larger green belt that extends from downtown Uppsala to Lake Mälaren in the south. The vegetation here has been carefully adapted to the natural conditions of the site and consists of a combination of hardy species with water-purifying properties. Different parts of the pond are inundated by different amounts of precipitation and have great potential to become a good habitat for many different animals and plants.